Phil Jackson: L.A. Lakers' Difference Maker In Battle With Miami Heat?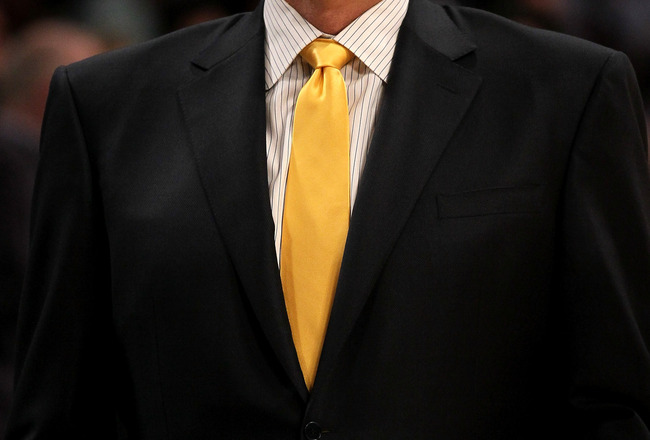 Stephen Dunn/Getty Images
"I probably would have no capability of absorbing a 60-defeat season as a coach. It would be a foreign experience. My whole career, even as a player, has been on winning basketball clubs and it just seems to have been a part of the make-up of what's been given me. That's what I've been given and that's what I've had to deal with. Some people can make fun of it or some people can have a good time with it, or some people can resent it. It's just what it is." -- PHIL JACKSON, CBSSports.com, June 2004
"There's no question about [the] talent they (Miami) have. But, talent doesn't always win." -- PHIL JACKSON, ESPN Radio, 2010
Merry Christmas!
This Saturday, the Los Angeles Lakers and Miami Heat do battle on the hardwood at the Staples Center. The pre-game hype and hoopla has a number of fascinating story lines, not the least of which is Phil Jackson's mental approach to this regular season, playoff-feeling Christmas contest with the Heat.
It's true the game is played on the court by the players.
Yet, it's also true that psychology plays an important role. No one is better at verbal repartee than Jackson, the NBA's all time leading coach, all star and zen master supreme.
This marks Jackson's 20th (and probably last) season as a head coach.
He's won a remarkable, record setting 11 NBA titles in the 19 years he's been at the helm, six with the Chicago Bulls and five with the Lakers.
His detractors say it's been easy for him because he had Michael Jordan in Chicago and Kobe Bryant in Los Angeles.
His supporters argue that how you manage such supremely gifted, large ego players into playing as a team is a talent unto itself that only the best have mastered.
One thing we can all agree on: Phil Jackson loves to push the psychological envelope with players, referees, commissioners and other coaches.
Will it make a difference this Saturday when L.A. plays host to the Heat?
Let's find out.
Jackson Weighs In On Erik Spoelstra: Can He Handle The Real Heat?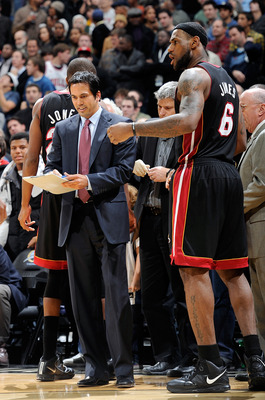 Greg Fiume/Getty Images
Less than a month into the new season, Jackson took a shot across the bow at the Heat and their current head coach, Erik Spoelstra.
Miami had staggered out of the gate, compiling a rather pedestrian record of 8-6. LeBron James, Dwayne Wade and Chris Bosh were like newlyweds still getting to know each other on the court.
On the sidelines, Jackson weighed in, telling ESPN radio during an interview:
"The scenario that sits kind of behind the scene, is that eventually these guys that were recruited -- Bosh and James -- by Pat Riley and Mickey Arrison, the owner, are going to come in and say, 'We feel you [Riley] can do a better job coaching the team' ... That's kind of my take on it, is that eventually if things don't straighten out here soon, it could be the Van Gundy thing all over again."
Jackson was referring to 2006, when Riley replaced coach Stan Van Gundy (the man who replaced Riley the first time he retired) in mid-season.
The Heat went on to win their first NBA Championship.
Van Gundy, now coach of the Orlando Magic, said he stepped down because he wanted to spend more time with his family.
Jackson went on to say:
"I don't think it'll happen like we're talking about it tomorrow or anything like that. But I think eventually if things don't turn around, eventually the weight is going to fall there where we were promised this success and we're hoping for it. It'll be a real drive for the players to have some kind of change. It'll be easier to change coaches than to change teams after they made all of those player adjustments."
Did It Bother Him? Dwayne Wade Questioned Jackson and His Comments
Greg Fiume/Getty Images
At the time, Wade questioned whether Jackson may have violated the unwritten rule among coaches that publicly talking about others' job security is something you just don't do.
Following that quote and reaction from Van Gundy, Spoelstra and Dwayne Wade, the Heat went on a tear; losing just once over their next 12 games.
But the shot had already been fired.
Phil Jackson Is Artful When It Comes To Subtle Mind Games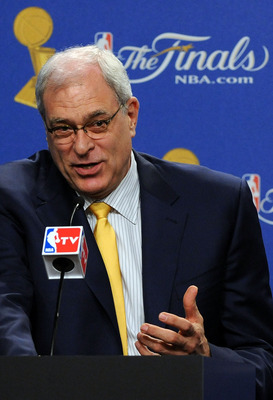 Lisa Blumenfeld/Getty Images
Phil Jackson is superb at subtlety.
You don't always know if he's being funny or dead serious. Even when he pays a compliment, Jackson often throws in double meanings.
Take, for instance, his words about the team in Miami and its prospects for success after they had acquired superstars James and Bosh to play alongside Wade.
"They've got great talent," Jackson said to ESPN at the beginning of the season. "There's no question about [the] talent they have.
"But, talent doesn't always win. The team that shows the best teamwork will win it."
This IS a Big Game: ABC Is Counting On Big Ratings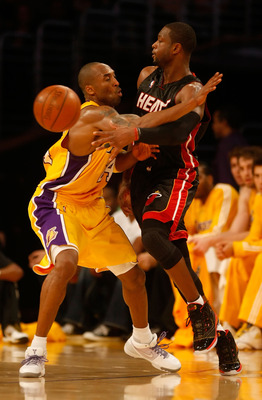 Jeff Gross/Getty Images
Jackson said this week that he has not discussed focus with his players for their upcoming battle with Miami.
Derek Fisher, Lamar Odom, Kobe Bryant, Andrew Bynum, Pau Gasol and company don't see it as an issue either. They were focused on playing Milwaukee Tuesday night (though they did end up losing to the lowly Bucks). They'd worry about Miami on Wednesday.
Still, this IS a big game.
It could very well be a preview for the NBA Championship next June. So, when players and coaches say it's "just another game in the regular season," you know they're lying. The adrenalin level for Saturday's game is already off the charts.
Fans are chomping at the bit for this game. ABC is salivating over the ratings possibilities. The average ticket price for the game is up to a stratospheric $549, an increase of almost 300 percent above normal prices for a Lakers game at Staples Center.
Oh sure, this is "just another game."
Could This Be a Preview of Next June's Title Matchup?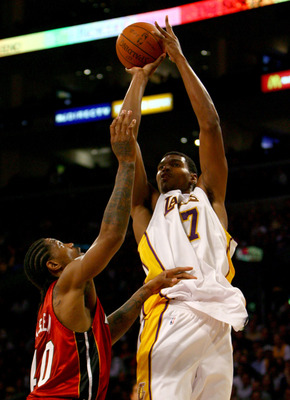 Jeff Gross/Getty Images
The players are the ones who will determine the outcome on Saturday.
Both teams come in playing their best basketball of the season. James, Wade and Bosh combine for 66 points per game. Bryant, Pau Gasol and Lamar Odom average 62 between them and Shannon Brown adds another 10.4.
This game promises to be a high scoring affair with not a lot of defense.
As for the coaching match up—well, it's not.
With his 19 seasons, 11 titles and over 1,000 wins, Phil Jackson has a "slight" edge over the 40 year old Erik Spoelstra, who has led two Miami teams to 90 wins and two playoff appearances in two seasons as an NBA coach.
And though the game is played on the court by the players, there is something to be said for a philosophical coach who practices zen meditation and yoga, and deftly reverts to mind games in order to motivate his players and stir up the opposition.
Phil Jackson might very well be the difference maker when the Heat meet the Lakers Saturday. He's already gotten in their heads.
Let's see if the Heat and its coach have truly forgotten. I think not.
Prediction: Lakers 108, Heat 99
Keep Reading

Los Angeles Lakers: Like this team?