NBA Best of 2010-11: The Top 25 Most Vicious Dunks in the NBA This Year (Video)
Jonathan Daniel/Getty Images
Doesn't it seem like the 2010-11 NBA season has produced as many electrifying in-game dunks in just two short months than the amount that normally transpires in a full 82-game campaign?
In a way it makes sense—from top to bottom the athleticism in the league is at an all-time high and if any of these guys see a sliver of light in a defense they're going to take advantage.
But what is surprising is that it's not guys like LeBron James, Dwyane Wade, Kobe Bryant, Kevin Durant, Carmelo Anthony or the league's other top superstars that are filling up the highlight reel. Instead, it's virtually a new face every night who is cracking NBA TV's Top 10 Plays with a jaw-dropping dunk.
Consider this: When Derrick Rose threw down a vicious two-hand slam against New York on Nov. 4, it was pretty much dubbed the Dunk of the Year (granted it was only a week into the season). That is until the very next night when Wilson Chandler had an amazing reverse dunk against JaVale McGee.
James Harden's coast-to-coast posterization of J.J. Hickson looked like it would be hands-down the best dunk of any second-year player...until a few days later when DeMar DeRozan had an otherworldly slam over Tyrus Thomas.
The top candidates for Dunk of the Year are changing on almost a nightly basis. So take this upcoming list with a grain of salt. Because I'm sure that in a week from now, there will be a few more throwdowns that will warrant serious consideration.
Without further ado, let's jump into the top 25 dunks of the season through Dec. 21 (and I'll do my best to keep it balanced and not have Blake Griffin appear 17 times)...
Honorable Mentions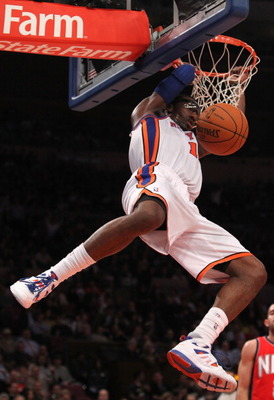 Nick Laham/Getty Images
BONUS No. 5: Monta Ellis vs. New York (Nov. 19)
As an added treat, let's throw in five bonus dunks as well. Because the slams have been that good this year.
Monta Ellis is having another strong season in Golden State's up-tempo system, scoring over 25 points a game and shooting an impressive 48.3 percent from the floor.
If he keeps getting opportunities like this, there's no reason to think that percentage won't continue to rise.
BONUS No. 4: Josh Smith vs. New Jersey (Nov. 23)
Josh Smith is having another strong season for the Hawks and he is breaking out his usual display of athleticism that few in the league can match.
Against New Jersey, he seeps out on a fastbreak and throws one down despite being fouled by Kris Humphries. Just ignore the two or three extra steps he gets before leaving the ground.
BONUS No. 3: Rajon Rondo vs. Miami (Nov. 11)
Known as a pure passer and crafty finisher near the hoop, not many view Rajon Rondo as an elite dunker...and rightfully so.
But thanks to one of the worst displays of help defense you'll ever see (looking at you Chris Bosh), Rondo walked down the lane and emphatically slammed home one of the best dunks of his career.
BONUS No. 2: LeBron James vs. Milwaukee (Dec. 6)
LeBron James may get a few more boos this year before and during a game than in the past.
But when he gets out in the open court, people still hold their breath and marvel at his stunning athletic ability. Listen to the crowd reaction in Milwaukee when James catches this pass from Dwyane Wade near the three-point line and the middle of the floor opens up.
BONUS No. 1: Andre Iguodala vs. New Jersey (Dec. 14)
Andre Iguodala has four or five breathtaking transition dunks so far this season but this one comes in a traditional halfcourt set when Travis Outlaw overplays him at the three-point line.
There haven't been many spectacular reverse dunks this season but Iggy hangs in the air for almost an eternity before finishing this one.
25. Blake Griffin vs. Timberwolves (Nov. 17)
Get used to this guy—Griffin kicks off the countdown with a one-handed slam over Anthony Tolliver.
24. Amir Johnson vs. New York (Dec. 5)
You'll notice a few things about the clips on this list. The first is that several of these dunks come against New York's defense.
The other is that several of these dunks come from the Toronto Raptors.
The Raps may not have a lot of "star power" now that Bosh is gone but they still have a roster full of young, talented, athletic players like Amir Johnson, who comes flying in from outside the foul line to clean up an Ed Davis missed jumper.
23. Dwyane Wade vs. Cleveland (Dec. 15)
Arguably the 2009-10 Dunk of the Year came when the Heat and Cavaliers met last November and Dwyane Wade violently put one in over Anderson Varejao.
This time it was Antawn Jamison who tried to contest Wade at the rim. It wasn't as pretty as last year's finish but effective nonetheless.
22. Wes Johnson vs. Sacramento (Oct. 27)
I don't think Wes Johnson could have scripted his first career NBA basket any better.
21. Russell Westbrook vs. Chicago (Oct. 27)
Russell Westbrook carried over his strong play in the FIBA World Championships to the beginning of this season. He's averaging over 23 points and eight assists per game.
He sent a message on opening night against Chicago, that he deserved to be in the best PG conversation, highlighted by this play in which he wrestled a rebound away from Joakim Noah and went coast-to-coast for a tomahawk dunk.
20. JaVale McGee vs. Chicago (Nov. 13)
This isn't the last you'll see of McGee on this list.
He would get bonus points for a great staredown after the alley-oop...but come on JaVale. It was Kyle Korver.
19. Blake Griffin vs. Portland (Oct. 27)
Remember Wes Johnson's first career field goal? Blake Griffin's was pretty good too.
18. Bill Walker vs. Milwaukee (Nov. 9)
Walker has been somewhat of a journeyman in his first few years, not really settling into a defined role in Boston or New York.
But his leaping ability has never been in question...as Andrew Bogut finds out.
17. J.R. Smith vs. New Jersey (Nov. 20)
Smith has struggled with his shot consistency this season, but when he's in a rhythm, few players can match up with him, especially when he drives with confidence and purpose off the dribble.
Brook Lopez might want to contest this one a little more next time.
16. Hakim Warrick vs. Washington (Dec. 5)
It's not surprising that Hakim Warrick is shooting a career-high 55.3 percent from the field this season—guys who play pick-and-roll with Steve Nash generally tend to get a lot of open looks.
Nash puts the ball in a perfect spot for Warrick to gather the ball and go up for the dunk over Yi.
15. Eric Gordon vs. Utah (Nov. 6)
How many non-Clipper fans realize Eric Gordon is averaging 24 points a game this season but only makes 1.5 three-pointers a game?
When Gordon is at his best, he's attacking the rim. He assumed more ball-handling responsibilities when Baron Davis was out and took advantage, like in this play in the final seconds against Utah that ultimately forced overtime.
14. Sonny Weems vs. Charlotte (Nov. 10)
At the beginning of the season, I never would have guessed that not only would Sonny Weems make this list...but that he'd be on twice.
But the third-year player out of Arkansas has provided plenty of exciting moments so far, like this fastbreak dunk against Charlotte.
13. JaVale McGee vs. Los Angeles Lakers (Dec. 7)
McGee's second appearance in the top 25 comes once again off a fastbreak led by John Wall, and once again features someone desperately trying to get out his way.
This time, it's Shannon Brown who cowers away from any sort of contest against the seven-footer.
12. LeBron James vs. Golden State (Dec. 10)
I don't want to say that the public takes for granted what LeBron James does, but at the same time, he's given us so many spectacular moments that it takes something really impressive to get our attention.
This dunk off a great pass from Chris Bosh is a solid reminder of how great of an athlete he really is.
11. Sonny Weems vs. Golden State (Nov. 9)
10. Eric Gordon vs. San Antonio (Nov. 1)
Arguably, this may not have been Eric Gordon's best dunk of the game—he had one early in the first quarter in which he quickly elevated up and over Tim Duncan.
The ferocity sets this one apart, though. And if Blake Griffin is giving you props like that afterwards, it probably was a good dunk.
9. Derrick Rose vs. New York (Nov. 4)
After this vicious slam, commentator Steve Kerr noted that this is one of the best dunks we may see all year.
In a normal year, definitely.
This was an incredible move by Rose, who just blows by Toney Douglas and flies over Danilo Gallinari (who doesn't show much interest in really giving help). Sending it in with two hands gives it a little more oomph.
8. James Harden vs. Cleveland (Dec. 12)
Watching this game live, I never thought James Harden had it in him to take it coast-to-coast as emphatically as he did here.
All five Cavaliers defenders were ahead of him when he pulled down the rebound but he beat all of them down the court. Hell, he beat all of them to the three-point line.
7. Andre Iguodala vs. Dallas (Nov. 12)
6. Wilson Chandler vs. Washington (Nov. 5)
The Knicks are enjoying a great season from Wilson Chandler, who is averaging career highs in points, rebounds, blocks, three-point percentage and free-throw percentage.
He has had some stellar finishes as well, like in last week's game against Miami when he dunked over LeBron James on a fastbreak at the end of the first half.
But this ridiculous reverse jam over JaVale McGee definitely takes the cake. And Ronny Turiaf's reaction is absolutely priceless.
5. DeMar DeRozan vs. Charlotte (Dec. 14)
With Michael Jordan in the house watching his Bobcats, DeMar DeRozan threw down a dunk over Tyrus Thomas (one of the best jumpers in the league) that, dare I say, rivals something that No. 23 would have done.
4. Hakim Warrick vs. Utah (Oct. 28)
As I said earlier, Warrick is a great finisher in the pick-and-roll.
Raja Bell and Paul Millsap can testify for that.
3. Russell Westbrook vs. Houston (Nov. 28)
Shane Battier is one of the premier defenders in the NBA...if not the best. He's 6'8" and Russell Westbrook is listed at 6'3".
And yet...this happens.
2. J.R. Smith vs. San Antonio (Dec. 16)
I don't even know how to describe Smith's dunk against the Spurs last week. Kevin Harlan may be right—we could have just seen a man fly.
1. Blake Griffin vs. New York (Nov. 20)
The finish over Timofey Mozgov technically wasn't a dunk, but the spin move over Gallinari was the signature moment for Blake Griffin's coming-out party.
There hasn't been a more defining play for anyone this season...yet.
Keep Reading