NBA Trades: Winners and Losers of Magic, Suns and Wizards Trades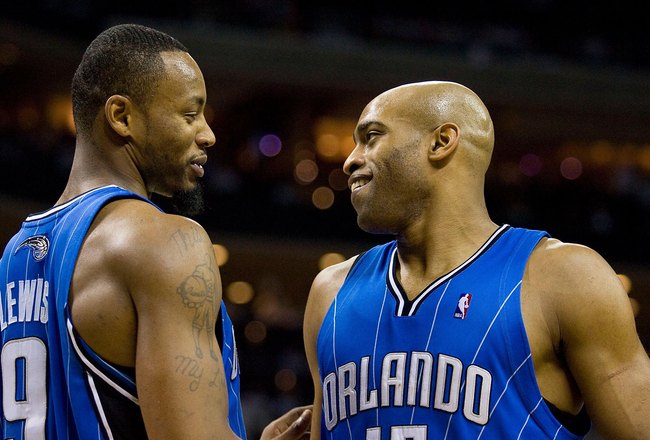 Brian A. Westerholt/Getty Images
It's a rarity that so many big names are involved in one trade, particularly this far removed from the NBA's February trading deadline.
Yet this year, a Saturday in December saw two blockbuster trades, with high profile players from three teams changing addresses still relatively early in the NBA season. The Orlando Magic completed an almost complete overhaul of their roster, as they shipped out guard Vince Carter, forwards Rashard Lewis and Mickael Pietrus, and center Marcin Gortat, along with their 2011 first-round pick.
In return they received Jason Richardson, Hedo Turkoglu and Earl Clark from the Phoenix Suns, a team that ends up with Carter, Pietrus and Gortat, an equally major overhaul for a team that made a strong run in this past season's playoffs.
A separate deal also sent the Washington Wizards' controversial former franchise player, guard Gilbert Arenas, to Orlando in exchange for Lewis, swapping two exorbitantly paid players that many feel don't live up to their inflated guaranteed dollars on the court anymore.
The three teams at the center of today's trades all have varying motivations for making these moves, be it freeing up cap space, jettisoning under-performing players or reshuffling their lineups in the hope of providing a different look on offense or defense.
But ultimately, all fans of the three teams care about is who got better and who got worse on this eventful day. With that in mind, we'll try to pinpoint five major winners in these deals, while also pointing out five people or teams that came out on the losing end.
Winner: Gilbert Arenas Gets A Chance To Run The Show In Orlando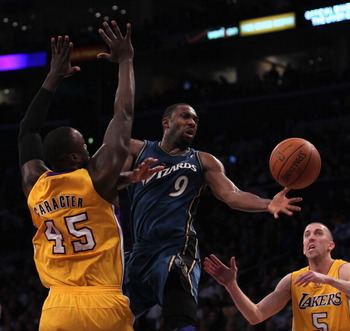 Jeff Gross/Getty Images
Gilbert Arenas gets a huge second chance via his trade to the Orlando Magic. He goes from inconsistent playing time while facing an uncertain future on a rebuilding team in Washington to being a key part of a contending team down in Orlando.
It's a huge risk for the Magic, which will put the onus of perimeter scoring on a player with major knee surgeries in his past and who was also at the center of a huge off-court controversy in Washington a year ago.
The Magic aren't clear winners with the Arenas portion of the trade as of yet (even though shedding the Rashard Lewis contract is a small victory in itself, save for the fact that Arenas has a ton owed to him as well).
It's no guarantee that Arenas improves the Magic's chances of slowing down the Celtics or Heat, but Arenas gives Orlando a player with more potential upside than the aging Vince Carter or Rashard Lewis at this point.
But Arenas is a huge winner, because he's put on a good team and with a familiar man in Otis Smith, the Magic's general manager, who Arenas was close with during both of their days with the Golden State Warriors.
Arenas was being pushed out in Washington after the arrival of top draft pick John Wall and it was expected he would be traded at some point. But no better situation could have presented itself than this one.
Loser: The Phoenix Suns' Hedo Turkoglu Acquisition In Summer 2010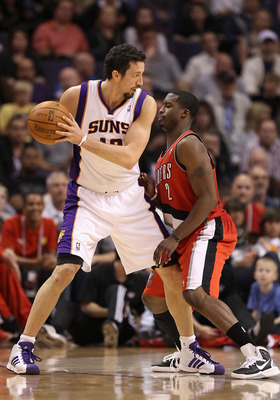 Christian Petersen/Getty Images
The Phoenix Suns acquired Hedo Turkoglu in July, expecting him to be revitalized after leaving a bad situation in Toronto on the heels of signing his big free-agent deal before the 2009-2010 season.
They dealt Leandro Barbosa to Toronto (along with Dwayne Jones) in exchange for Turkoglu, but now, a mere five months after the deal, they've already decided it best to part ways with Hedo and have shipped him back to the Magic, where he played his most explosive basketball.
All in all, it seems like a major case of spinning their own wheels by the Suns in regards to Turkoglu. They ultimately ended up trading Barbosa for a very brief stretch of games from Turkoglu and deciding that Hedo and his large price tag weren't worth keeping around, favoring the expiring contract of Vince Carter over the long-term possibilities of keeping Hedo.
The fact that they also had to say goodbye to Jason Richardson, a player who had thrived playing alongside Steve Nash, becomes extremely puzzling in terms of the logic of the initial Turkoglu acquisition.
Winner: Marcin Gortat, Recipient of Newfound Playing Time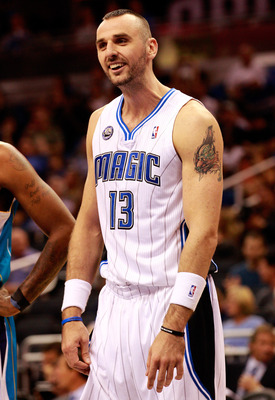 Sam Greenwood/Getty Images
Marcin Gortat had soldiered on as Dwight Howard's back up and a valuable bench piece for the Orlando Magic, but his inclusion in the trade to Phoenix means he may finally get his shot at becoming a starter and totaling some big minutes in a frontcourt.
Phoenix has Robin Lopez at center, but it's very possible that Gortat's acquisition means he'll get an extended run as a starter, with the potential of carving out a niche as a starter for the Suns a distinct possibility. He had virtually no shot of getting these kind of minutes in Orlando and he is an undisputed winner in this deal thanks to a glorious opportunity in the desert.
Loser: The Now-Overcrowded Backcourt In Orlando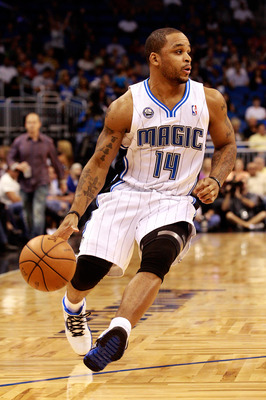 Sam Greenwood/Getty Images
Adding Gilbert Arenas and Jason Richardson is undoubtedly a big boost offensively, but it creates a number of issues on the Orlando roster and in terms of who plays when and where.
Arenas and Richardson add to J.J. Redick, Jameer Nelson, Chris Duhon and Jason Williams as guards on the roster vying for playing time. The Magic have subtracted from their forward pool in losing Mickael Pietrus, Rashard Lewis and Marcin Gortat, while creating a bit of a logjam at guard. Coach Stan Van Gundy will have to work hard to massage that in a way that works best as the team hopes to compete with the powers of the Eastern Conference.
Will Jameer Nelson continue to start at the point guard spot, or does he take on a bench role while Gilbert Arenas runs the point? Will the lineup that works best be smaller, with Nelson, Arenas, Richardson and Turkoglu running from one to four, with Dwight Howard at five?
This is a very tricky situation that could disrupt the chemistry in Orlando greatly, even if it's a veteran-heavy team looking to win a title.
Winner: John Wall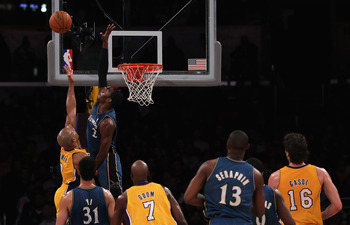 Jeff Gross/Getty Images
The road is fully cleared for this June's No. 1 pick in the NBA Draft and the Wizards' John Wall will no longer have to contend with Gilbert Arenas for control of the offense out of the backcourt in D.C.
Wall had not suffered in terms of playing time or effectiveness since entering the league, but he is now clearly entrenched as The Man on offense for the Wizards, which will no doubt mean more looks for him at crunch time and more of an emphasis on him having the ball in his hands regularly on offense.
He also has a new weapon to work with in veteran Rashard Lewis, a solid wing player who, while no doubt having his best days behind him, can still score and benefit from playing with a dynamic guard like Wall. All in all, it's a good situation for the future of the Wizards and he benefits directly from today's trades.
Loser: Steve Nash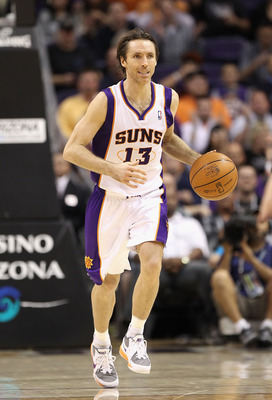 Christian Petersen/Getty Images
Elite point guard Steve Nash has had to contend with a huge dismantling of his roster, and today's events further stripped him of players he leaned on to produce offense, particularly wing man Jason Richardson.
Richardson had benefited greatly from playing with Nash every night, getting up and down the court and being a recipient of a lot of fastbreak looks. Maybe there's some silver lining in that Vince Carter thrived for years playing with Jason Kidd in New Jersey, but this version of Vince Carter is a far cry from the Nets iteration of the dynamic guard.
So Nash is left to try and build pick-and-roll chemistry with others like Gortat or Robin Lopez or, more so, with Channing Frye. It's an undesirable situation for a point guard getting up in years and still looking to win a ring before he calls it a career, as it's gotten unbelievably harder now that a player like Richardson is gone.
Winner: Washington Wizards' Financial Future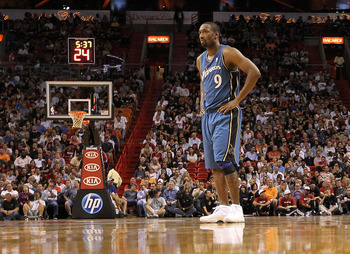 Mike Ehrmann/Getty Images
Yes, the Wizards have now absorbed the remaining money owed to Rashard Lewis, a player who has not lived up the gigantic contract he signed with Orlando some years back.
But it is an unavoidable plus that Washington was able to move Gilbert Arenas and his mega-contract, which seems like a bigger risk at this point given Arenas' checkered recent personal history off the court, as well as his physical fragility given the severe nature of his past knee injuries.
As an asset, Arenas is far riskier than Lewis, even though he carries far more potential upside thanks to his ability to score in bunches.
But the Wizards have a younger, cheaper player potentially just as, or more, explosive than Arenas thanks to drafting John Wall, and they no doubt improved themselves by subtracting Arenas at this point in the season. It will benefit them going forward, even if it hurts to cut Rashard Lewis' checks.
Loser: Orlando Magic's Chances of Acquiring Carmelo Anthony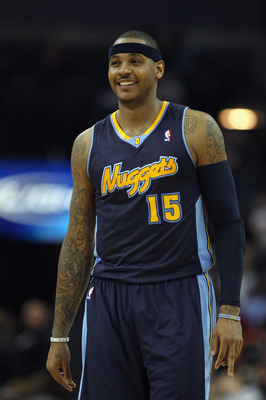 Streeter Lecka/Getty Images
It's still possible that Orlando could swing a deal for largely available and inevitable trade target Carmelo Anthony, but today's events seem to lessen the likelihood given the price the Magic paid for Arenas and Richardson.
They still have a bulk of players to move at the guard position if they were to still pursue a trade, but they had to give up their 2011 first-round pick in order to land Richardson and Turkoglu, a big loss and a chip that the Nuggets are said to covet in any trade for 'Melo.
The biggest issue is, by passing on the possibility of landing Anthony in a trade and using their assets on Richardson, Turkoglu and Arenas, are the Magic truly in a better position to contend for an Eastern Conference and NBA title? They are still very thin at forward, as it's hard to buy Turkoglu as a viable power forward option, especially against teams like Miami and Boston.
It may have taken a long, drawn-out negotiation process to try to land Anthony, but it may have been more worth it than this flurry of moves pulled off by Magic GM Otis Smith. Only time will tell, of course, but it seems like a negative for Orlando to take itself out of the Carmelo Anthony sweepstakes this early in the game.
Winner: Vince Carter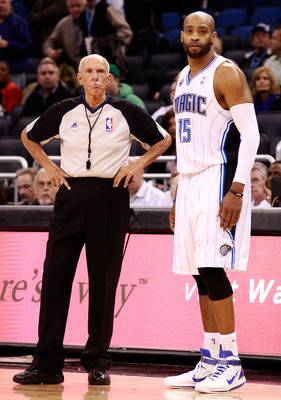 Sam Greenwood/Getty Images
The move to Phoenix to play along with Steve Nash can only help Vince Carter as he looks to rediscover his scoring touch after falling apart in the Orlando offense for long stretches of last season and, on occasion, this year.
Carter played some of his best ball with an elite point guard (when he was teamed with Jason Kidd), so it's possible he could enjoy a bit of a rebirth running the break with Steve Nash.
His struggles have lately been inconsistent perimeter shooting. In a run-and-gun offense like the Suns', it might help Vinsanity come down with some easier baskets that will build his offensive confidence and improve his overall game late in his career.
Loser: Dwight Howard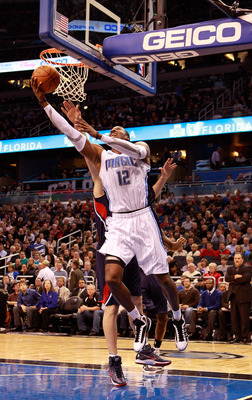 Sam Greenwood/Getty Images
Dwight Howard loses his back up and now becomes the lone true big man in the Orlando frontcourt as a result of this trade. He now has to lean heavily on Brandon Bass for support, which may or may not work out in the long haul.
Bass has played well thanks to his starting opportunity, but it's not a lot of depth in terms of big men for a team trying to contend with the powers in the Eastern Conference.
This means even more of an emphasis will be put on Howard inside. If he lands in foul trouble early in games, the possibility of the Magic being able to withstand that lessens greatly.
He is an elite interior player, but even the best need support and it's not a given that Brandon Bass will be enough for Howard. There may be another move brewing for Orlando to provide some help for Howard, but for now, his situation is a bit of him on an island at center.
Keep Reading

Phoenix Suns: Like this team?