NBA Draft 2011: Top 25 College Basketball Stars Likely To Jump To the NBA
Al Bello/Getty Images
They weren't lying to us when we were kids. Time really does go by fast. It seems like just yesterday I was watching Game Seven of the NBA Finals. Now we're already a quarter of the way through the 2010-11 season and it will be draft time before we know it.
When you really think about it, everyone playing college basketball is an NBA prospect. There's film out on every player and there's always some guy no one has ever heard of who gets picked up by a team and makes an impact.
That being said, there are also the cream of the crop players who every scout and even more fans have their eyes on from Midnight Madness until the end of the NCAA Tournament. These are the guys who have been surefire locks for the pros really since middle school.
There's a reason everyone knows their names.
From the current look of things, there aren't too many of that type of player in college ball this year. Still, there will be a draft and there will be players making the jump to the NBA.
Here's a look at 25 players of that ilk—the guys that will most likely be getting their names called by David Stern in June.
25. Elias Harris, SF, Gonzaga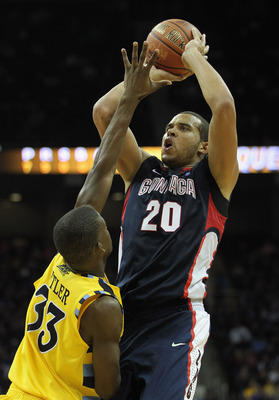 Jamie Squire/Getty Images
It was thought that Harris could be selected in the 2010 Draft, but he chose to stay another year in college.
He may have hurt himself a bit, and his numbers are down through eight games this year, but as long as he doesn't completely bomb a team will still likely be happy to get a hold of him.
24. Aaric Murray, C, La Salle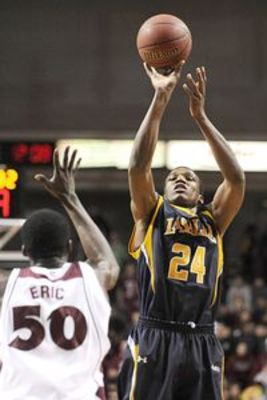 Howard Smith/US Presswire
A big man who can stretch the floor beyond the three point line, Murray is also a good rebounder and has some shot-blocking ability.
In 10 games he is averaging 15.3 PPG and 8.5 RPG. He's also well above 50 percent from the floor and is right at 40 percent from three.
Tall players with that type of ability tend to find their way to the pros.
23. Travis Leslie, SG, Georgia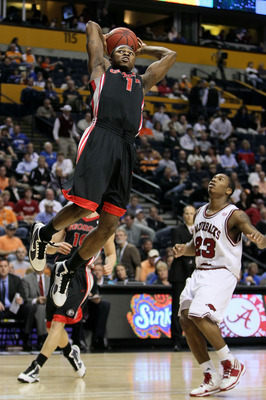 Andy Lyons/Getty Images
Although he is a bit on the smaller side (for a basketball player) and is a bit inconsistent with his shot, Leslie is a fantastic athlete who can finish at the rim, rebound and plays with great energy.
He's averaging 14 PPG and 8.1 RPG in eight games this season.
22. Kyle Singler, SF, Duke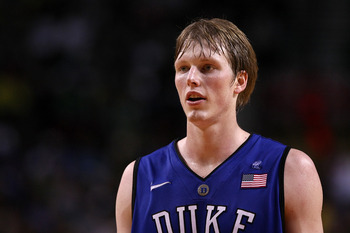 Jonathan Ferrey/Getty Images
A senior with winning experience, Singler and Duke are attempting to win consecutive National Championships.
When that journey is through, Singler will, in all likelihood, be attempting to win titles with an NBA team.
Aside from his midrange jump shot, he is good, but not great, at just about everything else. Simply put, he's a solid basketball player.
There's room for that on every team.
21. Tristan Thompson, PF, Texas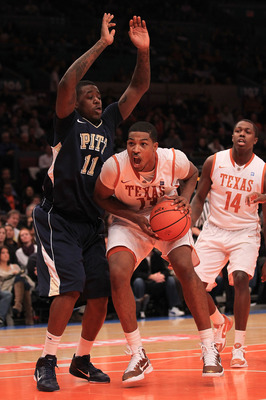 Chris McGrath/Getty Images
Thompson still has some improvements to make, but he is athletic, long, a good ball handler and able to put up points.
Although it's possible he will need another year in school, if he can put on a good enough show the rest of the way, he should be playing pro ball sooner rather than later.
20. Alec Burks, SG, Colorado
Jamie Squire/Getty Images
Considered the top 2-guard in college hoops, Burks needs to improve his shot and get stronger.
His athleticism and ability to score in multiple ways more than make up for his weaknesses. He is currently averaging 20.5 PPG.
19. Jordan Hamilton, SF, Texas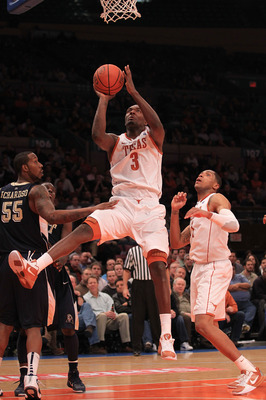 Chris McGrath/Getty Images
Able to shoot, score, rebound and run, Hamilton will be a pro come draft day.
His sometimes questionable shot selection has led to a decreased field goal percentage and he reportedly has a tendency to be a bit selfish.
These are things that can be worked on in time.
18. Trey Thompkins, PF, Georgia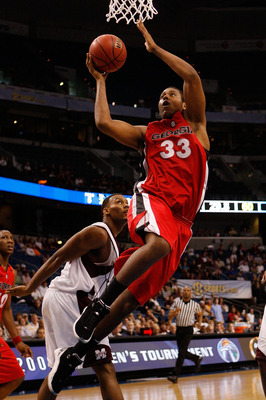 Chris Graythen/Getty Images
A tough, all around player, Thompkins makes up for his limited athletic ability with a smooth three-point shot, ball handling ability and inside game.
As a junior his numbers are slightly down from a season ago, which could lead to a slip in draft position.
17. Tyler Honeycutt, SF, UCLA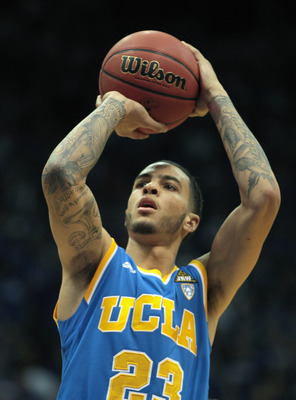 Jamie Squire/Getty Images
The biggest knock on Honeycutt has been that he can be too unselfish at times. That's not a bad problem to have.
His scoring numbers are way up from a season ago and he is a smart player. He can score, pass and rebound, making him a potentially highly coveted player this summer.
16. Kawhi Leonard, SF, San Diego State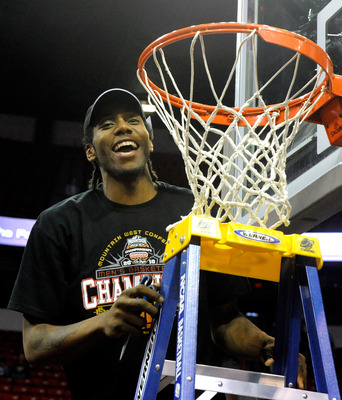 Ethan Miller/Getty Images
Leonard has gotten better offensively in his sophomore year. Add that to his good NBA body, great length and already established rebounding ability and we have a potential stud at the next level.
If he continues to improve he could find himself taken rather quickly.
15. Kenneth Faried, PF, Morehead State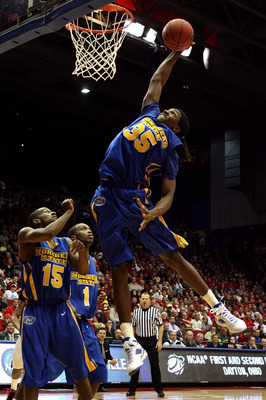 Andy Lyons/Getty Images
The picture says it all. Faried can jump and is very long.
There was never any question about his rebounding and shot blocking ability, though he was considered a bit of an offensive project coming into the season.
Apparently he got the memo as he is averaging 19 points on 66 percent shooting in 10 games this season.
14. C.J. Leslie, PF, North Carolina State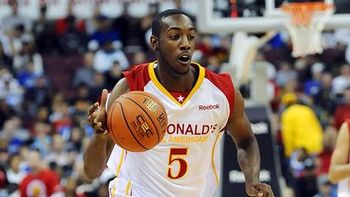 Jim Rinaldi/Icon SMI
Listed as a power forward, Leslie needs to develop a post game to be considered a star at that position.
Other than that and his poor free throw shooting, there's not much bad to say about him. He is an incredible athlete who can run, block shots, handle the ball, finish and shoot.
What more can you ask for?
13. Patric Young, C, Florida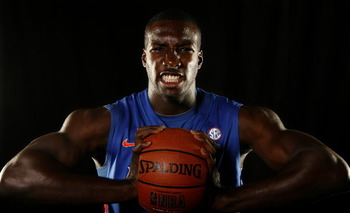 Photo by Gary W. Green, Orlando Sentinel
As you can see, Young has got some muscles, which aid his presence on defense.
His offensive skills need plenty of work, but he is projected to be in or just outside of the lottery thanks to his rebounding and shot blocking.
And those muscles.
12. Chris Singleton, SF, Florida State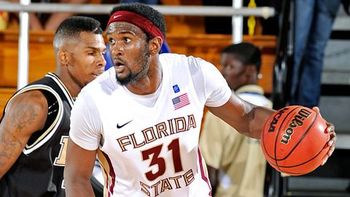 Samuel Lewis/Icon SMI
There have been questions about Singleton's fire and lack of production in his first two years. He's improved his game in just about every regard this year, however, and will likely be taken in the first round of the draft.
He can finish at the rim, run the floor and shoot, giving him a ton of potential.
11. Derrick Williams, SF, Arizona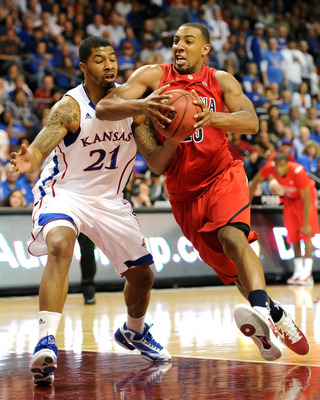 Ethan Miller/Getty Images
Averaging 19.5 PPG and 7.4 RPG, shooting 65 percent from the field and 71 percent on threes, Williams is skyrocketing up draft boards.
He's going from a potential first round pick to a lottery lock. At the rate he's going, he could end up well inside the top 10.
10. Marcus Morris, PF, Kansas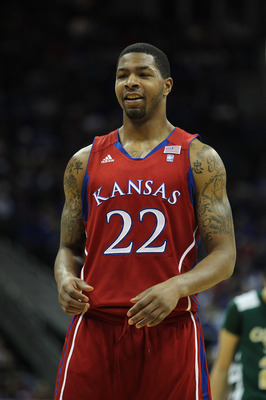 Jamie Squire/Getty Images
There's not much Morris can't do on a basketball court. He plays hard and can go inside or outside.
He also has good rebounding ability, but scouts say he needs to get stronger and is a sub-par athlete.
He'll still be going pro.
9. Brandon Knight, PG, Kentucky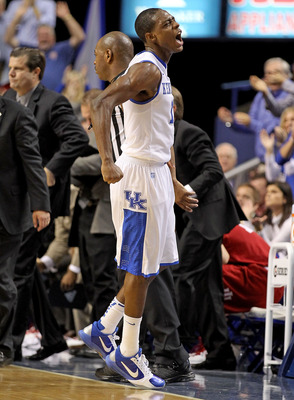 Andy Lyons/Getty Images
A bit unfairly compared to John Wall and Derrick Rose thanks to his ties to John Calipari, Knight will be another one-and-done player for the coach.
He's able to play both guard positions, can shoot and finish. Could be another good year for Kentucky in the draft.
8. John Henson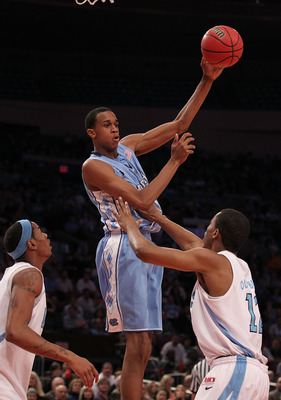 Nick Laham/Getty Images
Henson needs to add some thickness to his frame. He's still a potential lottery pick, though, as he is a superb athlete who can score and rebound.
He's considered a top five power forward in the college game.
7. Kemba Walker, PG, Connecticut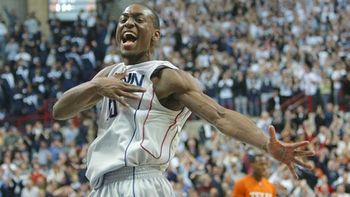 David Butler II/US Presswire
Already known to have a ton of potential, Walker has exploded this year in leading UConn to a surprise start.
He's still a bit of a score-first point guard, but his game is much improved. He is currently averaging 28 PPG while shooting 53 percent from the field and sporting a better three-point shot than in his first two seasons.
A point guard with his talent generally ends up in the lottery.
6. Josh Selby, PG, Kansas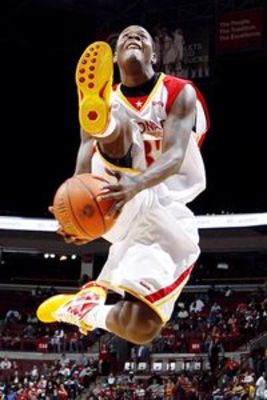 Brian Spurlock/US Presswire
While there is a lot of doubt about how many really good players there are in college this year, there do seem to be a good number of talented point guards.
Selby's shot is said to be streaky, but he can pretty much do it all on the floor. He will, at the very least, be a top 10 pick even though he has not yet played this season.
5. Jared Sullinger, PF, Ohio State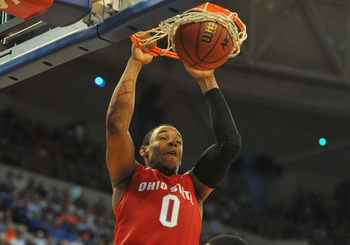 Al Messerschmidt/Getty Images
Early this season many thought Sullinger would need another year in college before going pro.
That's no longer the case.
Sullinger is a good scorer who is tough, physical and can rebound in addition to being very smart.
Whoever takes him just has to hope he doesn't turn into Greg Oden.
4. Terrence Jones, SF, Kentucky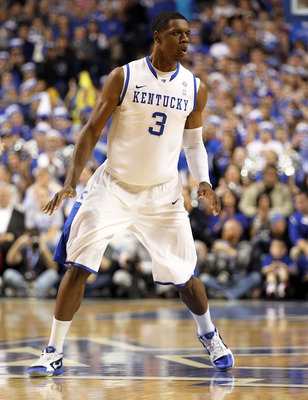 Andy Lyons/Getty Images
Jones can play multiple positions, score, pass, handle the ball and is a great athlete.
His biggest drawback has been his propensity to take too many long-range shots, which is something that could fade with good coaching and experience.
He is currently averaging a double-double for the Wildcats.
3. Kyrie Irving, PG, Duke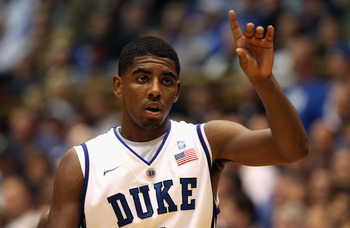 Streeter Lecka/Getty Images
Out indefinitely after suffering ligament damage in his big toe, Irving will be gracing pro hardcourts in 2011 regardless of whether or not he plays another game at Duke.
He's thought to be the best point guard in the country and with good reason. There's nothing he can't do and is more of a pure point guard than all the other top prospects at the position.
Get better soon, Kyrie, so we can enjoy your game at the amateur level for a little bit.
2. Perry Jones, PF, Baylor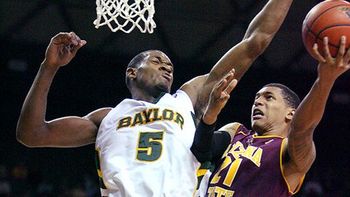 AP Photo/Duane A. Laverty
There are some who believe Perry Jones will be the No. 1 pick. Others feel that he can disappear for stretches of games and that hinders his potential.
No matter the case, he will be going pro next year and will be selected very early in the draft.
He can do anything you'd want a power forward to do, although scouts would like him to be more dominant.
1. Harrison Barnes, SF, North Carolina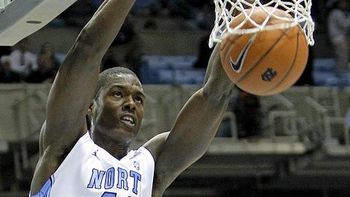 AP Photo/Gerry Broome
Although he hasn't quite lived up to the hype yet, there are many, many people around the NBA who believe he could become the face of a franchise.
He's long, athletic, smart, fundamentally sound, an all-around good person . . . it goes on and on.
Barring a catastrophic season, Barnes will likely be the No. 1 pick. He's used to dealing with expectations and does not succumb to the pressure.
Whoever lands him will have quite a player.
Keep Reading