Andrew Bynum: The X-Factor in L.A. Lakers Upcoming Clash With Miami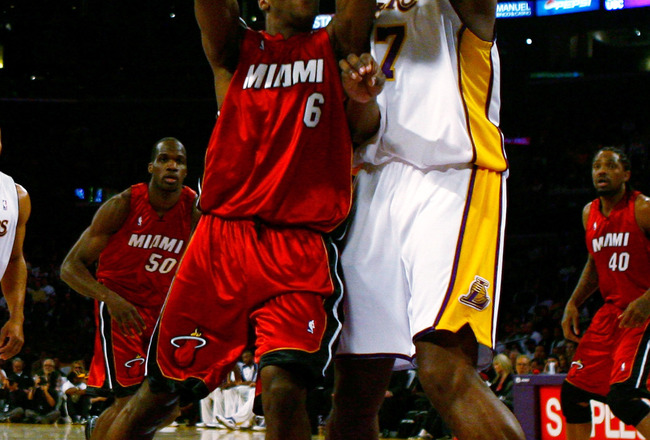 Andrew Bynum is a defensive force in the middle for the Lakers
Jeff Gross/Getty Images
Addition of Power Forward Joe Smith Adds Depth to an Already Strong Middle
Lakers center Andrew Bynum returned to action against Washington on Tuesday, signaling the hopeful end to his rehab from summer knee surgery. With the acquisition (also on Tuesday) of veteran power forward Joe Smith from the New Jersey Nets; the Lakers have strengthened their core, which bodes well for the champs as they prepare for a Christmas Day showdown at Staples Center with the Miami Heat.
Bynum's return can't come soon enough. And Smith, with his big 6-8, 220 frame and low impact ($1.4 million) salary, gives the team another body in the middle to go along with Pau Gasol, Lamar Odom and Theo Ratliff (when he returns, which is still uncertain). The Lakers dealt guard Sasha Vujacic and a 2011 first round pick as part of the Smith deal.
Bynum is the X-factor. Now 23 and in his fifth year with the team, Bynum has not played a full season since joining the Lakers out of St. Joseph (NJ) High School in 2005. His talent and upside potential, though, are limitless; he's gotten stronger every year and his shooting touch has improved dramatically. In 65 games last season, Bynum averaged a career high 15 points per game. His 8.3 rebounds were the most since the 2007-08 campaign, when he averaged 10.2 but only played in 35 games.
The Lakers pay Bynum $14 million a year to rebound, clog the middle and occasionally score. The 7-0, 285 pound center looked decent in his season debut against the Wizards, scoring 7 points with 4 rebounds and two blocks. He has about 10 days in which to tune up for the big showdown with Miami. A healthy Bynum for at least 24 minutes on Christmas will translate into a Lakers victory. If he's rusty or doesn't play, I like Miami to turn up the heat and win.
Here are the key matchups:
Pau Gasol and Andrew Bynum Have Learned to Play Together Quite Well.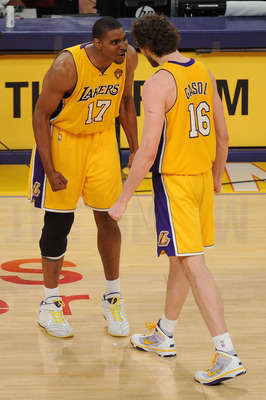 Lisa Blumenfeld/Getty Images
With Bynum starting at center, Coach Phil Jackson goes back to using Pau Gasol at the power forward position – he's considered by many as the best in the NBA, averaging over 19 points and 11 boards per game.
The Heat counter with 7-3 Zydrunas Ilgauskas at center – he plays about 18 minutes per game, averaging 6 points. Erick Dampier spells Ilgauskas and scores even less so the two are a non issue even without Bynum on the floor.
Bynum is quicker and stronger. Gasol easily complements Bynum. The tandem will confound the Heat big men. If Bosh or James comes over to help, look for a lot of open looks for Kobe, Fisher and company.
Advantage Lakers.
Chris Bosh of The Heat Can Score From The Wing But Gasol Will Handle Him Inside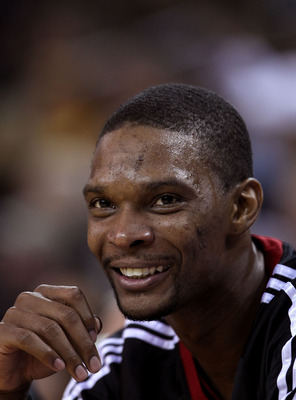 Ezra Shaw/Getty Images
Playing Bynum down low frees up Gasol who may be matched up against swingman Chris Bosh. Gasol has, in recent years, become stronger and better at rebounding.
Bosh is averaging 18 points and 8 rebounds per game. He likes to play facing the basket – has a tremendous mid range jumper but may have problems rebounding against Gasol. The 7 foot Spaniard is also the better passer.
Gasol has logged a lot of minutes this year - 39 per game - and has appeared tired at times, especially after back to back games. With Bynum back at center, Pau won't need to pound the glass on every single play and will get a breather on the bench from time to time.
Bynum on the court is a gift for Gasol.
Advantage Lakers.
LeBron James Is King of The Court Against Anyone But Artest Poses Some Problems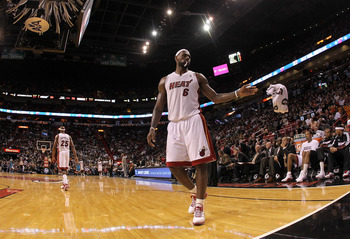 Mike Ehrmann/Getty Images
Ron Artest vs LeBron James.
When you're the best player on the planet, there isn't anyone who can really stop you. That being said, Artest is always up for a challenge and going against LeBron will be just that.
In 12 previous meetings dating back to 2003, James is averaging 25.8 ppg to 16.5 for Artest. They met twice last year – James scored a total of 63 points with Artest guarding him and yet the Cavs lost both games.
James has Wade and Bosh this year and Miami's starting unit is starting to gel after getting to know each other.
Advantage Heat.
Kobe and Dwayne Make For Pure Entertainment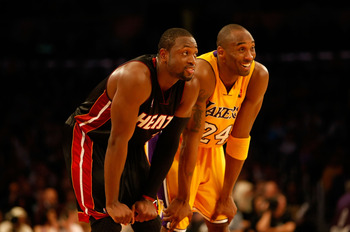 Jeff Gross/Getty Images
Kobe Bryant v. Dwayne Wade
This matchup is always entertaining. Two of the best to ever play the game and both fearless when it comes to last second shots.
The big difference, though, is that Bryant can jump from guard to forward and, at 6-6, is able to back down low in the post and make shots over people far taller. Kobe is playing less minutes this year - 33 per game - as Jackson seeks to keep him fresh for a long season and playoff run. While his shooting percentage is down slightly, Bryant is still averaging 26.6 points, 5.3 rebounds and 4.6 assists.
Wade is 6-4 and can still leap but prefers to play as a true point guard. He's more efficient than Bryant, hitting close to 50 percent of his shots, to Kobe's 44 percent. These two will battle, they'll both score a ton of points, but in the end, Kobe Bryant remains the best closer in the game. He's the one you want with the game on the line.
On Dec. 4 of last year, at Staples Center, and with time expiring, Bryant hit a miraculous 40-foot shot over the out stretched arms of Wade that hit the backboard and went in to give L.A. an incredible one point victory.
Different teams this year. But, Kobe is still Kobe.
Advantage Lakers.
The Renegades Will Be Difference Makers With Odom As Their Leader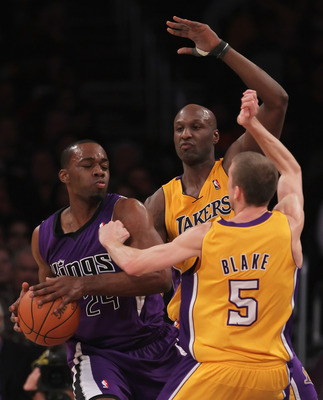 Jeff Gross/Getty Images
Bench - You have to give the big advantage to Los Angeles.
Bynum plays a role here too because his presence means Lamar Odom – arguably the NBA's most valuable sixth player – goes from starter to leading what may be one of the league's top second units by playoff time.
With Bynum out, Odom has been playing with the first unit and is off to the best start of his career: He is hitting on a remarkable 59 percent of his attempts from the field, averaging a highly efficient 15.8 points to go along with almost 10 boards and 3.2 assists.
Odom, Steve Blake, Matt Barnes, Shannon Brown and Luke Walton form the nucleus of a scrappy, high energy collection known as the Renegades. The Heat can barely put together a starting five after paying a king's ransom to King James, Wade and Bosh, let alone a second unit. Rumor has it that Pat Riley may be in uniform if the team needs a boost off the bench.
Big Advantage Lakers.
A Healthy Bynum Is a Gift For The Lakers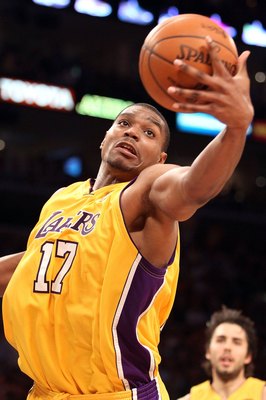 Ronald Martinez/Getty Images
The prediction here is that a healthy Bynum on the court for at least 24 minutes spells victory for the Lakers. His rebounding and presence inside will open up more opportunities for the Lakers and the Triangle Offense. Lakers win by 5.
If he is rusty or does not play at all, Miami runs around and through L.A. and wins by 6.
This is a dream matchup that could very well be a precursor to a championship series next June. Enjoy the holidays and thanks to David Stern for a great Christmas present.
Keep Reading

Los Angeles Lakers: Like this team?