The 25 Worst Missed Dunks Ever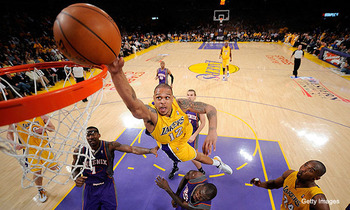 The slam dunk has long been one of the most exciting and crowd-pleasing means of scoring points in basketball.
It's the same amount of points as a jump shot inside the arc or a layup, but it can often change the course of the game based on the momentum it can give a team.
Not to mention the term, "It's a slam dunk," has come to be known as, "It's a sure thing."
But sometimes, this "sure thing" is no sure thing at all, and the result of a missed dunk can be disastrous and often highly embarrassing for the player involved.
Also, missing a dunk can often draw considerable ire from the coach, as a layup would have done just fine.
Here are the worst missed dunks of all time.
Let the accompanying blooper background music begin.
25. Nate Robinson vs. LeBron James
Nate Robinson has some hops. We all know that.
But he might have been better served laying this one up against the Cavaliers.
I'm guessing LeBron scared him in this one.
The dunk hit off the front of the rim and skimmed into a disappointed home crowd.
I heard there were chants of, "Throw it back! Throw it back!"
24. Rafael Araujo vs. Phantom
As former Toronto Raptors player Rafael Araujo heads to the basket with a clear path to the basket, a phantom apparently pushes him.
He screams out and flubs the dunk.
Good thing the Bobcats have that phantom on their team.
23. Street Baller Gives Street Ball a Bad Name
One of the main things street ballers are supposed to be good at is dunking the basketball.
Tell me, how did THIS GUY get on the team?
22. KU's Julian Wright Jumps, Forgets What He's Doing
On Jan. 28, 2007, in a game against Colorado, Kansas University's Julian Wright had a breakaway dunk.
Wright lifted off in what looked like it was going to be a spectacular dunk.
But there was no spectacular dunk.
Something happened. Something horrible.
Wright all of a sudden lost the ball with a look of shock, then tumbled under the rim as the ball slowly bounced away.
21. Vladimir Radmanovic Finds Out He's a Danger to Himself
Forward Vladimir Radmanovic, currently with the Golden State Warriors, averaged double digits in three of his first five seasons with the Seattle Supersonics.
But I'm sure he'd gladly take these points away.
Titled "The Funniest Dunk Ever," I don't think this one was very "funny" to Vladimir.
20. Rudy Gay Forgets Where He Is
Forward Rudy Gay, currently with the Memphis Grizzlies, appears to forget where he is as soon as he launches himself up in the air.
The fact he was in Lithuania doesn't help.
Gay jumped up and then appeared to realize, dropping his arm back to throw down, a monster slam wasn't a good idea.
Instead, he tried to convert it into a layup.
The result is embarrassing.
19. Darrell Armstrong 1996 Dunk Contest
Sure, this was not a dunk, but Darrell Armstrong deciding to throw in a layup during a DUNK CONTEST will go down in infamy.
Broadcaster and former player Kenny Smith was beside himself.
18. Adam Waddell Puts Vladimir to Shame
Not to be outdone by Vladimir Radmanovic, Wyoming's Adam Waddell wanted to show he could hurt himself even more by flipping a few times in the air after this dunk.
Please, kids, don't try this at home.
That's a good way to kill yourself.
17. Paulias Parachomikas
In the LKL (Lithuanian) Slam Dunk Contest in 2007, Paulias Parachomikas felt confident enough to try to jump over a cheerleader.
He instead plunged into the cheerleader, meeting with gasps and screams from the audience.
16. Kobe Bryant's Fail
I'm hoping the Lakers were up big in this one, because it won't make you any fans laughing after blowing a dunk.
The degree of difficulty was high, but this isn't the Slam Dunk Contest, Kobe.
The broadcaster's call on this is hilarious.
15. Mike Dunleavy's "Disastrous" Dunk Attempt
This video, titled "Disaster," fittingly describes forward Mike Dunleavy's time with the Golden State Warriors.
It was a bad idea to give this guy an alley oop for a dunk.
Really bad idea.
14. Travis Outlaws Airball Dunk
You'd hope that Travis Outlaw was trying to pass this to his teammate on the other side of the court, but sadly, he was actually trying to dunk it.
How you airball a dunk from that close beats me.
13. The "What Went Wrong" Dunk
Something horrible happened to this guy when he went up to dunk the basketball.
Either his feet slipped or he was out of position or he got scared.
Either way, that was ugly.
12. Ricky Davis Forgets He's in an Actual Game
Former Boston Celtic Ricky Davis was said to not have his head in the game all the time.
I would think this would be one of those times.
Why you try to go between the legs and dunk in the first place in an actual game beats me.
Especially when the result is an apparent pass off the backboard to no one in particular.
11. John Salley
The only thing worse than a missed dunk is two missed dunks in a row.
John Salley, formerly of the Detroit Pistons, will never live this down.
I love ya, Sal, but that was just bad.
10. LeBron James with the Assist
Before LeBron James left the Cleveland Cavaliers for the Miami Heat, he was on Anderson Varejao's team.
His ugly missed dunk set up current teammate Dwyane Wade's facial on Anderson Varejao.
They say Varejao never was the same again.
This may have been the beginning of the end of LeBron's friendly relationship with all of Cleveland.
9. LeBron James Part II
When LeBron James is on a breakaway, the last thing you expect to see is a missed basket, let alone a missed dunk.
But this miss may have been the worst of his career.
I don't know what he was trying to accomplish, but it wasn't pretty.
8. J.R. Smith Double-Clutch
At the last moment, J.R. Smith tried to double-clutch this dunk against the Detroit Pistons in a close game.
Safe to say that didn't work.
J.R. is still rolling on the floor from that one.
7. This Is Why Tony Parker Doesn't Try to Dunk
Tony Parker decided to have a little fun and try to dunk in this one.
Well, he won't make that mistake again.
6. Vince Carter Misses a Dunk
It's not very often that Vince Carter looks bad dunking a basketball.
But I found a time, yes I did, when he was with North Carolina.
Although he was fouled on this dunk, this was nevertheless the ugliest dunk attempt I have ever seen Vince Carter make.
He seemed very confused and angry after this one.
5. Marreese Speights
Philadelphia 76er Marreese Speights tried to be like Dwight Howard and throw this dunk in the hoop.
Didn't exactly work.
One of the most embarrassing dunks I have seen.
4. Jason Richardson Misses Game-Tying Dunk
In this game against the San Antonio Spurs, dunk master Jason Richardson had a chance to tie the game with a breakaway dunk with 41 seconds left.
He didn't, and the broadcasters were beside themselves.
That's the kind of thing that stays with you a while.
3. Von Wafer vs. the Rim
Former Houston Rocket Von Wafer does have some hops.
But something went horribly, horribly wrong.
It looked as if an imaginary force stopped Wafer cold.
Unfortunately, it was actually worse. It was the rim. I'm surprised he didn't dislocate his shoulder after that one.
2. A Slam Dunk Contest Gone Wrong
I wasn't able to find good footage of the miscues that were prevalent in the 2010 Slam Dunk Contest, but I was able to find good footage of this one.
Good lord Birdman, whatever was wrong with you back then.
1. Michael Jordan
Michael Jordan is such a legend to the game of basketball, nobody ever remembers some of his bone-headed plays.
No. 1 is dedicated to some of these bone-headed plays, as well as some dunks gone wrong.
My apologies, your Airness.
Keep Reading