Suns' Rays: What Is Wrong With Phoenix?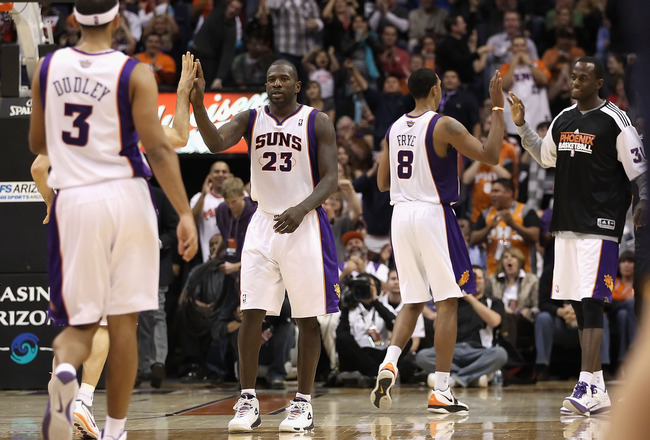 Christian Petersen/Getty Images
The Suns are now 3-2 in December, in a supposedly soft stretch of their season. While the team has established some level of consistency in regards to its style of play, it also suffers from many work-in-progress aspects. This is fairly apparent in the team configuration, as well as in its in-game strategy against specific opponents.
So in no particular order, here are five concerns the Suns need to resolve on a high-priority basis
Use Dragic More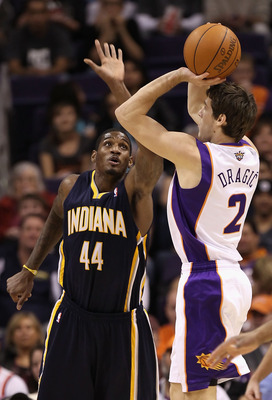 Christian Petersen/Getty Images
Goran has been spotty all season, and his stellar efforts have been far rarer than his mediocre ones. Last night against Memphis was of the positive variety, as we saw Dragic's fire-breathing, super-quick penetrative version against Mayo, Conley, Henry & Co.
On the flip side, he looked skittish and confused against the Blazers on Tuesday. Gentry has expressed concern about Dragic's performance but has laid the blame on the supporting cast, in regards to their lack of awareness on where to position themselves. While that is factual, it is also fairly clear that Dragic is a player who feeds on confidence, and, on the other hand, gets flustered if things do not start well.
Gentry was smart in inserting him earlier last night (at the six-minute mark of the first quarter), thus allowing him the luxury of playing with the starters. Having said that, he decided to play Goran in tandem with Nash in the third quarter, which, to me, is somewhat pointless. With Nash on the court, Dragic predominantly becomes a catch-and-shoot player, and the team loses his ability to dribble-penetrate. Also, J-Rich is a far better catch-and-shoot option than Dragic, so to have Dragic along with Nash together does not serve much of a purpose.
Get Nash Some Rest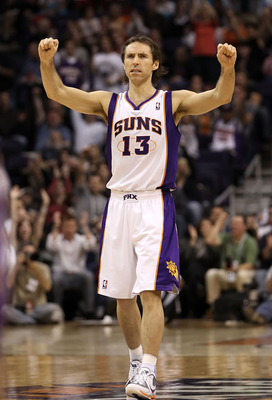 Christian Petersen/Getty Images
Tangential to the earlier point is the concern around Nash's minutes. More than at any other point in his Suns career, Nash looks tired at the end of games. This has definitely contributed to his turnovers in the fourth quarters. Some of his passes look errant by exhaustion, rather than having been caused by a terrific defensive play. Off the top of my head, I can remember four games this season, (the first game against the Blazers, at Memphis on November 8th, versus Chicago on November 24, and Tuesday's game Portland), where Nash's end-game fatigue led to some rather critical turnovers.
Obviously, the easy fix to this would be to hope that Dragic continues to get better and more consistent, and that will have a direct impact in reducing Nash's minutes. In addition (and even in case Dragic is undependable on any given night), I feel Gentry needs to try Hedo and Grant Hill as playmaking options in the backcourt. Obviously, this is not an option that is workable for more than a few minutes per game, but it is still worth trying out. Hedo and Hill in the backcourt, with Warrick, Frye and Dudley/JRich/Childress.
What to Do of Hedo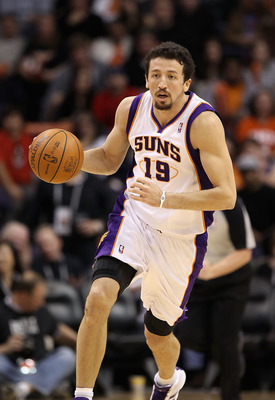 Christian Petersen/Getty Images
Aligned with the point made on Nash is the question of what needs to be enabled to make Hedo more productive. He is virtually useless right now, and he is not to be blamed for all of it either. You can see traces of his brilliance at times; last night, when he hit the potential game-winner against Memphis with almost no time left. However, on a general basis, he is all over the place, is unsure about where/what he is slated to do on the court, and is pretty much resigned to be the spot-up shooter off the bench. Which, unfortunately, is something that we could have had James Jones do, rather than trading for Hedo.
To me, this is the Suns biggest issue right now. They need to get Hedo on track, and the way to get there is to have him handle the ball almost exclusively for two-three minute stretches. He is a more-than-capable playmaker, and can create match-up problems against most guards every night.
When Will Barron Stop Missing Point-Blank Layups?
Christian Petersen/Getty Images
On the positive front, Barron has brought key tenets that were missing earlier, a nose for the ball, the ability to box-out, and to get timely offensive boards. All of that is negated somewhat, though, by his frustrating tendency to miss literally zero-distance lay-ins. He makes a mess of 90% of Nash's pick-and-roll passes. In fact, Nash spoon-feeds him the ball so efficiently that if Earl could convert even half of his chances, he would be a double-digit scorer every night!
Practice might be a solution, and for what its worth, the dude is earnest and is sincere in his effort. In a best-case scenario, if the Nash-Barron equation clicks, it will undoubtedly add at least 4-6 extra scores per game
Who Is the Go-To Guy?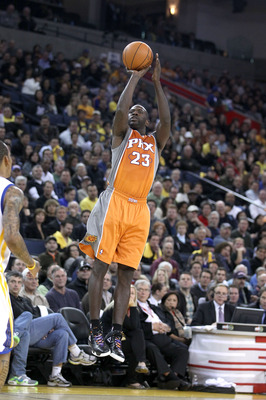 Ezra Shaw/Getty Images
Jason Richardson has been the Suns' most prolific scorer during the early part of the season and is shooting at a heady 48% clip (45% from three-point range). He has tailed off a bit in the last two games but that is to be expected after such a hot start. But is he the team's Go-To Guy?
I say, yes, and he needs to be treated as such. I am all for the floating rotation from the bench perspective. But we need that one guy who will get the ball at the end of games (until and unless Nash finds a wide-open man).
And, to me, JRich warrants that honor at least for the foreseeable future. In some of the team's recent close games, their offensive possessions have been quite discombobulated, and the play set-up has taken upwards of 16-18 seconds. Amare used to be our pressure-relief until now, and we need someone to take up that role. Admittedly, Richardson is a great third-best player on a good team; for the Suns, though, he needs to take on a more significant role; that of the stress-buster with two seconds left on the clock at the end of games.
Keep Reading

Phoenix Suns: Like this team?