NBA Trade Rumors: 5 Reasons Steve Nash and Atlanta Hawks Would Be a Perfect Fit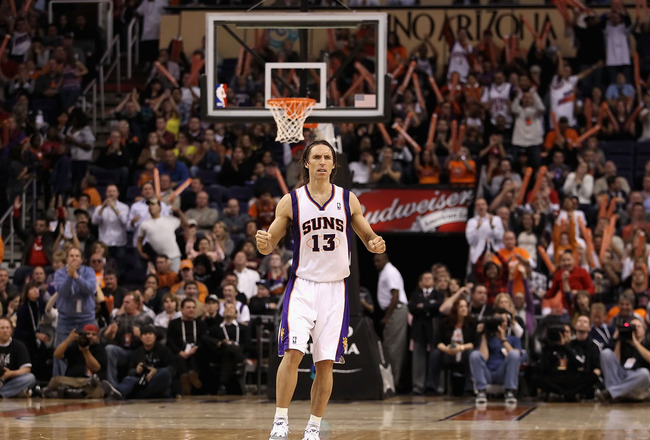 Christian Petersen/Getty Images
After the completion of last night's games, over 20 percent of the 2010-11 NBA season is now in the books.
Hard to believe, right? It seems like just yesterday we were crowning the Heat for their fifth straight NBA Championship and still determining whether the Clippers had a realistic playoff chance.
As the season continues to unfold in the next few weeks, we're going to start to get a really clear picture of who the actual contenders are as the low- to mid-level teams start to expose their faults and weaknesses. When that happens, you can expect to hear a lot of trade talk.
One name that's already been thrown into the mix by ESPN's Ric Bucher is Steve Nash. It's not a guarantee that Nash will inevitably be traded—he loves Phoenix, the city embraces him and the Suns, despite their 8-9 record, are in second place in the Pacific Division and are by no means out of the playoff hunt.
At the same time, they are what they are. The loss of Amar'e Stoudemire has really hurt their production from the power forward spot this year, and they're not getting better...or younger. So, if an opportunity comes along to move Nash while acquiring some younger players and draft picks, saving money and allowing Goran Dragic to take over at the point, then it's probably in Phoenix's best interest (long-term) to do so.
There are more than a handful of teams that could use Nash's services, but there is one middle-of-the-pack team that could be bumped up to contenders if they acquired him: the Atlanta Hawks.
I'm not trying to break down the semantics of an actual trade. Maybe Jordan Crawford, Jamal Crawford's expiring contract and a few future draft picks are enough.
Or maybe Atlanta would have to give up Josh Smith and absorb one of Phoenix's long-term contracts, like Hedo Turkoglu or Josh Childress (eligible to be traded after Dec. 15).
But allow me to present five reasons that Nash and the Hawks would be a perfect fit for each other.
Primary Ball-Handler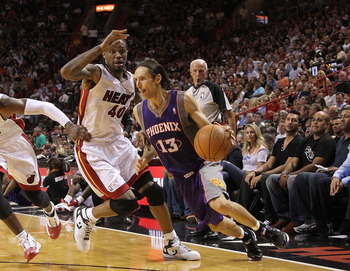 Mike Ehrmann/Getty Images
At the tail end of his career, Mike Bibby isn't the point guard he used to be.
He can't create off the dribble, he's not strong when it comes to attacking the basket and he's not a great set-up man—he's averaging just 3.6 assists per game this year after a career-low 3.9 last season.
As a result, most of the half-court offense is run through Joe Johnson, who is a scorer, a slasher, a shooter...anything but a ball-handler. He shouldn't be relied on to make things happen for others or to try to create shots for teammates.
Nash is one of the best over-dribblers in the league...and I mean that as a compliment. He can get anywhere on the floor and never picks up the ball—he's the best at dribbling into the paint and under the rim, bringing the ball back out to the top of the key and throwing a perfect pass to an open teammate.
His arrival would allow Joe Johnson to play almost exclusively off the ball, except in isolations. For the first time in this era, the Hawks would have a reliable point guard who can push the ball in transition or run the offense when needed.
Bibby is a decent role player, but he's not a great fit for this Hawks team. Not only would Nash assume ball-handling responsibilities, but he can also...
Creates Open Shots for Joe Johnson, Josh Smith and Al Horford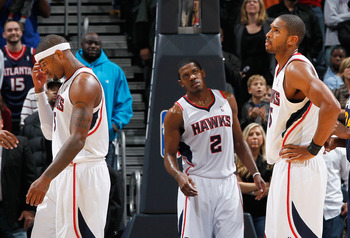 Kevin C. Cox/Getty Images
...make life on offense so much easier for Johnson, Josh Smith (assuming he wouldn't be part of a deal) and Al Horford.
This might seem kind of redundant with the last slide, but there's a difference between handling the ball on offense and creating shots for teammates.
Not only can Nash increase the tempo and give the Hawks a more reliable set-up man in half-court sets, but the attention he demands from opposing defenses will give Atlanta's other shooters and slashers more room to operate.
Say Nash does one of his patented loop-arounds where he goes under the basket and back outside while dribbling. If the defense doesn't collapse, he'll get the layup or floater all day.
When they finally do, he can kick it out to Johnson, Marvin Williams or Maurice Evans for open three-pointers or mid-range jumpers.
Or he can look for slashers coming down the paint—a strength of both Smith and Williams.
And can you imagine the damage Horford could do as the fourth option on offense? You have two guys who can score in the post, two guys who can knock down open three-pointers with ease, two guys who can score in isolation, two guys who can slash and cut to the hoop all day...that's essentially like having eight players on the floor.
It would be an extremely arduous task to try to slow down the Hawks on offense.
Allows Hawks To Play a Faster Pace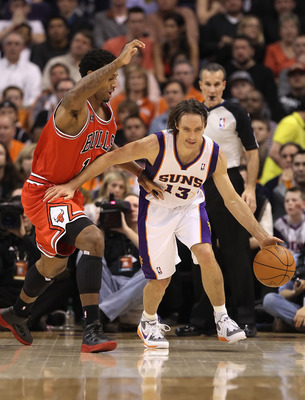 Christian Petersen/Getty Images
Atlanta is a middle-tier offensive team, ranking No. 15 in the league with 100.2 points per game. But earlier in the year, they were in first place in total points by running fast breaks and taking quick, open shots against weaker defensive teams like Memphis, Philadelphia, Cleveland, Minnesota and Phoenix.
Very few teams can match the size, speed and quickness of the Hawks. Johnson, Williams and Smith are all above-average athletes for their positions, and when they put the ball on the floor to attack the rim, in half or open court, it puts a lot of pressure on the defense.
The problem is, against either the elite teams or strong defending ones, the Hawks don't have anyone to keep pushing the tempo. So, they're forced to run mostly half-court sets and they wind up settling for too many jumpers.
With Nash, they never would have to worry about not playing at a fast enough pace. He's played his entire career at a breakneck tempo, so he might actually have to scale it back a bit.
Still, the Hawks need to get easy buckets whenever they can...and that includes transition hoops. Nash alleviates that need.
More Reliable Three-Point Shooting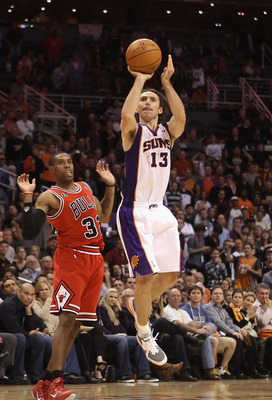 Christian Petersen/Getty Images
As they are in overall points, the Hawks as a team are a mid-level three-point shooting bunch. They make 6.2 attempts (T-No. 13) and shoot 35.8 percent from the perimeter (No. 18).
Nash's current team shoots 37.7 percent from the three-point line and connects on nearly nine attempts per game.
Granted, the Suns have a few more pure shooters (Jason Richardson, Channing Frye, Jared Dudley) than the Hawks. But virtually all of Phoenix's three-point attempts are predicated by Nash's dribble penetration or fluid ball movement.
Atlanta only has one player shooting above 40 percent from the three-point line: Mike Bibby, who is connecting at an astounding 52.1 percent. It's probably safe to say he won't continue that trend.
The other shooters are struggling—Johnson (25.6 percent), Jamal Crawford (35.1 percent) and Williams (23.8) have all been erratic with their outside game. And really, Johnson, Crawford and Bibby are Atlanta's only outside threats.
Not only does Nash add his own three-point shot (a career 43.1 percent shooter), but he'll allow Johnson to get more open looks. If Josh Smith wants to take the occasional corner three-pointer, he can. These will all be open looks within the flow of the offense.
Veteran Leadership
Christian Petersen/Getty Images
I know Nash has never won an NBA Championship...nor has ever played in a Finals game. But he's been close. Really, really close.
A Dirk Nowitzki sprained ankle. A Robert Horry hip check. A Ron Artest tip-in. Any of these breaks go Nash's way and he's definitely at least making the Finals...and probably winning at least one.
He's played in 118 playoff games—more than anyone on Atlanta's roster. That experience is invaluable. He may not have gotten over the hump yet, but he knows what it takes to get there.
With the Hawks' current nucleus, you wonder how they'll react and adjust come playoff time. They were swept in humiliating fashion in the second round each of the last two seasons...especially last year when they were completely demoralized by Orlando.
Have they reached their peak? Do they have anything we haven't seen for Boston, Chicago, Orlando or Miami? When things go south, how will their body language look? Who will they turn to for leadership?
They could always turn to Nash. He gives them a higher ceiling, a new element that teams have to game-plan for.
When they need a bucket, he'll get it.
When they need a strong locker room presence, he'll be that.
It would be Nash's last realistic chance to get back to the Finals...and with a nucleus like Atlanta's surrounding him, it wouldn't be entirely out of the realm of possibility.
Keep Reading

Atlanta Hawks: Like this team?