In Aid Of Tyreke Evans: Top Five Guards the Sacramento Kings Should Target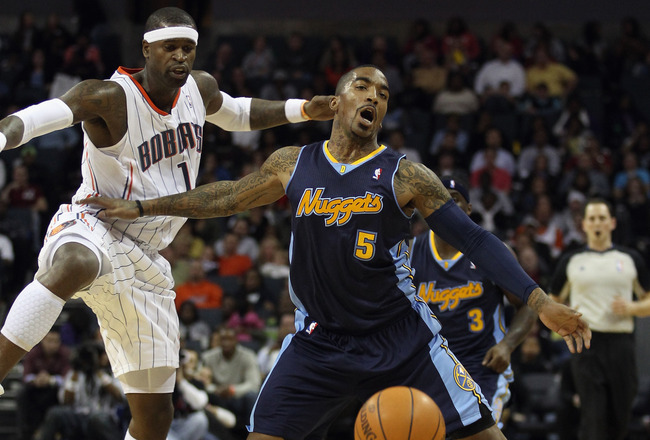 Streeter Lecka/Getty Images
With the NBA season underway, rumors have surfaced that the Sacramento Kings are aggressively pursuing a trade for a new point guard. The Kings have started the season with a disappointing 4-10 record, largely due to a lack of consistency from star player and 2010 Rookie of the Year Tyreke Evans. Evans has been battling sore ankles along with plantar fasciitis and has not been himself thus far in the season, averaging just 17 points per game while shooting under 40 percent from the field.
The Kings have also struggled with their three-point shooting, hitting on just under 32 percent of their attempts from beyond the arc. With Evans' ability to penetrate and the potent post scoring of Carl Landry, Jason Thompson and Demarcus Cousins, the Kings must have players who are able to space the floor and connect on their three-point attempts.
The Kings recently offered big man Jason Thompson to the Atlanta Hawks for backup point guard Jeff Teague, but were turned down. Several sources have reported that The Kings are also very interested in Aaron Brooks of the Rockets, whose three point shooting would complement Tyreke Evans beautifully. However, it seems unlikely that the Kings would be able to pry Brooks away from the Rockets without giving up fifth overall pick Demarcus Cousins.
As a result, the Kings may have to look at other options to bolster their backcourt. I played around with the NBA trade machine a bit and came up with these five options.
Jamal Crawford, Atlanta Hawks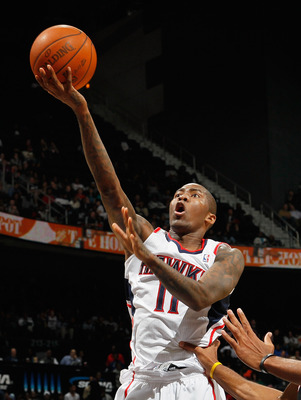 Kevin C. Cox/Getty Images
Just months after winning the 2010 NBA Sixth-Man of the Year Award, Jamal Crawford finds himself in a less than desirable situation. The Atlanta Hawks passed on the chance to extend Crawford's contract in order to sign Joe Johnson and Al Horford to bulky contracts.
Crawford's name has popped up in various trade rumors early in the season, but thus far has continued to man his post as the Hawks' sixth man. Crawford has been solid thus far in the season, averaging 14.8 points and 3.5 assists per game. However, he is not contributing as well as last season and all signs indicate that Crawford is not a part of the Hawks long-term plans.
On several occasions early in the season, the Hawks have gone with a big lineup featuring Al Horford at power forward, Josh Smith at small forward and Jason Collins at center. Horford, who is a natural power forward, seems to play well at the position and Smith's versatility allows him to succeed at the three-spot. Consequently, it doesn't seem out of the question for the Hawks to pursue a new starting center.
Enter Samuel Dalembert.
Dalembert is a defensive specialist with a large expiring contract that is only slightly larger than Jamal Crawford's. Dalembert is currently experiencing a small role on the Kings as DeMarcus Cousins' backup, and considering the plethora of young big men in Sacramento his services don't seem needed.
Crawford's shooting ability and offensive versatility make him an ideal fit for the Kings, and Sacramento management should do its best to try and swing a deal of Dalembert for Crawford.
Rudy Fernandez, Portland Trailblazers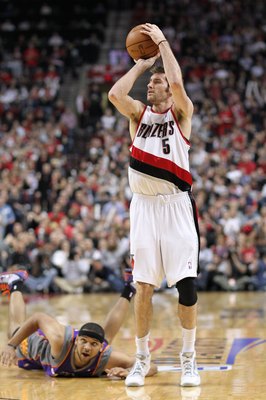 Otto Greule Jr/Getty Images
Rudy Fernandez has made it no secret that he isn't exactly thrilled to be in Portland. And although he's still contributing at a solid level, Fernandez no longer possesses the confidence and attitude that allowed his fantastic skills to show.
Forced to compete for minutes with Brandon Roy, Wesley Matthews and Nicolas Batum, Fernandez seeks a bigger role or a return to Europe.
Well Rudy, meet the Sacramento Kings, the worst team in the league, where becoming the starting shooting guard is really not that hard. Fernandez's level of play seems directly correlated to his confidence and the amount of minutes he receives, and as he has shown in the last two games (along with a variety of others), he has the skills to be an all-star in this league.
With injuries to Roy and Batum, Fernandez has been inserted into the starting lineup and has responded by tallying 41 points and 12 assists in two games (he didn't start the first but played 37 minutes). Although streaky, Fernandez thrives in the spotlight and if placed in the starting lineup with the Kings could easily average 15-plus points per game.
Fernandez's shooting ability makes him, like many of the players on this list, an ideal complement to Tyreke Evans, and he shouldn't be particularly difficult for the Kings to acquire.
A trade of Casspi for Fernandez could be considered, or the Kings could risk a future first-round draft pick.
Stephen Jackson, Charlotte Bobcats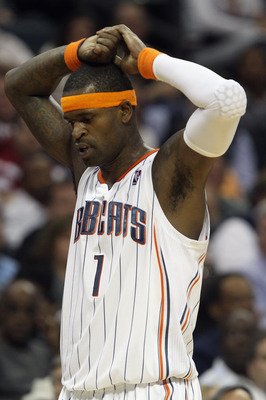 Streeter Lecka/Getty Images
With reports surfacing that both Stephen Jackson and Gerald Wallace are on the trading block, the Kings might as well try to save their season by acquiring Captain Jax, a seasoned scorer with a killer stroke and plenty of bottled up rage.
After coming to the rescue of the Charlotte Bobcats at the beginning of last season and leading the franchise to its first ever playoff appearance, Jackson has failed to create such positive results this season. The Bobcats currently hold a disappointing 9-17 record and, without a whole lot of young talent on the roster, seem headed in the wrong direction.
Although the Bobcats won't want to give up Jackson for nothing, a couple of young players paired with Samuel Dalembert's expiring contract could be enticing. Dalembert, Casspi and a draft pick for Jackson and DeSagana Diop seems like a good deal for both parties. The Kings could also send Casspi to Portland for Fernandez and send Dalembert and Fernandez to the Bobcats. The Bobcats are very weak inside at the moment, and adding Dalembert would bolster their rebounding and fit the defensive focus.
Jackson would relieve Tyreke Evans of much of the scoring load and provide a veteran presence on the young rebuilding team. And although he wouldn't make them contenders, Jackson could be enough to catapult the Kings to a lower playoff seed.
Daniel Gibson, Cleveland Cavaliers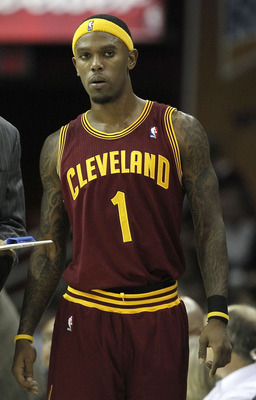 Gregory Shamus/Getty Images
With the departure of LeBron James, Daniel Gibson is enjoying an increased role on the struggling Cleveland Cavaliers. Gibson is averaging a career-high 13.2 points and 3 assists per game while shooting an impressive 41 percent from the three-point line.
Gibson is one of the league's top three-point shooters, boasting a career percentage of 42 percent from deep. Gibson's shooting ability would make him an excellent complement to Tyreke Evans and he would provide a bit of an upgrade over Beno Udrih.
Gibson is one of the Cleveland's most promising young player, so it may prove difficult to pry him away from the Cavalierss. However, the Cavaliers are in desperate need of some serviceable wing players, and could be tempted by an offer of Francisco Garcia and Omri Casspi for Gibson and Anthony Parker.
J.R. Smith, Denver Nuggets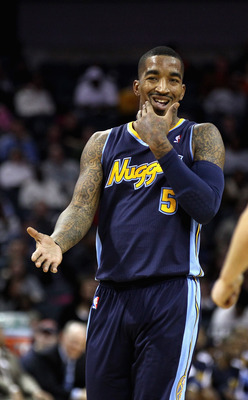 Streeter Lecka/Getty Images
It's no secret that J.R. Smith and Nuggets coach George Karl haven't always seen eye to eye.
Smith, an explosive scorer who has been criticized for maturity problems throughout his career, has been the subject of several trade rumors early on in the season. With Carmelo Anthony likely leaving Denver before the end of the season, the Nuggets appear ready to enter rebuilding mode, and a high-scoring headache of the past has no place on a rebuilding team.
Except maybe the Sacramento Kings, who can use all the help they can get.
Smith could help the Kings out immediately, starting alongside Tyreke Evans and providing them with an athletic shooter whose high-flying play style would surely help bring in fans.
Although it's hard to tell what the Nuggets would be willing to give Smith up for, Francisco Garcia and Donte Greene could get the job done. Another option would be Carl Landry for Smith straight up.
Keep Reading

Sacramento Kings: Like this team?