The 20 Worst Cheap Shots in Sports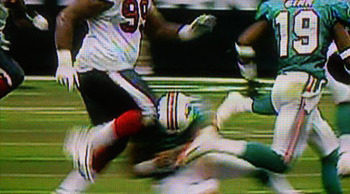 Where is the line between solid athleticism through honest competition, and downright poor sportsmanship? These players help us define that line with shots below the belt, hits intended to cause serious injury and Godzilla-sized tempers that make road rage look comatose.
Here are 20 of the worst cheap shots in the history of sports.
Also check out: The 100 Worst Decisions in Sports History
20. Randall Simon Clubs Sausage
Pittsburgh Pirates first baseman Randall Simon was trying to rank the Italian sausage by hitting it in the top of the head. However, it was no laughing matter. Simon was investigated for assault after the incident.
The person in the suit was actually a woman who was sent to the hospital, along with another woman that was in the suit next to her.
19. Robert Horry Checks Steve Nash...on a Basketball Court
During Game 4 of the Western Conference Semifinals matchup between the San Antonio Spurs and Phoenix Suns, Robert Horry hip-checked Steve Nash into the front of the scorer's table. This came after the Spurs' Bruce Bowen kneed Nash in the groin during Game 3.
18. Herb Pope Isn't Homophobic
This is a one-two combo from Herb Pope, formerly of Seton Hall basketball. His low blows on Texas Tech's Darko Cohadarevic earned him an ejection. Watch closely as you can see Pope deliver Chyna-style blows to the tennis balls of the Texas Tech player.
17. Richard Seymour Avenges 19-Year-Old Girls Everywhere
After a Steelers' touchdown against the Raiders in their blowout victory, QB Ben Roethlisberger was on the business end of a defensive lineman's hissy fit following a bit of trash talking.
Richard Seymour was standing too close to some of the Steelers following the TD, and flattened Roethlisberger when the QB tried to say something in his ear.
College-aged women everywhere were screaming Seymour's name following the shot. So Richard, even though you got ejected, there is a consolation for the next time you hit the clubs in Pittsburgh.
16. Chris Paul Violates Julius Hodge with a Full-Fisted Reach Around
This one has all the indications of a romantic night on the hardwood. First, Julius Hodge was caught holding Chris Paul's hand while no one was looking, then Chris Paul skipped the rest of the foreplay and went straight for the gold.
While the rebound went long, Paul dropped a sack-tap on Julius Hodge, and Hodge immediately laid down. This is like an episode of the Real World, only there's no night vision camera needed.
15. Antwan Barnes Levels Punter Sav Rocca in Preseason Game
Hard hits are a part of football. In fact, they are what make American football fun to watch. However, when someone goes after an un-assuming punter that's just minding his own business while jogging towards the sideline in a preaseason game, that is the definition of a cheap shot.
Baltimore Ravens' Antwan Barnes delivered a helmet-to-helmet hit on Eagles punter Sav Rocca, sending him flying backwards to the turf.
14. Pedro Martinez Drops Don Zimmer Like a Bad Habit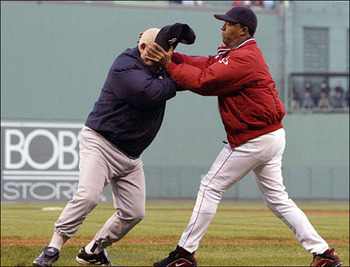 During Game 3 of the ALCS, the New York Yankees were embroiled in another battle of the ages with rival Boston Red Sox. As tempers flared, benches cleared and a brawl had begun.
Off to the side of the brew-ha-ha, Pedro Martinez shouted something at the Yankees. Don Zimmer marched straight towards him, ready to wash his mouth out with soap, when Pedro grabbed Zimmer by his wrinkly dome and threw him to the ground.
It has become one of the most imfamous moments of bad sportsmanship in MLB history.
13. Roberto Alomar Makes It Rain on Umpire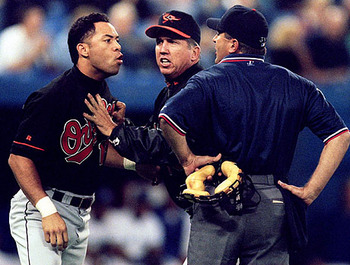 "Roberto Alomar: Baltimore Orioles second baseman Roberto Alomar spit on home plate umpire John Hirshbeck after Alomar was ejected from the game during the first inning against the Toronto Blue Jays in September 1996. The rift between Alomar and Hirschbeck escalated the next day when the umpire charged into the Orioles' clubhouse in an effort to attack the second baseman. (AP Photo/Moe Doiron)"
http://www.comcast.net/slideshow/sports-cheapshots/10/
12. Bill Romanowski Snaps Dave Meggett's Finger
Romanowski is not the man you want to be in line with at the grocery store. You may just leave the store with some missing teeth.
During his playing days, Romanowski was worthy of a cheap shot countdown of his own. While with the Oakland Raiders, Romanowski was stuck under a pile up with New York Giants RB Dave Meggett. Forgetting an attempt at getting the football, the linebacker resorted to breaking the running back's finger.
11. A Punch from the Mean Streets of Sesame
In 1977, an awkward wrestling match broke out at center court between the Lakers and Rockets. As Rudy Tomjanovich ran to the scene to break up the fight, Kermit Washington felt someone behind him, wheeled around and clocked Tomjanovich in the face.
Tomjanovich fell to the floor, smacking the back of his head on the court. The resulting medical problems stemming from the punch ultimately ended Tomjanovich's career. Washington would say it was instinctive from his days as a child.
All I know is that is the baddest Kermit I've ever seen.
10. Trent Green Attempts Chop Block on D-Lineman with Head
"God don't like ugly." You're absolutely right, Travis. So cut those dreads! You look like a 300-lb. mop.
Anyways...Trent Green, while playing with the Miami Dolphins, attempted to set a block for his receiver, got down on his hands and knees and gave Travis Johnson a blindsided blow to the knee.
The most bizarre part of this incident is Johnson's reaction, trash-talking Green while the QB lay there unconscious. What is worse here? The cheap shot or the cheap trash-talking?
9. Albert Haynesworth Stomps the Yard And...
While a member of the Tennessee Titans, Albert Haynesworth delivered a cheap shot on Dallas Cowboys offensive lineman Andre Gurode.
After knocking off Gurode's helmet with the first stomp attempt, Haynesworth connecting with his steel cleats to the exposed face of Andre Gurode. The result was an ejection and a face full of explicatives from coach Fischer.
For Redskins fans, suddenly it doesn't seem so bad that their highest-paid D-lineman was nearly unable to play because he was overweight....okay, maybe not really...
8. Zinedine Zidane's Headbutt
Zidane's headbutt on Italy's Materazzi was probably a little too much in response to trash talking, considering Zidane received a red card in his final professional soccer game.
The back half of this unsportsmanlike act was the ridiculous flop on the part of Materazzi. Flopping is officially an epidemic in soccer, and I don't blame Zidane for saying he'd rather die than apologize to his victim.
7. Tonya Harding and the Nancy Kerrigan Conspiracy
In 1994, Tonya Harding, together with an ex-husband and a friend, set up an attack on rival skater Nancy Kerrigan. A masked man struck her in the knee with a pipe, knocking her out of competition.
6. Dennis Rodman Players Soccer with Cameraman's Balls
Dennis Rodman has a career full of these types of highlights, but this one has to be up there at the top of his gallery of cheap shots.
Maybe the cameraman had an unflattering comment for Rodman's wedding dress.
Really, Rodman was just upset with tripping over the cameraman's legs, and didn't realize how far off the court he had gotten. It's not the first time Rodman has reacted without thinking...
5. Marty McSorley Domes Donald Brashear with Stick
In 2000, during a game between the Boston Bruins and the Vancouver Canucks, evidently McSorley was displeased with contact he received from Brashear on the other end of the ice.
As the puck went to the other side of the ice, McSorley saw an opening to seek revenge on Brashear before coming off the ice. As Brashear crossed him, McSorley swung deliberately at Brashear's head, connecting with the blade of his stick just below the right eye of Brashear.
Brashear was knocked out cold, and in a great display of the buddy system, the entire Vancouver Canucks team went after McSorley, piling on the ice with McSorley at the bottom.
Brashear suffered a Grade 3 Concussion, and McSorley was charged with assault. McSorley was convicted and sentenced to 18 months probation. It was the first criminal charge for an on-ice act in the NHL since 1988.
4. Chris Simon Swats Ryan Hollweg with Stick to the Face
In a 2007 game between the New York Islanders and the New York Rangers, the Islanders' Chris Simon was checked into the boards cleanly by Ryan Hollweg.
Simon, the unwilling participant of Hollweg's face-print on glass program, swung his stick with both hands and struck Hollweg in the face, cutting his head open. Hollweg laid face-down on the ice for minutes, noticeably bleeding while his teammates engaged in a brawl with the Islanders.
The most unsettling part about this situation was how long it took the Rangers' medical staff to get to Hollweg. Simon was issued a 25-game suspension.
3. Elizabeth Lambert Goes Karrawack on BYU
Finally, American soccer is exciting!
Elizabeth Lambert of New Mexico women's soccer decided to spice things up a bit as she demolished the BYU team. BYU would win the game, but winning a war with 25 percent of you men (or in this case women) still fighting is a bittersweet celebration.
2. Mike Tyson Munches Evander Holyfield's Ear
Cow tongue, goat testicles and fish eyes are all available in delis in the United States. But why spring for these items when there's an ear right in front of you, and you don't want to wait until the match is over?
Mike Tyson biting off the tops of Holyfield's ears is certainly not condoned in professional boxing, and it's a cheap shot that will be hard to top for decades to come, unless soccer players stop flopping, go on the offensive and start biting off fingers.
Hey Mike, would you like some salt with that?
1. Todd Bertuzzi Breaks Steve Moore's Neck
Then a Vancouver Canuck, Todd Bertuzzi was actively attempting to engage the Colorado Avalanche's Steve Moore in a fight. When Moore ignored Bertuzzi's attempts, Bertuzzi grabbed Moore by the back of the jersey, pulled him closer, and sucker-punched Moore, instantly knocking him out.
As Moore lost consciousness, he fell face-first to the ice. The resulting fall broke Moore's neck. Bertuzzi would issue a tear-filled apology, saying he just wanted to intimidate Moore. Mission accomplished, Todd.
Keep Reading