Kevin Garnett: 10 Creative Ways He Can Make Amends for His "Cancer" Comment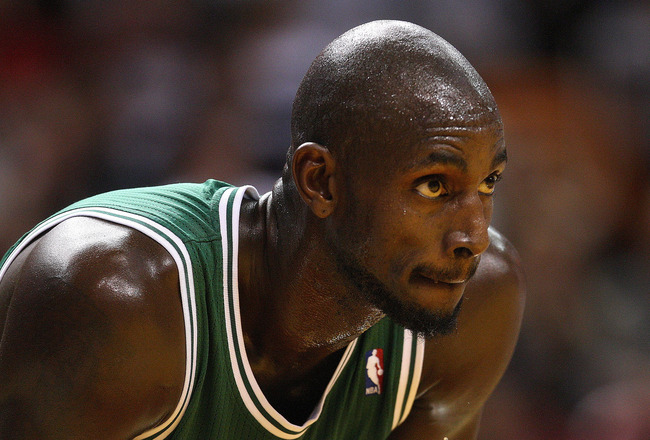 Mike Ehrmann/Getty Images
It has now been over 10 days since Detroit Pistons forward, Charlie Villanueva accused Boston Celtics forward, Kevin Garnett of calling him a "cancer patient." Not much has been made of the situation recently, but one has to wonder if it would be best for Garnett to try and remedy the situation in order to improve his image, which has been on the decline ever since he became a world champion.

For those that may not know what happened, Villanueva suffers from Alopecia Universalis, a condition that causes all of the body's hair to fall out, hence his lack of eyebrows. While Alopecia Universalis is not a disease and does not cause drastic harm to the body, it's still an affliction that Villanueva is obviously sensitive about.

The major question that still looms is did KG actually refer to CV as a cancer patient? Celtics coach Doc Rivers says no. Yet others, even in the Boston media (WEEI), had difficulty believing Garnett's statement that he claimed to have called Villanueva "cancerous to your team and our league" and not anything associated with Charlie's personal battles.

Regardless of if KG actually did say what Villanueva said he did, the haters can hate even more now, which begs the question: Can Kevin Garnett properly make amends for his comments?

Here are 10 ways:
Open Up A Twitter Account and Apologize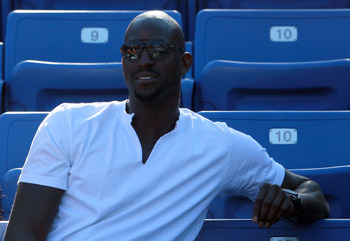 Jeff Gross/Getty Images
Wait a second, isn't KG already on twitter? No, that's some white guy with a goatee who is also named Kevin Garnett. Also, the guy who plays in the NBA doesn't spell his name "Keven" or wear the number six as a few of the impostors believe.

Anyway, KG should get into the twitter mix to spread the good word around town. It's a great way to gain a cult following. Just ask Charlie. Villanueva was one of the earlier professional athletes to make waves with his twitter usage when he started tweeting at half time during a Bucks game, which led to coach Scott Skiles banning twitter use during games.

Since Villanueva broke the news over twitter, it only makes sense that KG become involved, so he can reach the same audience.
Praise God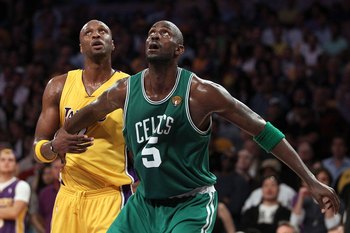 Christian Petersen/Getty Images
This isn't really a creative way to make amends, but from a public relations perspective, it's always the way to go if you want people to forgive you.
You can be found with guns, drugs, prostitutes or even a harem of 12 small Malaysian boys, but eight minutes later, claim you've refined your way thanks to the man upstairs and all is forgiven.
Just ask anyone who played for the Dallas Cowboys in the 1990's.
Make a Donation to Charity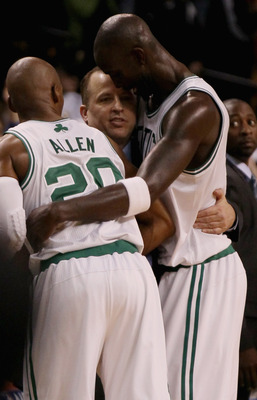 Elsa/Getty Images
I'm not a fan of this method, because I think it patronizes the whole process of apologizing. It's almost as if you're paying off your detractors or bribing people for their acceptance.
In fact, I loathe people who do this. It's like Michael Vick giving talks against dog fighting. Does anyone else realize that's the worst person to conduct a seminar on that topic?
Write A Rap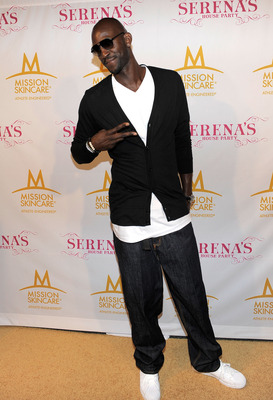 Charley Gallay/Getty Images
Nothing pulls the wool over the eyes of everyone (religious and non-religious alike) more than a catchy song. T-Pain seems to be everywhere these days, so I'm sure he'd be available to assist KG in penning a little ditty to smooth over the whole situation.
Post that sucker on YouTube like the Celtics have been doing with other videos, and let the cyber nerds of the world spread the good word for you.
And, if that's too much, then just quote a terrible song lyric from Billy Joel, Sarah McLaughlin or any country singer whose first album came out after 1982 on your new twitter account.
Generate an Elaborate Power Point To Show You're A Nice Guy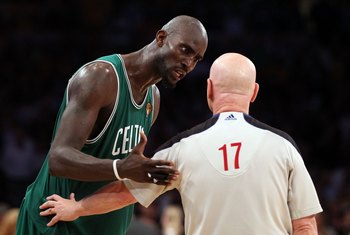 Christian Petersen/Getty Images
Chart your highs and lows. Depict trends where you've made improvements in the past. Rifle off some key projections. Really give the people some solid evidence that shows it's all in the numbers.
The Kevin Garnett Plush Doll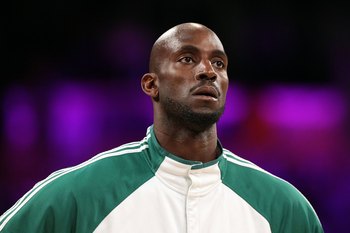 Christian Petersen/Getty Images
Everything I've read in trade publications has led me to believe that women, children and some dudes all love big cushy balls of fabric and stuffing, bearing the likeness of someone or something famous.
While these superfluous novelties are well below my elite status, some people enjoy them. Make one, sell it for $29.99 and let the people fall back in love with you while making a profit off them.
Hookers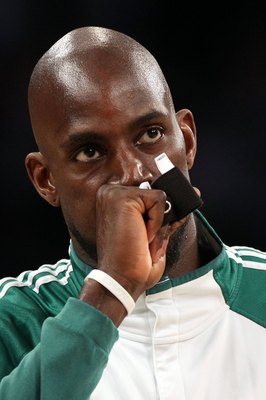 Christian Petersen/Getty Images
Up until the mid 1940's, if you needed to say you're sorry to a friend or colleague, you got them a prostitute. Watch Boardwalk Empire on HBO if you need any further introduction to the art of seduction.
Nothing says I'm sorry like the gift of love.
Subject Yourself To the First Ever NBA Roast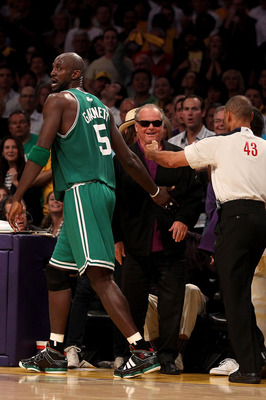 Christian Petersen/Getty Images
I, for one, would never allow myself to be subject of a roast, but it might not be a bad idea for KG.
Everyone gets the chance to take their shots at you, while you sit there and swirl your Rob Roy. Maybe it'll give KG some perspective on the way he gets into the faces of every other player in the league.
Just Shut Up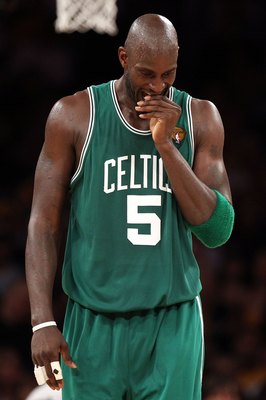 Christian Petersen/Getty Images
I mean, what way could KG be more creative than this?
Be Sweet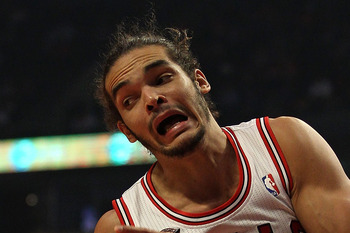 Jonathan Daniel/Getty Images
Call up dear friend Joakim Noah and ask him for advice on how to be sweet. After all, it was Noah who asked that KG showcase that very quality at a press conference last week when asked about the situation with Villanueva.
Here are the quotes:
"Kevin Garnett will not—will not—get a Christmas gift from me. I don't like him."
"He is who he is."
"He's a very mean guy. Where's the love? None at all. Ugly, too."
"And he was very mean to me my rookie year. And he's only mean to the young guys and the [European players], for some reason. I don't know why, but that's who he doesn't like. He's not nice. I talk a lot of trash out there, but c'mon, be a little sensitive. Be sweet."
On second thought maybe they're not as friendly as I thought.
Maybe the best thing to do is to just forget about the whole thing and keep on playing with the same intensity KG has been playing with since he was drafted. After all, this is a he said, he said situation, so who knows if KG was actually guilty to begin with?
In all seriousness, it's not in the best interest for the NBA or its players to get into a war of words on the court when it results in someone being insulted outside of a playful manner. For KG's sake, I hope he did not actually go after Villanueva's personal well being. After the publicity generated by the event, the rest of league and KG need to learn a valuable lesson in community relations.
Keep Reading

Boston Celtics: Like this team?