The Top 25 Most Embarrassing Sports Injuries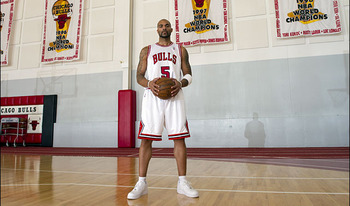 The Chicago Bulls figured got exactly what they needed when they signed Carlos Boozer. A potent scorer and fierce rebounder, Boozer planned to start the 2010-2011 NBA season as Chicago's first All-Star big man in decades.
The key word, sadly, is "planned." Boozer still hasn't seen the court.
Why? According to the power forward, he tripped over his gym bag while going to answer the door, and, while trying to prop himself up, heard a pop. Turns out that he actually broke his hand because he has the grace of a drunken manatee.
On land.
Whether or not this is the truth (and there has been much debate in that regard) isn't relevant, but it does bring up a good question: How many other ridiculously embarrassing injuries have their been in sports?
Could Boozer's mishap really top the list? To find out, just keep on clicking.
But don't get carpal tunnel in the process, or you might find yourself on the list.
25. Ted Ginn Jr.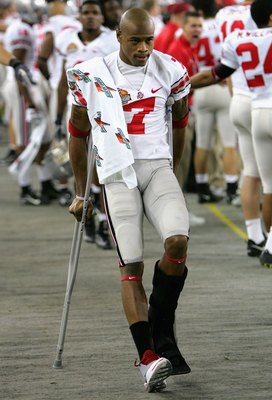 Doug Pensinger/Getty Images
Ohio State fans went insane when the speedster returned the opening kickoff of the 2007 BCS Championship Game for a touchdown.
They quickly checked into their nearest asylum after Ginn's teammate Roy Hall slid into Ginn during the celebration, knocking out the star player for the rest of the title game.
The real losers, however, are the Miami Dolphins. They drafted damaged goods.
24. Lionel Simmons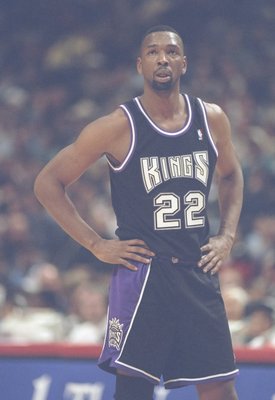 Jonathan Daniel/Getty Images
Simmons had a solid pro career, but he decided to ruin one of his best weeks with an awful injury.
The Kings guard won the NBA's player of the week honors during the 1990-1991 season, and immediately after received a handful of DNPs. Why?
The man had wrist tendonitis due to playing too much Game Boy. The Goombas got their revenge.
23. Tom Glavine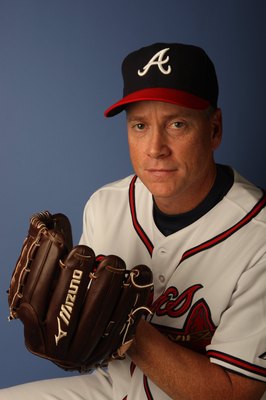 Elsa/Getty Images
Nothing's weird about getting plane-sick. It happens to many a traveler.
Glavine took it to a whole new level, however. While traveling between games, the Braves ace rushed to the bathroom to up-chuck. In the process, he broke a rib.
Another member of the Mile High Critical Injury Club. Kudos.
22. Joel Zumaya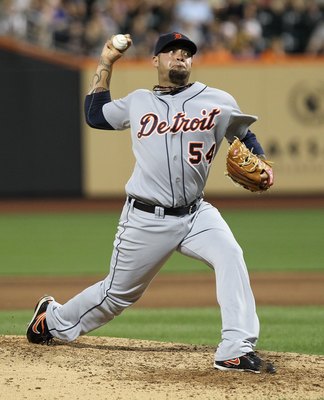 Nick Laham/Getty Images
The Tigers' fireballer might be dominant on the field, but off of it, he's victim to the weakest of foes.
His kryptonite? Guitar Hero. Zumaya missed the 2006 ALCS because the video game gave him a sore wrist after multiple intense sessions. The Tigers tried to cover it up, but this kind of kiddy mistake is way too juicy to stay under wraps.
Hopefully Zumaya played on expert mode. If he got hurt on beginner, he deserves it.
21. Lindsey Vonn
David Lynn
Bryan Bedder/Getty Images
Vonn should stick to skiing. Party planning just isn't her bag.
She just dominated the downhills at the 2009 World Skiing Championships, so her and some friends decided to break out the champagne. Vonn didn't have a bottle opener, so some buddies grabbed a ski and tried to open the bubbly with it.
Naturally, it didn't work, as the bottle shattered and Vonn, who was holding it, sliced her thumb open and required surgery to repair a tendon.
Leave the bottle-poppin' to the pros.
20. Kevin Johnson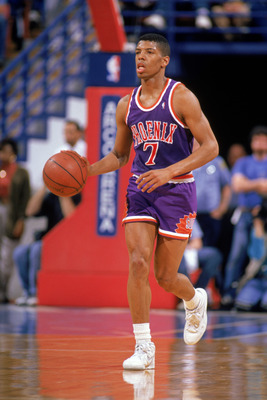 Otto Greule Jr/Getty Images
Kevin Johnson had many a great memory in his NBA career. This was not one of them.
After nailing a game-winning three against Portland, KJ's teammate Charles Barkley gave him a bear hug in celebration. In an attempt to absorb Johnson into the Round Mound, Barkley injured the point guard, knocking out for a few games.
Lesson here is that man hugs are not cool. Ever.
19. Steve Sparks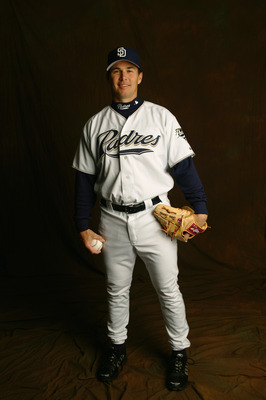 Nick Laham/Getty Images
Inspirational groups can do wonders for people who are down on their luck. When they are the reason for the woes, however, there is little left to do.
Sparks saw one of these motivational speaking groups rip a phone book in half and decided to try it himself. He quickly dislocated his shoulder, and spent the entire 1994 season in Triple A.
Way to go. I hear chopping a cement block in half with your face sends you straight to Double A.
18. Derrick Mason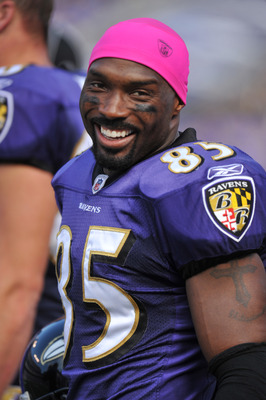 Larry French/Getty Images
Mason has been a good receiver in the NFL for a while now. Expect him to stick to football after this incident.
The Ravens wideout spent an afternoon playing golf for charity, but managed to break a bone in his hand on a simple drive. What's more, with the injury, Mason decided to ask for a mulligan.
Luckily for his health, he was denied.
17. Carlos Quentin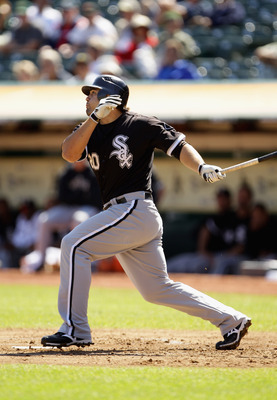 Ezra Shaw/Getty Images
Everyone should know that punching yourself is not only stupid but looks absolutely ridiculous.
Quentin isn't everyone, then. After missing a pitch in a 2008 game, the White Sox player punched his own hand with the other while holding his bat, fracturing his wrist.
Normally, this would be just funny. But because he did it while he led the majors in home runs, it's hilarious.
16. Bret Barberie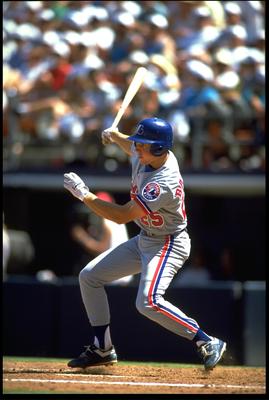 Stephen Dunn/Getty Images
Not well known is this former Expo, but his cooking skills will give him a spot in your memory.
One day, Barberie was hungry and decided to make some fully loaded nachos. Chili peppers and hot sauce covered the chips and Barberie was ready for a feast. Sadly, he didn't wash his hands of the spicy ingredients, and tried putting his contact lenses in.
Huge mistake. That kind of idiocy feels like dumping acid into your eyes. And when he had to be held out of the ensuing game, he knew he messed up.
15. Kendry Morales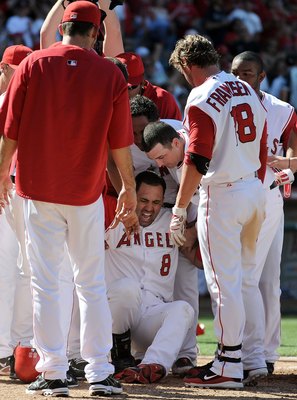 Harry How/Getty Images
The most recent addition to this list, Morales made sure someone paid attention to the Angels this season.
After blasting a walk-off grand slam for a 5-1 victory over the Seattle Mariners earlier this year, Morales rounded the bases and saw his teammates huddling around home plate. When the slugger arrived, he jumped on the plate and broke his left leg.
Breaking a leg is normally good luck. But, as everyone knows, misnaming a franchise is the ultimate curse.
Hear that, ANAHEIM?
14. Bill Gramatica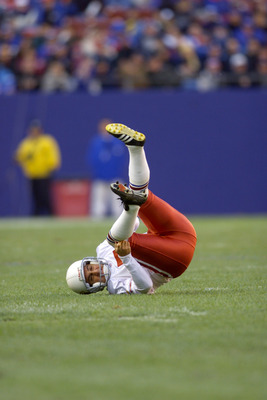 Jamie Squire/Getty Images
Gotta feel bad for this Gramatica. His career went downhill after this terrible decision.
As a rookie, the Cardinals kicker nailed a 42-yard field goal and got so Double Rainbow excited. He started jumping around so much that many Kangaroos got jealous.
In the midst of his joy, he tore his ACL and spent the season on the IR. Three years later, he was out of the NFL.
It's never good to be remembered for a moment you spent on your keister.
13. Chris Coghlan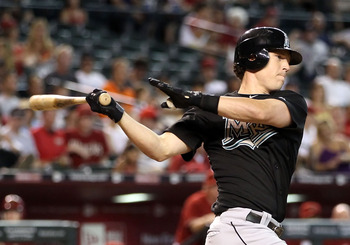 Christian Petersen/Getty Images
Coghlan won the 2009 NL Rookie of the Year, an award that clearly doesn't have intelligence as one of its criterium.
During his first campaign, he witnessed teammate Wes Helms knock in a game winning RBI against the Braves. Coghlan wanted in on the baseball tradition, so he decided to rush Helms with a shaving cream pie.
Great choice, as jumping on Helms caused Coghlan to tear the meniscus in his knee, sidelining him for some time.
12. Milton Bradley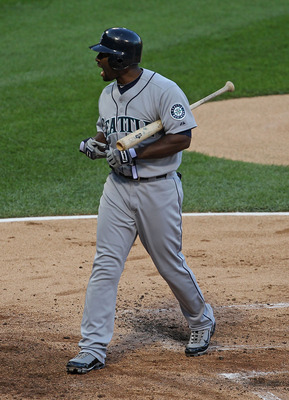 Jonathan Daniel/Getty Images
Has Milton Bradley made every list in sports that involves the words "worst," "funniest" or "embarrassing?"
His performance while with the Padres is another reason why. After being called out at first, Bradley went berserk and screamed at the ump. While coach Bud Black tried to hold him back, the outfielder tore his ACL, sending him straight to the DL.
For some reason, the Cubs thought this kind of player deserved a 3-year, $30 million contract. No wonder their drought won't stop this millennium.
11. Adam Eaton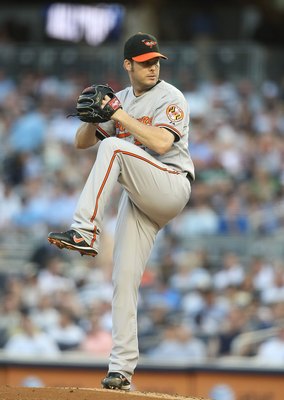 Nick Laham/Getty Images
Adam Eaton apparently needs those safety scissors everyone hated in elementary school.
While with the Padres, Eaton tried to open the plastic wrap on a DVD with a pairing knife. Having never heard the adage "always cut away from yourself," Eaton ended up stabbing himself in the stomach and needed stitches.
The real question is, why did Eaton use a pairing knife? Couldn't find scissors or a dull kitchen knife?
10. Vladimir Radmanovic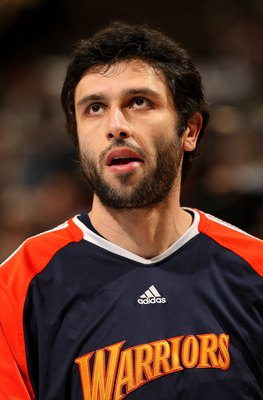 Doug Pensinger/Getty Images
It's no wonder this guy has hopped from team to team throughout his career. No team wants a liar, let alone a pansy.
While with the Lakers in 2007, Radmanovic violated his contract by going snowboarding and separating his shoulder. While that's plenty lame in it's own right, the swingman decided to lie about it and said he slipped on a patch of ice while getting his friends coffee.
At that point, I wish he'd been boarding down the Himalayas. He'd be gone for good.
9. Sammy Sosa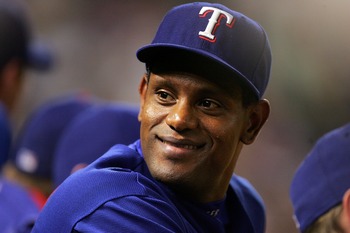 Ronald Martinez/Getty Images
Anyone with allergies can tell you that sneezing is quite the burden. Sosa, on the other hand, can tell you sneezing is the ultimate evil.
The Cubs outfielder stepped into the visitor's clubhouse in San Diego and sneezed twice. This normally innocuous action led to Sosa throwing out his back and more heckling than he could ever hope for.
The good thing for him though is that, as he showed Congress, he barely speaks English. So he didn't understand the hate from the media.
8. Chris Hanson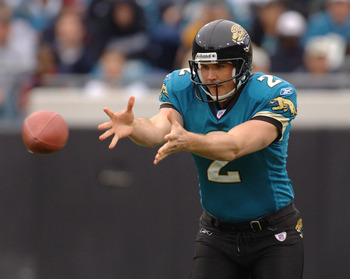 A. Messerschmidt/Getty Images
The Jags punter isn't entirely at fault here, but it's hard to explain this to the missus.
Jacksonville head coach Jack Del Rio wanted his players to "keep chopping wood" on the field, so he placed a wood stump and an axe in the locker room and encouraged the Jaguars to chop away.
An axe plus a guy who's more dexterous is never a good combo. So it's no surprise Hanson went all Dick Cheney with the axe: He missed the stump, gashed open his leg, and went straight to the emergency room.
Luckily, Hanson didn't hit his kicking leg.
7. Lionel Letizi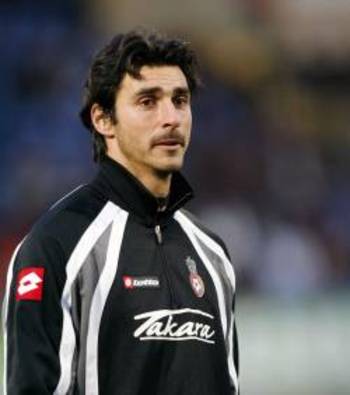 Most athletes are pretty flexible, and soccer players often lead the pack in that regard.
This goalkeeper, however, isn't included. While playing Scrabble, he reached down to grab a piece that fell on the floor and threw out his back.
Worst of all, he never got to spell the winning word: "LAME."
6. Glenallen Hill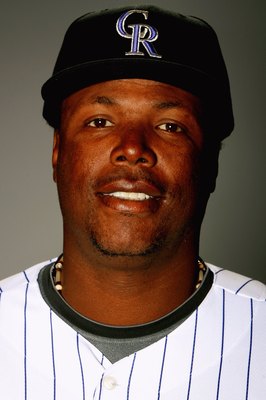 Matthew Stockman/Getty Images
Arachnophobia is completely laughable to most people, but if you have it, it's no joke.
Just ask Mr. Hill. The former outfielder was scared pants-less of spiders, and when he had a nightmare about the creepy crawlers, he got out of bed to fend them off and fell down the stairs.
Good news for him: The disabled list doesn't have any space for spiders.
5. Marty Cordova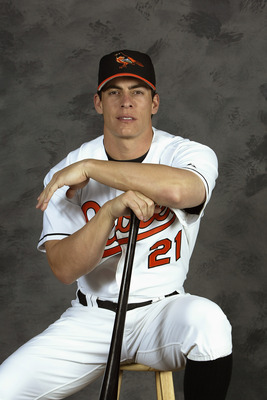 Robert Laberge/Getty Images
It's hard to believe this, but Cordova must wish the Jersey Shore was around back in the '90s.
Why? Well, he would have learned that you can never fall asleep in a tanning bed. Otherwise, you come out looking more orange than the Orioles mascot and the doctors tell you to avoid direct sunlight.
Also, he could have gotten a blowout. Which would have been sweet.
4. John Smoltz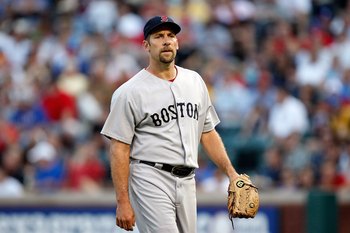 Ronald Martinez/Getty Images
Smoltz burned MLB hitters for nearly two decades with his deadly fastball.
Smoltz burned himself in an entirely different manner. For an inexplicable reason, the flamethrower decided to iron the shirt he was wearing. Sadly, he did it while it was still on his body.
At least his chest hair was likely even. Got to look on the bright side, Smoltzy.
3. David Lynn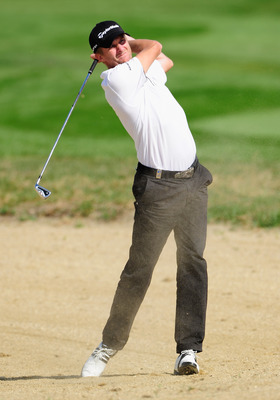 Stuart Franklin/Getty Images
Mad props to this Brit. He manned up with one of the most disgusting injuries imaginable.
Lynn came in third at the 2006 China Open after finding out he had a large boil on his ding-dong from an insect bite. Further, the growth became so large that doctors had to remove it during the tournament, leaving him to golf with a gashed groin.
Maybe if Elin gashed Tiger's groin, he wouldn't take this long to get back on track.
2. Gus Frerotte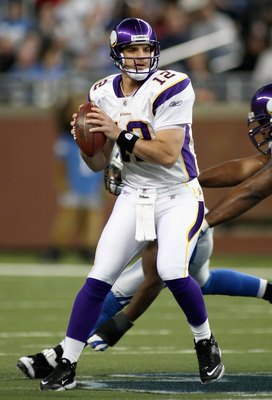 Christian Petersen/Getty Images
Gus Frerotte is never remembered as one of the NFL's best quarterbacks, and, thanks to a game against the Giants in 1997, he is never remember as one of the brightest, either.
The signal caller decided that after his Redskins' lone score of the game, he needed to head butt something.
He chose a cement wall. Welcome to the hospital, Mr. Frerotte.
1. Paulo Diogo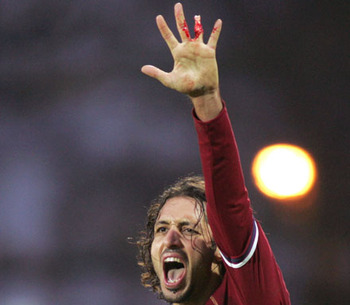 This photo has not been Photoshopped. He's missing part of his finger.
How did it happen? The Servetee FC player recently got married and decided to keep his ring on during the game. When he assisted on a late score, Diogo jumped on a fence separating the pitch and the fans. When he jumped off, he left his digit on the fence.
To add insult to injury, Diogo got a yellow card for wasting time.
What luck.
Follow me on Twitter and read more at L.A. Sports Examiner.
Keep Reading

Chicago Bulls: Like this team?