NBA Rookies 2010-11: What Does John Wall's Triple-Double Mean?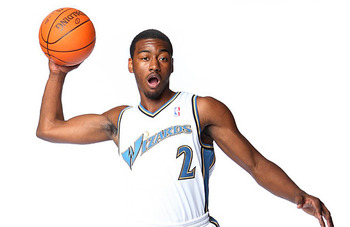 NBA rookie John Wall got his first professional triple-double with 19 points, 13 assists and 10 rebounds to lead the Washington Wizards to a 98-91 win over the Houston Rockets on Wednesday night.
Yao Ming missed most of the game after he strained a tendon in his leg in the first quarter and, unfortunately, he only logged six minutes.
Washington used a 10-0 run late in the fourth quarter to pull away after blowing an 11-point lead.
Andray Blatche finished with 20 points and 11 rebounds and Al Thornton scored 20 points, including the go-ahead basket off a pass from Wall with 4:53 left, to give Washington the lead for good at 86-85.
Wall's performance created a lot of statements about this rookie. Let's take a look.
He Is Writing History Week by Week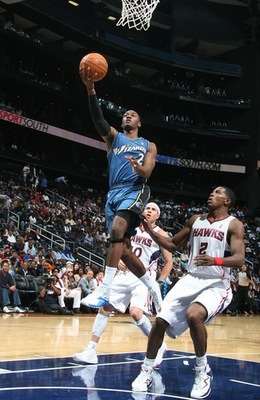 Let me break these amazing stats down for you about John Wall's 19 points, 13 assists and 10 rebound game:
Only four rookies have recorded their first career triple-double in fewer games than Wall: Oscar Robertson (1), Hambone Williams (4), Connie Hawkins (5) and Magic Johnson (6).
Additionally, Wall became the first rookie to have seven assists in each of his first six games since Robertson last did it.
This is amazing next to the fact that, last week against the 76ers, he had just broke a Wizards franchise record in steals among rookies.
Wall is also just the third player in NBA history to tally at least 60 points and 20 assists in his first three games. Also, with 13 assists against the 76ers, John Wall pulled into a three-way tie for the most assists in the first three games of an NBA career.
Name Year Asts
| | | |
| --- | --- | --- |
| John Wall | 2010-11 | 31 |
| Jamaal Tinsley | 2001-02 | 31 |
| D. Stoudamire | 1995-96 | 31 |
| Ernie DiGregorio | 1973-74 | 30 |
| Oscar Robertson | 1960-61 | 30 |
He Isn't the Cocky Person Everyone Makes Him Out to Be

Arenas alley-oop to Wall.

John Wall came into the league mostly known for his pre-game dance moves, so everyone thought he would be an egomaniac who just wanted the spotlight. I can't tell you how humble and hungry this guy is to become the best point guard in the NBA.
There have been many reports that Wall has been hanging out with Gilbert Arenas 24/7, which can be a bad thing. But if it comes to picking up Arenas' work ethic, then teams better watch out.
One thing Wall had to prove to everyone was that he could correct his turnovers, which he has done. Surprisingly, he only committed one turnover in the game against Houston.
By the way, enjoy the video. Wall is just giving you an example of his athletic ability since it has been overshadowed by Blake Griffin's in the past week.
Once Again, He Can Take over Games!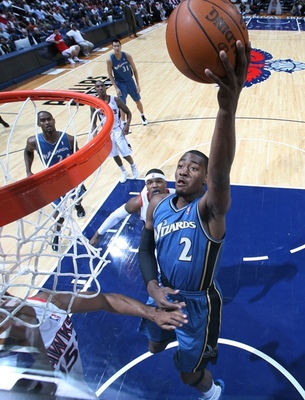 One thing that I have said in my past articles is that John Wall can take over the NBA at any given time. When I expressed this, I got many comments saying: "I can't base it off of what he did in college" or "I can't base it off of one game." Well NBA fans, open your eyes, because Wall has shown that he can take over a game numerous times already.
Just because I say he can take over doesn't mean the Wizards will win. Take, for instance, the Miami Heat game this past week against the Utah Jazz, when Dwyane Wade took over and scored all of Miami's points going into overtime. But they still lost.
Wall has the "it" factor and if you can't see that, then you might need to look in the mirror and ask yourself, "Am I a John Wall hater?"
Trust me, it's best to be honest with yourself.
He Is One of the Most Advanced PGs That Have Ever Come Out in Their First Year
Many people, including me, thought that it would take Wall some time to adjust to the speed and flow of NBA games. Wall is still adjusting to trying to stop forcing passes that aren't there. But as far as getting teammates involved and running the fastbreak, he can do it just as good as any other PG, aside from Rajon Rondo.
He has advanced into a leadership role in which he tells grown men where to be on offense and encourages them to step up when the time is right.
What I'm about to say might be the one of the boldest statements ever: John Wall is a more mature PG on the court right now than Derrick Rose is in his sophomore year.
Before I get attacked, let me explain myself.
If you take a look at Wizards games up close, you can often see Wall getting frustrated at the starting center, JaVale McGee, telling him to wake up. Communication is key to winning. It builds trust and brings a positive vibe in the locker room that will eventually show up on the court.
All that starts with the PG,
Rose even expressed to himself that he needs to become more of a vocal leader.
He Will Be an Elite PG by the End of This Year
This may be too early of a prediction, but in my mind, it is perfect timing.
John Wall is easily in my top 10 for PGs in the NBA, which includes:
1. Chris Paul
2. Deron Williams
3. Rajon Rondo
4. Derrick Rose
5. Russell Westbrook
6. John Wall
7. Stephen Curry
8. Steve Nash
9. Devin Harris
10. Brandon Jennings
Keep Reading

Washington Wizards: Like this team?