NBA: 25 Players Who Have Already Boosted Their Stock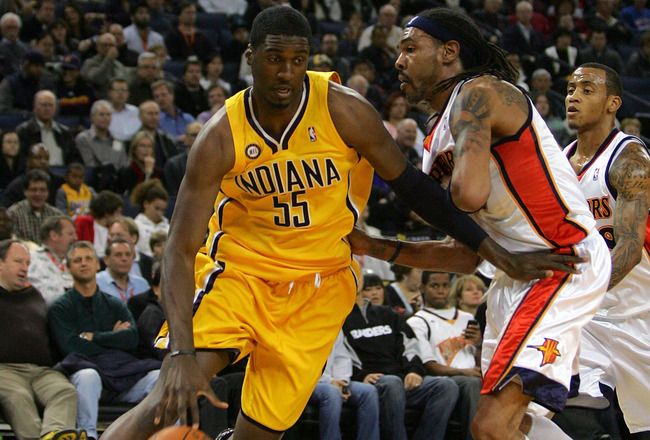 Ezra Shaw/Getty Images
I know it's really early in the season, but let's go ahead and evaluate some players.
Early in the season, a lot of players have impressed, especially from the point guard position. Let's look at 25 players who have already helped their stock in the first few weeks of the season.
Also, I apologize in advance for any major oversights. I tried to be as complete as possible with the list and there are a few names I would have liked to include but didn't have the space for.
John Wall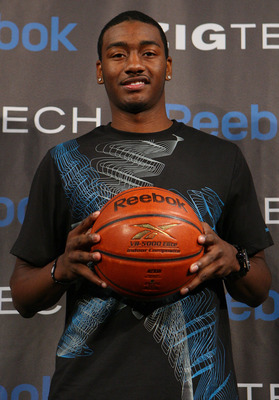 Mike Stobe/Getty Images
Averages: 19.4 PPG, 9.6 APG,
This is a bit of a no-brainer here. Wall was the first pick in the draft and his stock was pretty high coming in. But, his ability run the offense in the absence of Gilbert Arenas has been impressive. He has struggled just a bit in his last two games but is doing a nice job finding teammates. The jump to the NBA for point guards is very difficult, but it should come as no surprise that Wall is finding early success, like other John Calipari point guards.
It will be interesting to see how Wall plays over the course of the season, having to share the backcourt with Arenas. The Wizards have a couple of talented players, and when they get Josh Howard back, could contend for an 8 seed in the East.
Paul Millsap
Stephen Dunn/Getty Images
Averages: 20.3 PPG, 11.2 RPG
Through six games, Paul Millsap has dramatically improved over last years numbers. Last season he only averaged 11.6 PPG and 6.8 RPG in just over 27 minutes. This season, Millsap has done his best to replace Carlos Boozer, and is putting up solid numbers. Millsap will have to be solid all year for the Jazz to overcome the loss of Boozer.
Of additional note, Millsap is the most efficient player on the Jazz roster with a PER of 25.1 He is averaging nearly the same amount of turnovers as last season, despite playing nine more minutes per game.
James Jones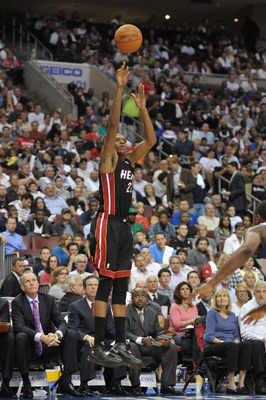 Drew Hallowell/Getty Images
Averages: 10.3 PPG 2.3 RPG
James Jones has been key for the Miami Heat early in the season. Teams have loaded up (predictably) against the Big Three and have tried to make guys like Carlos Arroyo and James Jones beat them.
This season, James Jones has been a reliable shooter. He is current averages are far above last seasons 4.1 PPG, and his shooting percentages are vastly improved. While his stock may fall with the return of Mike Miller, Jones has proven himself early in the season.
Hakim Warrick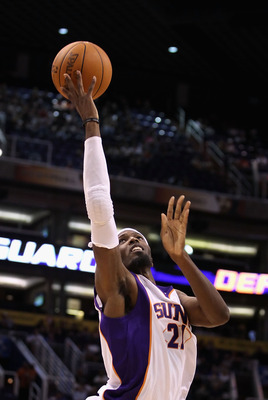 Christian Petersen/Getty Images
Averages: 12.3 PPG, 5.1 RPG
Brought in to partially replace Amar'e Stoudemire, Warrick has done an admirable job. Though he is nowhere near the player that Stoudemire is, he has raised his level of play in Phoenix. He is averaging more points and rebounds than at any other time since his sophomore season, and is shooting the ball at a high percentage.
His stock raise is, in part, a natural by product of playing in the Suns up-tempo offense and being the beneficiary of Nash passes. Nonetheless, Warrick has shown improvement this season.
Jrue Holliday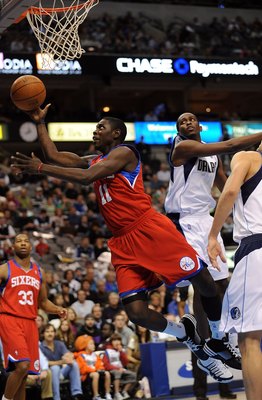 Ronald Martinez/Getty Images
Averages: 14.1 PPG, 6.1 APG, 2 SPG
Jrue Holliday has vastly improved his production in his second NBA season. Across the board, Holliday has improved his numbers and is shooting the three at 47%. His minutes are up and he has been relatively effective on the defense end of the floor as well.
Look for Holliday to continue to produce at this level.
Roy Hibbert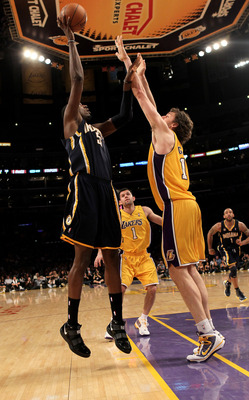 Stephen Dunn/Getty Images
Averages: 15.6 PPG, 10.0 RPG, 3.4 BPG
Georgetown grad, Roy Hibbert, has shown marked improvement on both ends of floor early in the season. He has focused on improving his defensive game and is averaging nearly two blocks more than a season ago.
He has nearly doubled his rebounding average, and is doing nice work on the offensive glass, with nearly four offensive rebounds per outing. He has also improved his scoring efficiency. His shooting percentage is slightly down, but he is getting to line quite a bit more than at any time in his career.
Expect his numbers to level off in this range. His opening night 28 point performance will likely not be an everynight occurence, but the Pacers should be able to count on him for around 10 points and 10 boards.
Kevin Martin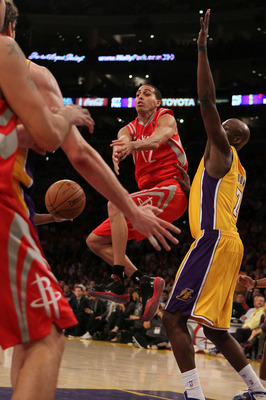 Jeff Gross/Getty Images
Averages: 23 PPG, 2.3 APG
Kevin Martin's scoring numbers are up dramatically over last seasons. Last season he averaged 19 PPG on 35 minutes. He is actually player fewer minutes but has been more effective scoring the basketball. This is thanks in part to his improved shooting early in the season, and greater effectiveness getting to the line.
The Rockets need Martin to continue this kind of production, especially since they aren't getting much done on the defensive end of the floor.
J.J. Hickson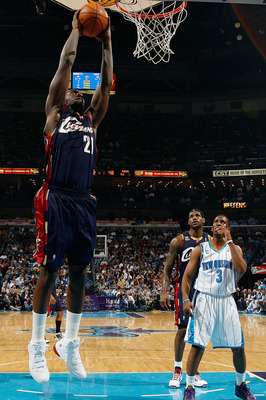 Chris Graythen/Getty Images
Averages: 16.5 PPG, 5.5 RPG
With the LeBron's departure, everyone in Cleveland needed to step up their level of production. Perhaps no one has done a better job than J.J. Hickson. He has nearly doubled his scoring average from last season, and is playing nearly eight more minutes per game.
The one thing you would like to see improve, however, is his rebounding. The extra minutes haven't substantially improved his rebounding numbers and you would like to see Hickson more active on the glass.
Blake Griffin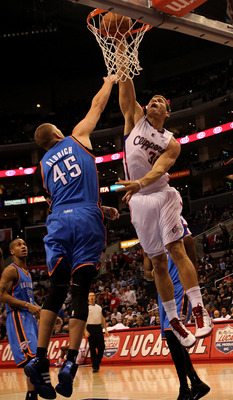 Stephen Dunn/Getty Images
Averages: 18.1 PPG, 11 RPG
After sitting out a season with injury, Blake Griffin has more than lived up to expectations early in his rookie season. His relentless style on the glass has transferred to the NBA and it's clear that he can become a dominant player in the league.
He is scoring efficiently, without being a focal point in the offense. You'd like to see his offensive game develop just a little bit more, especially outside of the paint. If that happens, Griffin will be virtually unguardable because of his strength and quickness closer to the basket. His free throw percentage must improve also.
Right now, he and Wall are the clear favorites for the ROY.
Jeff Green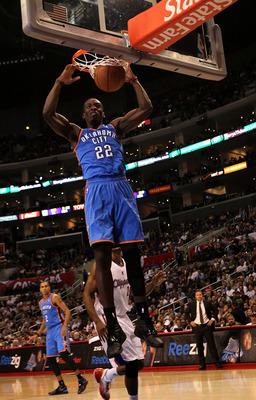 Stephen Dunn/Getty Images
Averages: 19.4 PPG, 7.2 RPG
Green, the other big Thunder acquisition in the summer of 2007, is off to the best start of his career. His scoring and rebounding averages are up from last year, and he is scoring efficiently. He has taken a page out of Durant's book and is getting to the line more than ever before.
His value to this team is huge. In a game against Boston this weekend, his absence (sprained ankle) was noticeable. Without Green, the Thunder had no reliable third scorer and Westbrook and Durant were forced into bad shots. Also, Green generally takes the pressure off of Durant on the defensive end. The Thunder need Green to continue his increased production. If that happens, they will be a difficult team to defend.
Kevin Garnett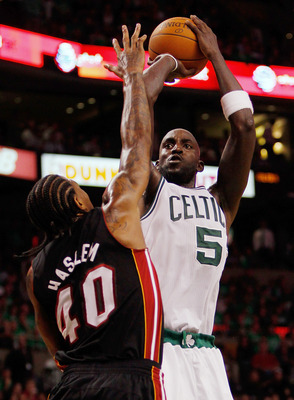 Jim Rogash/Getty Images
Averages: 15 PPG, 10.3 RPG
This pick is slightly different than the others. In the scheme of Garnett's career, this is certainly not one of his better seasons, however, he looks like a rejuvenated player.
Compared to last season, both his scoring and rebounding are up. He just looks like a much fresher player than he did last season while battling injury. The Celtics, despite all the buzz around the Heat, look to me like the best team in the East. If Kevin Garnett can stay healthy, I think the Celtics have a great opportunity to get back to the Finals.
LaMarcus Aldridge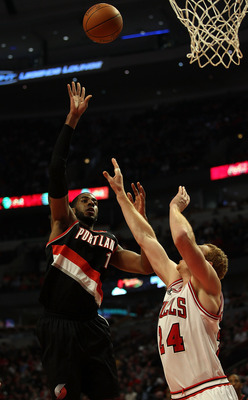 Jonathan Daniel/Getty Images
Averages: 18.3 PPG, 7.9 RPG, 1.1 BPG
Aldridge's scoring numbers are up slightly from last season, however, that's not what has impressed me. I've only had the chance to watch two Portland games, but on both occasions, Aldridge was more willing to play in the paint, and with his back to the basket than I've ever seen. He has often been criticized for settling for the jumpshot, but in those two games, I saw him doing a better job working for easy baskets.

Goran Dragic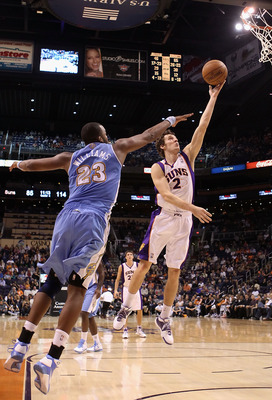 Christian Petersen/Getty Images
Averages: 9.7 PPG, 3.7 APG
Goran Dragic had a bit of a coming out party last season in the playoffs and has continued to improve his production this season. Despite playing fewer minutes on average this season, his scoring and assist numbers are up. It's tough to play as Nash's backup, but Dragic's ability to do more with less time early in the season has been impressive. As Nash needs more rest later in the season, Dragic will become an even more important piece for the Suns.
Lamar Odom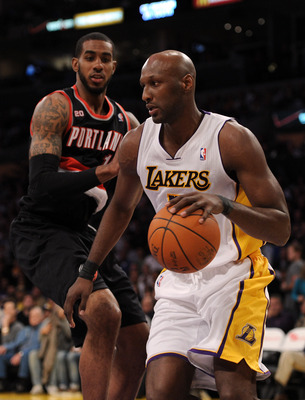 Harry How/Getty Images
Averages: 15.9 PPG, 11.2 RPG
I really wanted to talk about how I love the Lakers acquisition of Steve Blake, but decided to go with Odom instead. Odom has been an absolute beast to begin the season.
Not only are his scoring and rebounding averages up, but his efficiency has been great. He's shooting a ridiculous 62% right now from the field and is 9-13 from three. The Lakers dominant start to the season is owed in large part to Odom and.....
Pau Gasol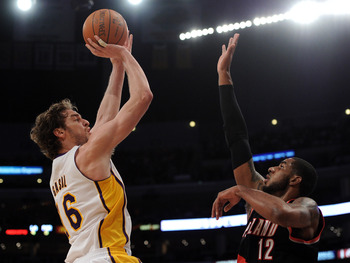 Harry How/Getty Images
Averages: 24.1 PPG, 10.9 RPG
Even without Andrew Bynum, the Lakers frontcourt has been dominant. Gasol just notched his fourth career triple-double and is doing everything right for the Lakers.
With Kobe playing fewer minutes than at any time since his sophomore season, Gasol has picked up the slack. His scoring has improved by six points per game, and his assist numbers are up. He really is the most skilled big man in the game, and has keyed the Lakers throughout this impressive beginning of the season.
Mike Conley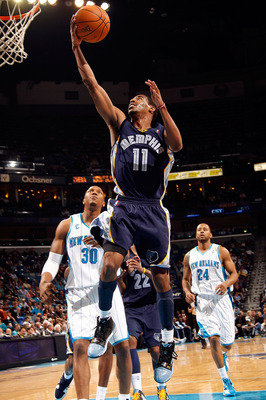 Chris Graythen/Getty Images
Averages: 15.4 PPG, 8 APG, 3.4 SPG
Conley has improved his game across the board. He's averaging three more points, three more assists, and a full two more steals than a season ago.
This is a real breakout beginning to a season for Conley who is only 23. Look for him to continue to develop as a scorer and playmaker, with Rudy Gay, Zack Randolph, Marc Gasol, and O.J Mayo all capable of hitting shots.
Derrick Rose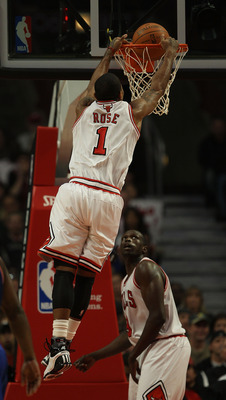 Jonathan Daniel/Getty Images
Averages: 23.8 PPG, 9.2 APG
Already considered one of the best young players in the league, Rose has taken his game to new heights early in the season. Against the Knicks he handed out a career-high 14 helpers, and has done a better job finding teammates than in the past. He is averaging three assists more per game than last season. This trend should continue as he develops chemistry with sharpshooter Kyle Korver and Carlos Boozer returns.
Look for Rose to continue to produce at an extremely high level all season.
Andrea Bargnani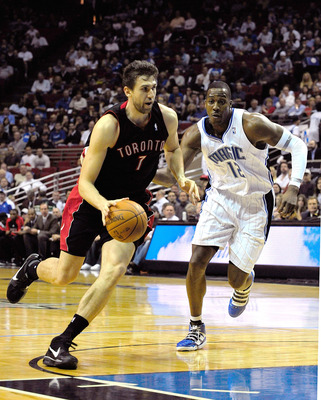 Sam Greenwood/Getty Images
Averages: 19 PPG, 4.3 RPG, 1.1 BPG
Through the first few games of the season, Bargnani is putting up career highs in scoring and shooting percentage. He is the Raptors leading scorer and is charged, in part, with filling the scoring void left by Chris Bosh.
He has, however, struggled in his last couple performances. Look for his numbers to jump about 19 PPG as he will play more minutes this season than in the past, and will have more scoring opportunities than ever before on a Raptors team without many great scoring options.
Elton Brand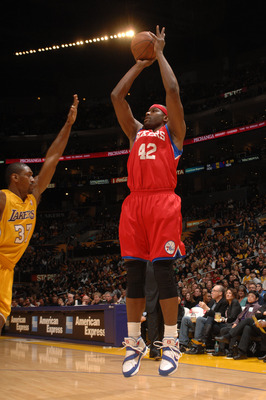 Jeff Gross/Getty Images
Averages: 18.6 PPG, 8.1 RPG, 1.9 BPG
I'm not sure how much Brand can elevate his stock after two straight disappointing seasons, but he certainly has played well early. He has reached 20 points in his last four games, and may finally be showing signs of being worth all the money the 76ers paid for him.
He is shooting the ball at a high percentage and getting to the line. I'm not sure Brand will ever fully redeem himself in Philly, but this is a step in the right direction.
Luis Scola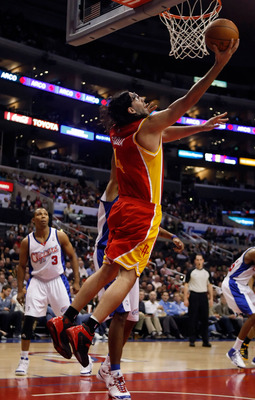 Jeff Gross/Getty Images
Averages: 22.5 PPG, 12.3 RPG
Luis Scola's averages are up dramatically from a season ago. Both his scoring and rebounding averages have improved and he is the type of player that fans love. He works hard on every play, and puts up consistent numbers. Scola overcomes a lack of pure athleticism with gritty, hardworking play.
Unfortunately for Scola and Rockets fans, they have gotten off to a very rocky start, and further slippage will make staying in the playoff hunt difficult. In a competitive Western Conference, a couple of losing streaks can really kill a team.
Chris Paul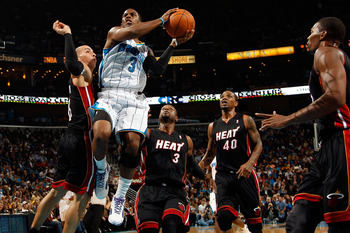 Chris Graythen/Getty Images
Averages: 18.7 PPG, 10.2 APG, 2.3 SPG
Based on the numbers, Paul's stock hasn't really improved. In previous seasons his averages have been higher, but coming into this season, many doubted Paul's ability to rebound from injury.
He has quickly silenced any doubters and has led the Hornets to a 6-0 start. Even more impressive, Paul dissected the Miami Heat and handed them their second loss of the season. Paul has quickly reestablished himself as one of the premier point guards in the league after a disappointing, and injury filled season a year ago.
Joakim Noah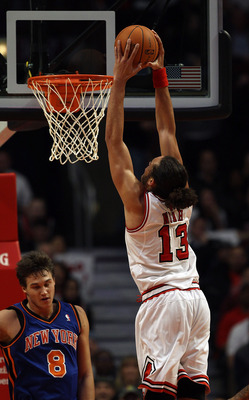 Jonathan Daniel/Getty Images
Averages: 15.7 PPG, 15 RPG, 2.2 BPG
It looks like the Bulls big contract extension for Noah is already paying dividends. Right now Noah leads the league in rebounding, and has improved his scoring this season.
He's a high energy guy that fans either love or hate. Noah has certainly exceeded expectations - many thought he would be a mediocre pro at best, but he is a huge asset for the Bulls. When Boozer returns, Noah's numbers may dip, but the emergence of Noah makes the Bulls a dark horse contender in the East.
Manu Ginobili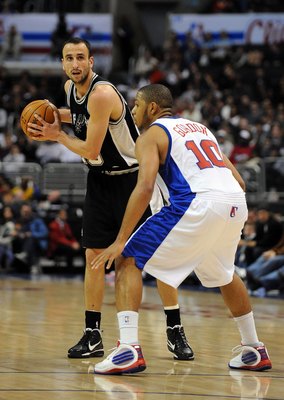 Harry How/Getty Images
Averages: 21.8 PPG, 5 APG
Manu Ginobili, usually a sixth man for the Spurs, has been inserted into the starting lineup this year and the results are obvious. Ginobili is averaging more points than at any other time in his career, and has helped the Spurs jump out to an early 5-1 record.
Manu's continued production takes the pressure Duncan and Parker and makes the Spurs difficult to guard. He tends to be a bellwether for the Spurs. As Manu goes, so go the Spurs.
Dwight Howard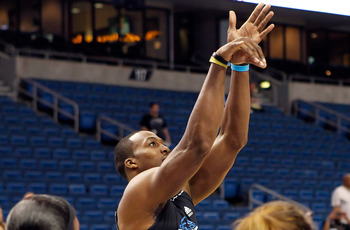 J. Meric/Getty Images
Averages: 23.2 PPG, 11.3 RPG, 2.7 BPG
Howard's numbers are great as usual. His scoring numbers are higher than they've even been, but his rebounding numbers are down slightly. This however, is due to his reduced minutes so far this season.
What's been most impressive about Howard this season is his improved offensive game. Howard has improved his jumpshot and is better able to step away from the basket. If he continues to utilize a face-up jumpshot, and can knock it down, look out. In the past defenders begged him to shoot that shot. But if they have to defend him out there, he will be able to use his quickness to blow by defenders, or take the shot if they do not honor his ability to shoot the ball. A mid-range game will make Howard a much more complete offensive player, and quite a bit more effective.
Rajon Rondo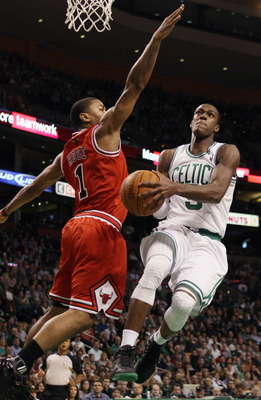 Elsa/Getty Images
Averages: 11.1 PPG, 14.7 APG, 3.1 SPG
No surprise here, right?
Rondo has been incredible so far this season. He has skewered defenses, finding Pierce, Allen, Garnett, and Glen Davis for easy baskets. In my opinion, Rondo is clearly the engine that drives this team. He plays great defense and his court vision is amazing.
Right now, I think Rondo is an early favorite for the MVP. He has been so effective with the ball, and has managed to reign in turnovers. His speed forces defenses to play off of him giving him easy passing lanes. The Celtics advantage at the point guard position make them, in my mind, the best team in the Eastern Conference right now.
Keep Reading