New York Knicks and Amar'e Stoudemire: Five Ways To Improve the Offense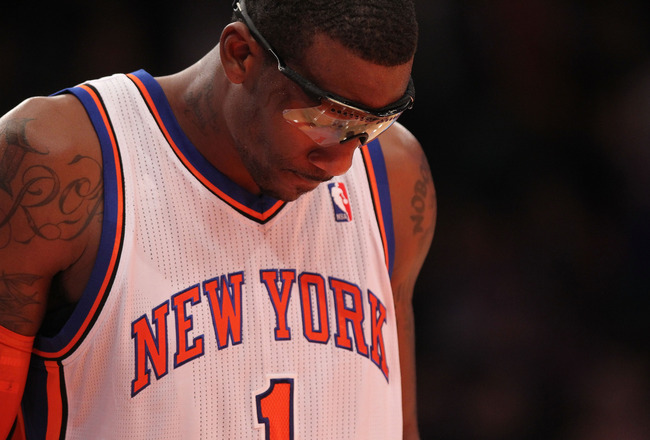 Nick Laham/Getty Images
Amar'e Stoudemire is known for his ferocity on the offensive end, but his tenure in New York has been less than stellar thus far.
Stoudemire's field goal percentage is down to a career-low 41.5 percent for the year. He hasn't shot under 50 percent—not including his 3 game stint in 2005—since the 2003 season. For his career, his percentage comes in at 54.2 percent; an impressive number, showing just how efficient he has been over the course of his career.
What's even more troubling is his 5.4 turnovers per game. He is more than doubling his career turnover average, and this is very uncharacteristic for any big man.
However, it would be unfair to place all of the Knicks' offensive woes on Stoudemire's shoulders. The supporting cast around Amar'e has had their fair share of poor outings too.
As the $100 million man in New York, Amar'e is the first option on offense and he needs to start playing like it. If he wants to return to form, he needs to adapt his game in the post-Nash era.
Amar'e Needs to Trust His Teammates
The one aspect of Stoudemire's offensive game that has seen a spike in production is his assists. He gets doubled-teamed a lot, so he's forced to kick it out when he has nowhere to go—well, at least he does more than usual.
It's certainly a positive sign to see him willing to dish the ball more frequently, but his supporting cast has to consistently knock down their shots before he can pass to them with confidence.
Stoudemire's starting front-court mate, Timofey Mozgov, has clearly not yet earned his trust. There have been numerous occasions where Amar'e was sealed off by a help defender, yet he decided to force a contested shot rather than pass to a wide open Mozgov.
Timofey has shown a fairly consistent spot up jumper from the elbow and baseline. Over time, he should hopefully earn Stoudemire's trust and become a frequent and reliable option on the kick out pass.
As the roster continues to build chemistry and familiarity with one another, the trust should eventually solidify as the offense begins to click.
Shooting Has to Improve/Be More Consistent
The Knicks shooting has been a bit tenuous in the early going.
When players are consistently knocking down their jumpers, it opens up the entire offensive game.
Opposing teams can no longer rely on zone defenses to solidify the middle for fear of leaving players open on the perimeter.
If Amar'e is seeing less double teams, the Knicks can work the offense inside-out. Stoudemire can post up and if the defense collapses on him, he'll have an open man to kick it out to.
If the Knicks are shooting well and an opposing squad is foolish enough to leave Amar'e in a one-on-one situation down low, then they're in for trouble.
Until Stoudemire's supporting cast gets into midseason form and drills their jumpers with regularity, the offense will continue to stall, particularly when defenses abandon man-to-man in favor of the zone.
Amar'e Needs to Get the Ball Closer to the Basket
When Amar'e catches the ball near the arc, he leaves himself vulnerable to wandering hands.
Perimeter players persistently look to come from his blind side and poke the ball away. This has led to many turnovers, and if he started getting the ball on the low block, he wouldn't have to worry about players sneaking up behind him.
If Amar'e gets the ball from midrange, defenses completely collapse on him as soon as he puts the ball on the floor. He loses control when help defenders swarm over to him and they either get a hand on the rock, or he's forced into a compromising position that forces a turnover.
Now, this isn't to say that Amar'e isn't capable of putting the ball on the floor from 15 feet out and bullying his way to the rack. He just happens to be at his best and most efficient when he only needs to make one or two moves near the basket and power his way to the rim.
It's no secret that Amar'e is stronger going to his right, and defenses have picked up on this and they continue to try and force him the other way. When Amar'e starts out further from the hoop, opposing defenses have more space and time to force him left.
Amar'e Needs to Attack the Basket More
Amar'e has a solid jumper, and he's shown that he can knock down the three—he has already made two out of the five three-pointers he's attempted this year—but he seems to settle for jump shots far too often.
His bread-and-butter is when he takes it to the hole and attacks the basket with reckless abandon. After all, Amar'e is an athletic freak capable of posterizing just about anyone in the NBA.
Amar'e is attempting the second lowest free throws per game since his rookie season. He's capable of shooting over 80 percent from the line and he needs to focus on attacking the rim and drawing fouls in the process.
If he starts to take more high percentage shots near the bucket, his field goal percentage should eventually go up and mirror that of his career numbers.
The Pick-and-Roll Should Be a Staple of the Offense
Amar'e has made a living off the pick-and-roll for the better part of this decade. Steve Nash ran it to perfection with Amar'e when they were playing together in Phoenix, but Raymond Felton has had some issues with it.
The Knicks' perimeter shooting is directly affecting the pick-and-roll. If team's don't respect the outside shooting, they can swarm Felton and Amar'e when they attempt the pick-and-roll. More bodies in the paint means less driving and passing lanes to squeeze through.
If the Knicks find some consistency from deep, the pick-and-roll should be a staple of the offense. Raymond and Amar'e should abuse that play until even they're too tired to run it themselves.
When Amar'e is in motion rolling to the hoop, he can steamroll just about anybody that gets in his way. Stoudemire is arguably the best player to have in the pick-and-roll situation due in large part to his ability to finish over even the biggest of defenders.
If Amar'e gets clogged up, it will free up a driving lane for Raymond Felton to snake his way through for an easy layup.
Keep Reading

New York Knicks: Like this team?