NBA Goes Under the Radar: Top Five 'Bang for Your Buck' Signings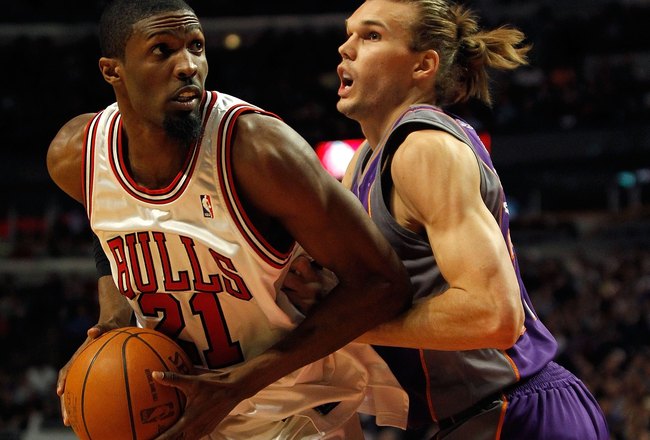 These two men will make a world of difference in their respective new homes
Jonathan Daniel/Getty Images
LeBron James, Chris Bosh, Amare Stoudemire, Carlos Boozer, David Lee, etc. We all know that a lot of great players moved around this summer and turned their new teams from mediocre to solid, or from solid to championship caliber. But amidst all the noise, other good basketball players changed homes this off-season. Their new houses may be marginally less extravagant, and their impact on their new teams may not be as blatant. Miami and Chicago appear to be instant championship contenders. Golden State and New York have gone from bottom-feeders to playoff hopefuls. But the teams that succeed this season will be deep, have weapons to go along with their stars, and chemistry.
Which moves this off-season exhibited big-thinking over big-spending?
Hakim Warrick, F, Phoenix Suns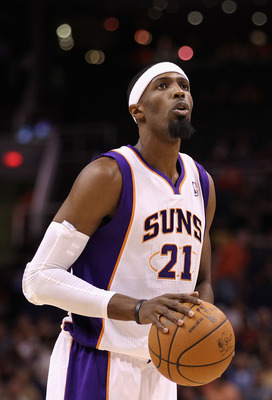 Christian Petersen/Getty Images
Why they signed him: The Suns lost Amare Stoudemire. Stoudemire teamed up with Steve Nash to lead this team to year after year of success, and a conference final last year. Without Amare, Phoenix drops from a championship contender to a playoff contender. Jason Richardson and Hedo Turkoglu will provide Nash with options, but he's still down an athletic big, and moreover, Phoenix is down an excellent rebounder and solid shot-blocker.

What they got: Warrick has only played 21.4 MPG in his five NBA seasons, but has been very productive in those minutes. He's a 50% FG scorer, as he primarily scores off put-backs, dunks, and in transition. His 4.3 RPG is misleading--not only is this in limited minutes, but he's never averaged less than 1.4 offensive boards per game. He's an adequate interior defender with above-average shot blocking ability.

How he'll help: His ability to get down the floor quickly and provide Nash with a 6'9 target on the fast-break should get him a ton of easy baskets. He also could become Nash's main pick-and-roll partner, as he possesses a Stoudemire-like ability to cut hard to the hoop and drive the basketball down with authority. He won't play a huge number of minutes, but expect a career high in that category. Maybe 25 MPG.
Bang: Excellent top front-court option off bench
Buck: 4 years, $18 million
Tony Allen, G, Memphis Grizzlies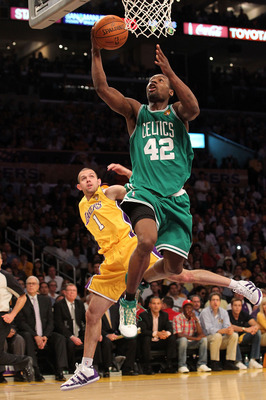 Ronald Martinez/Getty Images
Why they signed him: Quietly but surely, the Memphis Grizzlies have the NBA's best starting front court (besides the Lakers). Stop and think about it if you want, but it's really not even close. Marc Gasol is an all-star caliber center, and Zach Randolph and Rudy Gay are both all-stars at the PF and SF spots. If Mike Conley blossoms into a solid PG, which seems likely, then him and O.J. Mayo make up a pretty scary starting 5. Memphis was 40-42 last year, and with an improved starting 5 should go over .500. But Memphis will need a much deeper bench and, most importantly better perimeter defenders.
What they got: Tony Allen's calling card is defense. He is a 6'4 SG with a 6'9 wingspan that has the quickness to guard many PG's and the strength to guard many SF's. He has only averaged 18.4 MPG over his 6 year career, but has shown the ability to play heavier minutes. In a career high 24.4 MPG in 06-07, Allen also set career highs with a 51 FG%, 3.8 RPG (his second best season when adjusted for minutes), and 11.5 PPG (best season when adjusted). Allen is coming off his best season defensively, as he put up 1.1 SPG in only 16.5 MPG (2.4 per 36 minutes). For a bench player, he is one of the leagues better guards around the rim, both offensively and on the glass.
How he'll help: Memphis could not have found a more perfect fit than Allen. The Grizzlies were one of the worst teams at defending the three last year, and Allen is a shutdown guy on the perimeter. He will increase Memphis' prowess on the glass, as guards usually provide more rebounding help on the defensive end. Even though Memphis led the NBA in offensive boards last year, they were 18th defensively due to a lack of hustle boards and an inability to grab long rebounds.
Bang: Perfect bench G, fills many team needs
Buck: 3 years, $10 million
Louis Amundson, F, Golden State Warriors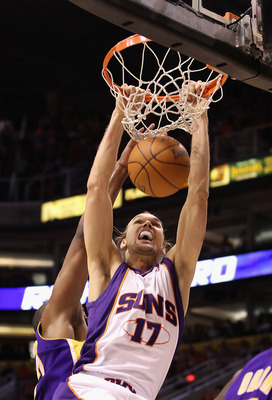 Christian Petersen/Getty Images
Why they signed him: Even though the Warriors brought in all-star PF/C David Lee, they still came out of the off-season with a thinner frontcourt after trading PF Anthony Randolph, C Ronny Turiaf, and losing rookie PF Ekbe Udoh to injury. With Andris Biedrins, Lee, and Brandan Wright, and Dan Gadzuric making up the frontcourt, the Warriors were still short a reliable rebounder off the bench.

What they got: Amundson was a sparkplug off of Phoenix's bench the last two years. In only 14.8 MPG last year, Louis grabbed 4.4 boards, blocked 0.9 shots, and scored 4.7 points. In average starter minutes, he would average a double-double and be among the league leaders in blocks. His 55% from the floor is as much efficiency as any team can dream of coming off the bench.

How he'll help: With two starters looking to average double-doubles but not looking to log too many minutes (particularly the injury-prone Biedrins), Amundson makes it so that the Warriors lose hardly anything when these guys sit. He also should fill Ronny Turiaf's role as Golden State's "Energizer Bunny."
Bang: Rebounding, shot-blocking, and efficient interior scoring off the bench
Buck: 2 years, $5 million
C.J. Watson, G, Chicago Bulls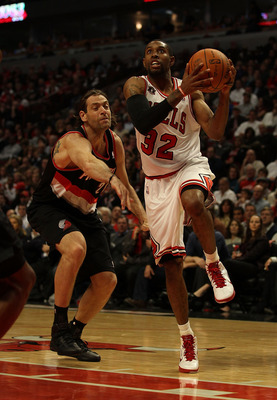 Jonathan Daniel/Getty Images
Why they signed him: The Bulls traded away John Salmons at the deadline last year, and lost Kirk Hinrich to free agency. These were both decisions more than losses, as Chicago wanted to clear enough cap room to have a huge off-season. While they didn't land LeBron, Wade, or Bosh, they landed arguably the biggest prize left in Carlos Boozer. They also added Kyle Korver, Ronnie Brewer, and Keith Bogans. Anyone would take that haul over a good backup PG, especially when your stater is Derrick Rose. But they still needed a backup PG.
What they got: A good backup PG, at a much cheaper price than Salmons or Hinrich. Watson spent three years in Golden State, where in 23 MPG, he shot 46% from the field, 35% from deep, 82% from the stripe, and is coming off a season where he had 1.6 SPG, 2.8 APG, and only 1 TPG. He is a good ball handler, disciplined decision maker beyond his years, and has shown excellent shooting efficiency (40% 3's, 87% FT in 08-09). Despite his career worst 3 point % last year, he set a career high in overall FG%.
How he'll help: Chicago was dismal from beyond the arc last year and mediocre on free throws. Watson had a huge drop-off in these areas last year, but this was in the midst of a hectic Warriors' offense in which C.J. saw nearly 28 MPG of court time, way too much for a proto-typical bench player like himself. This extra time on the court, however, did allow Watson to develop a very reliable mid-range game, and he became a smarter passer and present floor general. Chicago can't afford to lose Derrick Rose, but can easily afford to rest him. Watson is not only an ideal backup PG, but has shown a knack for hitting big shots, and could play the two if Chicago wants him on the floor as another option for Rose.
Bang: Perfect backup PG
Buck: 3 years, $10.2 million
Matt Barnes, F, Los Angeles Lakers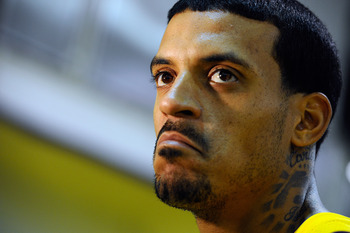 Kevork Djansezian/Getty Images
Why they signed him: The Lakers are coming off an NBA championship, and they didn't lose much this off-season. However, in this era of dynasty-discouraging competitive balance, standing pat has been proven time and time again the best way for a team to lose its crown. So what does a team that has the NBA's most stacked front court, the league's most dominant player, and one of the deepest benches around need? More depth, more defense, and another solid rebounder.
What they got: Barnes has been around the league, and an interesting trend has developed in his game: the better the team he is surrounded by, the better he plays. This of course is not unique, but after starting 58 games for Orlando last year, the best team he's ever played for, grabbing a career high 5.5 RPG in 25.9 MPG, and shooting 49% from the field (shattering his previous high), the Lakers are confident he can be even more efficient in their system. Barnes is a defensive stopper first and foremost, but also has shown the ability to hit threes in transition.
How he'll help: Coming off the bench for LA, Barnes will be able to play the role of a spark plug. His defensive skills and rebounding abilities come mostly from hustle, so in less minutes he should be more effective. Although he can't create his own shot, he will be a viable sub for Ron Artest at the SF spot in the sense that when Kobe draws the D, he'll have a solid shooting SF in the right place on the perimeter.
Bang: Defensive-stopper, solid backup SF
Buck: 1 year, $1.8 million
Keep Reading