Blake Griffin & Michael Beasley: Similar Talent Heading in Different Directions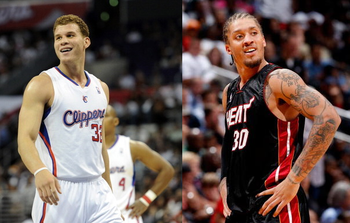 Blake Griffin and Michael Beasley are two of the most talented young power forwards in the NBA.
Both players are 21 years old, and were born just a couple months apart. Both players recently dominated the NCAA's Big 12 Conference. Both were first-team All-Americans. Those are just a few of the similarities, and there are differences too.
Beasley was the number two pick in the 2008 NBA Draft, while Blake Griffin was the number one pick in 2009. Just one game into Griffin's NBA career, and he's already distinguishing himself from the guy who came before him.
Physical Gifts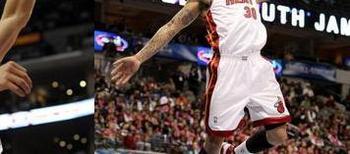 There are few players in the league who combine size and athleticism in the way that Griffin and Beasley do. They're both listed at 6'10". Griffin is 250 pounds, while Beasley is 235. They can run the floor like guards, and both can finish well above the rim.
The difference between the two is Blake seems to understand that you can't rely on talent alone. He worked harder in his NBA debut than I've ever seen Beasley work on the court. He had nine offensive rebounds against Portland, Beasley's career high for that category is six and he's averaged 1.5 per game since entering the league.
These are two of the most athletic big men in the entire league. One seems to understand a bit better than the other, that it takes a combination of talent and hard work to be an elite player.
College Days

Two of the most dominant college basketball players in recent history were Blake Griffin and Michael Beasley.
During the '07-'08 season, Beasley averaged 26.2 points and 12.4 rebounds per game. He shot 53 percent from the field, including 38 percent from three-point range. He led Kansas State to a 21-12 record and an NCAA tournament bid. They lost in the second round.
Beasley was a first-team All-American, and many felt he deserved the award for national player of the year.
Beasley left for the NBA after that season, but the Big 12 had another power forward who was ready to step up and dominate the conference.
Blake Griffin shined for Oklahoma in the '08-'09 season. He averaged 22.7 points and 14.4 rebounds per game. He shot 65 percent from the field. Oklahoma went 30-6 that year, and lost in the regional final of the NCAA Tournament.
Griffin was also a first-time All-American. He also won seven different national player of the year awards.
Beasley and Griffin both dominated as college basketball players.
Draft Hype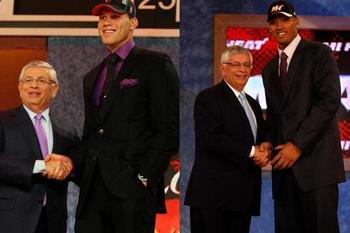 Much of the discussion dealing with the 2008 NBA Draft revolved around Michael Beasley. Many thought that the Chicago Bulls should have selected Beasley with the first overall pick, but they chose Memphis point guard Derrick Rose. Miami felt they had finally drafted the complimentary piece Dwyane Wade needed when they selected Michael Beasley.
Almost all of the discussion dealing with the 2009 NBA Draft revolved around Blake Griffin. Everyone knew the Clippers would select him with their first overall pick, despite the fact that they already had Zach Randolph (who they traded to make room in the lineup for Griffin) and Chris Kaman. Management, coaches and fans, all felt Griffin could be the man to end decades of woe as Los Angeles's second-billed team.
It was around the time of the '08 draft that questions about Beasley's character really started to come to the forefront. There were rumblings in college, but people always dig deeper when a player is being assessed for his professional prospects.
Attitude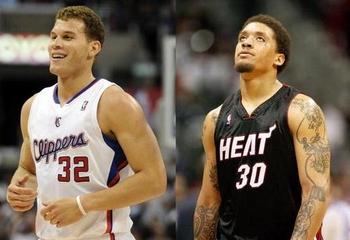 Griffin seems genuinely happy to have the opportunity to play in the NBA. He plays hard the entire time he's on the floor, and just seems to be having fun.
Last year, he was sidelined by an injury that led to season-ending surgery. While I'm sure he wasn't happy about this, he didn't let it get him down. He worked hard to rehab his knee, and made sure he'd be at full strength by the start of this season.
Griffin's attitude radiates to his teammates and to his fans.
Beasley's attitude is much different than Griffin's, and the reasons are complex. In Miami, he looked detached at times during games. He was vocally upset about spending more time on the bench than he felt he should.
Beasley has already had to deal with depression and drug abuse, and he's just over two seasons into his career. It's sad to hear about any 21-year-old having to handle difficulties like these. I'm sure there are factors outside Beasley's control that are contributing to these issues. However, men are defined by the choices they make, and Beasley's made some bad ones.
Future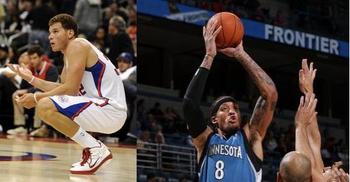 Few people have questions concerning Blake Griffin's future. He's put himself on a great path, one that may lead to greatness. If the Clippers can add a couple more young, talented players through future drafts, or make a big trade, they could be competing in the west very soon.
The future for Beasley is not nearly as clear. Without blinking, the Miami Heat traded the guy they used the second overall draft pick from the '08 draft on.
He has a chance at a fresh start in Minnesota. So far, he seems to be making more of this opportunity than he did with the one in Miami. Since joining the Timberwolves, he's been more open to communicating with coaches and management about some of his issues.
It's sad to see someone fall short of their potential, and so far, Michael Beasley has. However, this story could still have a happy ending for both of these players.
Keep Reading

Minnesota Timberwolves: Like this team?