San Antonio Spurs: What Will Their Record Be In the First 2 NBA Weeks?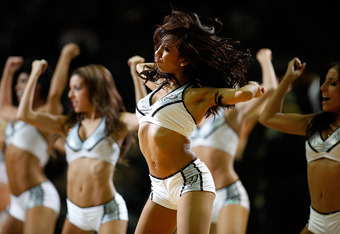 Chris Graythen/Getty Images
Lakers Fan Hollering Creek, is there such an item?
Or is that the title of my yet-to-have-a-release-date project? Where is Sandra Cisneros when I need her?
I digress.
This article is about the San Antonio Spurs season and not about me, or the mighty Lakers.
The defending champs eked out a win last night thanks to Steve Blake.
He got game for weeks.
In the first two weeks of the 2010-2011 NBA regular season, the Spurs play five games.
Two are on tap for this abbreviated week.
This season is already thick with expert predictions ranging from homer-team hallucinations to in-depth analysis provided here.
Most people are picking the Lakers to win the West, as I do.
Fret not. Game in, game out, I will be here to serve your Spurs needs.
The team will be without injured center Tiago Splitter's services until further notice.
Who will serve notice in the first game of the season? Will Roy-in Hibbert San Antonio?
The former Georgetown center gives height and circumference to a struggling Indiana team.
His Pacers play the Spurs tonight at the AT&T Center. Tip-off is set for 7:30 pm CST.
Can Hibbert get buckets in the low post against Duncan?
He dropped 20 points, seven rebounds and six blocks on the Spurs in their first matchup last year.
And he backed that up with 14 points and six blocks in the second meeting.
Timmy chaired the boards in both games. He had 16 in the first game, plus 19 points, three blocks and a technical foul.
In the second game, he tallied 26 rebounds and eight points.
Scorers to watch in tonight's matchup are Tony Parker, Manu Ginobili, Danny Granger and TJ Ford.
Mike Dunleavy is a capable scorer, but he is coming off a knee injury and is a work in progress.
Troy Murphy is now with New Jersey under head coach AJ.
The Pacers played the Spurs close last season; San Antonio won both contests by a total of four points.
They escaped 100-99 at home in December, and 90-87 in Indianapolis.
Which team will prevail in the season series?
Seeking success against another lowly opponent on Saturday, the Spurs face New Orleans at AT&T.
New Hornets head coach Monty Williams takes over a rebuilding team that will not likely contend.
Rumors are that Chris Paul wants to vie for a championship with the Knicks. For now, is CP3 New Orleans' lone threat against the Spurs?
The Hornets have All-Stars David West and Peja Stojakovic, but not much else beyond Trevor Ariza and Jerryd Bayless.
Emeka Okafor is a solid rebounder, but he lacks the size to score consistently in the paint against good frontcourts.
Will backup center DJ Mbenga prove that he is more than an ex-Lakers scrub?
If he gets any clock, he will find the Spurs center position to be the weakest link on the team.
Besides 6'5" DeJuan Blair (listed at 6'8"), the backup center selections are very slim.
Yet the Spurs should start this season with two victories. Should.
Featuring Western Conference opponents, three games are on tap next week.
The Los Angeles Clippers and the Phoenix Suns host the Spurs on Monday and Wednesday.
The visiting Houston Rockets launch into San Antonio on Saturday night (Nov. 6).
LA's other NBA team has my pick for NBA Rookie of the Year: Blake Griffin.
The former Oklahoma All-American and consensus Player of the Year missed all of last season.
With the stress fracture in his left knee healed, Griffin gives the Clippers a solid frontcourt along with Chris Kaman.
Someone will need to solidify the small forward spot, position 3, for new coach and 25th anniversary Spur Vinny Del Negro.
Rasual Butler and Ryan Gomes are candidates.
According to his bio, Del Negro still holds the Spurs record for consecutive free throws (50).
He led the Chicago Bulls to the playoffs in 2009 and 2010. Will he steer the "other LA" to the Promised Land?
No reckless driving allegations for their guards, unlike a certain somebody last named Longoria.
Flowing like milk and honey, Eric Gordon, Baron Davis, Randy Foye and rookie Eric Bledsoe form a purely sweet backcourt.
Backing into the playoffs is not out of the question for the Clippers.
The Spurs will need strong frontcourt play, but can they outlast Griffin?
Last season, San Antonio swept the Paper Clips season series by an average of 17 points per game.
Sweeping the Spurs out of the playoffs last year, the Suns have a key ingredient missing in Amar'e Stoudemire.
Most experts wrote them off after his departure to the Knicks last summer.
Less than confident about the team's chances, Steve Nash is reportedly disgruntled.
Is Nash posturing or providing an honest assessment of the team's personnel changes?
Phoenix started out blazing, including a win over Boston in Massachusetts last year.
Before losing to the Lakers, the Suns' record was 8-1.
Long gone Leandro Barbosa's role decreased with the arrival of Goran Dragic.
The Spurs cannot allow the Suns combo guard to go down the lane on them if they want to win this game.
On Tuesday (Oct. 26), Phoenix lost its opener to Portland, and Dragic logged 12 minutes while Nash played 35.
Rebounding was a huge problem for the Suns; Marcus Camby and Nicolas Batum both had double-digit rebounds.
LaMarcus Aldridge grabbed nine boards, but he was 3-of-9 from the field. The Dallas native was not featured.
If Nate McMillan is going to play him like that, then the Spurs could use him.
Houston-San Antonio played to a tie in four games last season. The last game resulted in a 119-102 win for the Spurs at home.
Back from the injured list, Yao Ming makes his return to the Alamo City for a 7:30 pm tip.
The Rockets have plenty of scoring punch in Aaron Brooks, Kevin Martin and Luis Scola who led FIBA in scoring last summer (27).
About 20 apiece last season, Brooks (19.6) and Martin (21.3) averaged with Houston.
Ronald Martinez/Getty Images
If their bench steps up, then they might be able to do some damage in the West.
Speaking of the West, the Kings of the Western Conference, the Lakers, meet the Spurs on Dec. 28.
Note: My project Lakers Fan Hollering Creek is not a reference to the San Antonio River. Not yet.
I'm trying to connect with Cisneros to institute something big, but that is a different account.
What counts now is my foretelling of the next 11-12 days.
Prediction: The Spurs will go 3-2 to launch the season by defeating Indiana, New Orleans and the other LA.
This article is
What is the duplicate article?
Why is this article offensive?
Where is this article plagiarized from?
Why is this article poorly edited?

San Antonio Spurs: Like this team?