The NBA Season Starts: It's Still All about LeBron James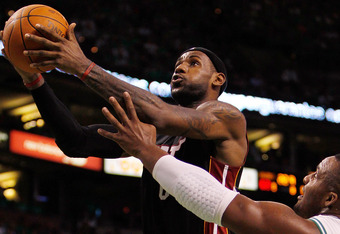 Jim Rogash/Getty Images
LeBron James and his talents will be dissected all season long, especially in defeat. Every game, like Miami's season opening loss to the Boston Celtics, will be reviewed and scrutinized. The new Big Three, led by LeBron were supposed to take the NBA by storm, but the Big Three and the Heat will most certainly be a work in progress.
I'll start by saying this: I don't dislike LeBron James. He is a truly great player—the NBA's most athletically gifted and one of the most intelligent, but...
LeBron has never been the league's best player. He's close to it—but he is not yet the best. That title still belongs to Kobe Bryant, the guy with five rings, the lead guy on the defending NBA champion Lakers.
The other player also vying for the title of NBA best is Oklahoma City's Kevin Durant, who for reasons on and off the court is being touted as the anti-LeBron. Durant is a super smooth 6'10″ sharpshooter who plays the game the right way and is sincerely humble to boot.
The real problem for LeBron is not the competition he faces from Kobe and Durant; it is that for years LeBron has been grossly over-praised which was unfair even for a player as talented as LeBron. But now I believe LeBron is being over-vilified—for making a business decision. We've always been just a little too excited by everything this 25-year-old does.
Great players and significant business decisions go hand in hand, involving money, marketing and of course legacy. LeBron made a clumsy and unpopular business decision for himself this summer to join the Heat, and he is now suffering the short-term consequences of it. But how we ultimately feel about LeBron will be decided by how well he plays and most importantly whether he wins NBA championships.
As for last night, it wasn't quite a knockout, but the punches the Boston Celtics landed on the Miami Heat for most of the game were hard and accurate. The Celtics dominated the Heat and clearly looked like the better team. The Celtics "Big Three" of Kevin Garnett, Ray Allen and Paul Pierce, while older and more brittle got the better of the Heat's new and much younger "Big Three." Please note though that LeBron did score 31 points.
The final score while closer than it should have been for Boston at 88–80 nonetheless illustrates why the Celtics should be favored to go to the finals again from the East provided they stay healthy instead of Miami.
While it is way too early to say the combination of LeBron James, Dwyane Wade and Chris Bosh are a disappointment, they certainly looked out of sync last night. Further, Miami doesn't have much else on its patchwork roster. As such it will probably take a year, maybe longer for the Heat to gel as a formidable team. It will also take awhile for fans everywhere to get over the animosity some of them feel for LeBron since his widely panned Decision on ESPN.
Yes, the long NBA season has officially started and even though the Celtics beat the NBA's newest super-team and now loom as a real threat to win the championship themselves, it seems to me that it's really still all about LeBron.
This article is
What is the duplicate article?
Why is this article offensive?
Where is this article plagiarized from?
Why is this article poorly edited?

Miami Heat: Like this team?