NBA Rumors: Latest on LeBron James, Kobe Bryant, Carmelo Anthony and More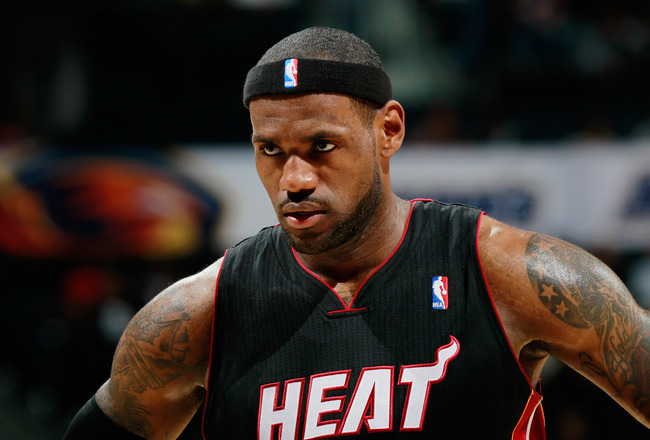 Kevin C. Cox/Getty Images
The 2010-2011 NBA season is set to tip off this Tuesday night, and there is plenty to catch up with across the league before the action begins. There are tons of faces in different places, and as the preseason wraps up, teams have already begun to exhibit some telling signs about what to expect in the months ahead. Here we'll cover the biggest stories currently developing and ongoing in the NBA universe, with all eyes pointed towards opening night.
Click through for injury updates, trade rumors, roster shake-ups and more as you get primed for the beginning of what should be an exciting year of NBA basketball.
Jerry Stackhouse Signs with Miami Heat, Replacing Injured Mike Miller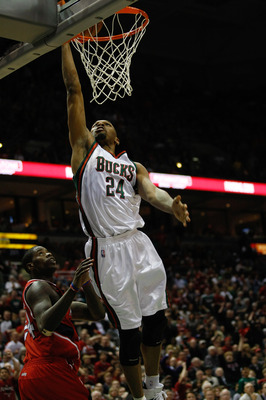 Scott Boehm/Getty Images
Fresh off losing slick-shooting veteran forward Mike Miller to a thumb injury, expected to sideline him until at least January 2011, the Miami Heat reached an agreement with veteran swing man Jerry Stackhouse. Stackhouse will be 36 this season, and his best days are clearly behind him, but he still looks capable of chipping in and providing a steady veteran presence on the Heat's star-heavy roster.
Miller was expected to be a big part of Miami's offense, but he suffered a torn ligament and fracture to his thumb during practice on Wednesday.
Stackhouse had expressed a desire to play alongside Miami's Big Three since the trifecta was forged during the summer, and he got his wish with the injury to Miller. Stackhouse averaged 8.5 points in 35 games coming off the bench for the Milwaukee Bucks last season.
Kobe Bryant Looks Healthy, Scores 22 in Lakers' Final Preseason Game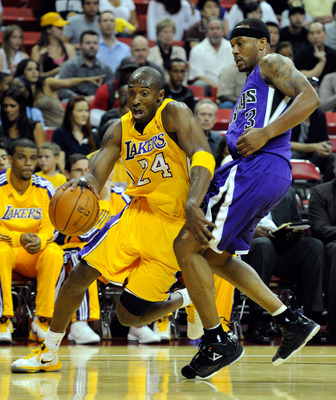 Ethan Miller/Getty Images
Coming off a summer surgery to repair his right knee, Los Angeles Lakers star Kobe Bryant had his best preseason showing in the Lakers' final game, scoring 22 points on six of 19 shooting and showing no clear signs of discomfort or sluggishness.
This after Bryant initially categorized his knee at approximately 60 percent strength after the team's first preseason game, and all indications from the Lakers have been that the team will monitor Kobe's minutes and usage early in the season.
So a game where he went 34 minutes and found a bit of a scoring rhythm after a rocky opening has to be progress and is a sign that Los Angeles will see its best player working at full strength after some time gradually easing into the rigors of the NBA schedule.
Since he isn't hurt but just rehabilitating an offseason surgery, expect Kobe Bryant to be just fine, barring any other unforseen issues.
The Carmelo Anthony Saga: Melo and Spike Lee Discuss New York Knicks
Christian Petersen/Getty Images
The will-he or won't-he has gone on almost all offseason regarding whether or not Denver Nuggets star Carmelo Anthony will be traded away, and it took a bit of a bizarre twist this week when it was revealed that Carmelo had engaged with acclaimed director and die-hard New York Knicks fan Spike Lee regarding the possibility of being traded to the Knicks.
According to reports this week, Melo has allegedly been using Spike Lee to funnel information to Knicks general manager Donnie Walsh regarding the Knicks being Anthony's top preference for a potential new team.
If it were an executive or player conducting in this type of correspondence with a Knicks executive, it would be tampering, but Spike Lee just makes movies and has season tickets, so no harm no foul.
It's been a bizarre offseason for the Denver Nuggets' star, as he was apparently very close to being traded to the New Jersey Nets before the talks fell through. As the season is about to begin, he appears likely to start in Denver, but given his overtures to leave, it doesn't seem like he'll last the whole year in the Rocky Mountain west.
Portland Trail Blazers Sign Fabricio Oberto To Fill In for Greg Oden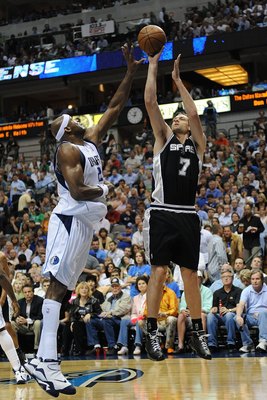 Ronald Martinez/Getty Images
Argentinian big man Fabricio Oberto has signed a one-year contract with the Portland Trail Blazers, in a move to fortify Portland's depleted front court in the wake of injuries to Greg Oden and Joel Przybilla. Both Oden and Przybilla are coming back from serious knee injuries, and Portland's only healthy center is veteran center Marcus Camby.
Enter Oberto, who is entering his sixth season in the NBA as a reserve. He spent the first four years playing for the San Antonio Spurs with fellow Argentine Manu Ginobili and enjoyed his best year in 2007-2008 when he averaged 20 minutes a game and chipped in almost five points per contest, while pulling down an average of five rebounds per game as well.
Oberto is not flashy and will be used only to spell Portland's regular front court starters in Camby and LaMarcus Aldridge.
Utah Jazz's Andrei Kirilenko Unlikely To Be Traded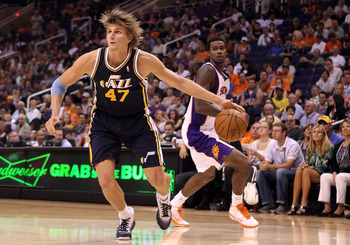 Christian Petersen/Getty Images
Andrei Kirilenko and his $17.8 million-expiring contract seem unlikely to get traded, as the Utah Jazz are apparently asking for a large return for the veteran forward's services, and at this point, he seems likely to stay in Salt Lake City throughout the 2010-2011 campaign.
Considering his appeal to other teams, given the versatility his game provides between his scoring abilities along with his length and game-changing shot blocking potential, to go along with his expiring contract, this may just be all talk to drive up AK-47's price.
However, Utah is a team that always contends in the West, and Kirilenko has been a big part of their plans for a number of years, even though he's often been injured. So it is a real possibility the team will ride out his last year under contract and hope to get a strong year out of him.
Ed Davis Close To Return for Toronto Raptors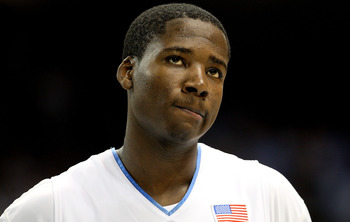 Streeter Lecka/Getty Images
Rookie power forward Ed Davis is still on the mend, but he hopes to be able to start practicing fully for the Toronto Raptors within the next two weeks, wtih an eye for a potential return during November.
The player taken thirteenth in this past June's NBA draft out of the University of North Carolina, Davis was expected to be a contributor to the Raptors' 2010 rebuilding in the wake of Chris Bosh's departure via free agency.
Instead, Davis suffered a partially torn meniscus in his right knee during a pick-up game in September. He lost out on participating in his first preseason and training camp in the league but still could contribute in some capacity on a young Raptors team.
LeBron James Addresses His Detractors Via Twitter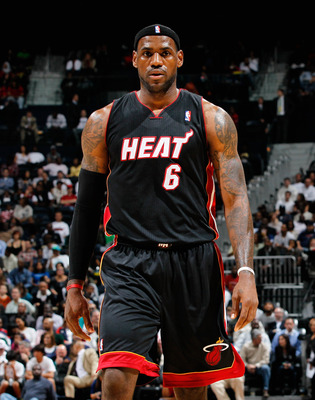 Kevin C. Cox/Getty Images
LeBron James made a point of stressing the fact that he was keeping track of all the negative press he received following his "Decision" to leave the Cleveland Cavaliers this past offseason, and he continued down his path of directly addressing his detractors this week when he took to his Twitter account to publicly expose some of the most vicious comments he's received from random users of the social networking site.
Via his @KingJames account, he posted racially-tinged rants of negativity directed at him on the site, dubbing October 19 "Hater Day"and meant to expose the underbelly of criticism he's received.
It's another in an offseason full of off-court drama surrounding James, who presumably joins the ranks of most NBA fans in looking forward to the day when the news will only be about his play on the court.
Minnesota Timberwolves' Martell Webster Has Back Problems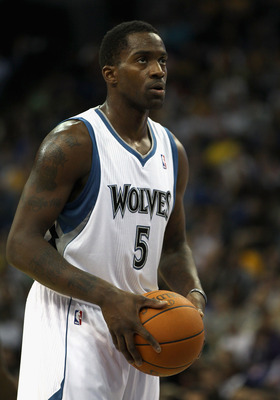 Bryn Lennon/Getty Images
Newly-acquired guard/forward Martell Webster may miss the Minnesota Timberwolves' season opener due to a lingering back injury he picked up during the playoffs while still a part of the Portland Trail Blazers.
Webster had been a fixture in the Timberwolves' rotation throughout the early portion of the preseason, averaging 26 minutes a game and putting up 12 points per contest while shooting 46 percent from the field.
Now his status for the team's season opener is in doubt after he complained of pain and received an MRI, for which the results have not yet been announced.
DeJuan Blair Will Start for San Antonio Spurs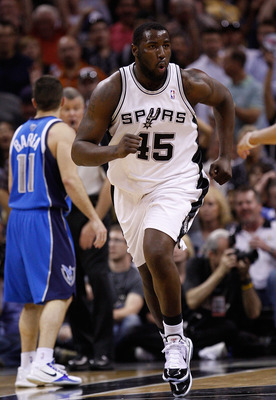 Ronald Martinez/Getty Images
Twenty-one-year-old DeJuan Blair has been minted as the starting center for the San Antonio Spurs, joining future Hall of Famer Tim Duncan in a formidable San Antonio frontcourt pairing.
It's a big moment for the second year player who showed up to training camp 15 pounds lighter than his playing weight last season, with an eye on securing a starting job, which he's done.
The questions now will focus on how San Antonio copes with a lack of size in its front court, as Blair is only 6'7", undersized for an NBA center. Their interior defense will be an area to watch, to see if it gets exploited by larger teams across the league, or whether Blair and the veteran Duncan can hold the fort inside.
Sacamento Kings Guard Tyreke Evans Dealing wIth Plantar Fasciitis
Ethan Miller/Getty Images
A red flag popped up this week when Sacramento Kings star guard Tyreke Evans admitted to coping with what he described as a mild case of plantar fasciitis on the bottom of his foot, a potentially nagging injury that could inhibit the players' availability during the season if the condition worsens.
His minutes have not dropped off in the preseason at all in spite of the revelation about the injury, so that's a cause for definite optimism regarding his health. He logged 32 minutes of action in the Kings' preseason finale on Friday night, so he seems like he's ready to go heading into the regular season.
But it bears watching whether or not his injury will flare up at any points later in the year, as plantar fasciitis never fully heals unless it's given full rest.
Orlando Magic Hoping To Trade Forward Brandon Bass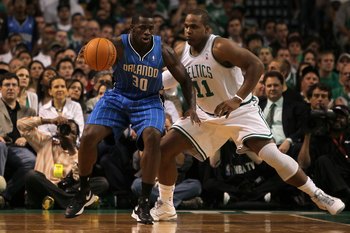 Jim Rogash/Getty Images
The Orlando Magic have given forward Brandon Bass a large chunk of minutes during the preseason, and most NBA insiders believe it's because they are trying to trade the big man to clear up a bit of a cluttered frontcourt.
Bass stands to be in an undesirable reserve rotation in Orlando, and the team seems likely to move him to another team that's in need of help at power forward should they be able to find an ideal suitor. One team mentioned in the rumors are the Indiana Pacers, who are bereft of much depth in the frontcourt, but no trade has been described anywhere as being close.
Still, it's worth watching, as Bass could wind up in a new situation where his playing time and role increase dramatically.
Where Will Erick Dampier Sign? Phoenix Suns Emerge As Front Runner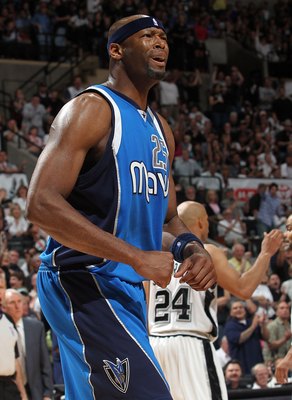 Ronald Martinez/Getty Images
Veteran power forward Erick Dampier is said to have met with the Phoenix Suns this week to discuss possibly signing with the team for the 2010 season. The move would make sense for both sides, as the Suns presumably are still looking for additional size in their front court.
Robin Lopez is their biggest big man in Phoenix, and a large presence like Dampier's could help coming off the bench to spell Lopez, or if he went down to injury, Dampier could also step in.
Given the scarcity of big men in Phoenix, Dampier would almost be guaranteed solid playing time if he signed. No contact has been officially inked as of yet, but signs are pointing towards Dampier ending up in Phoenix.
Indiana Pacers' Danny Granger Expected To Play in Season Opener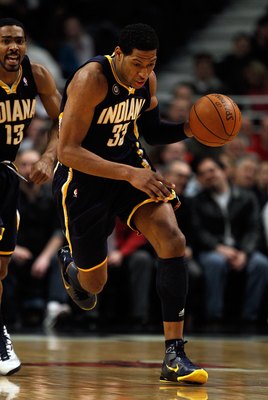 Jonathan Daniel/Getty Images
Indiana Pacers scorer Danny Granger is expected to answer the bell for the Pacers' season opener after dealing with a sprained ankle suffered late in the preseason.
There had been some doubt as to whether he would be healthy enough to start on opening night, but this week the team confirmed that he should be good to go when the season begins. That's a big boost for Indiana, who lean on Granger's scoring and shooting abilities for generating much of their offense.
Cleveland Cavaliers J.J. Hickson Struggling, Could Lose Minutes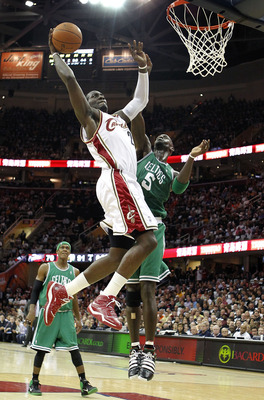 Gregory Shamus/Getty Images
Power forward J.J. Hickson has struggled throughout the preseason, and Cleveland Cavaliers coach Byron Scott hinted that Hickson might lose playing time to start the season until he shows improvements to his game.
Scott has criticized Hickson openly for his lack of focus and offensive smarts and understanding and has left the decision open as to who would start for Cleveland at power forward, be it Hickson or veteran Antawn Jamison.
Hickson is a young player with a high upside but remains lacking in polish to his game, something that the Cavs need him to develop quickly as they try to cope with the loss of their star and leader LeBron James.
Dwyane Wade of Miami Heat Practices for First Time in Two Weeks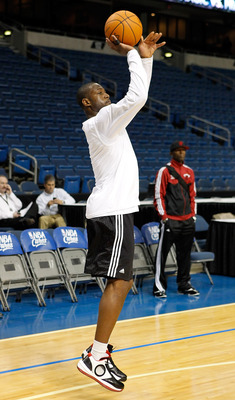 J. Meric/Getty Images
After straining his hamstring, Miami Heat star Dwyane Wade was finally able to practice today after a two week layoff recuperating. He still expects to be ready to go for the beginning of the season, and news of him participating fully in practice is sure to further increase that likelihood.
The Heat desperately need all three of their big players to stay healthy, and given the loss of veteran swingman Mike Miller earlier this week, Wade's report of good health is a welcome one.
New Jersey Nets Forward Troy Murphy Still Uncertain for Opening Night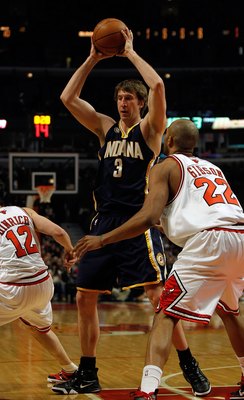 Jonathan Daniel/Getty Images
The New Jersey Nets acquired power forward Troy Murphy to give them another interior scorer to pair with center Brook Lopez, but Murphy's bad back has flared up this preseason, putting his status for opening night in doubt.
He was ruled out of the preseason when the back injury first popped up, and he has still yet to practice fully in advance of the regular season opener scheduled for this Wednesday.
Murphy was brought in to take the heat off rookie Derrick Favors and allow him to ease into NBA playing time, but Favors may get a bit of a trial by fire if Murphy misses time with the injury.
New Orleans Hornets' Marcus Thornton Continues To Struggle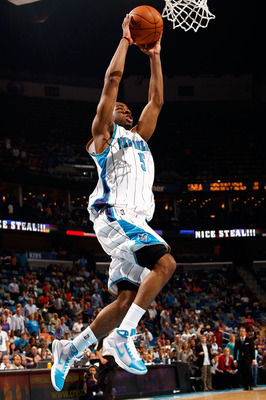 Chris Graythen/Getty Images
Picked by many to have a breakout season playing in the backcourt with Chris Paul, New Orleans Hornets guard Marcus Thornton has had a disastrous preseason that's seen his stock plummet. His struggles continued this week when he posted a dismal one for 10 shooting performance, to finish with a subpar line of three points, six rebounds and three assists in 25 minutes of action.
This came after he has seen his minutes decrease in the preseason as guard Marco Belinelli has taken over a chunk of his playing time, as the second year player experiences a serious slump. His talent level dictates that he'll rebound, but early in the season, it's possible he will find himself on the bench in New Orleans.
New York Knicks' Anthony Randolph Might Not Make Season-Opening Rotation
Doug Pensinger/Getty Images
Anthony Randolph has struggled to pick up new coach Mike D'Antoni's fast-paced offensive system, and as a result, he may find himself on the outside looking in to the New York Knicks' player rotation to start the season.
Randolph was acquired in the sign-and-trade deal for forward David Lee and was expected to contribute immediately for the Knicks, possibly as the starting center.
Instead he's struggled to acclimate himself in New York, although his talent would seem to be too much to ignore and leave sitting on the end of the bench. He may start out the season slow but perk up as he gets more practice time with D'Antoni and company under his belt.
Boston Celtics Coach Doc Rivers Is Healthy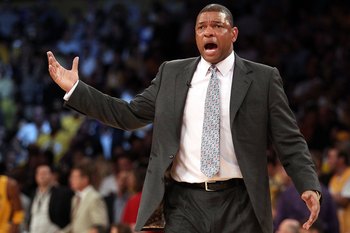 Christian Petersen/Getty Images
Boston Celtics coach Doc Rivers had a biopsy early this week for something doctors found in his throat, but it turned out to be nothing and he's fully healthy and ready to go heading into Tuesday night's marquee match up with the Miami Heat.
The Boston coach gets a lot of credit for corraling the big personalities in the Celtics' locker room, and obviously his health is of huge importance to the franchise, not to mention obviously to himself and his family.
This is some great news regarding his test results, and it should be an interesting season in Boston with Rivers again leading the Celtics, as they look to reign as Eastern Conference champions in spite of the Miami powerhouse.
Carlos Delfino Will Start for the Milwaukee Bucks over Corey Maggette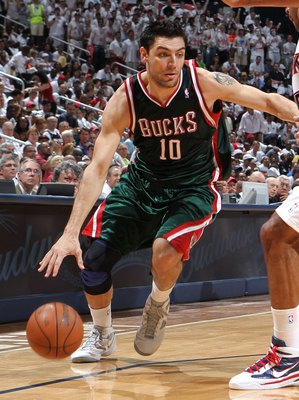 Mike Zarrilli/Getty Images
The Milwaukee Bucks Corey Maggette is still not 100 percent healthy, so, as a result, Carlos Delfino has won a job as a starter for Milwaukee until Maggette is fully up to speed.
Delfino is coming off a year in which he averaged 11 points per game in 66 starts, so he is a useful player, but he lacks the offensive upside that Maggette brings as a shooter and scorer.
It seems that once Maggette regains full strength in his injured and repairing ankle, he will get a large chunk of minutes. For now, though, Delfino sees an uptick in his role for the Bucks.
Keep Reading

Miami Heat: Like this team?