2010-2011 NBA Predictions: What's Ahead For Kobe Bryant, LeBron James & Friends
It is that time of year again, summer has left and were in the full embrace of fall. The falling of leaves, the fall of rain and the fall of the back-to-back champion Lakers? Well, that is one of many questions that must be asked as we get ready for this coming season.
With all the off-season moves that came this summer, many things changed including those that seemingly stayed the same. The most relevant or of biggest notice has to be the Dwyane Wade, LeBron James and Chris Bosh trio forming. There were other moves made, but that has to be the main focus. Tracy McGrady to the Pistons is not making the headlines now that it would have ten years ago and neither are any other transactions not happening in south beach.
The purpose of this article is to bring to the front a preview of each team in the league, division winners, individual awards and postseason results. My decisions are not to agree with the general public. So if you agree or don't agree with my NBA MVP choice or my NBA Finals choices among other picks, know it is simply based on what I believe; not on outside thought. Many will argue with what I chose and that's fine with me. Voice your opinion on the comments to let me know what you think.
This season might be the most anticipated we've had this millennium. Not since Michael Jordan was playing for the Bulls can I remember the large amount of hype that surrounds a season. It should be a fun one to watch.
Let's get to the previews and predictions.
Begin Slideshow

»
The most successful Franchise in NBA history (17 titles to the Lakers 16), the Celtics have had a rich tradition of winning. That should continue this year. This is a group that is old as dirt by league standards, but has been mining for gold out of the dirt accumulated. Ray Allen, Jermaine O'Neal, Shaquille O'Neal, Kevin Garnett and Paul Pierce have been through the rigors of the league.
We know that they were short Kendrick Perkins for Game 7 of the Finals last season and that could have been a huge change in the final results without his big body patrolling the rim. Perkins will also start the year on injured reserve after his Game 6 Finals injury and it will be up to the new big men to pick up the slack.
The loss of Tony Allen might be bigger than the Celtics have given it credit at this time. He showed strong defense throughout the Playoffs and took a load of pressure off Ray Allen and Paul Pierce. Delonte West has been brought in to try and replace Allen as best as possible. This might not be a tall task on the offensive side, but what made Boston a champion was their defensive capabilities. The Celtics have a never quit attitude that should give them a better regular season record this year than last.
The question they have to ask themselves is this: Can we come back from a demoralizing Game 7 loss? A question this veteran bunch wants to silence with a resounding yes.
2009-2010 Record: 50-32
Starting Five: 2009-2010 Statistics
PG: Rajon Rondo 13.7 PPG, 4.4 RPG, 9.8 APG
SG: Ray Allen 16.3 PPG, 3.2 RPG, 2.6 APG
SF: Paul Pierce 18.3 PPG, 4.4 RPG, 3.1 APG
PF: Kevin Garnett 14.3 PPG, 7.3 RPG, 2.7 APG
C: Jermaine O'Neal 13.6 PPG, 6.9 RPG, 1.3 APG
Amar'e Stoudemire are you ready to take a bite out of the Big Apple? That is being asked by many who have seen the Knicks through their troubles over the past decade. Gone is Steve Nash by his side. Raymond Felton now takes the title as assist man to Stoudemire and that might not be that much of a downgrade.
Raymond Felton coming from the school of Larry Brown should now be able to spread his wings and put an imprint of success on the club.
The Knicks have been revamped and mostly for the better now and down the road. The starting lineup will now feature three different players than last year including the unknown Timofey Mozgov. The free agent signing should be of interest at the least, even if he ends up being a dud this season.
These aren't the Knicks of the 90's who can bully their way to wins. At the same time, this team hasn't established an identity because of the new faces. I don't think the Mike D'Antoni-Amar'e Stoudemire duo will cause flashbacks of Phoenix; but I do think this team will try to run more.
Wilson Chandler and Danilo Gallinari might be the biggest swingers one way or the other for the team. Expecting that Felton and Stoudemire are solid, it will be up to them to be more efficient so New York can smell the Playoffs for the first time in a while.
2009-2010 Record: 29-53
Starting Five: 2009-2010 Statistics
PG Raymond Felton 12.1 PPG, 3.6 RPG, 5.6 APG
SG Wilson Chandler 15.3 PPG, 5.4 RPG, 2.1 APG
SF Danilo Gallinari 15.1 PPG, 4.9 RPG, 1.7 APG
PF Amar'e Stoudemire 23.1 PPG, 8.9 RPG, 1.0 APG
C Timofey Mozgov N/A N/A N/A
Evan Turner is in the building; Does anyone care? That seems to be the early outlook on Evan Turner from Training Camp and Preseason Games. We'll have to keep a close eye to see if there is any truth in those beliefs. Gone again is Allen Iverson after coming back to Philly last year and back is Elton Brand with Andre Iguodla and the aforementioned Turner.
It will be entertaining to see if Iggy can use the positive results of the World Championships towards success for the Sixers. Assuming that Andre stays pat in Philly and doesn't end up as a talented small forward in limbo like Carmelo Anthony.
Jrue Holiday takes over the point for Louis Williams and it should be a transition to watch closely. New Head Coach Doug Collins might have his hands full with this group to start out with. Working Turner into the mix, getting the slimmed down Elton Brand to take over the Center position for Samuel Dalembert and moving Holiday to the Point are all points of emphasis.
The loss of Dalembert will really put a strain on their interior toughness this year. Brand has great physical tools on the offensive end, but how that will translate to the defensive end is still a mystery. Expecting Collins to have this team in a run-and-gun system makes sense. They are an athletic, young team that will try to grow throughout the season. They should be in the thick of the Playoff race.
2009-2010 Record: 27-55
Starting Five: 2009-2010 Statistics
PG Jrue Holiday 8.0 PPG, 2.6 RPG, 3.8 APG
SG Evan Turner N/A N/A N/A
SF Andre Iguodala 17.1 PPG, 6.5 RPG, 5.8 APG
PF Thaddeus Young 13.8 PPG, 5.2 RPG, 1.4 APG
C Elton Brand 13.1 PPG, 6.1 RPG, 1.4 APG
Who are the New Jersey Nets? Are they a basketball team or just a formation of entertainment. They have a billionaire owner Mikhail Prokhorov and arguably the greatest rapper alive in Sean Carter, A.K.A. Jay-Z making moves. Are these two going to be more entertaining than the team on the court will be? That is the question I currently have and I'm sure I am not alone.
The injury suffered by Troy Murphy pushes Derrick Favors into the starting lineup to begin the season. Whether he's ready or not, he'll get experience faster than expected.
Avery Johnson now takes over as Head Coach of the Nets without the expectations of a title staring him in the face. At least for the time given, as Prokhorov has stated that he expects a title within the next five years. I will be among the first to say good luck. You're going to need it to even expect to compete with the Heat over the next half decade.
Jordan Farmar has been brought in to do backup duty for Devin Harris this year. Most aren't getting chills over that acquisition I must believe. The focus is still on getting Carmelo Anthony traded over to go with Harris and All-Star potential player Brook Lopez. This team is on the way up; but there are parts that still need fixing to make this a full functioning team.
2009-2010 Record: 12-70
Starting Five: 2009-2010 Statistics
PG Devin Harris 16.9 PPG, 3.2 RPG, 6.6 APG
SG Anthony Morrow 13.0 PPG, 3.8 RPG, 1.5 APG
SF Travis Outlaw 9.1 PPG, 3.6 RPG, 1.0 APG
PF Derrick Favors N/A N/A N/A
C Brook Lopez 18.8 PPG, 8.6 RPG, 2.3 APG
Welcome Leandro Barbosa, guess what? You might be our best player! I'm not going to go that far, as I believe Andrea Bargnani is pretty solid in his own right, but the loss of Chris Bosh is crushing to this franchise. A franchise which hasn't been able to build a winner around its two prior franchise players in Vince Carter and Chris Bosh.
This will probably be a rough year just based on the lack of depth and talent they have in their front court. The Rookie Ed Davis might get a chance to prove himself seeing that Reggie Evans is currently sloted as the starting power forward. The former Iowa Hawkeye might be the worst starter in the league allowing for Amir Johnson and Davis to get minutes.
Linas Kleiza comes back after playing a year overseas and should be of more focus. He showed some strength to his game that was never harnessed to its full potential in Denver. Now as the starting small forward he will take over Hedo Turkoglu's spot. Jose Calderon is hanging around to at least make some free throws. Canadians should focus on their hockey this year as the Raptors might be a little down in 2011.
2009-2010 Record: 40-42
Starting Five: 2009-2010 Statistics
PG Jarrett Jack 11.4 PPG, 2.7 RPG, 5.0 APG
SG Demar Derozan 8.6 PPG, 2.9 RPG, 0.7 APG
SF Linas Kleiza 9.9 PPG, 4.0 RPG, 0.8 APG*
PF Reggie Evans 3.4 PPG, 3.8 RPG, 0.3 APG
C Andrea Bargnani 17.2 PPG, 6.2 RPG,1.2 APG
*2008-2009 Statistics
It is not a foregone conclusion that the Bulls will win the division, it just is the reasonable choice. Even with Carlos Boozer breaking his hand, the team will have more chemistry issues to deal with than injuries. They have a pretty nice group of four starting with Ronnie Brewer as the x factor. Brewer gets a chance to fully prove himself as any player would like this year at Shooting Guard.
Assuming Carlos Boozer comes back at full strength, Chicago will have a bullish (pun intended) starting lineup that should rise to the occasion. Noah is still a lightning bolt of energy that is getting better every year. With all of the curiosity of the Noah-Carmelo Anthony trade out of the way due to Noah's extension this off-season, Joakim should be fired up to play.
Tom Thibodeau replaces Vinny Del Negro after the public disruptions between Del Negro and GM John Paxson last season. I see this as a bonus as he will be able to help mold Derrick Rose in the way he helped Rajon Rondo.
Derrick Rose might be the most talented Point Guard in the NBA, and this might be the year he puts it all together. That is with the assumption that he bought himself a jump shot. An unstoppable Rose just heightens the level of play out of the overshadowed Luol Deng. If things begin to click, this team could be very strong.
2009-2010 Record: 41-41
Starting Five: 2009-2010 Statistics
PG Derrick Rose 20.8 PPG, 6.0 APG, 3.8 APG
SG Ronnie Brewer 8.8 PPG, 3.2 RPG, 0.7 APG
SF Luol Deng 17.6 PPG, 7.3 RPG, 2.0 APG
PF Carlos Boozer 19.5 PPG, 11.2 RPG, 1.3 APG
C Joakim Noah 10.7 PPG, 11.0 RPG, 4.2 APG
The Bucks rode a wave of momentum last year under the adage: "Fear the Deer". It will be intriguing to see if they can build off that momentum again this year under coach Scott Skiles. Skiles got all he could out of the Bucks last year as players such as Jerry Stackhouse and Kurt Thomas saw a revival in their play under Scott.
Drew Gooden was a pickup that many didn't notice in the LeBron sweepstakes. Gooden finsihed the end of last season strong with the Clippers and he was rewarded with a solid contract by the Bucks. He fills a spot that Luc Mbah A Moute tried to maintain last year while moving around in the lineup. Mbah a Moute will now be able to be a great backup at the three or four.
Andrew Bogut made great strides last year and making the All-Star team should be in his grasp this year. Brandon Jennings needs to make similar strides in his shooting proficiency if Milwaukee wants to have a home court advantage in the first round this year. They should be a middle of the road Playoff team with their hopes hinged on Bogut's shoulder.
2009-2010 Record: 46-36
Starting Five: 2009-2010 Statistics
PG Brandon Jennings 15.5 PPG, 5.7 APG
SG John Salmons 19.9 PPG, 3.2 RPG, 3.3 APG
SF Corey Maggette 19.8 PPG, 5.3 APG
PF Drew Gooden 10.9 PPG, 7.7 RPG
C Andrew Bogut 15.9 PPG, 10.2 RPG
Comseco Fieldhouse might have a chance to be bumpin' this year with the ball in Darren Collison's hands. The Collison-Danny Granger-Roy Hibbert trio might be the next grouping that gets major recognition. Collison showed great potential in his first year as did Hibbert last year. That can only benefit the 24 point per game Granger.
Granger's stats should go down this year, while his proficiency and more importantly team wins go up. There was the loss of Troy Murphy with the acquisition of Collison and Tyler Hansborough will have to step up his game to make this team better. These are better than ACC teams and he will have to keep pushing to persevere.
The rookie Paul George, is still a relative unknown even as we get ready for the regular season. We will just have to watch how he is or if he is used this year. Then there is T.J. Ford, who is still around to be a what-could-have-been player on this team. They are improving as well and might sneak into the Playoffs if the UCLA product Darren Collison has them going.
2009-2010 Record: 32-50
Starting Five: 2009-2010 Statistics
PG Darren Collison 12.4 PPG, 5.7 APG
SG Mike Dunleavy 9.9 PPG, 3.4 RPG, 1.5 APG
SF Danny Granger 24.1 PPG, 4.8 RPG, 1.8 APG
PF Tyler Hansborough 8.5 PPG, 4.8 RPG
C Roy Hibbert 11.7 PPG, 5.7 RPG, 2.0 APG
The Pistons have fallen on tough times after ruling the Eastern Conference for the past decade. Part of that falls on the shoulders of Joe Dumars. After making great transactions to put together a championship team, the opposite in recent times has hit Dumars.
He of course drafted Darko Milicic over Chris Bosh, Carmelo Anthony and Dwyane Wade for one vote against him. He also traded away Chauncey Billups for Allen Iverson, then signed Charlie Villanueva and Ben Gordon to outrageous contracts. His lastest move has been the pickup of Tracy McGrady which I commend if he actually was going to get playing time.
I want to see McGrady succeed and thought he would if he had gone somewhere else, almost anywhere else where he can get playing time. That must be what Ben Gordon is asking for as well. After getting his rich contract last season, he hasn't been able to prove his worth in Detroit either.
They still have three of the five starters that won them the 2004 title. The problem lies in this being 2010 and the most important player (Chauncey Billups) is absent. Rodney Stuckey still is a player with room to grow and he will be the biggest factor in whether the Pistons reclaim a spot back in the Playoffs. He's not going to play himself out of the point position and this could mean much frustration for Detroit fans or some jubilation.
2009-2010 Record: 27-55
Starting Five: 2009-2010 Statistics
PG Rodney Stuckey 16.6 PPG, 4.4 APG
SG Richard Hamilton 18.1 PPG, 2.7 RPG, 4.4 APG
SF Tayshaun Prince 13.5 PPG, 5.1 RPG, 3.3 APG
PF Charlie Villanueva 11.9 PPG, 4.7 RPG
C Ben Wallace 5.5 PPG, 8.7 RPG, 1.2 BPG
I don't know what to say for the Cleveland Cavaliers fans other than what Bill Simmons said: "At least your not Seattle". You still have a team and you will at least be able to cheer/boo LeBron when he comes into town. That's the positive of the view as I among many have no clue how Mo Williams, Anderson Varejao and Antawn Jamison will take on this coming year.
J.J. Hickson is turning into a solid pro and Mo Williams will have the burden of success off him as were the ways for him when in Milwaukee. There's no way of replacing LeBron and that's just a fact. The Cavs are stuck between trying an all out effort for a Playoff spot or just dying out hoping for the Number one draft pick.
I believe by January, the first pick scenario is going to be the likely choice. Maybe Antawn Jamison can put together an All-Star year as he ends the last year of his prime. With expectations so low, the team should enjoy the year for the "experience" instead of the losses if possible.
2009-2010 Record: 61-21
Starting Five: 2009-2010 Statistics
PG Mo Williams 15.8 PPG, 3 RPG, 5.3 APG
SG Daniel Gibson 6.3 PPG, 1.3 APG
SF Antawn Jamison 15.8 PPG, 7.7 RPG, 1.3 APG
PF J.J. Hickson 8.9 PPG, 4.9 RPG
C Anderson Varejao 8.6 PPG, 7.6 RPG
This team has been talked about so much this offseason I don't really have much to say about them. They will be a great team as all have analyzed. I just hope Joel Anthony can keep improving and that all can stay healthy so we can see this team at their full potential.
Juwan Howard, Zydrunas Ilguaskas, Eddie House and Mike Miller all have roles that are yet to be defined. LeBron, Dwyane and Chris have already established their own stated places.
2009-2010 Record: 47-35
Starting Five: 2009-2010 Statistics
PG Carlos Arroyo 6.1 PPG, 3.1 APG, 1.8 RPG
SG Dwyane Wade 26.6 PPG, 4.8 RPG, 6.5 APG
SF LeBron James 29.7 PPG, 7.3 RPG, 8.6 APG
PF Chris Bosh 24.0 PPG, 10.8 RPG, 0.9 BPG
C Joel Anthony 2.7 PPG, 3.1 RPG, 1.66 BPG
The duo of Jameer Nelson and Rashard Lewis are part of what keeps the boat moving on the Orlando Magic roster. The Magic are in the throws of having the most balanced team they've had since they made the Finals in 1994-95, led by a monstrous Center.
They stand at a crossroads that happens to be the development of Dwight Howard. There are questions about whether he can take the next step in the progression of his game. These are relevant questions today, tomorrow and the next day. How much has Howard picked up from working with Hakeem Olajuwon in the off-season? Has he developed a true offensive game?
Howard must, I repeat, must improve if the Magic want to get past the Heat or Celtics. Even with improvements by J.J. Reddick, the team must deal with supplanting the impacted loss Hedo Turkoglu meant. The duo of Lewis and Turkoglu were devastating to defenses and Vince Carter just did not have it last year in a similar scenario.
The Magic should still be in great shape throughout the regular season, it just comes down to whether or not they can establish a true replacement for Turkoglu. Lastly, Howard has to show improvement or it won't matter how well his teammates play.
2009-2010 Record: 59-23
Starting Five: 2009-2010 Statistics
PG Jameer Nelson 19.0 PPG, 4.8 APG, 1.0 SPG
SG Vince Carter 15.5 PPG, 4.2 RPG, 2.3 APG
SF Mickael Pietrus 8.4 PPG, 1.4 RPG
PF Rashard Lewis 12.9 PPG, 5.6 RPG, 2.3 APG
C Dwight Howard 18.1 PPG, 11.1 RPG, 3.5 BPG
As great as the Hawks should be, they will play in the toughest division in basketball this year. Even the Wizards look to be improved which will make their overall record slightly diminished based on in division games. I don't know how many times I've said it, but the Hawks have put themselves in a sticky situation by giving Johnson that huge contract. There would not or should not have been another team even interested in giving Johnson that deal.
This puts a cramp in the Hawks chances at fully exploring trades or pickups around the trade deadline that could bolster their lineup. Instead, they are stuck with the lack of assurances that are Josh Smith and Marvin Williams. There is talent there; it's just a question of whether it can be maximized out of them the way Scott Skiles does to his players.
Larry Drew, another former Point Guard like Mike Woodson takes over as Head Coach this year and hopes have not been as high for Atlanta since Dominique was throwing down thunder jams. He will have to find a way of implementing his ways on a team that is settled pretty well in their style of play.
Figuring out how to distribute minutes between Mike Bibby and Jeff Teague might be of the highest degree of decisions. Then again, this team with three potential All-Stars just has to play like it every night. If they can, it might make up for the tougher competition they will face in the regular season.
2009-2010 Record: 53-29
Starting Five: 2009-2010 Statistics
PG Mike Bibby 9.1 PPG, 3.9 APG
SG Joe Johnson 21.3 PPG, 4.9 APG, 4.7 RPG
SF Marvin Williams 10.1 PPG, 5.7 RPG, 1.1 APG
PF Josh Smith 15.7 PPG, 8.7 RPG, 2.1 BPG
C Al Horford 14.2 PPG, 9.9 RPG, 1.1 BPG
The grimace on Gerald Wallaces' face might be an indicator of what's coming this season. Larry Brown returns with a team that looks modified from the prior season. They will have to deal with an Eastern Conference that has gotten tighter in the 6th through 10th teams.
They did not get any better this year other than resigning Tyrus Thomas who will now have a full year with the club. Raymond Felton is gone and this loss might hurt more than just on paper. It will be up to D.J. Augustin to pick up where Felton left off.
Brown has always improved his Point Guards, so I'll take his view that Augustin can handle the job. Captain Jack is back and should still have a great year at least stat wise. Gerald Wallace was an All-Star and I can only hope he can bring the intensity of last year back again this year. He was a defensive menace that accounted for an extra five wins based on his accelerated play.
Tyrus Thomas will be the key this year. He wasn't drafted with the 4th pick in the 2006 draft just because it sounded nice. The Bulls had a vision for him that the Bobcats will try to cultivate. The growth might not occur; but it will be needed if this team plans on playing in May.
2009-10 Record: 44-38
Starting Five: 2009-2010 Statistics
PG D.J. Augustin 6.4 PPG, 2.4 APG, 1.2 RPG
SG Stephen Jackson 20.6 PPG, 5.0 RPG, 3.7 APG
SF Gerald Wallace 18.2 PPG, 10.0 RPG, 1.0 BPG
PF Boris Diaw 11.3 PPG, 5.2 RPG, 4.0 APG
C Nazr Mohammed 7.9 PPG, 5.2 RPG, 0.7 BPG
There have been rumors that the Wizards might return to being called the Bullets which excites my desire to see the great Bullets jerseys of the 70's. Not recounts of the Javaris Crittenton-Gilbert Arenas fiasco. That Gilbert Arenas pulled another stunt that was supposedly meant to give Nick Young extra minutes shows that Gilbert just doesn't get it. I don't know what's eating Gilbert, but you'd hope it was only grapes.
Javale McGee and Andary Blatche are now starters and have a chance to put themselves into great shape for future payments even if they have a rough year in Washington. After the fiasco of trades last year, it was Blatche who emerged as a solid pro at the end of the year. I wouldn't be surprised if he reaches just below All-Star statistics this season.
There is the Rookie John Wall who should be fighting for Rookie of the Year, assuming Arenas does not damper the chemistry of the team. I think one way or the other, Wall will make fabulous first year impressions. Josh Howard will be coming off an injury and we'll have to see what he has left in him. This team looks a lot better now than they did six months ago, but they still are looking up at the Playoffs at this point.
2009-2010 Record: 26-56
Starting Five: 2009-2010 Statistics
PG John Wall N/A N/A N/A
SG Gilbert Arenas 22.6 PPG, 7.2 APG, 4.2 RPG
SF Al Thornton 10.7 PPG, 3.9 RPG, 1.2 APG
PF Andray Blatche 14.1 PPG, 6.3 RPG, 2.1 APG
C Javale McGee 6.4 PPG, 4.1 RPG, 1.6 BPG
This is a no brainer for everyone picking. The Lakers are the best team in the league and adding Steve Blake and Matt Barnes to their roster only makes them meaner. The starting five is back and the extra year of play on their bodies shouldn't make a difference.
Derek Fisher and Kobe Bryant continue to play like they just came out of the 1996 NBA Draft. Fisher continues to just show up in the Playoffs and we already know that an even healthier Kobe Bryant this year over last is MVP material. I don't plan on seeing Kobe winning season MVP this year. Simply from a reasoning that he plays for the Playoffs now, not the regular season.
Pau Gasol continues to fight to be regarded as the best big man in the league with or in front of Dwight Howard. Another solid year has to be predicted for him. Lamar Odom hangs around and looks like he might show up, which is nothing out of the usual for him. Plan on him making more appearances on the Kardashian's show than on the basketball court though.
The Lakers should be in the 55-60 win record for the regular season. That should be no matter seeing that whatever seed they get come the first round, they will be the top team. Andrew Bynum might be the only concern this team truly has.
2009-2010 Record: 57-25
Starting Five: 2009-2010 Statistics
PG Derek Fisher 7.5 PPG, 2.1 RPG, 2.5 APG
SG Kobe Bryant 27.0 PPG, 5.4 RPG, 5.0 APG
SF Ron Artest 11.0 PPG, 4.3 RPG, 3.0 APG
PF Pau Gasol 18.3 PPG, 11.3 RPG, 1.7 BPG
C Andrew Bynum 15.0 PPG, 8.3 RPG
The trade of Leandro Barbosa for Hedo Turkoglu is entertaining for me. Everyone has said that Turkoglu has checked out and has no desire left in his game. When players come to Phoenix to play with Steve Nash, it seems that their enthusiasm reemerges. That should be the case for Turkoglu this year. He could rejuvenate his game the way he did with Orlando three years ago.
Amar'e Stoudemire after his Rookie of the year winner looked like the next Karl Malone or better to me. Now in New York, he will get to show me that I was probably wrong due to his lack of defense. Even with his porous defense, he was still the big man for the Phoenix Suns. I am finding it hard to believe that Robin Lopez or Channing Frye is going to be able to fill the shoes of Stoudemire sufficiently.
Steve Nash is still doing a great job offensively on the court as he always has. Nash with the ageless, and now one of the healthiest players, Grant Hill provide solid leadership. It is somewhat mind boggling to think about that Grant Hill is playing another game in 2010 in the NBA. The history of injuries he endured including a surgery that almost took his life are reasons enough to enjoy just having him on the court.
They still can score the ball without Stoudemire, but this transition to Turkoglu from Stoudemire will probably still be a downgrade. I could be wrong though, the one year Stoudemire was out with Microfracture surgery on his knee, the Suns were successful as ever.
2009-2010 Record: 54-28
Starting Five: 2009-2010 Statistics
PG Steve Nash 16.5 PPG, 3.3 RPG, 11.0 APG
SG Jason Richardson 15.7 PPG, 5.1 RPG, 1.8 APG
SF Grant Hill 11.3 PPG, 5.5 RPG, 2.4 APG
PF Hedo Turkoglu 11.3 PPG, 4.6 RPG, 4.1 APG
C Robin Lopez 8.4 PPG, 4.9 RPG, 0.1 APG
The other team in L.A. has some excitement this year with the inclusion of Rookie Blake Griffin. Well, that along with the other two rookies they picked up in this year's draft. The Clippers have a chance to have the strongest rookie group of three in recent memory. That shouldn't hurt a team that has had to deal with a slew of issues over the years.
The largest one of all being Donald Sterling. Sterling two years ago decided to finally try and get a winner by signing Baron Davis and trying to sign Elton Brand to a huge contract. One can only wonder right now if Brand regrets leaving L.A.
Baron Davis has been solid, but nowhere near what he has been when he signed his contract with the Clippers. This could be his year of revival now that the Clips should have a Playoff worthy team. Chris Kaman is still a double-double machine and will be relied upon with most of the talent on this team lying outside the paint.
Eric Gordon is coming off a strong Team USA outing and it will be interesting to see if he parlays that title into success with the Clips. Those two should supply a talented backcourt which will be able to feed in the rookies and other veterans for important backup showings.
The Clippers hing right on the edge of being a Playoff team. If they make it in, look out for a rejuvenated Baron Davis in the Playoffs with a growing Eric Gordon. They could give some team an opening round scare.
2009-2010 Record: 29-53
Starting Five: 2009-2010 Statistics
PG Baron Davis 15.3 PPG, 3.5 RPG, 8.0 APG
SG Eric Gordon 16.9 PPG, 2.6 RPG, 3.0 APG
SF Ryan Gomes 10.9 PPG, 4.6 RPG, 1.6 APG
PF Blake Griffin N/A N/A N/A
C Chris Kaman 18.5 PPG, 9.3 RPG, 1.6 APG
David Lee has arrived and one can only wonder if he will give the Warriors a true inside presence. I am not a fan of teams that rely exclusively on making jump shots and having a lack of physical determination on the defensive end. That is what the Warriors have been for a while and it hasn't worked.
Now that they have finally received a legitimate big man in David Lee, there might be some hope for this team. The ousting of Don Nelson could lead to some unforeseen developments in the Bay Area in both good and bad ways. Hopefully, in terms that will make Andris Biedrins more than one dimensional.
At the worst, Warriors fans can take solace in the Giants making the World Series, since I don't see this team doing that much this year. They still need to become more defensive minded; especially out of their guards. When your defense is on par or below that of Steve Nash, you need to go back to working on slide drills. The Warriors will most likely be sliding their way out of the Playoffs.
2009-2010 Record: 26-56
Starting Five: 2009-2010 Statistics
PG Stephen Curry 17.5 PPG, 5.9 APG, 4.5 RPG
SG Monta Ellis 25.5 PPG, 5.3 APG, 4.0 RPG
SF Dorell Wright 7.1 PPG, 1.3 APG, 3.3 RPG
PF David Lee 20.2 PPG, 3.6 APG, 11.7 RPG
C Andris Biedrins 5.0 PPG, 1.3 BPG, 7.8 RPG
Tyreke Evans is on the prowl ready to hunt for steals and assists. He should be on the up and up after his stupendous Rookie year. Packed with fellow Rookie Omri Casspi, the Kings began the process of becoming a great team. They are such a young bunch, that aspirations of the Playoffs shouldn't be in the picture. Just getting better overall should be the focus.
Jason Thompson's development should be focused on for emphasis to see if he is the big man of the future. Samuel Dalembert will be in front of him trying to hold down the fort and that might limit his minutes. Tyreke Evans taking the true title of Point Guard might also take minutes from Beno Udrih.
DeMarcus Cousins was the wildcard of this Draft and his development could make many teams upset they didn't take him. If that occurs, the Kings will have a dynamic trio in bound for greatness. Paul Westphal just has to play the growth game with this team. At the least, they should be an energetic, fun bunch, who should excite the crowd.
2009-2010 Record: 25-57
Starting Five: 2009-2010 Statistics
PG Tyreke Evans 20.1 PPG, 5.3 RPG, 5.8 APG
SG Beno Udrih 12.9 PPG, 2.8 RPG, 4.7 APG
SF Omri Casspi 10.3 PPG, 4.5 RPG, 1.2 APG
PF DeMarcus Cousins N/A N/A N/A
C Samuel Dalembert 8.1 PPG, 9.6 RPG, 0.8 APG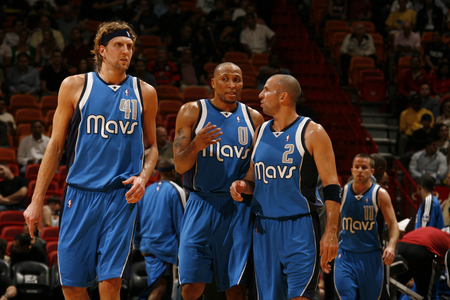 Dirk Nowitzki continues to do his thing in the regular season year after year. I don't expect that to change in this upcoming season. Whether he wins the MVP award or not, he will be his high producing self as usual.
Jason Kidd despite age, is still a player who can pull together a triple-double if he gets a chance to hit the boards. His defense might be a liability now at the age of 37; but he is still the director of a swift offense. Shawn Marion may not be making matrix-like plays throughout the year which is reasonable thinking. He will however, take on the best offensive player on the other team defensively and that can't be overlooked.
The Center position has been a source of sore manner for Mark Cuban ever since he took over the team. He's tried Erick Dampier, Shawn Bradley, Brendan Haywood and even Calvin Booth. This year he might finally have his answer in Tyson Chandler. Although it looks like Haywood will start, Chandler might give an offensive tool that can run with the rest of the squad on the offensive end.
The Butler speaking of Caron needs to get back to playing star level play. His play was clearly down when he came from Washington to Dallas. Now that he is no longer chewing straws, maybe he can chew up the competition. The Mavericks should have another great regular season and take home the division before being knocked out of the Playoffs early.
2009-2010 Record: 55-27
Starting Five: 2009-2010 Statistics
PG Jason Kidd 10.3 PPG, 5.6 RPG, 9.1 APG
SG Caron Butler 16.3 PPG, 6.2 RPG, 1.6 SPG
SF Shawn Marion 12.0 PPG, 6.4 RPG, 1.4 APG
PF Dirk Nowitzki 25.0 PPG, 7.7 RPG, 2.7 APG
C Brendan Haywood 9.1 PPG, 9.3 RPG, 2.1 BPG
The Spurs should have one more good to great season left in them this year. Amid rumors of Tony Parker being traded to give George Hill more work and Tim Duncan's health, the Spurs have many question marks.
Tiago Splitter makes his debut with the club and we can only wonder if he flourishes the way Parker and Manu Ginobili have in the past. He is a big body that could spell Tim Duncan this year along with DeJuan Blair. Blair had a surprising rookie season to most and will try to continue his success along a new path of improvement.
Duncan is still the man the team revolves around even with his decrease in minutes. He was productive as ever last year and Splitter might be able to pick up the slack when Duncan is on the bench.
Their upset of the Mavericks was a nice pick me up for a team that struggled with injuries. Which was nice until they were outrun in San Antonio in their series with Phoenix. They struggled with injuries last year and Richard Jefferson was an underplaying talent. If Jefferson plays like the Jefferson of New Jersey and they stay healthy, the Spurs could be dangerous.
2009-2010 Record: 50-32
Starting Five: 2009-2010 Statistics
PG Tony Parker 16.0 PPG, 5.7 APG
SG Manu Ginobili 16.5 PPG, 4.9 APG, 1.3 SPG
SF Richard Jefferson 12.3 PPG, 4.4 RPG
PF Tim Duncan 17.9 PPG, 10.1 RPG
C Antonio McDyess 5.8 PPG, 5.9 RPG, 0.5 BPG
This off-season the Hornets as an organization dealt with turmoil that was named Chris Paul. They tried to deal with the issue by moving Darren Collison. Thus, making Paul the main man again with no pressure against him.
If CP3 is back, watch out NBA. Chris Paul is pure dynamite when healthy and he will be a lit fuse blowing up the scene in no time if given the chance. He still could be the best Point Guard in the league, he gets a chance to prove it again this year.
Satisfying David West and his desires to get back into the swing of winning is another piece of the puzzle that needs to fit correctly for progress. West continues to be an overlooked big man despite his All-Star appearances who is trying to find his way back into success like Paul.
Marcus Thornton should be entertaining this season. He put up solid rookie numbers and should continue to grow assuming Paul stays with the club for the foreseeable future. Putting him into the mix with the newly acquired Trevor Ariza could cause friction; but I'm taking the benefit of the doubt things work for the hive. Peja Stojakovic is still on the team if anyone was not aware.
If Paul has his mojo working, this team could be back to the place they were three years ago in the Western Semifinals. That is of course, with Chris Paul still leading the team.
2009-2010 Record: 37-45
Starting Five: 2009-2010 Statistics
PG Chris Paul 18.7 PPG, 10.7 APG, 4.2 RPG
SG Marcus Thornton 14.5 PPG, 2.9 RPG, 1.6 APG
SF Trevor Ariza 14.9 PPG, 5.6 RPG, 3.8 APG
PF David West 19.0 PPG, 7.5 RPG
C Emeka Okafor 10.4 PPG, 9.0 RPG, 1.6 BPG
Yao Ming is back and we still have to see what that means for this team. Whether that is limited minutes in a supportive role or big minutes as the man. It will be up to Rick Adelman to figure out what works best for this team. Adelman has done his share of moving and shaking of the lineup by trading away Trevor Ariza.
The trade of Ariza might be a blessing in disguise. It will allow Shane Battier more minutes on the floor and combined with Yao Ming back in the lineup gives this team a better defensive make up. Kevin Martin will also get many of the shots Ariza took last year while shooting a very low percentage.
Aaron Brooks won the Most Improved Player of the Year award last year as he displayed his play from the 2009 Playoffs into the 2010 regular season. Brooks can break you down off the dribble and has really worked on his mid-range jumper. If The Rockets are to make the push into the postseason, it will take a healthy Yao in his limited minutes and more big play from Brooks.
2009-2010 Record: 42-40
Starting Five: 2009-2010 Statistics
PG Aaron Brooks 19.6 PPG, 5.3 APG
SG Kevin Martin 21.3 PPG, 2.3 APG
SF Shane Battier 8.0 PPG, 4.7 RPG, 2.4 APG
PF Luis Scola 16.2 PPG, 8.6 RPG
C Yao Ming 19.7 PPG, 9.9 RPG
The Memphis Grizzlies might be better this year than last, but still end up as the last place team in their division. Back is Mike Conley Jr., Rudy Gay, O.J. Mayo and the All-Star, Zach Randolph. Also back is a tough division that will compete with each other just to get into the Playoffs.
Zach Randolph had a career year last season out of nowhere. He looked as if he was going to play his way out of the NBA similar to Antoine Walker and then ended up putting together an All-Star appearance. It will be hard to foresee him having another year like the last.
Rudy Gay still needs to become more consistent on the court. Whether that is cutting down on turnovers, shooting a higher percentage or raising his assist average.His assists to turnover ratio needs to grow in a positive fashion. O.J. Mayo who in many ways reflects the same play of Gay, could improve in these sections as well.
The Grizzlies will need more out of Marc Gasol and bench players to grow into having a great 6th man. If Gay improves along with Mayo, this team could make the Playoffs for the first time since the Pau Gasol-Mike Miller-Jason Williams team.
2009-2010 Record: 40-42
Starting Five: 2009-2010 Statistics
PG Mike Conley 12.0 PPG, 5.3 APG, 1.3 SPG
SG O.J. Mayo 17.5 PPG, 3.8 RPG, 3.0 APG
SF Rudy Gay 19.6 PPG, 5.9 RPG, 1.5 SPG
PF Zach Randolph 20.8 PPG, 11.7 RPG
C Marc Gasol 14.6 PPG, 9.3 RPG
The Thunder are on the rise as much as any team in the league. The trio of Russell Westbrook, Jeff Green and Kevin Durant form a lethal core. Serge Ibaka is also another player who might be turning into quite a prize.
Kevin Durant might be the player with the most positive outlook by the public from taking the route opposite of LeBron James. He signed a new contract extension with the Thunder this off-season and he looked good as ever playing at the World Championships.
Many people have high expectations for this team and why not? Not only do they have the great trio, but they also have the Coach of the Year in Scotty Brooks and a young gun in James Harden who might be among the most improved players this year. Rookie Cole Aldrich might be able to vie with Nenad Krstic for the starting Center spot.
The Thunder should be right there among the best teams in the league this year. I wouldn't be surprised if Kevin Durant leads this team deep in the Playoffs.
2009-2010 Record: 50-32
Starting Five: 2009-2010 Statistics
PG Russell Westbrook 16.1 PPG, 4.9 RPG, 8.0 APG
SG Thabo Sefolosha 6.0 PPG, 4.7 RPG, 1.18 SPG
SF Kevin Durant 30.1 PPG, 7.6 RPG, 2.8 APG
PF Jeff Green 15.1 PPG, 6.0 RPG, 1.2 SPG
C Nenad Kristic 8.4 PPG, 5.0 RPG, 0.7 APG
Jerry Sloan has been coaching the Utah Jazz for over two decades now. He has been a model of consistency and toughness. Even with all that he's seen over the years of coaching, it is uncertain what he must be thinking about this year.
He lost his big man inside by the name of Carlos Boozer only to have him replaced by Al Jefferson. Thus, allowing Paul Millsap more minutes, while putting Anderi Kirilenko back into the starting lineup with the loss of Kyle Korver and Ronnie Brewer. This team is definitely a team in transition. That could be a good thing if they start to win on the road unlike year's past.
There is a definite advantage this team feels in Salt Lake City that has to be brought on the road if they want to see greater results. Mehmet Okur will be dealing with an injury that could hamper him from becoming a menace to opposition this year.
Deron Williams is still an asset at the point which Sloan will use to his liking we have to believe. The Jazz won't win the title; but they will be at the very least solid behind Jerry Sloan.
2009-2010 Record: 53-29
Starting Five: 2009-2010 Statistics
PG Deron Williams 18.7 PPG, 4.0 RPG, 10.7 APG
SG Raja Bell 11.8 PPG, 3.8 RPG, 2.2 APG
SF Andrei Kirilenko 11.9 PPG, 4.9 RPG, 1.4 SPG
PF Paul Millsap 11.6 PPG, 6.8 RPG, 1.2 BPG
C Al Jefferson 17.1 PPG, 9.3 RPG, 1.3 BPG
How is Brandon Roy's knee? How is Greg Oden's knee? How is every knee of every person that is associated with the Portland Trailblazers?
When the Blazers had originally drafted Oden over Durant, I was one of the few that supported the decision. Not as much because I didn't believe in Durant; rather it's just hard to get a dominant big man like Tim Duncan or Dwight Howard in the league. To this point, all supporters of Oden have been disappointed. We can only wait and see if this is the year he blooms and can finally break free of the injury big.
Speaking of injuries, I think the Blazers might have gone from having knee injuries to head injuries with the contract they gave to Wesley Matthews. The five year, $34 million contract is slightly frustrating to see. This is an up and coming team, and for that money could have secured one of their current players for the long term, or picked up a legitimate stud player.
Taking Matthews out of the equation, the health of Oden and Roy should be the main focus. If they are looking good this team should be great. I'm hoping they can be at full strength and give the Lakers a tough Playoff series. Being realistic however, this should be a injury riddled team working their way throughout the middle of the Western Conference standings.
2009-2010 Record: 50-32
Starting Five: 2009-2010 Statistics
PG Andre Miller 14.0 PPG, 3.2 RPG, 5.4 APG
SG Brandon Roy 21.5 PPG, 4.4 RPG, 4.7 APG
SF Nicolas Batum 10.1 PPG, 3.8 RPG, 1.2 APG
PF Lamarcus Aldridge 17.9 PPG, 8.0 RPG, 2.1 APG
C Marcus Camby 7.5 PPG, 11.8 RPG, 1.97 BPG
Before Nuggets fans get angry at this low pick, understand that Chauncey Billups is one of my favorite players and I believe in him. It's the rest of the team I'm not sure about. The injury history of Kenyon Martin and Chris "Birdman" Anderson always worries me. The lack of support George Karl puts into making J.R. Smith his true Shooting Guard is perplexing to a degree to me. Then there is the situation called Carmelo Anthony.
Whether Carmelo is traded or not, there has to be a decent amount of agitation that is going on in Denver and throughout the rockies.
I'm expecting Carmelo to be traded and this leading to a lack of chemistry in Denver. Carmelo has been given the reins and even if Al Harrington tries to take the position over, the Nuggets will be in a dire situation without Anthony.
Nene Hilario is a big body that can still get double-doubles, but might need to elevate his game if the Nuggets are to progress. They are only two years removed from the Western Conference Finals, yet it feels like ancient history right now.
If Carmelo stays on, this team could be dangerous in the west. Mr. Big Shot (Billups) can get it done even as he progresses with age and that can contribute to a team that could be great. Unfortunately, I see the trade of Anthony blowing apart this team and resulting in them barely missing the Playoffs in a deep Western Conference.
2009-2010 Record: 53-29
Starting Five: 2009-2010 Statistics
PG Chauncey Billups 19.5 PPG, 5.6 APG, 3.1 RPG
SG Arron Afflalo 8.8 PPG, 3.1 RPG, 1.7 APG
SF Carmelo Anthony 28.2 PPG, 6.6 RPG, 3.2 APG
PF Kenyon Martin 11.5 PPG, 9.4 RPG, 1.2 SPG
C Nene Hilario 13.8 PPG, 7.6 RPG, 1.0 BPG
Ricky Rubio has still not come over and it is a shame for those who have to endure the bitter cold winds in Minneapolis. Jonny Flynn is back and will try to improve upon his Rookie campaign with solid play. This is a team that might be good for fantasy users; but that won't relate to wins.
The Wolves had a horrid record last season and even worse than the record, was the decision to trade away their best player. Al Jefferson was not only an All-Star talent that could draw a crowd, he was a legitimate go to guy with the game on the line. His play might be sorely missed even with the lack of wins last year.
Kevin Love and the Rookie Wesley Johnson will be looked upon to pick up the slack at this time. It will probably be a task that they have a tough time filling. Kevin Love still has plenty of growth left in his game and an improved jumper and lateral quickness could warm the Minnesota faithful.
Kurt Rambis might be missing the Assistant Coaching position of the Lakers if things don't improve. I am not going to fully say he's out as coach; but if Dwyane Casey could be fired for doing a better coaching job, why not Rambis? This could be another cold season in the Midwest for the Timberwolves.
2009-2010 Record: 15-67
Starting Five: 2009-2010 Statistics
PG Luke Ridnour 10.4 PPG, 4.0 APG
SG Corey Brewer 13.0 PPG, 3.4 RPG, 2.4 APG
SF Michael Beasley 14.8 PPG, 6.4 RPG, 1.0 SPG
PF Kevin Love 14.0 PPG, 11.0 RPG
C Darko Milicic 8.3 PPG, 5.5 RPG, 1.4 BPG
Although this hasn't been an actual award since 1985-86 and was last won by Marques Johnson, it has had some noteworthy players win it. Bernard King, Gus Williams, Paul Westphal, Adrian Dantley and Michael Ray Richardson have also won the award. For the given time, let's assume the award is given this year.
As much as I want to believe in Tracy McGrady, I just don't see the chances for him in Detroit even if he stays healthy. Detroit is heavy with Guards and he just won't get enough minutes. At the same time, Greg Oden can't be given this award since he never was able to establish himself as a great player. That leaves Yao Ming.
Ming, should technically be in his prime right now despite the injuries. He is still a 7'5'' behemoth who can patrol the lane with a menacing shadow. He has a great jumper which Adelman should utilize well. Even if he plays limited minutes similar to Tim Duncan last season, there should enough production from Yao to garner All-Star status.
This can only be a wish-washy decision. The coach who does the best job does not always win the award. Just ask Jerry Sloan every year. I originally was thinking Erik Spoelstra will have the best shot at winning this award at his team should jump up at least ten wins in the regular season standings and possibly hold the best record. That's just what happens when you have LeBron James.
That's when I remembered it's not always who you predict that wins the award. That's why I believe another rookie Coach like Scotty Brooks last year will win the award. Tom Thibodeau will win the award this year. He will be praised for running this team smoothly even with Carlos Boozer out to begin the season with a broken hand.
The maturation of Derrick Rose and energized play of Joakim Noah should also benefit his resume for the year. That's just a best guess based on past award choices. Who knows, maybe we'll find Jerry Sloan win the award this year. I'm not holding my breath though.
Blake Griffin has to get the benefit of the doubt at the present time. If he stays healthy he should be a great force this year. Even though he did not play last season, he got a year of NBA experience in him. Being around other players, the lifestyle, the culture, many of the basic things that a rookie normally would have to take in along with playing.
The injury factor is definitely part of the equation when defining whether or not Griffin can win the award. I'm thinking he'll play in 75 games if he stays relatively healthy this year. He should have a rookie year similar to the one that won Amar'e Stoudemire Rookie of the Year.
The 6th man could go many routes this year. Utah could have a winner based on who comes off the bench between Paul Millsap and Mehmet Okur playing great off the bench. James Harden could also be big off the bench for the Thunder if he can show the promise he had coming out of Arizona State.
Both of those choices sound reasonable but I'm going with a guy that was an energy spark for his team off the bench. Nate Robinson, the diminutive Point Guard of the Celtics did not get a chance to prove himself at first. Doc Rivers was unwilling to give minutes. When given minutes, he began to shine and do his thing in the Playoffs.
With this knowledge, Rivers should give Robinson playing time this year and he should be able to take home the 6th man award. That's with the understanding that Robinson can be a liability at times. That might have just been a thing with the Knicks, and that's what I believe it was.
James Harden, J.J. Hickson, Roy Hibbert, Michael Beasley, Brandon Jennings and Marco Belinelli are all guys I give a decent chance at taking home this award. J.J. Hickson might be a stretch; but we'll have to see if more minutes will benefit him greatly even with LeBron leaving. Hibbert should continue to grow and I like how he should mix in with Danny Granger and the newly acquired Darren Collison.
Michael Beasley will get more touches with the Wolves and that could be great result or a disaster in itself. The distractions and pressure of Miami are off him, so Michael might be able to finally grow the way he was projected coming out of Kansas State. Marco Belinelli and Brandon Jennings are worthy choices just from a sense that they can become a lot more efficient than last year.
Then we come to Ronnie Brewer, the new Shooting Guard of the Chicago Bulls. Now I'm not expecting him to be the next Michael Jordan this coming season, but this could be the perfect situation for him. He comes into a system where he doesn't need to be the man even when he gets his open looks from Rose, Boozer and Deng getting extra attention. He showed flashes of greatness in Utah and I think he will improve upon that play this year winning the award.
He has won the award before and unless he gets injured, he'll take home this award again. His ability to rebound and block is unquestioned in the league. We might see some votes go Ron Artest's way since he plays on a winner and Gerald Wallace might have another stellar season as well. That being said, there still isn't a force that matches up to Dwight Howard in the league and this award will be in his lap at the end of the year.
First Team
John Wall
Blake Griffin
Tiago Splitter
DeMarcus Cousins
Wesley Johnson
Second Team
Ed Davis
Evan Turner
Xavier Henry
Al-Farouq Aminu
Derrick Favors
First Team:
Guard: Kobe Bryant
Guard: Rajon Rondo
Forward: Josh Smith
Forward: LeBron James
Center: Dwight Howard
Second Team:
Guard: Dwyane Wade
Guard: Thabo Sefolosha
Forward: Ron Artest
Forward: Shane Battier
Center: Roy Hibbert
First Team:
Guard: Deron Williams
Guard: Kobe Bryant
Forward: LeBron James
Forward: Kevin Durant
Center: Dwight Howard
Second Team:
Guard: Chris Paul
Guard: Dwyane Wade
Forward: Pau Gasol
Forward: Dirk Nowitzki
Center: Amar'e Stoudamire
Third Team:
Guard: Russell Westbrook
Guard: Derrick Rose
Forward: Carmelo Anthony
Forward: Tim Duncan
Center: Joakim Noah
He's eccentric, funny and keeps the game light and fresh. Today there is not a player who is going to totally take a conversation somewhere else now that Allen Iverson and Rasheed Wallace are out of the league. The throne to comments right now belongs to Dwight Howard with Kevin Garnett and Ron Artest right behind him. Little comments such as Dwight's: "Half-man, Half-Retired" focus on what makes Howard great with the mic in front of him.
The NBA MVP choice is the hardest choice I had to make this year. I have about eight guys I give a legitimate chance at winning the award. As much as I want to go with Kevin Durant, I didn't want to just go with the predictable pick so I let him slide. Kobe Bryant is always a good choice, but I think he'll be more focused on the Playoffs this year than the regular season, thus negating his interest in MVP. Dwight Howard is working on his game at this time, so I'll let his game keep developing until I go with him.
There are the boys in Miami, who should play great while canceling each other out for the MVP. Dirk Nowitzki could win it as he did in 2007, but my gut says no. Carmelo Anthony is in trade talks, so I don't like the way that should shine in voters eyes no matter how well he plays this year.
Then we come to two Point Guards in Deron Williams and Chris Paul. Usually I wouldn't believe in the Point Guard winning it as was evidenced by Jason Kidd being robbed by Tim Duncan for the 2002 MVP. Steve Nash is the only Point Guard over the past 20 years since Magic Johnson in 1989-90 to win the award. I'm thinking the Point gets the award this year.
I was going to go with Paul, but I think his team will still have struggles to meet the top of the Western Conference. With Al Jefferson now in Utah and Paul Millsap getting a larger role, Jerry Sloan will get this team to play at a high level. Meaning Deron Williams will lead them there.
I'm not a fan of Deron Williams. Something about him deters me from watching Jazz games. Even with this thought, I can't deny he plays great. If they can play on the road as well as they do at home, he should be right there for the award. Kevin Durant is the logical choice; but let's forget logic for once, I'm going with Williams.
Western Conference:
(1) L.A. Lakers defeat
(8) Houston Rockets Western Conference Semifinals:
(1) L.A. Lakers defeat
(2) Oklahoma City Thunder defeat (4) Utah Jazz
(7) Portland Trailblazers
(2) Oklahoma City Thunder defeat
(6) New Orleans Hornets defeat (6) New Orleans Hornets
(3) Dallas Mavericks
Western Conference Finals:
(4) Utah Jazz defeat (1) L.A. Lakers defeat
(5) San Antonio Spurs (2) Oklahoma City Thunder
West Champ: L.A. Lakers
Eastern Conference:
(1) Miami Heat defeat
(8) Philadelphia 76ers Eastern Conference Semifinals
(1) Miami Heat defeat
(2) Boston Celtics defeat (4) Chicago Bulls
(7) New York Knicks
(3) Orlando Magic defeat
(3) Orlando Magic defeat (2) Boston Celtics
(6) Milwaukee Bucks
Eastern Conference Finals
(4) Chicago Bulls defeat (1) Miami Heat defeat
(5) Atlanta Hawks (3) Orlando Magic
East Champ: Miami Heat
This should be a great series as we will finally get to see LeBron vs. Kobe. Or for others it could be seen as Dwyane vs. Kobe. Either way, it will be a matchup of the three best players in the world all on a court together going for the most prized possession.
The Lakers and Heat both have points of reason for them winning the title. Dwyane has played great in the Finals as is evidenced by his 2006 Finals MVP. LeBron was slightly awry in his 2007 showing. Kobe was solid in all of his Finals minus 2004.
The big men is where this match-up could be an issue point. The Miami Heat might be able to get another big man to go up against the bodies of the Lakers. Gasol versus Bosh seems to be seen as a split. I am from the party that believes Gasol will show a slight advantage over Bosh as he did over Kevin Garnett in the 2010 Finals.
If Andrew Bynum is healthy and Lamar Odom shows up the Heat might be in trouble. I think this series goes six games with the Lakers winning based on big man superiority and great defense by Ron Artest on LeBron James.
Kobe Bryant is just the realistic choice to take home the MVP. No matter how well the other players play on the Lakers, the MVP will go to Bryant. It would take a monumental effort from Gasol or another member of the team to get a reaction similar to James Worthy beating out Magic Johnson for the award. If the Lakers win the title, this will be his third Finals MVP.