Whose Team Is It: Udonis Haslem Carries Miami Heat Through 1st Half Of Preseason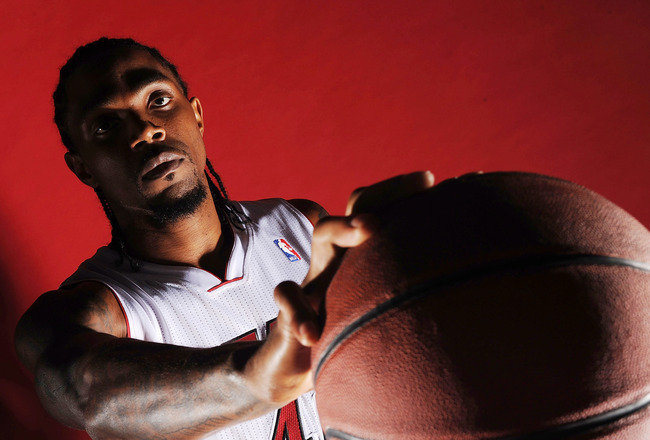 Haslem is already in all-star form this pre-season
Marc Serota/Getty Images
After last night's game against CSKA Moscow, the Heat were halfway through their pre-season schedule. Let's see what the Estimated Wins Produced statistics have to say about the players' performance so far.
Estimated Wins Produced (EWP) is a statistical model created by Professor David Berri from the Wages of Wins Journal to measure how much a player's boxscore statistics contributes to their team's wins. An average player produces an estimated 0.100 wins per 48 minutes (EWP48). More information on these stats can be found at the following links:

Simple Models of Player Performance
Wins Produced vs. Win Score
What Wins Produced Says and What It Does Not Say
Introducing PAWSmin — and a Defense of Box Score Statistics


The table below summarizes each player's overall productivity this pre-season and this spreadsheet details their productivity in each pre-season game. As you can see, Udonis Haslem has been holding down the crown for Dwyane Wade until his hamstring recovers..
Summary of Est. Wins Produced for
2010 Miami Heat Pre-Season




| | | | | | |
| --- | --- | --- | --- | --- | --- |
| Player | POS | GP | MIN | EWP48 | EWP |
| Udonis Haslem | PF | 3 | 79.8 | 0.476 | 0.8 |
| LeBron James | SF | 4 | 94.4 | 0.281 | 0.6 |
| Chris Bosh | PF/C | 4 | 100.0 | 0.258 | 0.5 |
| Mike Miller | SG | 3 | 67.4 | 0.206 | 0.3 |
| Patrick Beverley | PG | 4 | 81.9 | 0.198 | 0.3 |
| Zydrunas Ilgauskas | C | 3 | 39.5 | 0.262 | 0.2 |
| Juwan Howard | PF | 1 | 20.9 | 0.324 | 0.1 |
| Carlos Arroyo | PG | 1 | 24.0 | 0.152 | 0.1 |
| Mario Chalmers | PG | 3 | 60.0 | 0.095 | 0.1 |
| Joel Anthony | C | 4 | 56.3 | 0.078 | 0.1 |
| James Jones | SG/F | 4 | 108.4 | 0.061 | 0.1 |
| Dwyane Wade | SG | 1 | 3.0 | 0.544 | 0.0 |
| Dexter Pittman | C | 3 | 36.6 | 0.007 | 0.0 |
| Jamaal Magloire | C | 1 | 7.6 | -0.051 | 0.0 |
| Mickell Gladness | C | 1 | 4.4 | -0.316 | 0.0 |
| Anthony Mason Jr. | SF | 3 | 70.7 | -0.098 | -0.1 |
| Shavlik Randolph | PF | 3 | 39.1 | -0.227 | -0.2 |
| Kenny Hasbrouck | SG | 3 | 66.3 | -0.301 | -0.4 |
| TOTAL EST. WINS PRODUCED | | | | | 2.5 |
| ACTUAL WINS | | | | | 3 |
Most Heat Produced: Udonis Haslem

This dunk by Udonis Haslem off a LeBron James assist is just one example of how Haslem's productivity has benefited from the King taking his talents to South Beach.

When Dwyane Wade limped off the court with a hamstring injury just three minutes into the pre-season, most reporters wrote that the Heat were now LeBron James' team. The truth of the matter, however, is that Udonis Haslem has been the most productive player for Miami in the pre-season with an estimated 0.8 wins produced in just 79.8 minutes over three games.
He was the most productive player against Detroit and Oklahoma City and has been almost three times more productive this pre-season (with a 0.476 EWP48) than he was all of last season (with a 0.160 WP48).


Alternative Energy Sources: LeBron James & Chris Bosh

The combination of LeBron and Bosh has produced highlights and an estimated 1.1 wins this pre-season.

As expected, two of the Heat's top three producers are LeBron James and Chris Bosh. Each has had one bad game in the pre-season but have both played like superstars otherwise. LeBron's bad game was his first one for the Heat when he got up as many shots as he could but sunk his productivity into the negative range. I don't know if LeBron has been trying to make up for the loss of Wade in the pre-season or just trying to put on a show for the fans but after four games he's averaging about three more shot attempts per 48 minutes than he did in Cleveland last season and has not been as efficient. So far his shooting efficiency has declined from 54.5% last season to 48% this pre-season. Outside of the shooting efficiency, his production is pretty close to what he provided last year and if you throw out the first pre-season game, his EWP48 jumps to 0.395 (which is much closer to the expected 0.400+ production from the NBA's reigning MVP). Hopefully, the cramps in his legs from last night's game won't prevent LeBron from getting all the way back into MVP form before the season-opener in Boston.


Unlike LeBron, Bosh has been much better than expected if you throw out his one bad game on the second night of a back-to-back against the Spurs (Haslem being the most productive power forward on the team was also unexpected but I think they should play Bosh at center anyway). If you throw out the game in San Antonio, Bosh's EWP48 jumps 100 points to 0.358. Bosh's shot attempts have slightly increased from last season but he's only gotten to the free throw line half as much in the pre-season as he did last year. His increased shooting efficiency has helped him keep his scoring average within two points of last year's number per 48 minutes. His rebounding numbers are way down but he's increased his steals and decreased his turnovers to keep the net possessions he provides close to last season's number. Lastly, there haven't been too many shots sent flying out of the "Bosh Pit" but with Joel Anthony blocking six shots per 48 minutes, I don't think the Heat need another shot-blocker right now. Of course, when Anthony's not in the game, Bosh will have to be more of a presence in the paint.
Burnouts: Kenny Hasbrouck and Shavlik Randolph

Kenny Hasbrouck has been making all of the wrong highlights this pre-season.

Five Heat players have provided sub-zero productivity in the pre-season - Kenny Hasbrouck, Shavlik Randolph, Anthony Mason Jr, Mickell Gladness and Jamaal Magloire. Mason and Gladness were already cut and Magloire has only played 7.6 minutes. Since Magloire's a veteran, I think it's safe to say he'll return back to the positive production he provided last year. That leaves Hasbrouck and Randolph fighting Da'Sean Butler for the 15th spot on the roster. If they can't find a way to be more productive than a guy who isn't even playing, then they deserve to be cut well before the October 25th deadline to ensure they don't even take up a D-League roster spot. They've both been above average at getting their shot off but not much else. Hasbrouck has been below average in every other category except assists. Randolph has been below average in every other category except for rebounds and blocked shots. At least they'll get to take home some nice parting gifts - a combined $1.75 million.
Ambient Heat: Patrick Beverley Is Healthy, Hungry And Productive

Patrick Beverley has shown a different kind of devotion this pre-season. Will it be enough to make the cut?

Beverley has definitely taken advantage of the fact that he's the only fully healthy PG on the Heat roster. Chalmers is playing, but still recovering from the high ankle sprain he sustained this summer; Arroyo suffered a bad thigh bruise in the FIBA World Championships; and Eddie House is still recovering from off-season shoulder surgery. Those injuries have allowed Beverley to log a team-high 81.9 minutes at point guard and produce an amazing 0.198 EWP48 and 0.3 estimated wins (good for 5th on the team). I say it's amazing because he was the least productive guard for Miami in the Vegas Summer League this year with a -0.067 EWP48. Beverley's poor production in the summer league makes me skeptical of his pre-season numbers. While he's been productive, I think his numbers could be representative of a "looter in a riot" as Kenny Smith would say. Despite being very productive, his plus-minus for the pre-season is -25. That leads me to believe he could just be racking up numbers in garbage time like the double-double he posted in a 17-point loss to the Spurs. I like the fact that he's healthy, appears to be hungryand is much more productive against what is likely the same level of competition he faced in summer league, but I'm not sure if he's more deserving of a spot on the roster than Dexter Pittman. Pittman, however, isn't exactly making a strong case for playing in South Beach instead of Sioux Falls.

Like Beverley, Pittman was the worst player at his position for the Heat in the Vegas Summer League. Unlike Beverley, Pittman has only produced 0.007 EWP48 after three pre-season games. Beverley has improved his free throw shooting, scoring, rebounding and passing while reducing his turnovers and personal fouls. His shooting efficiency has gotten worse (I didn't really think it was possible for a guard to shoot worse than 34.8%) but his improvement has been somewhat remarkable. Pittman improved his shooting efficiency (which subsequently improved his scoring) but he's continued to struggle with the other facets of his game. His rebounds and blocked shots have declined while his turnovers and fouls have increased. With three centers on the roster in addition to Bosh, Haslem and Howard, it might be best to send Pittman to the D-League this season and let him continue to shed pounds while developing his game.
Statistics for Heat players from the Vegas Summer League mentioned in this article can be found in this spreadsheet or in this blog post.


15-Man Roster Prediction Halfway Through The Pre-Season

Erik Spoelstra can't go wrong with this roster.

Based on the Heat Produced halfway through the pre-season, the opening night roster should be as follows:


POSITION - PLAYER (PRE-SEASON EWP/EWP48)
PG - C. Arroyo, P. Beverley, M. Chalmers
SG - D. Wade, M. Miller, E. House
SF - L. James, J. Jones
PF - U. Haslem, J. Howard
C - C. Bosh, Z. Ilgauskas, J. Anthony, J. Magloire, D. Pittman
Of course, I realize that's probably not what it's going to look like. It will probably look more like this:
POSITION - PLAYER (PRE-SEASON EWP/EWP48)
PG - C. Arroyo, M. Chalmers, P. Beverley
SG - D. Wade, M. Miller, E. House
SF - L. James, J. Jones
PF - C. Bosh, U. Haslem, J. Howard
C - J. Anthony, Z. Ilgauskas, J. Magloire, D. Pittman
Either way, with this much talent Erik Spoelstra really can't go wrong.
Keep Reading

Miami Heat: Like this team?