2010-2011 NBA Preview: Ranking The Starting Centers For All 30 Teams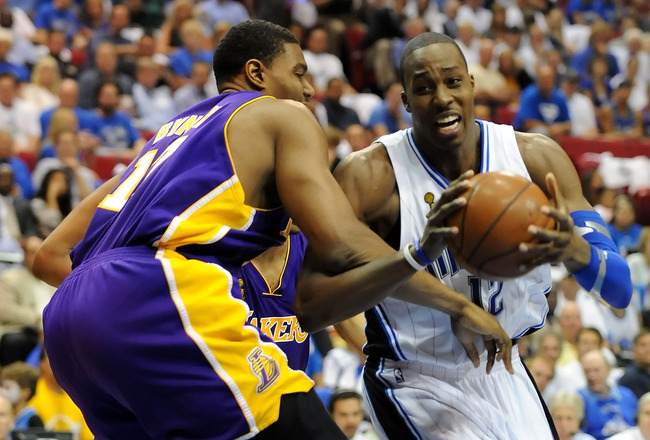 Ronald Martinez/Getty Images
We've examined the upcoming NBA season from just about every imaginable angle here at the Bleacher Report. The anticipation has become palpable.
This offseason's headlines have been dominated by guards and forwards from Lebron James to Kobe Bryant to Amare Stoudemire.
The center position has become one of the most unheralded in basketball. These guys are often asked to do all the dirty work on both ends of the floor, and many of them are rarely given opportunities to score within the offense.
Make no mistake though, these players can be critical to a team's overall success.
So, this countdown goes out to all the unappreciated bigs. Here is a ranking for all 30 starting centers...
30: Joel Anthony Of The Miami Heat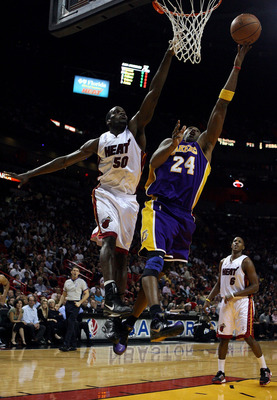 Doug Benc/Getty Images
The Miami Heat are not asking Joel Anthony to do much, which is good, since he can't. He is undersized for the position, but he does his best to make up for his lack of size with hard work.
He is a good shot-blocker, and may come up with a couple important swats over the course of the season. Last season, he average 3 blocks per 36 minutes. He should get more time this season, so his production will increase a bit.
Projected Production: 4.2 points, 5.3 rebounds and 1.9 blocks per game.
29: Darko Milicic Of The Minnesota Timberwolves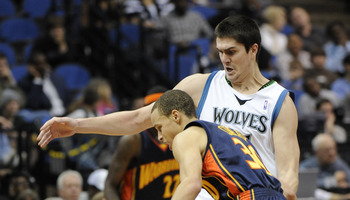 Hannah Foslien/Getty Images
Darko became one of the worst draft picks in NBA history when the Detroit Pistons selected him after Lebron James and before Carmelo Anthony.
Now, the worst general manager in the NBA has seen fit to give him a four-year, 20 million dollar contract. Milicic has shown almost no promise at any point during his seven years in the league. Even still, Timberwolves GM David Kahn had the gall to compare his game to that of Chris Webber.
For his career, Darko has averaged 5.6 points and 4.1 rebounds per game. His career shooting percentages are 46% from the field and 59% from the line. You'll be hard pressed to find anyone other than David Kahn that finds that kind of production impressive.
Barring a small miracle, there is no way Darko will live up to this contract, and I will be shocked if anyone in North America signs him to any kind of deal when this contract expires.
Projected Production: 7.6 points, 5.1 rebounds and 1.1 blocks per game
28: Nazr Mohammed Of The Charlotte Bobcats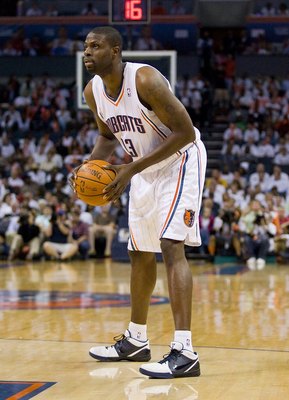 Brian A. Westerholt/Getty Images
Mohammed is a journeyman who has managed to stay in the league with hard work and a decent mid range shot. He likely wouldn't start on any team other than the Bobcats.
Projected Production: 7.8 points, 5.2 rebounds and 0.5 blocks per game
27: Ben Wallace Of The Detroit Pistons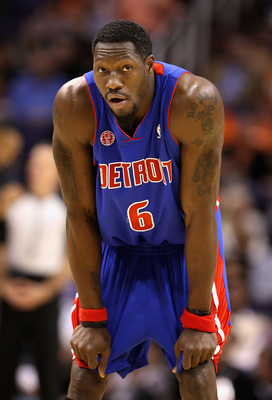 Christian Petersen/Getty Images
With absolutely no offensive talent to speak of, Ben Wallace made a career out of rebounding and playing great defense. He can no longer dominate a game way he used to, and his offense has somehow gotten worse the last couple years.
Projected Production: 4.9 points, 8.0 rebounds and 1.1 blocks per game
26: Antonio McDyess Of The San Antonio Spurs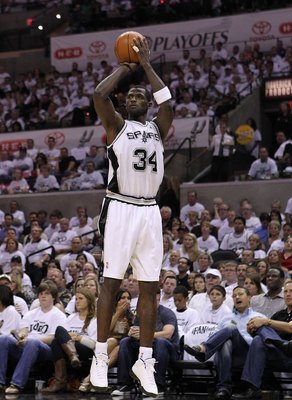 Ronald Martinez/Getty Images
He was an elite post player for the Nuggets for a few seasons in the late nineties. All he really gives the Spurs at this point in his career, is a consistent 15-17 foot jump shot.
Projected Production: 5.1 points, 5.4 rebounds and 0.4 blocks per game
25: Ronny Turiaf Of The New York Knicks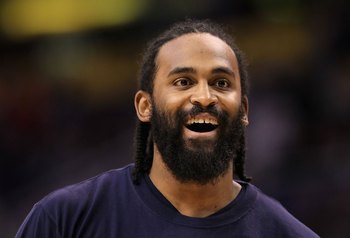 Christian Petersen/Getty Images
While Turiaf may be first on the depth chart right now, I'm not convinced the starting center position is set for the New York Knicks. Turiaf, Amare Stoudemire and Anthony Randolph are all in the running for the job.
Turiaf is fairly one-dimensional but he's never been given a whole lot of minutes to prove he can do much more than block shots. If he starts in New York, he may have more of an opportunity to produce points and rebounds in Mike D'Antoni's uptempo system.
Projected Production: 5.2 points, 5.1 rebounds and 1.8 blocks per game
24: Nenad Krstic Of The Oklahoma City Thunder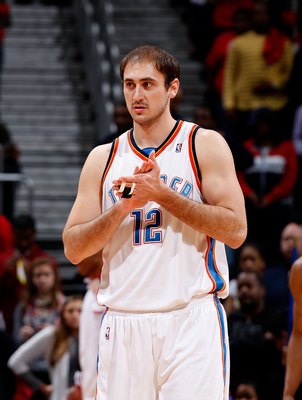 Kevin C. Cox/Getty Images
Krstic recently displayed a bit of a temper when he threw a chair at some players from the Greek national team in an international "friendly" match.
While he may have shown some toughness in that international game, he struggles with that against NBA centers. Krstic has a good mid-range shot, but suffers from the same problems that plague a lot of European centers. They don't do well on the boards, and they struggle to defend physical post players.
Projected Production: 7.9 points, 5.1 rebounds and 0.7 blocks per game
23: Samuel Dalembert Of The Sacramento Kings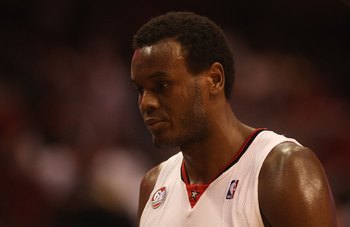 Nick Laham/Getty Images
Dalembert's athleticism is starting to slip a bit, but his numbers are still solid. One of the biggest benefits to having Dalembert on the roster is his durability. He has played in 82 games in each of the last four seasons. He can still provide some strong defense.
Projected Production: 7.2 points, 7.4 rebounds and 1.4 blocks per game
22: Andris Biedrins Of The Golden State Warriors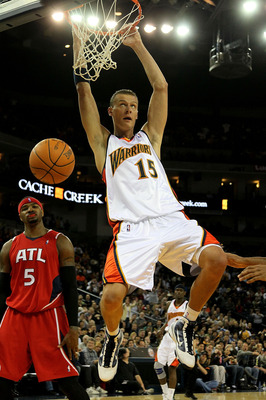 Jed Jacobsohn/Getty Images
There's more to Andris Biedrins than that sweet hairdo he trots out on the court with for every game.
He showed he could be a solid rebounder prior to his injury-plagued 2009-2010 campaign. However, he won't get many touches on a team with Monta Ellis, Stephen Curry and David Lee. He may create a few scoring opportunities for himself with offensive rebounds.
Projected Production: 6.9 points, 9.4 rebounds and 1.0 blocks per game
21: JaVale McGee Of The Washington Wizards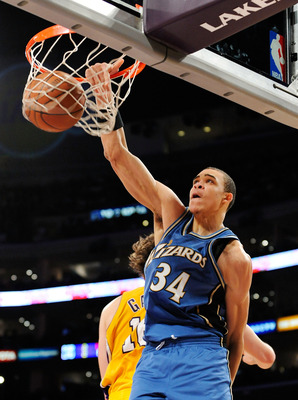 Kevork Djansezian/Getty Images
McGee is very athletic, but also very raw. A month or two from now he could be much higher on this list. We just haven't really had a chance to see him play much yet. In the small amount of time he's gotten the last two years he's been moderately effective.
He could make a leap in production this year as he gets more minutes. Plus, he'll get a lot of wide open looks at the rim because of the great penetrate-and-dish skills of John Wall.
Projected Production: 10.2 points, 8.7 rebounds and 2.5 blocks per game
20: Spencer Hawes Of The Philadelphia 76ers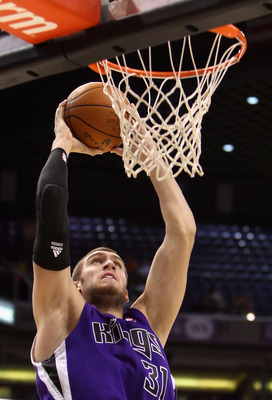 Christian Petersen/Getty Images
Hawes was grossly underutilized by Paul Westphal in Sacramento. He is a legitimate seven-footer and has a pretty deep skill set. He averaged 10 points and 6.1 rebounds per game last season.
However, in certain games, Westphal seemed to be pulling a typical head coach power play by refusing to put Hawes on the floor. It looks like Hawes may have a coach in Doug Collins that will appreciate his abilities more.
Projected Production: 10.4 points, 7.7 rebounds and 0.9 blocks per game
19: Brendan Haywood Of The Dallas Mavericks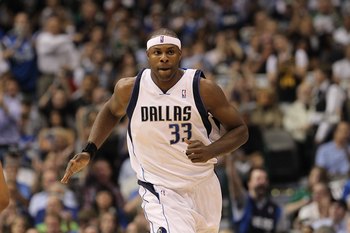 Ronald Martinez/Getty Images
Haywood will not be asked to provide much more than hard-nosed defense for the Mavericks this year. He's very long and works hard on defense and on the boards. He'll lead the team in offensive rebounds, which will lead to some easy putback opportunities.
Projected Production: 9.6 points, 10.1 rebounds and 2.0 blocks per game
18: Anderson Varejao Of The Cleveland Cavaliers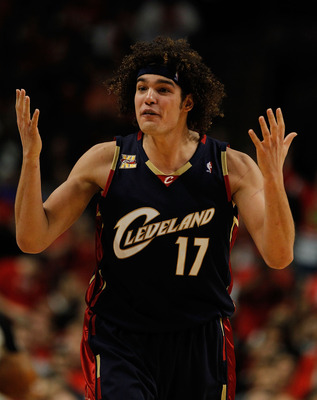 Jonathan Daniel/Getty Images
Cleveland needs a lot of people to step up this year. Varejao won't even begin to fill the void left by Lebron James on offense, but he will provide great interior defense and rebounding. That end of the floor is all about desire, and Andy arguably has more of that than anyone.
Projected Production: 10.1 points, 9.8 rebounds and 1.1 blocks per game
17: Roy Hibbert Of The Indiana Pacers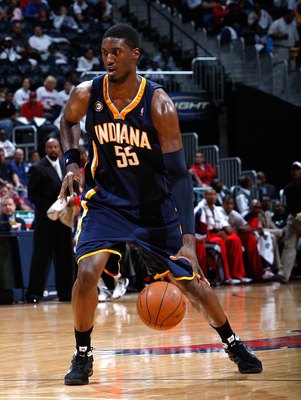 Kevin C. Cox/Getty Images
Hibbert has been a bit of an underachiever during his young career. However, at times, he showed what he may be capable of providing to the Pacers. With the arrival of a great distributor like Darren Collison, Hibberts numbers should continue to improve.
Projected Production: 14.5 points, 6.3 rebounds and 1.6 blocks per game
16: Robin Lopez Of The Phoenix Suns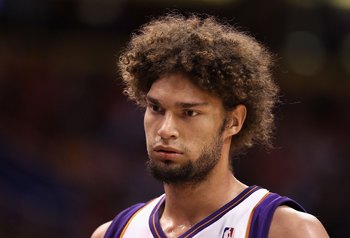 Christian Petersen/Getty Images
Robin Lopez showed flashes of a great center last year. With the loss of Amare Stoudemire, Lopez will take on a much more significant role on offense for the Suns. He sets a very solid screen and could be the primary pick and roll option with Steve Nash this year.
Projected Production: 13.7 points, 7.2 rebounds and 1.3 blocks per game
15: Emeka Okafor Of The New Orleans Hornets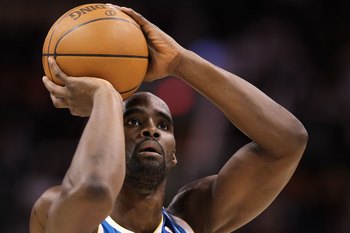 Christian Petersen/Getty Images
A double-double machine in Charlotte, Okafor's production has fallen off since he arrived in New Orleans.
The Hornets were a team in turmoil for much of last season. With a new GM, coach, teammates and hopefully a healthy Chris Paul, Okafor could return to his more productive self.
Projected Production: 10.6 points, 10.3 rebounds and 1.8 blocks per game
14: Jermaine O'Neal Of The Boston Celtics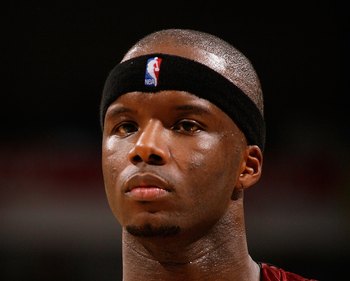 Chris Graythen/Getty Images
For a couple years with Indiana, O'Neal was one of the best post players in the NBA. Injuries and time have worn away much of his talent and athleticism, but he can still offer some solid contributions. He should fit in well with the rest of the aging Celtics.
He will be sharing a lot of minutes with Shaquille O'Neal and Kendrick Perkins so his individual numbers will deep. Together, they may make up the best center platoon in the NBA.
Projected Production: 9.6 points, 5.8 rebounds and 0.9 blocks per game
13: Andrea Bargnani Of The Toronto Raptors
Doug Benc/Getty Images
He still needs to improve his defense and rebounding, but this former first overall pick has become one of the most versatile offensive centers in the game. He has tremendous range for a seven-footer, and has great touch around the rim.
His numbers are likely to go up this year after the departure of Chris Bosh. Someone has to fill the giant void he left behind, and Bargnani seems like the most likely candidate.
Projected Production: 18.7 points, 7.4 rebounds and 1.6 blocks per game
12: Yao Ming Of The Houston Rockets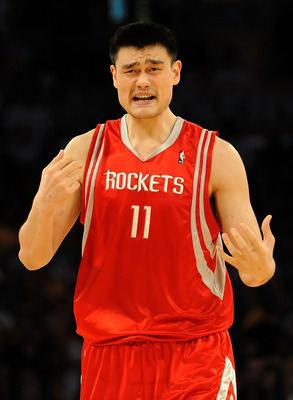 Harry How/Getty Images
Prior to a foot injury that caused him to sit out the end of the 2009 playoffs and all of the 2009-2010 season, Yao Ming was arguably the best center in the NBA.
His 7'5" frame helped him average double figures in rebounds, and alter a lot of shots on defense. His touch and mid-range game is unrivaled among NBA centers.
However, no one really knows what Yao will provide this year after missing so much time. We already know he'll be limited to just 24 minutes a game at the start of the season. One of the biggest question marks heading into this season is Yao Ming.
Projected Production: 13.9 points, 6.4 rebounds and 1.1 blocks
11: Nene Hilario Of The Denver Nuggets
Ezra Shaw/Getty Images
Nene is a very talented offensive player. The only player that gets away with travelling more than Nene is Lebron James, but if the refs aren't blowing the whistle, why not go to your patented 3-4 step move?
Nene uses his "footwork" to create a lot of open looks at the basket and he finishes really well at the rim. He could improve his rebounding and defense.
Projected Production: 14.2 points, 7.1 rebounds and 0.9 blocks per game
10: Marc Gasol Of The Memphis Grizzlies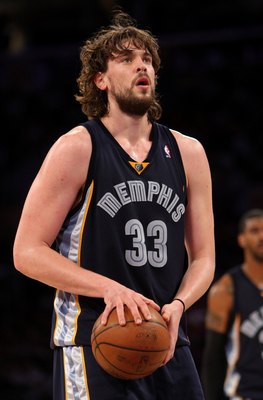 Stephen Dunn/Getty Images
Gasol has done a lot to get himself into better shape over the last couple seasons, and his production is reflecting his hard work.
He and Zach Randolph made up one of the most underrated frontcourts in the NBA last year. Together, they averaged 21 rebounds and 35.4 points per game on 52% shooting.
Gasol is huge, and he knows how to move his big frame.
Projected Production: 15.8 points, 10.0 rebounds and 1.9 blocks per game
9: Marcus Camby Of The Portland Trailblazers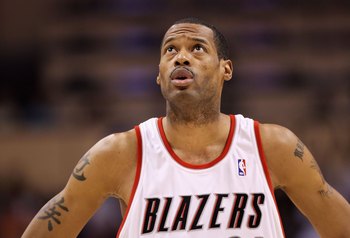 Christian Petersen/Getty Images
After 14 years in the league and countless injuries, Camby is still one of the best defensive centers in the league. He's a fantastic rebounder and provides a great deal of leadership.
Projected Production:8.2 points, 12.1 rebounds and 1.9 blocks per game
8: Al Jefferson Of The Utah Jazz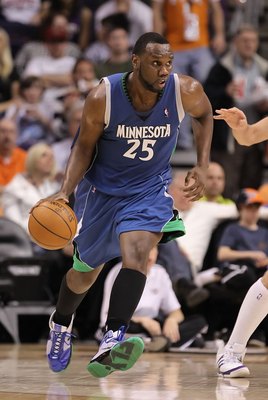 Christian Petersen/Getty Images
The Utah Jazz reloaded better than any other team that lost major free agents this summer by trading for Al Jefferson after Carlos Boozer left for Chicago.
Although he is more of a natural power forward, Jefferson will likely start the season at center due to the fact that Mehmet Okur is injured.
For the first time since his rookie year in Boston, Jefferson has a legitimate shot at the playoffs. He also has the chance to play with the best point guard in the NBA in Deron Williams.
These two things will provide a great deal of motivation to Jefferson to return to the dominant form he exhibited prior to tearing his ACL in 2009.
Projected Production: 22.7 points, 8.9 rebounds and 1.2 blocks per game
7: Joakim Noah Of The Chicago Bulls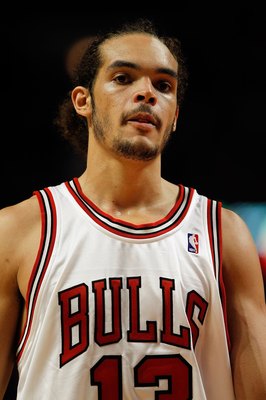 Jonathan Daniel/Getty Images
Noah has a lot to live up to after the Bulls refused to part ways with him in exchange for Carmelo Anthony. Chicago not only refused to trade their center, they gave him a contract extension after the rumors died down.
What Noah provides on the court is effort, leadership and defense. He plays as hard as he can whenever he's in the game. His effort is particularly impressive on defense.
Projected Production: 11.2 points, 10.9 rebounds and 1.9 blocks per game
6: Al Horford Of The Atlanta Hawks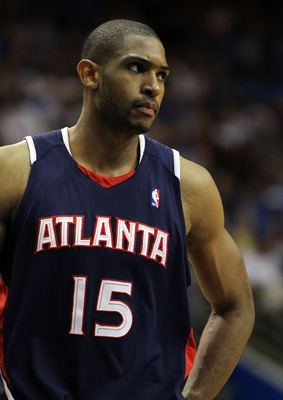 Doug Benc/Getty Images
An unsung hero of Atlanta's recent resurgence, Al Horford provides his team with a variety of things that contribute to wins. He rebounds, defends his position and runs the floor well.
He also has a decent array of moves in the post and a solid mid-range game.
Projected Production: 14.9 points, 10.2 rebounds and 1.2 blocks per game
5: Brook Lopez Of The New Jersey Nets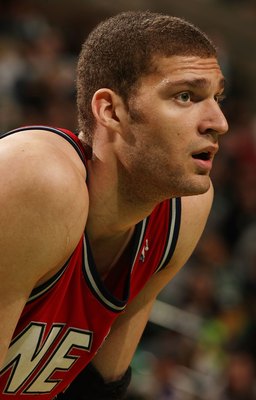 Elsa/Getty Images
Lopez has rapidly developed into one of the best centers in the world. He was probably the lone bright spot for 12-win Nets last year, averaging points and rebounds per game. He is a great foundation to build on for the future.
Projected Production: 21.6 points, 9.1 rebounds and 1.8 blocks per game
4: Chris Kaman Of The Los Angeles Clippers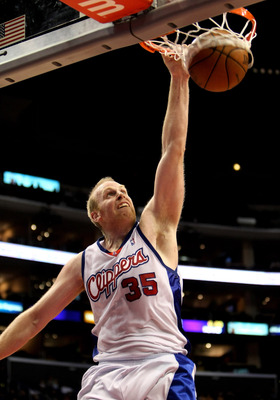 Stephen Dunn/Getty Images
Kaman is a highly underrated player because of the organization he plays for. The Clippers have been one of the most woefully inept teams in the NBA for decades.
Because of the obscurity culture of the Clippers, Kaman's solid numbers from the last few seasons have gone largely unnoticed.
The way Kaman competes every night is quite admirable, when you consider how his team seems to be quite apathetic about winning.
Projected Production: 17.6 points, 9.5 rebounds and 1.3 blocks per game
3: Andrew Bogut Of The Milwaukee Bucks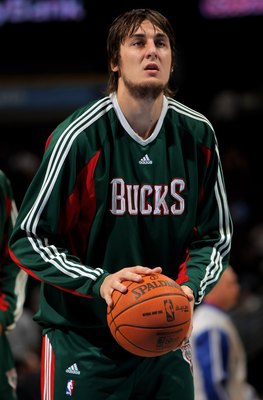 Doug Pensinger/Getty Images
Had Andrew Bogut been healthy, the Milwaukee Bucks almost certainly would've won their first round playoff series against the Atlanta Hawks last year.
The former first overall draft pick was in the midst of the best year in his career when he suffered a horrific injury that ended his season in April.
Bogut should be ready to go by the start of the regular season, and he'll be a big part of Milwaukee's ongoing improvement.
He and Brandon Jennings may be one of the best PG/C combinations in the league a couple years from now.
What sets Bogut apart from most centers is the way he does all the little things. He has great footwork, good hands, sets solid screens, hits open shots and passes the ball extremely well for a big man.
Projected Production: 17.6 points, 10.4 rebounds and 2.4 blocks per game
2: Andrew Bynum Of The Los Angeles Lakers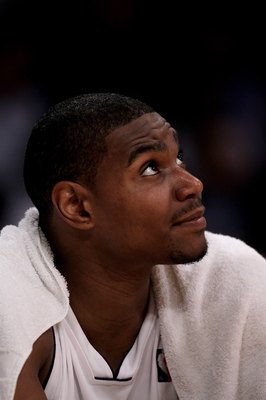 Stephen Dunn/Getty Images
If Bynum could stay healthy, he could challenge for the top spot on this list. Unfortunately, his knees may prevent us from ever seeing him achieve his full potential.
When Bynum is at 100% he is extremely impressive at both ends of the floor.
He is seven feet tall and has great hands and touch around the basket on offense. He has a solid array of post moves and often demands a double team, which creates openings for his teammates.
On defense, Bynum provides length and toughness that his typical replacement Lamar Odom cannot.
When combined with fellow seven-footer Pau Gasol, Bynum is one half of the best frontcourt in the NBA.
He is the heir apparent to the throne of the kingdom Kobe has established in Los Angeles. At 22, he is still quite young.
Elite centers are few and far between in today's NBA, but LA has one that may be the foundation of their franchise for years to come.
Projected Production: 16.3 points, 8.8 rebounds and 1.5 blocks per game
1: Dwight Howard Of The Orlando Magic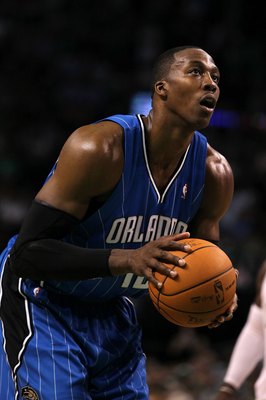 Jim Rogash/Getty Images
Dwight Howard's reputation as the league's best center is based entirely on his unparalleled balance of strength and athleticism.
If he could ever develop a decent repertoire of offensive moves, he would have no competition at this position.
With his current skill set, he has a very hard time scoring on any play that doesn't involve him taking two uncontested steps and dunking the ball.
Even with his limited offensive range, he averaged 18.3 points a game last season.
What makes Howard the best center in the league is his defense and rebounding. Even if he averaged half the points he currently puts up, he'd still be indispensable. He is the two-time reigning defensive player of the year and three-time reigning rebounding champion.
Projected Production: 19.9 points, 14.0 rebounds and 3.1 blocks per game
Keep Reading

Orlando Magic: Like this team?