Calling D-Wade, Not LeBron James the Heat's Best Player Is a King-Sized Fallacy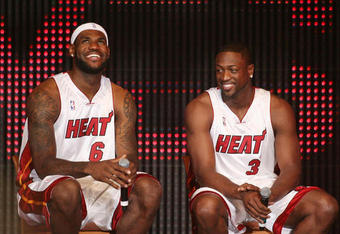 Over the span of the last three years, coaches and players alike have been asked countless times to weigh in on the endless debate of who is the best player in the league.

They all answered in one of three ways:

1) Kobe Bryant
2) LeBron James
3) or the most politically correct way, Kobe and LeBron are the top two players in the game

Though Dwyane Wade, Carmelo Anthony, and Kevin Durant are all MVP-caliber players, none of them match up to James' raw production or Bryant's unparalleled success, but somewhere along the line, we've forgotten this.

We've forgotten just how far Bryant and James are above the rest of the league.

We've even forgotten how close James was to ending the debate permanently and establishing his own category.

During the 2010 regular season the injury-hampered Bryant quickly found himself slipping out of the discussion as James ran away with the MVP award and carried a mediocre cast to the best record in the league for the second consecutive year.

The fact that James' postseason was cut short due the upset he suffered at the hands of the Celtics allowed Bryant to re-enter the conversation as he led his Lakers over the Celtics and claimed a fifth NBA title.

Once Bryant's fifth ring brought new life to the once dead debate, it seemed as though the contest between himself and James might never truly end. No matter what, it seemed that the debate would wage on for at least another season.

It didn't.

As soon as James decided to take his talents to another "alpha dog's team," people began to question James' competitive drive. Though those questions are closed-minded and unfair, they're almost to be expected.

The sports world is a lot like the celebrity world in that the only thing the masses love to do more than building a star is tearing one down. Though James is no stranger to hard work or competition, it's easy to spin his decision in a negative light, particularly when they're backed by the testimonies of former players.

The far less legitimate and more concerning doubts surrounding James are those questioning his ability to win and whether his stats hold any real weight.

The mainstream media has been and always will be fickle, as are the fans who mindlessly subscribe to whichever direction popular opinion tells them to. I'm not surprised by the fallout of James' "decision."

What I am surprised by is the sudden shift of opinion concerning James' ability as a basketball player.

No one questioned whether James was a mere stat monger incapable of leading a team to victory when he was leading a bunch of no names over the "Bad Boys II" Pistons or when he was single-handedly making a competitive series out of the 2009 Eastern Conference Finals.

How can we justify being so doubtful and critical of James' ability now when we were so in awe and reverent of it before? What's changed?

Are the Heat's uniforms heavier? Did LeBron get carsick on the way to South Beach? Has the humidity in Miami gotten that bad?

Dwyane Wade is a spectacular player—and as many of his fans will point out, an NBA champion—but for the record, let's just put Wade's championship ring into perspective.

The 2006 Heat featured Shaquille O'Neal (four years younger than he was by the time he wound up in Cleveland), Alonzo Mourning, Gary Payton, James Posey, and Antoine Walker.

Though Wade's supporting cast was largely past their prime, they performed far better in the playoffs than the lackluster team surrounding James did.

Sorry, I won't bother citing the stats here. Though the stats do prove that the roster around Wade was more productive than the one James shouldered, they don't fully illustrate the gap between the teams.

They don't illustrate how defensively sound the Heat were in 2006 or how poorly the 2010 Cavaliers responded to pressure. They don't illustrate how badly Mo Williams was torched by Rajon Rondo or fully detail how badly Antawn Jamison was outclassed by Kevin Garnett.

They don't really show how worthless Anderson Varejao's highly overrated defense really was.

They don't get into how little control Mike Brown had over the Cavs as opposed to inspiration Pat Riley repeatedly supplied the Heat with when they needed it most.

Wade is an NBA champion, but in 2006 he had a far better team than any James ever got to play with in Cleveland.

You can call the Heat Dwyane Wade's team all you wish; LeBron James does the same. But if you call Dwyane Wade the Heat's best player, you're only lying to yourself.


This article is
What is the duplicate article?
Why is this article offensive?
Where is this article plagiarized from?
Why is this article poorly edited?

Miami Heat: Like this team?