Is Phil Jackson The Last Great Coach Of The Modern NBA?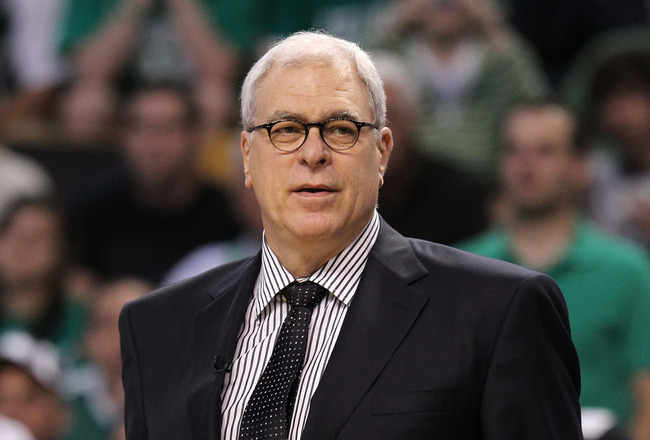 Ronald Martinez/Getty Images
There are those who say that Phil liked his teams ready-made with a resident star who is ready for super stardom. He got that in Chicago with Micheal Jordan and Scottie Pippen, and in Los Angeles with Kobe Bryant and Shaquille O'Neal.
Many thought that Red Auerbach's title total was almost sacred. Ask any Celtic past or present and they would bristle at the mention of any Laker coach surpassing them in titles in any form.
Now that Phil has crashed the party on the inner sanctum of what was once considered "Green Domain," who will be the next coach to be talked about in that rarified air as Red Auerbach and Phil Jackson?
Gregg Popovich and Larry Brown are winners in their own rights, however, this is about the new breed of coaches who still have the chance to be the next hot coaching commodity.
*This slideshow is not to say that they will win as many championships.
11. Oklahoma City Thunder Coach: Scott Brooks, The Wind Brings a Will to Win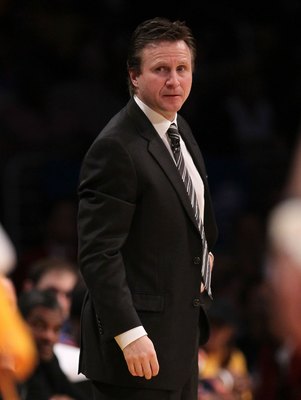 Oklahoma Thunder Scott Brooks
Stephen Dunn/Getty Images
Scott Brooks was supposed to just keep the seat warm until the Oklahoma Thunder could find a real coach for their young superstar, Kevin Durant. Brooks had other ideas. His first full season he took the league by storm, literally. The crackling sounds of cohesiveness that his team exhibited in the 2008-09 season exploded on the scene in 2010.
His Thunder team, led by Durant, put a scare in the Los Angeles Lakers during the first round of the 2010 Western Conference playoffs, and gave this team confidence that they could play with anyone. Brooks did not win his division.
However, he has a star player fresh of the FIBA World Championships as MVP of the whole tournament who embraces the idea of team play. The players will continue to listen to him because they believe in him, only time will tell if he can build a Hall of Fame career as a coach.
10. Milwaukee Bucks Coach: Scott Skiles, Fear The Deer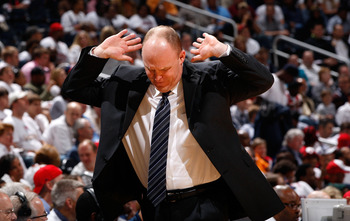 Kevin C. Cox/Getty Images
Scott Skiles was known for his fiery nature as a player, and well it seems like it is the same for him as a coach. He resurrected the Chicago Bulls with young, brash players like Ben Gordon and Joakim Noah.
A slow start to the 2007 season caused management to fire him, he landed in Milwaukee before the 2008 season and Bucks refused to be caught in the headlight of oncoming NBA traffic with a breakout year in 2010.
Skiles' Bucks took the supposedly much more talented Atlanta Hawks to a seventh game. That was invaluable experience to his team, even though it was in the first round.
Skiles also has more pieces in place than the Oklahoma Thunder. He has a true center in Andrew Bogut, a true point guard in Brandon Jennings, and a scorer in John Salmons that takes the pressure of this inexperienced team.
Let's see if he can last before we put him higher on this list.
9. New Jesey Nets Coach: Avery Johnson: The Little General Comes To "Joisy"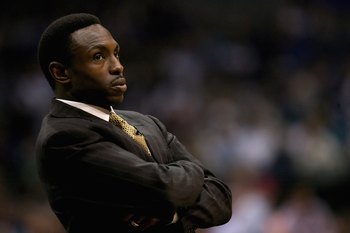 Ronald Martinez/Getty Images
I don't think we ever really got the full scoop as to why Avery Johnson was fired, but the Dallas Mavericks kept on winning without him and Johnson was content to sit out a few years.—mainly because Mark Cuban still paid him his full contract, and he had an NBA analyst gig.
Now he has landed in New Jersey where the owner has deeper pockets than Cuban, and he is reunited with Devin Harris. His team has a long way to go from the bottom, and as long as the Boston Celtics have Paul Pierce and company, he may have to wait his turn.
But rest assured, Avery will have his team in contention for a playoff spot.
8. Memphis Grizzlies: Lionel Hollins: Preparing To Leave His Mark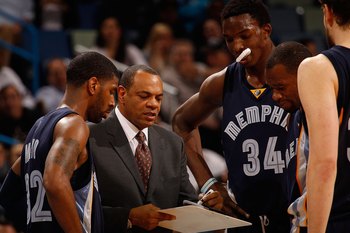 Chris Graythen/Getty Images
Lionel Hollins, like Scott Brooks, wasn't necessarily considered the answer to a long-term investment in the head coaching fraternity. But somehow, he showed the resolve necessary to rein in the talents of O.J. Mayo and Rudy Gay. The addition of Zach Randolph proved to be the right elixir for the Grizzlies to show that they could compete.
They faltered in the end because of inexperience. They return a Rudy Gay who had the benefit of being around other young stars this summer, and a more determined Marc Gasol.
Hollins has two of his core players with international experience, and it can only help them make an appearance in the 2011 playoffs.
If he builds on last year's success, the Grizzlies and their coach will be difficult to keep out of the playoffs.
7. Portland Trailblazers Coach: Nate McMillan, Leading The Way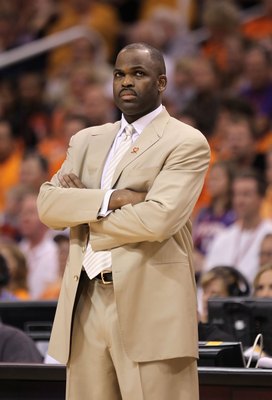 Christian Petersen/Getty Images
Nate McMillan never got a chance to coach Kevin Durant, but he thought he got the next best thing with Brandon Roy and No. 1 pick Greg Oden. Oden has been a fragile man ala Sam Bowie, and Durant has become an international name because of his play in the FIBA World Championships.
In spite of not having Oden for a full season and Roy being injured toward the end of the 2010 season, Nate managed to win a few playoff games and give his team invaluable experience. He has a deep and talented bench that can definitely play with the Lakers.
Given their fragile nature, his coaching promise might be best served elsewhere.
6. Cleveland Cavaliers: Byron Scott, A Momentous Decision...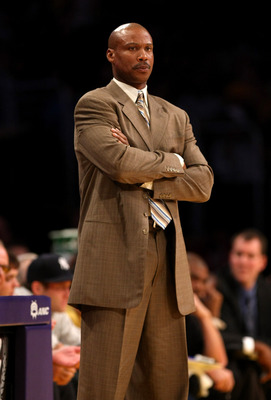 Stephen Dunn/Getty Images
Everyone knows that he can coach—for one season. He has had the luxury of coaching phenomenal point guards in Jason Kidd and Chris Paul. The problem is, he has never had the necessary talent to bring home the gold ball.
Scott has made two appearances in the NBA Finals, and has lost both times; with the Nets he didn't have enough skilled players that didn't need Kidd to set them up. The same could be said of his stint with the Hornets. Paul had to do everything.
He is now in Cleveland after "The Decision" left him bereft of a superstar. He does have raw talent in J.J. Hicks, who has a striking resemblance to a young James Worthy by the way he slashes to the rim.
The thing is his team has a far greater distance to go than any other coach here, however he may just be biding his time till Phil Jackson retires.
5. Orlando Magic Coach: Stan Van Gundy, The Magic Man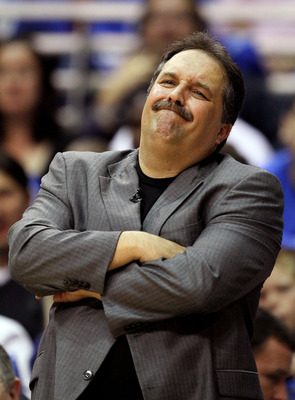 Doug Benc/Getty Images
As a head coach, Stan Van Gundy has been blessed with coaching NBA superstars. He had Dwyane Wade and Shaquille O'Neal in Miami, but was never able to enjoy a championship as a coach. Van Gundy resigned from the Heat post, although many still believe Pat Riley forced him out and took what many thought was rightfully his position to lead the Miami Heat to a championship.
He landed up the road a bit in Orlando, and promptly landed in the Magic kingdom with man-child Dwight Howard.
Van Gundy has a reputation of being the master of panic, and his knee-jerk reactions result in apprehension from his team when it matters.
His time is running out to be considered for the coaching elite because Erik Spoelstra, coach of the Heat has a contingent that almost guarantees that he be the coach of the next decade.
4. Phoenix Suns Coach, Alvin Gentry, A Rising Force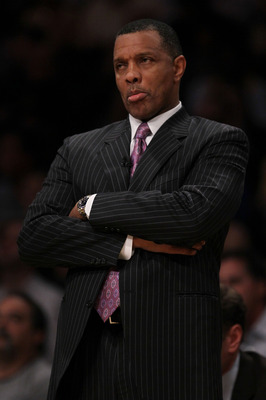 Stephen Dunn/Getty Images
After Mike D'Antoni left, no one thought that the Phoenix Suns would see the light of day in the playoffs. Alvin Gentry had other ideas. He kept the same principles that his starting five was used to, however he molded his second unit into a gritty defensive squad.
He took advantage of his team's lack of athleticism, and used zone principles that caused the Los Angeles Lakers problems in the 2010 Western Conference Finals.
Now he no longer has the services of Amar'e Stoudemire, has lost Louis Amundson to free agency, and Leandro Barbosa's kamikaze style of play has finally caught up to him. Gentry has a tough road ahead of him, to try and repeat last season's performance and continue to find away to nudge the team into defending more.
It took a while but, Alvin Gentry is making a name for himself in the coaching fraternity.
3. Chicago Bulls Coach: Tom Thibodeau, Looking For Bullish Results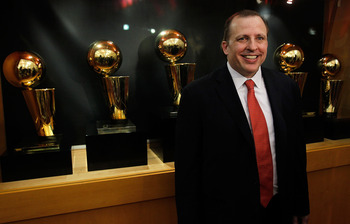 Jonathan Daniel/Getty Images
Tom Thibodeau has been waiting for a long time for this opportunity. Many teams were put off in the past by his blasé appearance, and his tunnel vision approach to his job. He was never know for his offensive schemes but he does know defense. And by all accounts, the mantra is that defense wins championships.
The Bulls won their previous six championships by playing a bullish defense, which left defenders turning the ball over at an alarming rate. Thibodeau's defensive schemes will be a welcome addition with the likes of Joakim Noah patrolling the paint. Beyond that, they lack the defensive mindset to go beyond the second round.
Thibodeau has the luxury of having a team that has been through a Game 7, and fairly competitive games in the playoffs. If he can instill his philosophy into this Bulls team, Chicago will be a force to be reckoned with.
2. Miami Heat Coach: Erik Spoelstra, The Heat Is On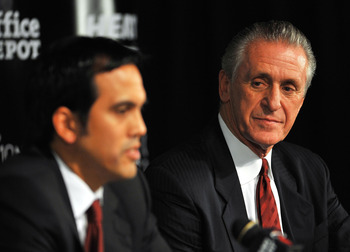 Doug Benc/Getty Images
Erik Spoelstra's edict is to just coach the damn team. That is all Pat Riley says he wants from his head coach. However the stench of the way Stan Van Gundy was unceremoniously shoved out of his coaching chair, may still leave Spoelstra with a permanent addiction to Tums.
Spoelstra may have the easiest but the most anxiety-ridden coaching chair in the NBA. The Heat made wholesale changes to put this so called beast of a squad together, and Spoelstra must ensure that he doesn't muck it up.
He did well with the bits and pieces that he had last year, but now he has the challenge of handling multiple alpha males, and he must have the cojones to deliver and say 'no' to LeBron James. Something no one in his entire basketball life has said to him.
This will be a make-or-break season for Spoelstra, because if he does bring a championship in his first year, he may be able to at least come close to winning like Phil Jackson.
1. Boston Celtics Coach, Glenn 'Doc' Rivers, In An Envious Position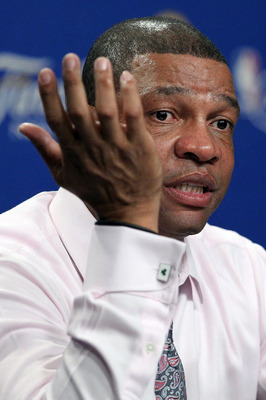 Ronald Martinez/Getty Images
Of all the candidates Doc Rivers may have the best chance of being the man after Jackson retires. He has beaten Jackson head-to-head, and came darn close to doing it a second time. He has the uncanny ability to bring difficult personalities together toward a common goal. Sounds familiar? This season will be the supposed swan song with the Celtics, and winning another championship would give him an edge in his next coaching destination.
Celtic nation will understandably be upset when Doc leaves, but the lure of family ties and the possibility of choosing his next coaching destination is a great draw.
The stars are aligning perfectly for him, the two Florida franchises have coaches who are on the hot seat. Van Gundy keeps falling short, and Spoelstra has to stay out of the way of this Heat juggernaut machine.
My bet is that Doc Rivers will be the next head coach of the Miami Heat after Spoelstra. For now he has unfinished business in accomplishing the one thing Phil Jackson has never done: win a championship with four possible future Hall of Famers. Jackson failed miserably with Karl Malone and Gary Payton added to the mix in the 2003-2004 season.
Every player wants to play for him, because he allows them to acknowledge their weakness and that he demands they work hard toward team goals. Doc had no problems telling Shaq about his shortcomings. Usually a coach glosses over that aspect of a superstar's game; Rivers tells them he sees it and they will not make it an issue as long as they contribute.
Doc would be the perfect coach for the Heat, but he remains employed by the Celtics, and his sights are locked on banner No. 18.
Keep Reading

Los Angeles Lakers: Like this team?