2011 NBA Free Agents: Are New Jersey Nets Carmelo Anthony's New No. 1 Suitor?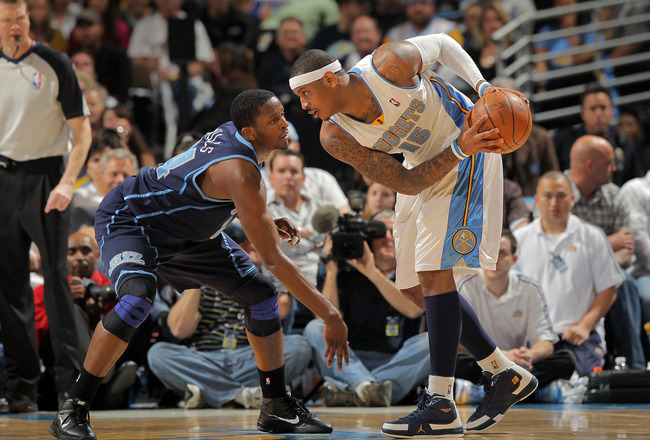 Doug Pensinger/Getty Images
Carmelo Anthony reportedly wants out of Denver, and the New Jersey Nets are emerging as a likely destination for the superstar scorer.
According to ESPN.com, the Nets are front-runners for the 26-year-old's services.
Several other teams have reportedly been pursuing Anthony, including the New York Knicks and the Chicago Bulls.
Here's a closer look at where Carmelo Anthony could end up and what it might take to extract him out of Denver.
No. 10: Nuggets Still Not Aggressively Shopping Carmelo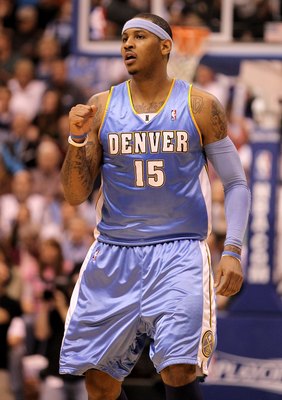 Ezra Shaw/Getty Images
According to ESPN's Chad Ford, the Nuggets aren't aggressively shopping the face of their franchise.
However, they have reportedly become more receptive to potential suitors in recent days.
The Nuggets would like to get something in return for Anthony, who has expressed no interest in signing the three-year, $65 million extension the team has offered him.
According to Yahoo's Adrian Wojnarowski, the two sides met in late August but failed to make any progress. In fact, it is believed Anthony reiterated his desire to be traded at the meeting.
It's possible the Nuggets still believe they can work out a way to re-sign Anthony. Until the team gets involved in serious talks, a deal prior to the start of the season appears unlikely.
No. 9: What Will It Take to Acquire Carmelo?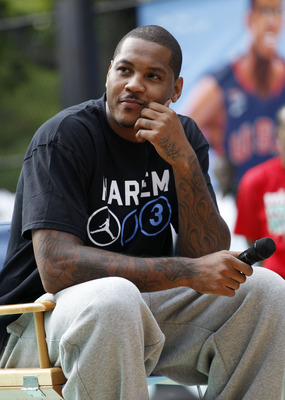 Chris Trotman/Getty Images
Like most teams prepared to unload superstars, the Nuggets are looking for a way to cut costs while getting much younger.
Denver's asking price is likely to be steep, with draft picks, expiring contracts, and raw, young talent being sought after in potential trades.
The Nets have everything the Nuggets want, with draft picks, the expiring contract of Troy Murphy, and this year's No. 3-overall pick, Derrick Favors.
Based on what New Jersey has to offer, it makes sense to consider the Nets front-runners at this point.
There are plenty of other teams reportedly looking to land Anthony...
No. 8: Carmelo To The Clippers Or Warriors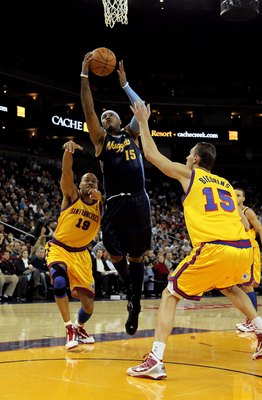 Ezra Shaw/Getty Images
According to multiple sources, the Clippers and Warriors have put themselves in the Carmelo Anthony sweepstakes.
Both teams have draft picks and young, inexpensive talent the Nuggets could be interested in landing.
Denver also has interest in moving Kenyon Martin and J.R. Smith. At this point, the Clippers and Warriors appear to have a more likely shot at landing those two players than acquiring Carmelo.
Can you even imagine J.R. Smith's shot selection in Don Nelson's free-flowing system?
No. 7: Carmelo to The Rockets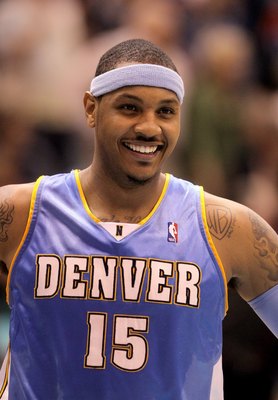 Ezra Shaw/Getty Images
Many of Houston's problems would go away if the team was able to land Carmelo Anthony.
There just might not be enough cash or pieces laying around to make that dream become a reality.
Sports Illustrated reported Anthony has told people close to his inner-circle he would welcome the chance to take his talents south to Houston.
The Rockets don't have many bargaining chips, and the cash-strapped franchise might not be able to offer Carmelo the lucrative extension he is seeking even after Yao's massive contract comes off the books.
Making a deal to Houston even more unlikely, Denver is said to be very reluctant to trade its superstar to another Western Conference club.
No. 6: Carmelo to The New York Knicks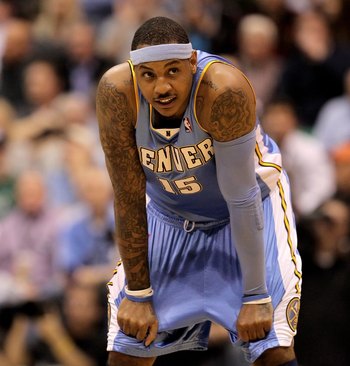 Ezra Shaw/Getty Images
Raise your hand if you want Eddy Curry's expiring contract...
The Nuggets would likely want Curry and Danilo Gallinari to be included in a deal for Anthony, at a minimum.
Curry's absurd $11.2 million contract finally comes off the books after this season, and Gallinari would be a cheaper alternative to Anthony at small forward.
The sex appeal of a potential Carmelo-Amar'e-Chris Paul triumvirate in the Big Apple has the media practically drooling.
In reality, the Nets and Chicago Bulls might be in better positions to land the superstar than the Knicks.
No. 5: Carmelo to The Bulls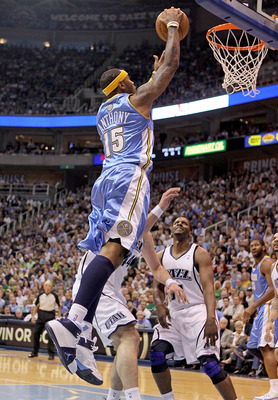 Andy Lyons/Getty Images
According to several reports, the Nuggets have expressed interest in acquiring Joakim Noah in a deal involving Carmelo Anthony.
Meanwhile, the Bulls have been working in earnest to sign the energetic big man to a long-term extension. There have been strong indications that a new deal could be arrived at by the end of October at the latest.
An extension to Noah wouldn't necessarily kill a possible trade to the Nuggets, but it would contradict Denver's goal of acquiring expiring contracts and dumping salary.
The Bulls would like to hang onto Noah, but would likely have to move him and part with draft picks to acquire Anthony.
No. 4: Carmelo To The Nets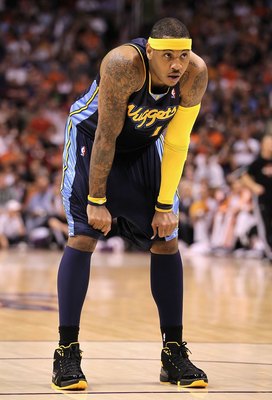 Christian Petersen/Getty Images
According to ESPN's Chad Ford, the Nets are willing to trade No. 3 overall pick Derrick Favors, the expiring contracts of both Kris Humphries and Troy Murphy, and a future No. 1 pick to the Nuggets.
In return, the Nets would finally get the superstar they so strongly desire and missed out on during the free agent hysteria of 2010.
There is a strong chance this deal gets done, especially if the Mikhail Prokhorov sweetens the pot by throwing in another draft pick or two.
The Nets need to find a face for the franchise as they prepare to embark on the move to Brooklyn. That means they will likely do just about anything to acquire Anthony.
No. 3: Where Would Carmelo Want to Sign?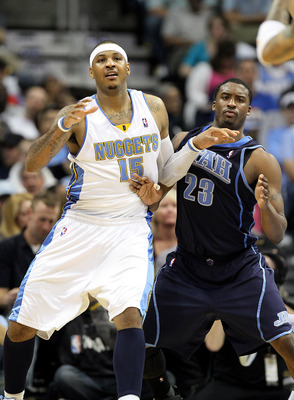 Marc Piscotty/Getty Images
The biggest factors in the Carmelo Anthony trade talks is exactly where he would want to play and which teams could afford to sign him to an extension.
Of all the teams in the running, the Nets appear to be the most desirable candidate for Anthony.
New Jersey already has a decent group of role players in place, and throw in stars Devin Harris and Brook Lopez, and a team featuring Carmelo Anthony would suddenly be expected to finish near the top of the Eastern Conference.
Throw in the marketability of playing in New York and the opportunity for wife La La to continue her entertainment career and the Nets seem like the ideal destination.
No. 2: What's Best For His Career?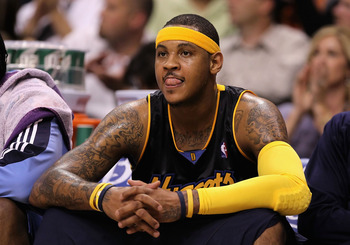 Christian Petersen/Getty Images
Based on the apparent direction of the Nuggets franchise under new owner Josh Kroenke, it seems unlikely Anthony will ever be part of a winner in Denver.
That means moving on, and Anthony certainly has no shortage of attractive destinations.
In the end, the Nets have the best pieces in place to help Anthony succeed and the fewest questions.
Can the Knicks really win with Amar'e Stoudemire holding down the paint on the glass and on defense? If the Bulls trade Noah for Anthony, would they really be top contenders in the Eastern Conference?
The Nets are young, fairly deep and talented and have flexibility and an owner who will spend whatever it takes to compete.
Anthony's legacy would clearly be enhanced if he was traded to the Nets and signed a long-term extension.
No. 1: Where Will He End Up?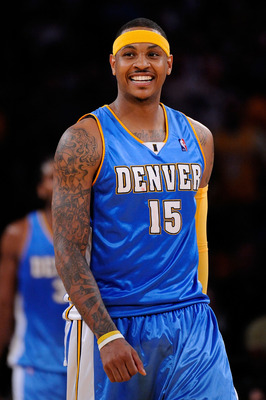 Kevork Djansezian/Getty Images
The Nets have the most pieces to offer and provide arguably the most attractive destination for Carmelo Anthony.
In the end, New Jersey's bargaining power will give the team a big advantage over all other potential suitors.
Denver is reportedly poised to reject possible deals with Western Conference foes, meaning a move to the Knicks, Nets, or Bulls is likely.
Regardless of exactly when it will happen, a trade of Carmelo Anthony to an Eastern Conference team seems inevitable.
Rebuilding mode is right around the corner at the foot of the Rockies.
Keep Reading