Shaquille O'Neal: The 10 Best Quotes Of All-Time
Shaq always has something to say, whether it be serious, a nickname, or just plain hilarious.
Jason Merritt/Getty Images
Shaquille O'Neal is one of the most dominating players ever to grace the NBA hardwood.
His mammoth size and ruthless attitude has given him the ability to be domineering in the face of any opponent.
Shaq has four titles, was named one of the 50 Greatest Players in NBA history, was named to 15 All-Star games and was the NBA's MVP twice—in back-to-back seasons.
But what makes Shaq unique is his hilarious nature and sense of humor.
From the early days when he was rapping, to becoming a cop, his side-splitting self-given nicknames and anytime he's been quoted by journalists—Shaq's humorous abilities are almost bigger than his 7'1" frame.
While he's got thousands of quotes, this list attempts to narrow them down to the 10 best or all time.
(A big shoutout goes to shaqquotes.com for all these amazing quotes!)
Honorable Mention: Nicknames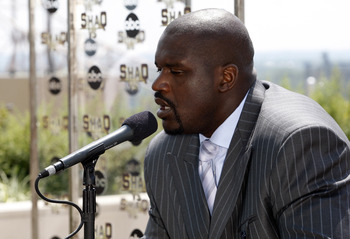 Thomas Gannam/Getty Images
Shaq's nicknames are almost limitless, here's a few to get us started.
"For all my friends in the media who like quotes, mark this quote down. From this day on I'd like to be known as 'The Big Aristotle' because Aristotle once said, 'Excellence is not a singular act; it's a habit. You are what you repeatedly do.'"
"I want to be known as 'The Big Shakespeare.' It was Shakespeare that said, 'Some men are born great, some achieve greatness, some have greatness thrust upon them.'"
"All this heaviness does not mean that I'm a monk. I'm an unorthodox type of guy, a funny guy—at least I think I'm funny. And one of the things I like to do is come up with nicknames for myself.
Some of my personal favorites:
'The Big Stock Exchange.' I start off at one price. Every now and then I'll go down, but eventually I'll go back up.
'The Big IPO.' Put your money on me. Because when I go public, we all gonna make money."
'The Big Aristotle' was coined the day I won the MVP last year [2000]. I stole a quote from that Greek philosopher cat: "Excellence is not a singular act, but a habit. You are what you repeatedly do."
Can't forget 'The Big Antarctica' because I'm so cold.
Or 'The Big Havlicek,' which is what I called myself after making a bunch of foul shots one night.
And, of course, 'The Almighty Conceitedness.' That's the highest level of arrogance. I made that up, too."
Shaq on Winning...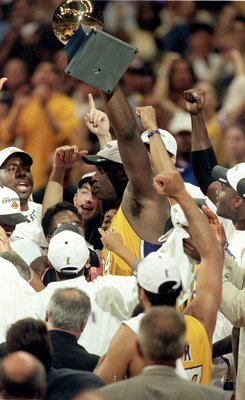 Tom Hauck/Getty Images
"If you go 72-11 and don't win (the championship), it doesn't mean anything. Actually it does. It means you've cheated and played an extra regular-season game."
Shaq on Kobe Bryant...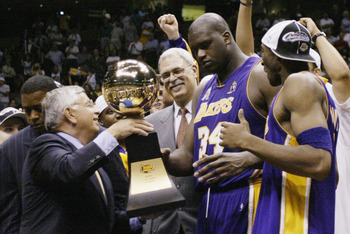 Jed Jacobsohn/Getty Images
"In the seven or eight years we were together, we were never together."
Shaq on Kobe Bryant...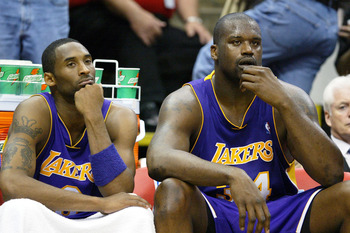 Jed Jacobsohn/Getty Images
"My personal opinion is, how, if you never hung out with somebody, do you know them so well? I never hung out with that dude because the dude is a weirdo."
Shaq on Lakers' Owner Jerry Buss...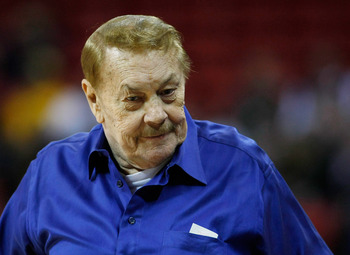 Ethan Miller/Getty Images
Lakers owner Jerry Buss said Wednesday he didn't regret trading O'Neal to the Heat despite the Lakers' struggles this season without him.
O'Neal responded to Buss' comments Thursday.
"I don't regret him losing money and him not making the playoffs," O'Neal said.
Buss also said that O'Neal lost weight last off-season (approximately 30 pounds) only because the trade to Miami motivated him.
O'Neal refuted that claim while taking a shot at his former team's owner.
"I didn't need motivation," O'Neal said. "I needed a real owner like Micky Arison, not a guy that parties with girls three times [younger than him] -- when you're 60, hang out with 60-year-olds, not 20-year-olds. You can quote me on that. I've got nothing else to say about Jerry Buss."
Shaq Freestyles and Clowns Kobe...
"You know how I be. Last week Kobe couldn't do without me.
Kobe, tell me how my ass tastes!"
(In a rap at Village Underground in New York City.)
Shaquille O'Neal on "Hack-a-Shaq"...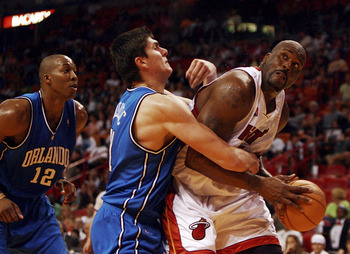 Doug Benc/Getty Images
"In this millennium that we live in, the 'Hack-a-Shaq' has proven not to work. It might work a couple games every now and then, but when it comes to the playoffs or a championship series, it doesn't work...not at all.
"(The Hack-A-Shaq is) just a way of telling me that you can't stop me. Thank you. I appreciate it."
Shaq on His Terrible Free Throw Shooting...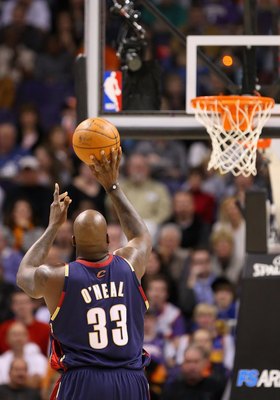 Christian Petersen/Getty Images
"Me having a beautiful wife and great family and friends around me, all the money I've got, all the things that I've got, a Ferrari that I just ripped the top off of and turned into a convertible, the rings I got, the two mansions on the water, a master's in criminal justice, I'm a cop, plus I look good.
"So to me, shooting 40 percent at the foul line is just God's way of saying that nobody's perfect. If I shot 90 percent from the line, it just wouldn't be right."
Shaq On His Weight...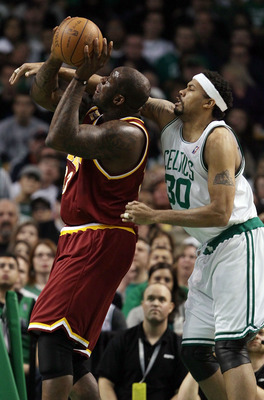 Elsa/Getty Images
"I weigh 330,000 pounds…I'm the NBA's best NFL player, and I've always been the sexiest 7-footer in the NBA–for 12 years running."
Shaq on Sometimes Being a Bad Guy To Teammates...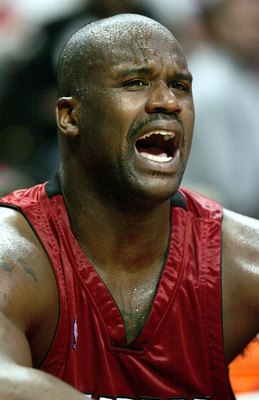 Jonathan Daniel/Getty Images
"I'm George Bush. I'm the President."
"As a general, and as a leader of this team, whatever I've got to do get my guys going I'll do it every time. If I have to be the bad guy sometime, I'll guess I'll take that.
"That's what a leader and a general and a chief of police does. Everybody is not going to like it, but I don't care if they like or not. I'm Bush, so if they don't like it, resign."
Shaq on His NBA Legacy...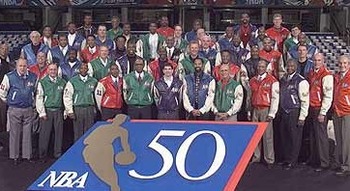 A snapshot of the NBA 50 Greatest Players in history.
"The biggest thing that will define my legacy is how I've done it, and what I've done, and who I am. I'm a weird big guy. Doing rapping, doing movies. Do a lot of stuff. But always do things the right way.
"Went to the police academy to become a police officer. Get his master's in criminal justice, stayed out of trouble.
"Played for three different teams. Changed three different franchises around. This is a guy who they would have secret meetings about to change the rules.
So, that's going to be my legacy: the most dominant player ever."
Rich Kurtzman is a Colorado State University Alumnus and a freelance journalist. Along with being the Denver Nuggets and Denver Broncos Featured Columnist here for B/R, Kurtzman is the CSU Rams and Fort Collins Beer Bars Examiner for examiner.com and the Colorado/Utah Regional Correspondent for stadiumjourney.com.
Keep Reading

Los Angeles Lakers: Like this team?