Michael Jordan's Top 10 Potential Duos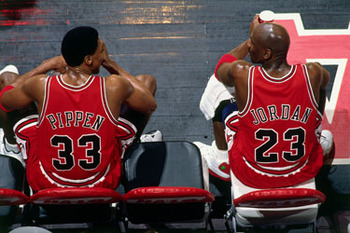 Michael Jordan and Scottie Pippen are a duo that can take on any for best duo of All-Time. But for the moment, assume we take Pippen out of the mix and can replace him with any ten players. There are numerous choices that could be inserted into the slot to fill in for Pippen.
After doing a greatest potential duos ever list, I found that so many had to do with M.J., that I had to do one with just Jordan.
Places could be changed and certain players could be put in and taken out, but in the end it is just a look at potential headaches opposing Jordan and his potential teammates.
He are the ten that I chose.
10. Jordan and Clyde Drexler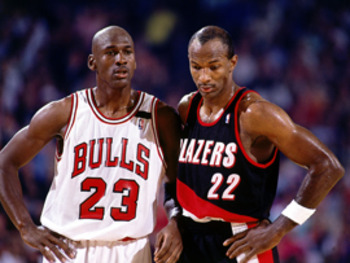 Jordan and Drexler teammates in Portland? It could have happened.
In consecutive drafts, the Bulls and Blazers both had a chance to put together both of these players. The 1983 Draft saw the Bulls take Ennis Whatley ahead of Clyde Drexler. The 1984 Draft saw the Blazers take Sam Bowie ahead of Michael Jordan.
This mix is intriguing from the standpoint that after Magic Johnson retired, the debate going into the 1992 NBA Finals was about whether Jordan or Drexler was a better player. Jordan proved himself the top player, but it would have been cool to see if the Bulls would have been any better or worse with Drexler instead of Pippen, as well as how it would have gone if both were in Portland.
9. Jordan and LeBron James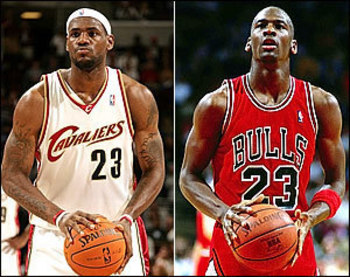 Both have worn No. 23 obviously, but both have won scoring titles and won consecutive MVP's.
We saw the maddening ways of Pippen and Jordan as they were able to split defenses as they hit the rim. Imagine if that was LeBron instead of Pippen attacking the rim throughout the game. It might lead to a few more open J's for Jordan.
LeBron's full passing abilities would also be put to the test with all the different abilities that Jordan possessed. How much more would the greatness of Jordan truly improve James' game is what I ponder.
We will to a degree get to see this year with Dwyane Wade, but there is no substitute for Jordan and it's a shame we can't see these two together today or in the past.
8. Jordan and Isiah Thomas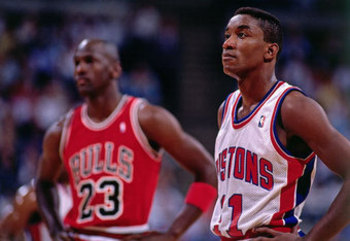 Isaiah Thomas was known to be part of the circle that froze Michael Jordan out of his first All-Star Game. After that it seemed as if Jordan always held something against Thomas until the 2003 All-Star Game where it seemed they found a peaceful resolution. There was even the supposed "he goes or I go" towards Thomas by Jordan for the inclusion on the1992 Dream Team.
Still, the idea of having the guy who literally stopped Jordan from winning titles playing with him is an alluring thought. They always had battles that were hotly contested and tough. Jordan showed as much pride and energy while playing them as I have ever seen from him.
They would be as lethal a back-court of Point Guard-Shooting Guard (minus the Big O and Magic) that you could make.
7. Jordan and Charles Barkley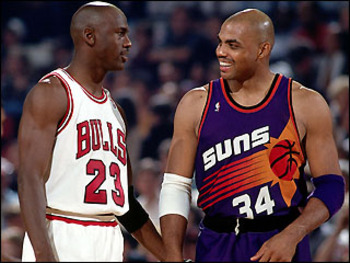 I mostly have interest in this Duo strictly from Jordan's mental aspect within this combination. Jordan was always seen as the man; but Barkley's personality could even be too much for Jordan at times.
Even as great buds, there could have been some drama between these two in some form I envision.
I know Barkley was thinking of joining Jordan in Washington when he came back at 39, but Barkley and Jordan at their peak was another thing.
Jordan and Barkley together in 1992-1993 could have been more intriguing than impressive in just how the chemistry of the team would have evolved around them.
6. Jordan and Kobe Bryant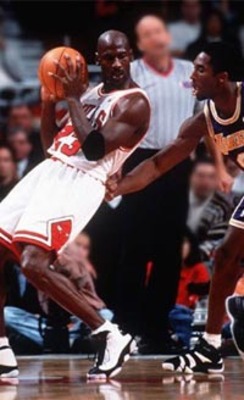 It's Air Jordan and the Heir Apparent with Michael Jordan and Kobe Bryant. We have heard numerous numbing times if Kobe Bryant can or is as good as Jordan. No matter your opinion on that debate, Bryant and Jordan as a duo would be a perimeter challenge for any defense.
Both love being in clutch situations, so the idea that Bryant might take the game winning shot from Jordan would be an enticing situation. Whether you hate either one of these players or love them both, this combination would cause a stir.
5. Jordan and Bill Russell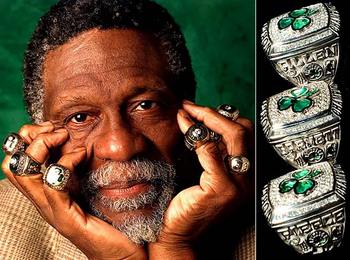 The two biggest winners by judgment of the league (We'll keep Robert Horry out of the discussion), Russell and Jordan both did what they had to do to win. The extreme to which each of these players would have gone to push each other is immeasurable.
Russell puking before each game, Jordan fighting with the heart of a lion, it would have been a brutal force to oppose. I have no idea how many titles they could have won together because they played in very different eras. He would have given Jordan a great big man to play with. Something that Jordan really never had assuming Artis Gilmore and his porous 1987-88 season doesn't count towards having a great Center.
Jordan and Russell had different flows in the way they won, but in the end they both won.
4. Jordan and Larry Bird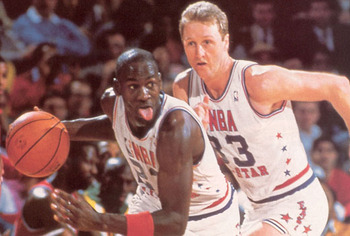 They had the Dream Team in 1992 as teammates, but by then Bird was pretty much a lame duck. Still, Bird at his top and Jordan there as well would have made a wicked duo.
Jordan would have been able to make up for some of the defensive liabilities that existed within Bird's game. They both played with heart and hustle. Another duo that played with great clutch, intensity and an unending nerve to win.
Bird still lead his Celtics to a win over Jordan. M.J. put in the 63 from the Garden which is falsely assumed to be a Bulls win most of the time. Larry Bird himself won three straight MVP's from 1983-84 to 1985-86. Just another example of the dominance Bird had during the era in which there were so many greats. Including his potential duo mate Jordan.
3. Jordan and Magic Johnson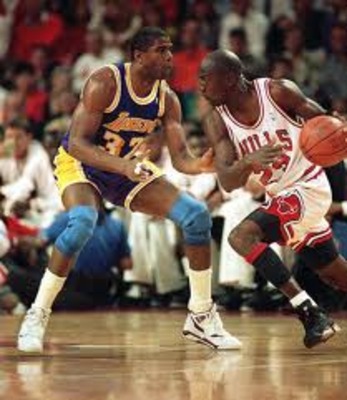 Magic and Michael, the two greatest players of All-Time. At least in my opinion today.
I would have loved to see the two best playing together and putting together more Dream Team of 1992-like plays. They both were ultra competitive and would drive each other for more and more titles.
I think if these two could have played together, they could have challenged Russell for winning supremacy. That is, of course, assuming that Magic does not contract HIV which limited his career.
The long lead passes from Magic to a streaking Michael as he cuts through the D for a dunk would have been splendid in the least.
The squeaks from the sounds of basketball shoes moving would have been a constant with these two playing the game in a sound manner.
2. Jordan and Wilt Chamberlain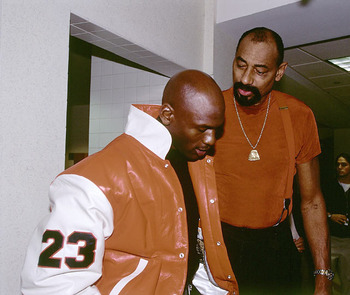 This was the strongest and most compelling duo I would have liked to see. The most prolific Per Game scorers of All-Time playing together.
A deadly inside out combo that could have had their teams averaging statistics of all sorts flying through the record books.
You'd have the man who scored 63 in Boston Garden in the Playoffs and the other who had put up 100 points in a regulation game.
How they would have fed off each other would also be a focal point to look in to. We've seen Shaq-Kobe, and Magic-Kareem; but Jordan and Chamberlain would be just mean in a certain sense.
Making this potentially the best duo.
1. Jordan and Shaquille O'Neal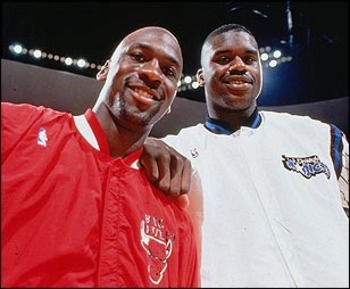 By popular request I had to go with the Big Aristotle, Shaq-Fu, etc. and His Airness as the top duo. We saw them play in the All-Star Game together, but never at the the top of their games on the same side. Their Eastern Conference Playoff Series only gave us a slight indication of how they could be playing together instead of apart on the same court.
The biggest force in NBA history in Shaq to go with Michael would have been another instance of Michael playing with a great big man.
Shaq and Michael both played in the triangle offense, so with that being said, if O'Neal and Jordan were both on the same side of the ball, there was no way to double them. That would lead to one or the other wide open. The other three on the court with them would have had field days of fun. Shaq and Jordan are my number ones.
Keep Reading