Phoenix Suns Roster Breakdown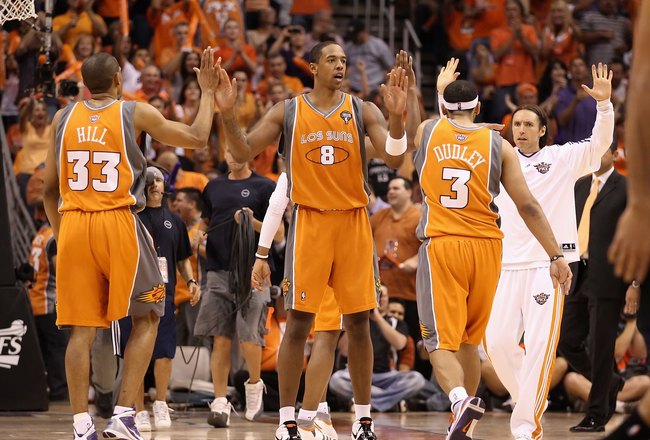 A few changes have taken place from the roster in which fans saw during last year's Western Conference playoff run. There are already critics saying we are doomed, and some still believe the team is just as good, if not better.
The team lost All-Star power forward Amar'e Stoudemire (Knicks), former Sixth Man of the Year Leandro Barbosa (Raptors), fan favorite Lou Amundson (unsigned free agent), Taylor Griffin (waived/unsigned free agent) and backup center Jarron Collins (unsigned free agent).
Key additions: Hedo Türkoğlu, Josh Childress, Hakim Warrick, and rookies Matt Janning and Gani Lawal.
Here is a look at each player on the Phoenix Suns' current roster.
Please enjoy!
Matt Janning - Guard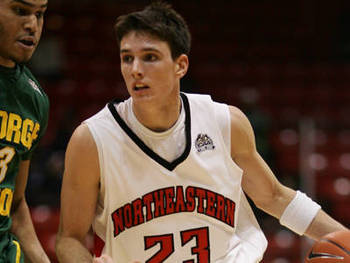 The Phoenix Suns recently signed point guard Matt Janning after he proved himself on the summer league team.
As a 6'4" undrafted rookie out of Northeastern, Janning averaged 15.4 points, 3.1 assists, 3.9 rebounds, and 1.5 steals per game. He was proclaimed as one of Northeastern University's most prolific scorers.
He will most likely only see playing time during practice, stints in the summer league, and while filling in for injured players. This, however, puts the Suns in a great position to have another talented guard in the near future along with Goran Dragić.
The coaching staff told Janning that they liked him as an overall player. His versatility playing at the 1 and the 2 are very beneficial to learning the NBA game and the overall transition. They liked his basketball IQ as well.
Gani Lawal - Power Forward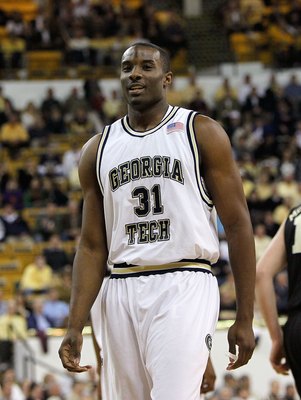 The Suns selected Gani Lawal late in the sound round of the recent draft.
Standing 6'8" with a 7' wingspan, Lawal has an excellent physical profile. He is an athletic big man and has a tremendous work ethic. Lawal's post footwork, jump shooting, and passing lag behind his ability to impose his will on lesser athletes in the paint.
Lawal averaged 13.1 points, 8.5 rebounds and 1.4 blocks per game with Georgia Tech last season.
He led Phoenix in scoring, rebounding, and blocks at the NBA Las Vegas Summer League last month. The former McDonald's All-American also led Georgia Tech in scoring and rebounding the past two seasons.
The Suns have their hopes set high on this kid. He has the potential to be as dominating as Amar'e or even Charles Barkley. A little more work on the defensive end, and he could be exactly what the Suns have always been looking for late in the draft.
He similar to Lou Amundson, hustling for the rebounds and blocks, while getting under the skin of the opposing player. But at the same time, he will be efficient on the offensive end, something rarely seen from Amundson.
"I love his energy level and I love the rebounding and the shot blocking that he brought to the table out (in Las Vegas)," Suns head coach Alvin Gentry said. "I think you'll see him improve more and more as he learns the pro game."
He will make $473,604 this upcoming season as a rookie.
Earl Clark - Forward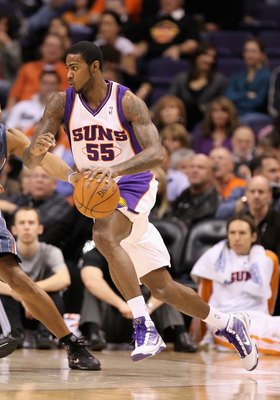 The time is now or never for Earl Clark to solidify his position on the team.
After being drafted 14th in the 2009 draft, Clark has shown little of his potential on the court. Even though he averaged close to the least amount of minutes for first-round draft picks, the Suns believe in Clark.
Clark has been said to be able to produce just like Amar'e did when he came into the league, but with little to no playing time, his game might have been affected.
Just as Robin Lopez and Goran Dragić did in last year's summer league, the Suns hoped Clark would be able to take his game to the next level and show what he was going to do this upcoming season. Things didn't work out exactly as everyone hoped. He settled for a lot of jump shots, which affected his numbers.
Clark has a great combination of size, strength, and speed. His athleticism and explosiveness allow him to play against bigger defenders inside or quicker ones on the perimeter. He gets a lot of his offense out of energy plays and by knowing where to be in the offense, whether it's making the right cuts, spotting up when the help rotates, or by attacking the O glass. The potential is there, but he is known to make careless plays and at times, it seems as if his head isn't in the game. If Clark can mature off the court it should show in his game.
Work still needs to be done, but if Clark commits himself, he could find himself getting much deserved minutes and making the team that much deeper, which will be necessary come playoff time.
He will make $1.89 million this upcoming season.
Goran Dragić - Point Guard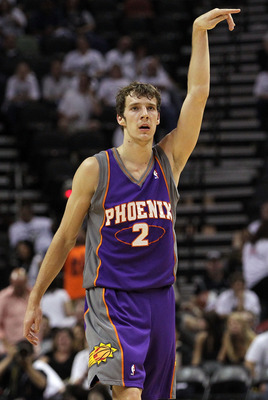 Plain and simple, Goran Dragić had one heck of a breakout season last year. All one has to do is watch the fourth quarter of Game 3 of the Western Conference Semifinals and be amazed at what Dragić can do.
He was drafted in the hopes of taking over for Steve Nash when Nash's contract is up in two seasons. No one knows if Nash will continue to play with the Suns after that point, but if he leaves, fans should be thankful to have Dragić as security.
Last season he averaged 7.9 points and 3 assists in 18 minutes off the bench. He gave Nash much deserved rest, and even sometimes let him sit the whole fourth quarter.
Dragić plays with a lot of flair, has great ball handling skills, has the ability to beat you off the dribble and attack the basket, shoot a high percentage three-point shot from the top of the arc, is fundamentally sound, and a great competitor.
After his stellar playoff performances, Goran's confidence sky rocketed, allowing him to lead the Slovenian National Team over China in the Boris Stanković Championship Cup. He was awarded the MVP.
This will most likely transfer to next season and fans should see his game continuously excel. He will be asked to provide many production minutes off the bench, even getting a few opportunities to start or finish games.
Dragić could be considered the league's best backup point guard with Darren Collison recently being traded to the Indiana Pacers.
Look for the Phoenix Suns to pick up their team option on Dragić half way through the season or shortly after it is done. This should be a high priority in the team's front office.
He will make $1.97 million this upcoming seson.
Josh Childress - Shooting Guard/Small Forward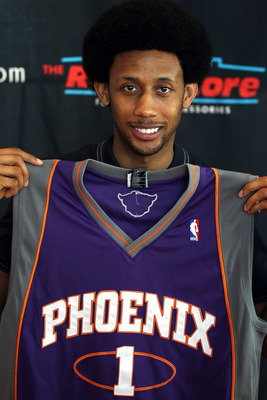 The Suns were able to pull off a sign-and-trade with the Atlanta Hawks this offseason for shooting guard/small forward Josh Childress.
Childress was originally drafted by the Atlanta Hawks with the sixth overall pick in 2004, where he played with the team until 2007-08. He then signed with Olympiakos (Greece) in July 2008.
Long and lanky, Josh is 6'8" and weighs only 210 lbs.
With the Atlanta Hawks he was able to average 11.1 points and 5.6 rebounds, being an important piece to their playoff run and close upset of the Boston Celtics.
With Olympiakos S.F.P. Pireus, he averaged 15.8 points and 5.4 rebounds.
Childress is known to be a finesse type of player who can do a little bit of everything. He can play either the shooting guard or small forward position, and has the ability to defend either. His long arms make him an above-average defender and a pretty good rebounder for his size and position. He is also able to shoot the free throw and three with consistency, and he has his own highlight dunks. His competitive side kicks in when needed most.
He will be a great backup to either Jason Richardson or Grant Hill. He can definitely slide into the starting position for injured players or after next season when Grant Hill and possibly Jason Richardson are gone.
Suns fans should be excited to have a player like Childress coming off their bench.

Jared Dudley - Small Forward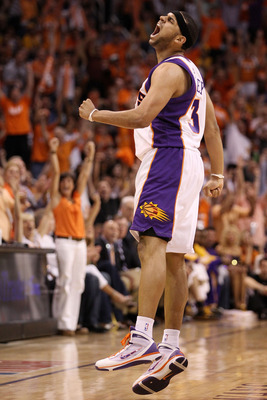 Jared Dudley did what he could last season to make a name for himself across the league. He was one of the reasons for the Suns' success last season, bringing much needed energy and play off the bench.
Coming to Phoenix with Jason Richardson in December 2008, he has quickly become a fan favorite.
Last year was totally different from any season he had prior to joining the Suns. He found his role on the team, continued to work at every aspect of the game, and it sure paid off.
Dudley had a career season with the Suns, averaging 8.2 points, one steal, and 3.4 rebounds in 24.3 minutes per game while shooting 46 percent from beyond the arc.
He become known as a lockdown defender early in the season, and would spend time on the opposing team's best player. Dudley has a very high basketball IQ, is hard working, a good passer, knows how to get to the right spot Nash and Dragić need him in, can hustle with the best, and has developed one of the best three point shots in the league.
His only downfall is he is not quick or athletic enough by most NBA standards, but uses all his other tangibles to get the job done, sometimes better than most players.
Just like Childress, Dudley can play the small forward of shooting guard position. Due to any injuries, trades, or retirement Dudley can make a strong push to be a starter if he continues to improve his play.
Along with Dragić, Dudley should be one of the main concerns the front office has this or next offseason and they will most likely pick up his team option to ensure he stays on the team for many years to come.
He will make $2.15 million this upcoming season.
Hakim Warrick - Power Forward/Small Forward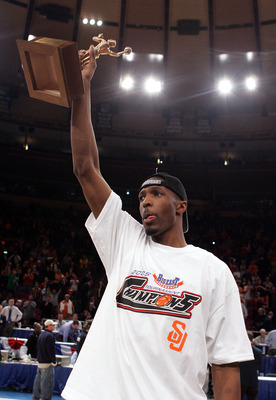 Hakim Warrick was recently signed by the Phoenix Suns in July.
Unfortunately for him, he has not been able to play to the ability scouts thought when he won a Championship in college with Carmelo Anthony and Syracuse in 2003.
That will soon change once he suits up for the Phoenix Suns. The uptempo offense fits Warrick's game very well, and fans should be able to see him play to his best abilities.
The fact that he is very long, lanky, and athletic enables him to use his excellent leaping ability to create a highlight of dunks, and is a dunk waiting to happen each night. He however, relies and his athleticism too much and tends to play outside of his game. If he sticks with what he knows - dunk and shoot a decent mid range shot - he will be able to play very well next to Steve Nash in pick-and-roll situations.
Warrick is an average defender and can block shots very well thanks to his vertical leep. It will also allow him to grab a few extra rebounds that the Suns desperately need. If he is able to add any muscle at all, it should improve his low post offense and defense tremendously.
He even has a chance to make a run for Most Improved Player of the year after feeling the effects of playing next to Steve Nash.
Warrick has career averages of 10.1 points and 4.3 rebounds per game.
He will make $4 million this upcoming season.
Channing Frye - Center/Power Forward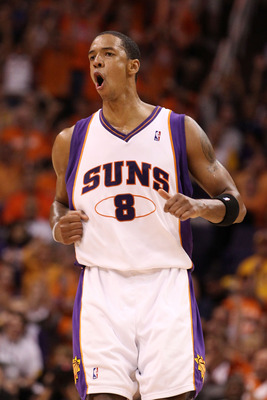 Channing Frye has one of the most shocking seasons last year. No one expected him to play to the ability that he did. The Suns knew what they would get out of him, and they got that, but didn't think he would double what they asked for. Because of his play he was awarded a new contract this offseason.
No one knew that Frye had the range he did, and was able to connect as often as he did. He definitely was one of the biggest surprises last year. He was in the running for Most Improved Player because of this.
Frye is a very talented big man, who plays the game like few do. He is able to benefit a lot from this, but at the same time it hurts him. Because he loves to shoot the three, and sometimes relies too much on it, he tends to shy away from any physical play. When you are 6'10" you usually try to take advantage of that, but instead he has relied on his shooting to keep him important to the team. He is able to shoot a decent mid range shot, or step back in a pick-and-pop. Since he does stay away from the basket a lot, it does draw defenders from the paint and benefited Amar'e last season and Lopez should see that this season.
It is very visible that he isn't the best defender, rebounder or shot blocker and teams try to take advantage of him. Usually getting into early foul trouble, but he has stated that he knows he needs to work on those areas hard this offseason. If he does could become an all-around player coming off the bench that teams will have to worry about.
Frye had one of his best seasons last year averaging 11.2 points, 5.3 rebounds while shooting 44% from behind the arc in 27 minutes per game. Fans should expect the same numbers, if not better from Frye.
He will make $5.2 million this upcoming season.
Steve Nash - Starting Point Guard
There isn't much that can be said about Steve Nash that everyone already doesn't know about.
He will look to make another case as the league's best point guard, if not best player, this upcoming season. Although he is 36 years old, he is able to perform at times better than Chris Paul and Derron Williams, and it's hard to imagine that they will be able to perform at this level when they reach the same age.
Nash has one of the league's best basketball IQ and uses it to to be the most creative player in the league. If there is a definition of a true floor leader, Nash has to be on top of your list. He is possibly the best playmaker in the game, making everyone around him better than anyone else could (ex: Shawn Marion, Channing Frye, Jared Dudley, Amar'e Stoudemire, Joe Johnson).
He is arguably the best shooter and passer in the game, and makes a strong case for best shooter of all time. Not many people give him respect for this, they only see the fact he hasn't won a ring. He will continue to shot 50 percent from the field, 40 percent from behind the arc, and 90 percent from the free throw line until he gets too old to play anymore. He also makes some of the toughest shots in the league, and makes it look way too easy.
He is a terrific ball handler in traffic, and especially on the fast break. He is always looking to set up his teammates, and is sometimes many steps ahead of them or the defenders.
People can say all they want about the fact that he hasn't won, and isn't as good as his numbers show, but it's all there: two-time MVP, seven-time All-Star, seven-time All-NBA Team, two-time Skills Challenge winner, continues to lead the league in assists at age 36 years old, the most consistent shooter the game has possibly seen, and is one of the most respected international players the NBA has ever seen.
Even though he isn't a great defender, the Suns are excellent at allowing him to defend the least offensive threat the opposing team has to ensure he is playing at his best ability on the offensive side of the game. This is a great game plan and can help them out during the long season ahead.
Look for Nash to score 15 points or more points while dishing out 10 plus assists per night for another season with the Phoenix Suns.
He will make $10.3 million this upcoming season.
Jason Richardson - Starting Shooting Guard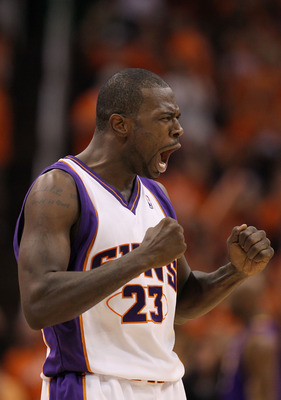 Jason Richardson is entering the final year of his contract with the Phoenix Suns. This will most likely be the most important season he will need to have since being drafted in 2001.
Richardson will have the pressure on his back to be the team's go-to guy to score the most points. With Amar'e gone, the team will need someone who can ignite the crowd, create his own shots/dunks, and perform to his best ability every night. Richardson should be that guy.
After a very impressive end to the season and playoff run, Richardson looks to improve off his recent success. He lost the extra weight he brought with him to start the season and got into excellent shape toward the end of the season. This will carry to next season and possibly help him return to his high-flying days he showed in Golden State.
Although Richardson isn't the best defender for his position, he continues to work on his toughness to improve the team's chances of another surprising season. He also needs to work on his consistency.
However, Richardson still has unbelievable leaping abilities. Because of this he is still one of the league's best dunkers. He can also rebound well for his size and position. Last season he also showed that he can continue to knock down the three and play with his heart on the outside of his jersey each night.
This could be one of the most important seasons of Jason Richardson's career. He has the ability to take his game to another level and get back to averaging 20 points and 5.5 rebounds per game. With Steve Nash in the back court and new additions making his job easy, Richardson could be on his way to a career year while also re-signing with the team at a lower salary, or choosing to move on to another possible contender.
Richardson has averaged 16.5 points and 4.8 rebounds per game as part of the Phoenix Suns.
He will make the most of any player on the Suns roster, with $14.4 million this upcoming season.
Grant Hill - Starting Small Forward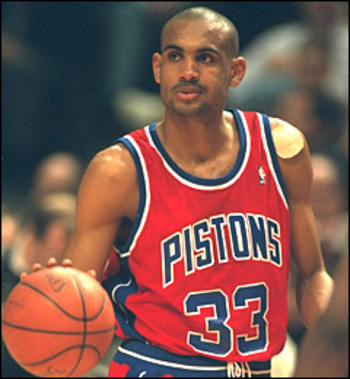 At the time Grant Hill entered the league he was thought to be the next Michael Jordan, and even though that didn't happen, he is still playing despite many injuries throughout his career.
When he joined the Suns in July of 2007, everyone thought this was his last chance to prove his career had not been flushed down the toilet. No one knew he would still be playing three seasons later, and possibly healthier than ever. Most of the thanks should go to the league's best athletic trainers, who have kept Hill and Nash very relevant despite playing into their late 30s.
Hill still has tremendous talent, although not the same when he first entered the league, he can play with some of the best. His extremely high basketball IQ is what has kept him in the league for so long. He is still an excellent slasher with speed few can match. For his size, he is a great rebounder and passer. But some say he is still a shadow of his old self.
He most likely has another season or two left in his tank to perform at his current ability. After that, he may still be able to play, but starting for a team is most likely out of the picture. Suns' fans can except Hill to play almost all 82 games next season and continue to contribute
Grant Hill has averaged 12.1 points, 5.1 rebounds, 2.5 assists, and averaged 30.5 minutes per game since joining the Phoenix Suns. He has also only missed a total of 13 games with the team.
Hill will make $3.3 million this upcoming season.
Hidayet "Hedo" Türkoğlu - Starting Power Forward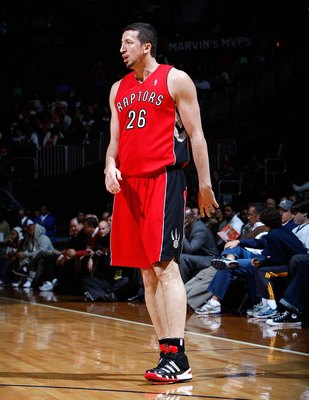 Hedo Türkoğlu has the ability to be one of the most feared athletic big men in the NBA today. And lucky for him, Steve Nash consistently does what is possible to make every other player around him have some of the best seasons they will ever have.
After a "magical" run with the Orlando Magic in 2008, Turkoglu decided to sign with the Toronto Raptors. Unfortunately for him, he did not fit in at all with their system that did not use him to his best ability. The main reason was he was paired next to Chris Bosh and Andrea Bargnani, two players who offset his offensive ability.
He had a disappointing season with the Raptors and many believe he played so well with the Magic because he was playing for a contract. But, it is hard to believe he was only playing for a contact when he was very close to winning a ring.
Now things can turn around for Turkoglu. He is in a system that will use his talents effectively, and put the ball in his hands when they need points late.
Türkoğlu is a very versatile player who can player the point or shooting guard, and the small or power forward position. He is best when used at small forward. Even though he is not quick, he is very good driving to the basket thanks to his ability to beat the defender off the first step, his size, and excellent ball handling skills. He can create his own shot and shoot anywhere on the court, especially from behind the arc. He is a very clutch player as well, and will thrive with the ball in his hands late in the game.
He will spend most of his minutes at the starting power forward position, unless a trade goes down for a true power forward. And although he will be overpowered on the defensive end, he isn't a terrible defender and will hold his ground as much as possible. But he will likely be able to beat the bigger and slower power forwards he will be matched up against.
For his career Türkoğlu has averaged 12.2 points, 4.3 rebounds while shooting close to 40 percent from behind the arc.
Türkoğlu will make $9.8 million this upcoming season.

Robin Lopez - Starting Center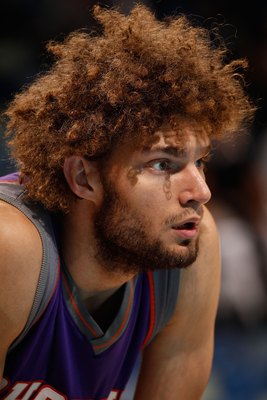 Robin Lopez possibly has the most potential of any player on the Suns current roster.
Overshadowed his whole college and NBA career by his twin brother Brook, the center has started to come full circle and establish himself as a true NBA center.
He has the size and mobility that you look for in a starting center. His size and look allow him to play physical while intimidating opposing offenses when they come in the paint, thus being an above average defender, rebounder and shot blocker – and only improving. He is able to run the floor well, which is very helpful in the Suns up-tempo system when the big men can run with the rest of the team. The fact that he can shoot the free-throw very well make it hard to just foul him in hopes to make him earn his points at the charity stripe. With a full off-season to work on his offensive game and other areas of the game, Lopez will continue to mature into a true NBA center.
Lopez had a stand-out season averaging 11.3 points, 6.3 rebounds and 1.1 blocked shots in the 31 games after he became a starter on January 18. He had a bulging disk that kept him out the last ten games of the season, and the first and second round of the playoffs. He returned from injury for the Western Conference Finals against the Los Angeles Lakers.
If Lopez is able to play a full season without any injuries, it wouldn't be a far stretch to expect 15 points and 10 rebounds from him. Achieving this will put him in the list for top centers in the league, next to Dwight Howard, Andrew Bogut, his brother Brook and at sometimes Andrew Bynum.
It will be very important for the team's front office this coming season or offseason to take their team option on Robin and extend his contract a few more years. Ensuring the team will have a young and talented true center for many years to come could help them stay relevant and ultimately win a Ring.
He will make $1.86 million this upcoming season.
Alvin Gentry - Head Coach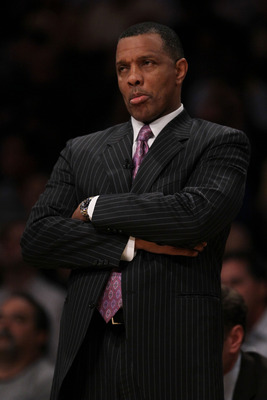 Alvin Gentry will enter his second full season with the Phoenix Suns this year.
After taking over the reins for Terry Porter in mid-2008-09, the Suns have gone back to their up-tempo style of play and have surprised many critics around the league.
No one thought the team would make the playoffs last season. No one thought they could continue to play at the current pace they play. No one thought the team could play average defense.
Thanks to Alvin Gentry, the team was able to prove everyone wrong. They made the playoffs as a third seed, barely missing the second seed. They played some of their best up-tempo basketball ever. And actually played defense!
Gentry made a strong case for Coach of the Year last year, and could look to do the same this year. If he is able to get the team back into the playoffs, possibly a top five seed, and continue to play the same style of basketball—all without Amar'e Stoudemire—he will make another strong case to win the award.
While under Gentry, the team has never been below .500. In 2008-09, the team won 31 games and lost 18 for a winning percentage of 58.1 percent. In 2009-10, the team won 54 games and lost 28 for a winning percentage of 65.9 percent. Following this trend, the Suns should win at least 51 games and lose 31 this upcoming season, which should be enough for home-court advantage come playoff time.
Keep Reading

Phoenix Suns: Like this team?