2011 NBA Free Agency: 10 Youngsters That Can't Afford A Letdown Season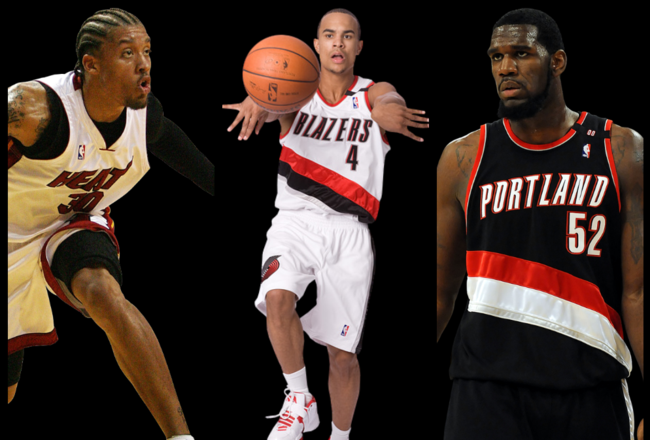 The 2010 NBA free agency period is finally beginning to calm down. Rosters are beginning to solidify, and NBA fans are already geared up to know what will happen next offseason.
Unlike this 2010 free agent period, the 2011 group won't boast the star prowess. The 2011 crop of free agents will be deeper and more balanced in regards to talent however.
That talent is extremely young and unproven in this league. Most of the players in this group will in all honesty be playing for their NBA livelihood.
So many of the future free agents may not receive many overtures if they have subpar seasons. And with the uncertainty of the Collective Bargaining Agreement, many of these guys might be playing their final seasons in the NBA.
I'm not talking about young players that went undrafted or were second round picks. I'm talking about players that were first-round selections, most of whom are high profile lottery picks.
It's scary to think that these guys could be fighting just to stay in the NBA.
However, to whom much is given, much is expected. A lot of these players received a lot of unwarranted hype and praise because of how they dominated the college or high school scenes. And although they never asked for all the attention, they never really shied away from it either.
Never the less, I hope you enjoy the slide. And like always, thanks for the read.
10. Daequan Cook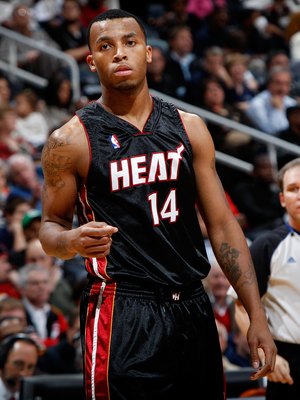 After a stellar first half to his sophomore season and an NBA Three-Point Title at the 2008 All-Star event, Daequan Cook was on top of the world. His future was as bright as any other role player on the Miami Heat roster.
That isn't the case today for the 22-year-old. After two shoulder injuries and a season that saw his numbers drop statistically in nearly every category imaginable, Cook now finds himself a member of an Oklahoma City team that has four better guards.
Cook is in the last year of his rookie deal and is a 37 percent career shooter. The 21st pick in the 2007 Draft is in a very unfavorable position. No team wants a shooter that can't make shots.
Cook will need to be brilliant this training camp in order to climb the depth charts. He'll then need to finish among the league leaders in three-point percentage in order to make sure he has a job come next summer.
9. Spencer Hawes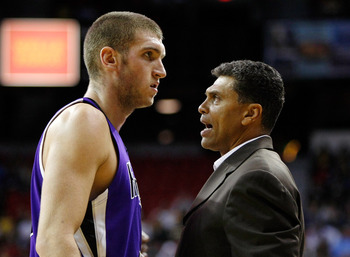 Spencer Hawes is one of those guys who comes along so often that isn't aware of their potential. The 10th pick in the 2007 NBA Draft has done everything possible to make sure he doesn't develop into one of the best centers in the NBA.
His inconsistencies and refusal to get in shape has led to him preparing for his fourth season with a new team. He was traded to Philadelphia this summer for Samuel Dalembert. Both players have expiring contracts, so clearly the Sacramento Kings no longer wanted Hawes.
The young man could really be special if he ever dedicated himself to getting his body stronger and adjusting his on-court attitude. The kid acts as if he is an All-Star center. Ever so often he has a game that makes many believe he can be, but more often then not, he's ticking off his coach.
Hawes is tremendously skilled offensively, but that will mean nothing if he can't shake his labels of being soft and lazy. The center position is up for grabs in Philadelphia, so I guess we'll all see what Hawes is made of this season.
8. D.J. Augustin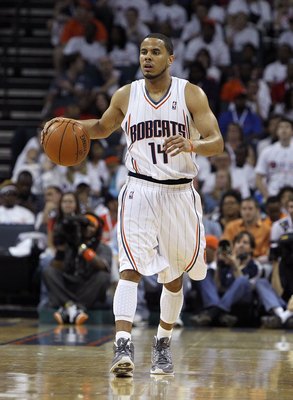 D.J. Augustin was the ninth pick in the 2008 draft. He'll forever be remembered as the player selected ahead of Brook Lopez should Lopez ever develop into an All-Star center.
Augustin is currently slated to be the starting point guard for the Charlotte Bobcats. The opportunity opened up when Raymond Felton bolted for the New York Knicks.
Not only is this his last guaranteed year under contract, but it may very well be his only chance of securing a starting position in the NBA.
He's coming off a season where he saw all of his statistical numbers drop drastically. The man with the small stature will have to come up big for himself as well as his team.
7. Jerryd Bayless
The Portland Trail Blazers probably shouldn't have traded for Jerryd Bayless in their 2008 Draft Day deal with the Indiana Pacers. And Jerryd Bayless probably shouldn't have left college after just one season. But both things happened and now the young man has to make the most of his situation.
After sitting most of his rookie season, Bayless got a chance to play bigger minutes due to all the injuries Portland suffered last season.
The 11th pick in the 2008 NBA Draft proved to be a offensive spark off the bench. But clearly he doesn't view himself as a bench player. Unfortunately for him, he'll be on a team with three other players manning his position, two of which will make over $9 million next season.
He's in the last year of his deal and in all honesty he's facing his last chance to prove to future employers that he can be more than just a complementary piece.
He'd better be ready should opportunity knock again in Portland.
6. Yi Jianlian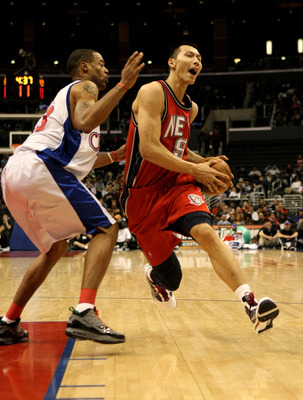 Yi Jianlian was the sixth pick in the 2007 NBA Draft. He'll be playing for his third team in four seasons.
The young man will be 23 years of age when the season begins.
Yi has a tremendous skill set and has improved as a player at a near snail like pace to most onlookers. That isn't an accurate depiction of the young man. His problems lie in coaches not being sure if he's a small forward or a power forward.
He'll get a ton of time to play both spots in Washington.
He is in the last year of his rookie deal. It'll be up to him to prove to teams if he's a legit starter or a career backup.
5. Brendan Wright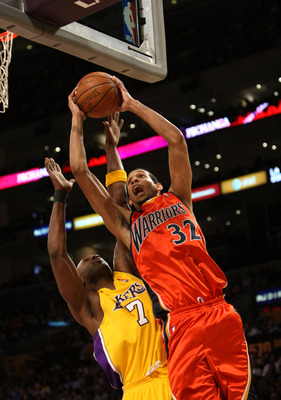 Brandan Wright was the eighth pick in the 2007 NBA Draft. Since being drafted, he's played 77 of a possible 246 games. He missed all of last season.
He is on the last year off his deal and playing for a team loaded at the forward positions.
He played well during the Summer League in Vegas and says he should be a 100 percent come training camp. The only problem is it appears that the Golden State Warriors have all but moved on.
He'd be better served if he was traded to another team. But with the NBA being so talent heavy at the power forward position, it's hard to imagine where he could go that's any better than where he is.
Anyway, he'll be a free agent come next offseason. It'll be up to him if he's one of the more coveted players available.
4. Mike Conley Jr.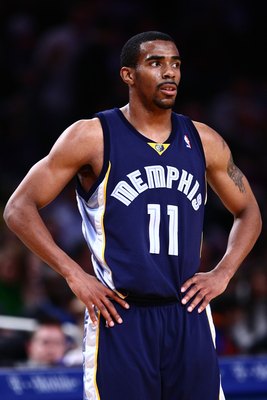 Mike Conley Jr. will be 23 years old and entering his fourth NBA season. He'll also be playing on the last year of his original contract.
He was the fourth overall pick in the 2007 NBA Draft and much was expected of him. Had Conley been a lower pick, most would probably view him as a decent player. But those aren't the circumstances.
Conley Jr. has career averages 11 points and five assists in 30 minutes of play. He also is respectable in regards to his ability to put the ball in the basket. He's connected on 44 percent from the floor and 39 percent from deep over his career.
For the past three seasons Conley has increased his numbers, and he's a very good young player that has been the point man on a team that has increased its win total each of the past two seasons…they improved by 16 wins this past season.
With that said, starting point guard positions are getting harder and harder to come by. It's growing into the most talented position in the NBA. So it's safe to say, Conley better do everything he can to keep the spot he has.
3. Michael Beasley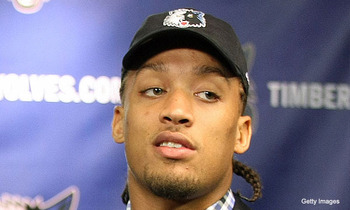 Beasley was the second leading scorer for a team that finished as the East's fifth seed two consecutive seasons. Had it been any other player, might have folks inclined to praise him. Especially being that he was 20 and 21 years of age.
The No. 2 pick in the 2008 Draft walks around with the weight of the world on his shoulders. For every good to great game he has, people rather talk about the two or three that wasn't.
Never in my 30 years of living have I witnessed a nicer guy vilified in the manner that he was by the Miami press and Dwyane Wade fan base.
Michael Beasley was both, lucky and un-lucky to end up with the Miami Heat organization. Even with all the unjust criticism in his first two NBA seasons. And inspite of all the unproven accusations.
Being drafted by the Heat sped up his development as a person and player. Beasley is a much better player now and would have not been the player he was today had he been on another team.
He now has an understanding of perspective and appreciation, and he knows that the NBA is a privilege and that he will have to work hard to get where he wants to be.
With all the harsh judgments and accusations that have been heaped upon him, an inner fire has been lit. No longer is he the immature kid that rarely takes things seriously. He's on a mission and has a lot of people he wants to prove wrong.
He's been afforded a great opportunity to become the face of a franchise now that he's in Minnesota. No longer does he carry the burden of helping Dwyane Wade. All he has to focus on now is making the Minnesota Timberwolves his team.
He has to be great this season. He can't afford another lackluster season where he doesn't dominate the man across from him. He is on his last guaranteed year of his rookie deal. The next two are team options.
He's put in all the hard work and said all the right things. Now it's time he forgets about trying to fit in…now's the time he unleashes the "Beast."
Or as he put it in a recent interview, now is the time he becomes the "Great Eight."
2. Kevin Love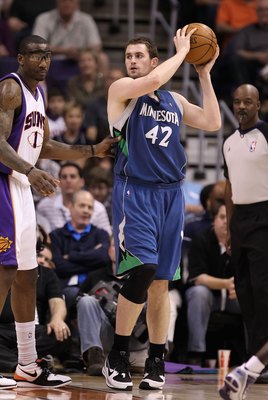 Kevin Love's situation is a very strange one. He hasn't contributed to a team making the playoffs and his numbers reflect those of a player that teams don't pay much attention too because they don't view him as a player that can take over a game.
His Timberwolves club went from 22 wins to 27 in his rookie year but then dropped down to 17 wins last season. For a player who hasn't accomplished anything of importance in his first two seasons. The fifth seed of the 2008 NBA Draft sure has been running his mouth on what he believe he deserves.
He is coming off a season where he missed 22 games and only started 22 of the 60 games he did play. Yet Kevin Love was invited to be apart of the USA select team because he averaged a double-double of 14 points and 11 rebounds per game on 45% shooting from the floor. Never mind the fact that he is a 6'10" and 260lb kid that isn't in very good shape. He's also regarded by most of his teammates as a locker room cancer.
Most questioned the invitation. Especially when the league had more deserving power forwards: Josh Smith, LaMarcus Aldridge, Troy Murphy, David West, Michael Beasley, Udonis Haslem, Andray Blatche, Paul Millsap, and so on.
Earlier this off season he commented on not being willing to come off the bench behind Michael Beasley, a player who has been the second leading scorer for the fifth seeded Miami Heat for two consecutive seasons. So by mouthing off about what he isn't willing to do, Mr. Love has basically put himself in a put-up or shut-up position.
There are speculations out of Minnesota that he can be had for the right price. He isn't a favorite of head coach Kurt Rambis because of his inability to produce in the post and create his own shot of the dribble.
Being that his contract is on his last guaranteed year, he could very well find himself looking for another team come the 2011-12 season. It want be enough for him to just post a double-double, he'll have to be a key factor as to why the Timberwolves are winning, if they win much at all.
With that said, the UCLA alum and California native officially has all eyes on him. He better not wither under the pressure or he might never get a chance to start on another team again.
1. Greg Oden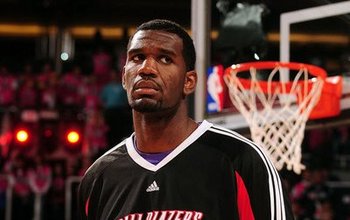 This is the last chance for Greg Oden and his dreams at stardom. It's an odd thing to be saying for a 22-year-old center measuring in at 7'1", 265 lbs. who was the overall No. 1 pick in the 2007 NBA Draft and has displayed numerous talents thus far in his two-year career. One might be tempted to call him a great center if they didn't know his history.
Not only does Oden have to deal with the pressures of having the second pick in his 2007 draft class being regarded as a top tier player (Kevin Durant), Oden must now prove that he can just remain healthy for a full NBA season. In just two seasons, he's only managed 82 games.
He is in the last year of his rookie contract and will be an unrestricted free agent should the Blazers not extend a qualifying offer.
The Blazers have taken measures to protect against Oden not being able to fulfill his obligations of staying healthy. Now the only thing that remains to be seen is if Oden will be able to protect his own future.
His chances of reaching stardom are slim to none in most folks' eyes because of his current inability to stay healthy.
The clock is ticking and his window is closing. He either puts it all together or risks never getting another big pay day. Or worse, he can risk never being taken seriously by any NBA organization ever again.
Keep Reading

Miami Heat: Like this team?