Kings Of The NBA: Kobe, Jordan, Dr. J, Mikan And Chamberlain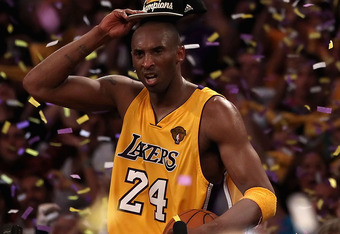 Christian Petersen/Getty Images
Mirror, Mirror on the wall, who is the greatest of them all?
Such a subjective question can only be answered by the player's body of work. When applied to basketball, we find that a player that is considered the current "best in the game" may lose his luster when the next generation comes of age.
This is understandable since the new generation may have never seen a player actually perform live. Therefore, we should only compare the work of contemporaries.
What we have seen recently is a plethora of opinions caused by a proliferation of sports news outlets, twitter, blogs aided by the maturation of the internet. Fanatics, usually abbreviated to the word fans, of a particular player or team yell loud and long when they think that object of their admiration is being short changed.
In the past, once a player was given the "greatest" moniker, it was his until retirement.
I like the old saying "he set the bar high." Basically it means that the standard of excellence has been reset to a higher standard.
In order to be the best, a player would have to exceed the highest standard of the current player. Once that player retires, a new standard may be set for the new generation. This is how it has worked in the past.
George Miken was the best of his time, but upon his retirement his "throne" was eventually ceded to Wilt Chamberlain. Shortly after Wilt's retirement, Julius Erving became the first player I can ever recall being hailed as the best player in the world.That accolade was given to him by virtually every analyst in the game, though he played in the ABA at the time.
Erving was one of the several reasons for the NBA/ABA merger. The NBA brought the Slam Dunk contest from the ABA just to highlight Dr "J" and his one-man circus act. He held sway as the best in the game until his retirement. Though there were grumblings toward the end of his career about Larry Bird and Magic Johnson, these two never reset the bar while the Dr was playing.
Upon Dr. J's retirement, the cry in the NBA was, who is going to be the next Dr. J? Though Charles Barkley, Hakeem and Clyde Drexler were in the running, they eventually faded in the stretch and Michael Jordan became the new King.
It was uncanny to watch MJ who actually played like he was cloned from Erving, but added a "killer attitude" to the athleticism. Michael eventually retired after a tremendous career, and as it was with Erving, the cry went out as to who would be the next MJ.
There were rumors of great players who would take his crown: Kevin Garnet, Grant Hill, Tracy McGrady, Carmelo Anthony, and Vince Carter all were in the discussion.
But the new "King" has been crowned, and his name is Kobe Bryant.
He does not have quite the acrobatic athleticism of a Dr. J or Michael Jordan, but he has the attitude and a skill set that has never before been seen in one player. Indeed, Bryant has such a wealth of basketball skill that if you divided it evenly between two other players they would both become stars in the league.
And let's not forget his maniacal work ethic.
Now the question is does he to keep the crown as those did before him until retirement? Or do we confuse the issue and look for a consensus every season?
Personally, I believe that to be the best in the game, there has to be a body of work to look back on as opposed to looking forward based on potential. This would temporarily eliminate LeBron James, Rajon Rondo, and Kevin Durant.
It is similar to the pole vault. Once the contestant vaults to a new height, the bar stays at that height either until someone vaults higher or the meet is over. I think it is the same with the best player in basketball. It belongs to Kobe until someone actually has a better body of work or until he retires.
Kobe has:
Five titles
The second highest personal score in NBA history with 81 points on 61% shooting accuracy (54 percent for 3 pointers).
He is only one of four players to score 60 points in a game more than once. The other three are Chamberlain, MJ and Baylor.
Kobe is one of the two players with four consecutive games of 50+ points (Chamberlain is the other).
He is one of three players to have 100 games of 40+ points scored.
He holds the NBA record with 12 3-point shots made in one game; nine consecutive 3-point shots in one game; eight 3-point shots made in one half;.
He holds Lakers records for most points scored, most consecutive free throws made (62), most free throws made in a game (23), a half (16), and a quarter (14).
He is one of three players with 40+ points in nine consecutive games; one of two players with 35 or more points in 13 consecutive games.
Let's put that 81 points in perspective. Wilt scored 100 as a center. Centers and forwards are closer to the basket and the good ones end their careers with a 50 percent scoring average. This average tells me that they dunk a lot.
Chamberlain was touted as the strongest men in professional sports, and we had Alex Karris, Bubba Smith, and Dick Butkus playing football during his career.
Kobe is a thin shooting guard. Most of his points are going to be from the outside. Going to the basket is like a wide receiver playing against linemen. His 81 points was the most impressive display of scoring that I have ever witnessed in any sport.
He is constantly developing his game most recently adding a post game. He is first in the gym and usually the last out. Work ethic gets extra credit.
No matter how much LeBron, Carmelo or Wade fans gnash their teeth and curse his name, Kobe is undoubtedly the real "King" today. Anyone else using his title is either an imposter or delusional.
We will not reset the bar until the "meet" (retirement) is over. If anyone else aspires to be the acknowledged best, they must vault over the height that has been set.
This article is
What is the duplicate article?
Why is this article offensive?
Where is this article plagiarized from?
Why is this article poorly edited?

Los Angeles Lakers: Like this team?