The NBA All-Value Western Conference Team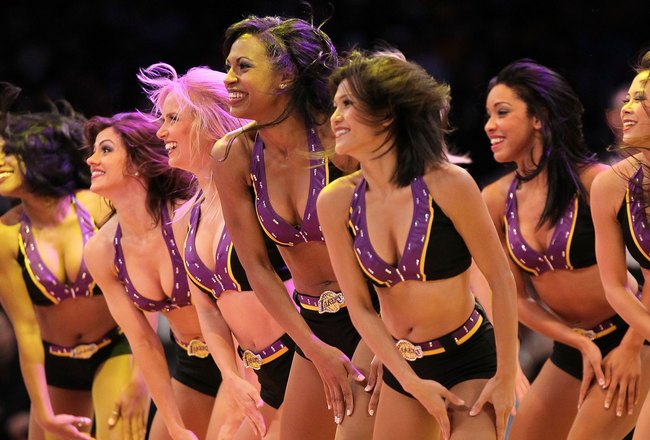 The Los Angeles Lakers were able to convince Steve Blake to sign for $4 million for this upcoming season which, while a princely sum for your average American worker in a bad economy, is a bargain in the NBA as Blake averaged 7 points, 2 rebounds and 5 assists a game.
The signing of Blake for $4 million raises the question as to what other value players exist within the NBA that a team would love to have on their roster.
Assuming you could cherry pick any player you wanted from any team, could a general manager in the Western Conference, while not having to be obligated to pay any one player more than $4 million, assemble a team of 12 quality players that could play competitive basketball?
Some of the names on the list will be obvious choices as they are lottery picks living up to the hype but there are also other non-lottery players who have exceeded expectations.
Of course, there are a couple of veterans as well to provide leadership.
Below, I offer up 12 players for your consideration as the 2010-2011 All Value Western Conference Team.
Courtney Lee, Houston Rockets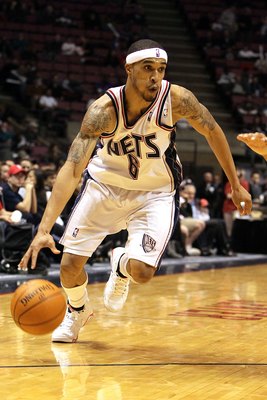 Lee is an intriguing young player in that he is playing for his third team in three years, which means he is either a problem child or teams see potential in him and want him to be "thrown into" the deal.
The smart money is on the latter.
The Rockets are enthusiastic about having Lee and General Manager Daryl Morey said upon making the trade for Lee that "We think he's a really solid two-guard. We've liked him since the draft."
Last year, Lee posted solid numbers averaging 13 points, 4 rebounds, and 2 assists while shooting 44% from the floor, 34% from beyond the arc and 87% from the free throw line.
Lee is under contract for $1.35 million next year.
George Hill, San Antonio Spurs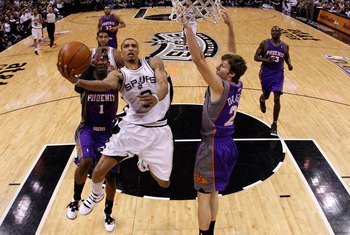 Kudos to the San Antonio Spurs scouts as the team picked up Tony Parker with the 28th overall pick in the 2001 draft and it appears that they picked Parker's heir apparent when they drafted Hill out of Indiana University-Purdue University Indianapolis (IUPUI) with the 26th overall pick in the 2008 draft.
Hill chose tiny IUPUI to stay close to an ailing family member.
Hill had a solid year, averaging 13 points, 3 rebounds, 3 assists and 1 steal a game while shooting 48% from the floor, 40% from beyond the arc and 77% from the free throw line.
Whether Parker stays or not, the Spurs should be set at the point guard spot for several years with Hill.
Hill is scheduled to make $1.08 million next year.
Matt Barnes, Los Angeles Lakers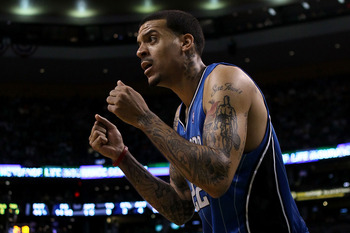 The 6'7 Barnes has solid numbers averaging 9 points, 6 rebounds and 2 assists a game but it is what he brings to the team on the defensive end which warrants his presence on the team.
Every great team needs a bench player who can come in and get in the face of the opposing team's hot hand.
Barnes is that solid defensive presence who fits the bill, as he is one of the most relentless and enthusiastic defenders in the league.
Barnes has is a very good rebounder and rarely allows his man the opportunity to sniff an offensive rebound.
If defense wins championships, the Los Angeles Lakers are well-positioned to defend their title with Barnes on the squad.
Barnes was a second-round draft pick of the Memphis Grizzlies in the 2002 draft. Barnes is set to make $1.77 million next year.
Anthony Tolliver, Minnesota Timberwolves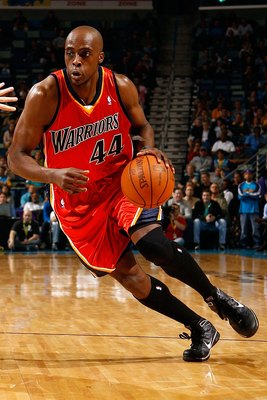 Most people know Tolliver because of his spoof of LeBron James' much maligned ESPN special. In Tolliver's YouTube spoof entitled, "The Decision: Part Deux!!" he announces that he decided to choose the Minnesota Timberwolves over the Golden State Warriors. Hopefully, more people will become aware of Tolliver's story and his talent.
Tolliver went undrafted in 2007, had stints for several NBA Developmental League teams and did a tour of a couple European basketball leagues before "making it" in the NBA. Tolliver was rewarded for his perseverance as he averaged 12 points, 7 rebounds, 2 assists and 1 block shot a game last year.
Hopefully, the Minnesota Timberwolves found a diamond in rough in Tolliver that can be a solid piece of the puzzle that begins to turn the franchise around.
Anthony signed a free agent deal with the Wolves this off season that will pay him $2.2 million a year.
Carl Landry, Sacramento Kings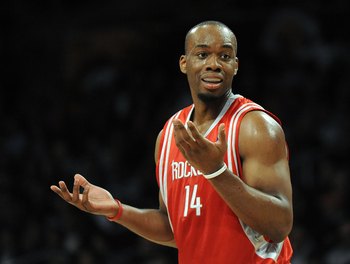 Landry is a solid player averaging 17 points, 6 rebounds and 1 block shot a game while shooting 53% from the field and 81% from the charity stripe last year. Landry's numbers are especially impressive given that he was first player taken in the second round of the 2007 draft. Landry appears to be poised to have a break out year next season with the Sacramento Kings.
Landry may be the toughest player in the league.
Landry missed only three weeks of the 2009 season after suffering superficial gunshot wounds when he was assaulted in a road rage incident.
This past season, Landry scored 27 points against the Los Angeles Clippers after losing three of his teeth the night before while attempting to take a charge on Dirk Nowitzki.
I wonder if the theme song from Shaft is played when he enters the game in Sacramento; Landry is set to make $3 million a year.
Aaron Brooks, Houston Rockets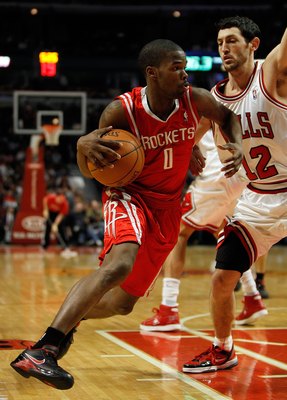 Brooks was selected with the 26th overall pick in teh 2007 draft. Brooks in his third year for the Houston Rockets started all 82 games last year on his way to averaging 20 points, 3 rebounds, and 5 assist a game.
Brooks does most of his damage from beyond the arc where he connected on 40% of his shots last year and like most classical point guards can ice a game with his solid free throw shooting where he shoots 82%.
Last year, Brooks took home the honor of the Most Improved Player in the NBA, which begs the question of whether he can take his game to the next level and become an All-Star guard.
Houston has Brooks under contract this year for $2.02 million next year.
Eric Gordon, Los Angeles Clippers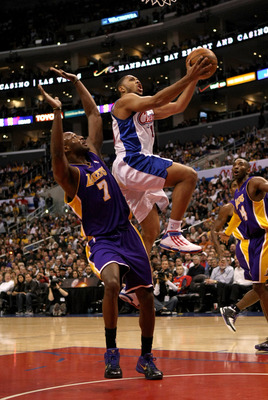 The can't-miss lottery pick taken with the seventh overall pick by the Los Angeles Clippers has been solid in his first two years in the league, starting more than 60 games each season.
Baron Davis and Gordon form one of the best back court tandems in the league.
Last season, Gordon averaged 17 points, 3 rebounds, and 3 assists a game while shooting 45% from the floor, 37% from three point land and 74% from the free throw line.
Gordon may be one of the must underrated players in the league playing in the shadow of Kobe and the Lakers and as the loyal No. 2 to Baron Davis.
If Al-Farouq Aminu and Blake Griffin contribute as expected, Gordon may have a chance to showcase his skills in the playoffs in the near future.
Gordon is scheduled to make $3.02 million this season.
Grant Hill, Phoenix Suns (Starter)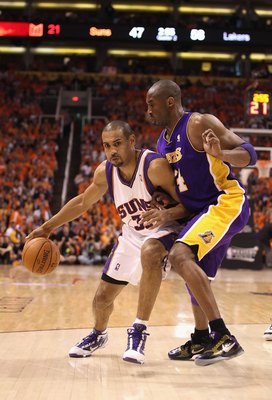 While injuries have limited Hill from reaching all of the potential of his talent, Hill remains one of the better players in the league and the Suns are fortunate to have him under contract for only $3.24 million.
Last season, Hill averaged 12 points, 6 rebounds and nearly 3 assists a game while shooting 47% from the floor, 44% from beyond the arc and 82% from the free throw line.
Every team needs an elder statesman and the former NBA Rookie of the Year. The former perennial all-NBA team member is the perfect fit for this team.
Stephen Curry, Golden State Warriors (Starter)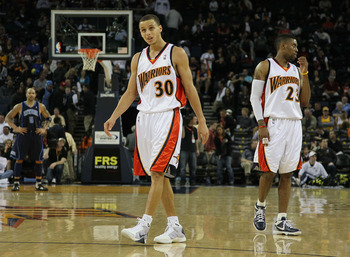 The slight Stephen Curry playing at 185 pounds is the baby faced long distance assassin for the Golden State Warriors who always appears to be making the right play at the right time.
Curry broke the NBA rookie record for most threes made in a season (166) while shooting 44% from beyond the arc.
Curry can dish as well as shoot. Last year, Curry averaged 18 points, 5 rebounds, and 6 assists.
Curry had five 30 point, 10 assist games last year, which was the third most in the league, behind only LeBron James and Dwyane Wade.
Curry is scheduled to make $2.91 million a year.
Kevin Love, Minnesota Timberwolves (Starter)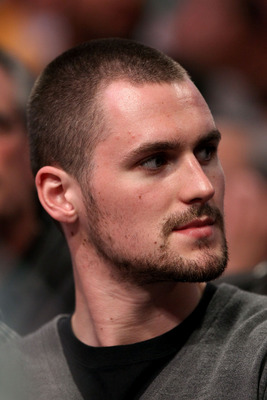 Love may be the best undersized rebounder in the game since Dennis Rodman. Love has great instincts in reading where rebounds are going off errant shots and he does a great job of getting position in the lane to get his hands on rebounds.
Last year, Love scored 14 points, grabbed 11 rebounds, and dished out 2 assists a game for the Minnesota Timberwolves.
While Love is comfortable in the lane, he is also at home beyond the arc, where he shot 33% from three point land.
Now that low-post presence Al Jefferson has been traded, expect Love's numbers to go up.
The Timberwolves have Love under contract for $3.63 million.
Marc Gasol, Memphis Grizzlies (Starter)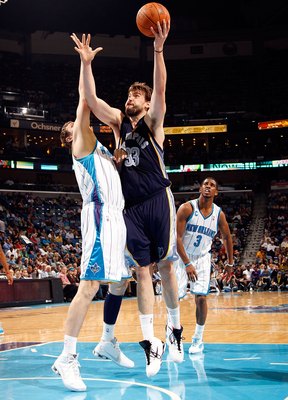 Gasol was drafted by the Los Angeles Lakers in the second round in the 2007 draft and was sent to Memphis in a trade that sent his brother to Los Angeles. While most believe that the Lakers fleeced the Grizzlies with the trade the next couple of years as baby brother Marc matures may reveal that the trade was not so one-sided. Last year, Gasol showed his versatility by averaging 15 points, 9 rebounds, 2 assists, 2 blocks and 1 steal while shooting 58% from the field.
If Gasol can improve upon his free shooting of 67% he just might eclipse his brother this year and finally lead the Grizzlies to post season glory.
Memphis has Gasol under contract for $3.57 million next season.
Tyreke Evans, Sacramento Kings (Starter)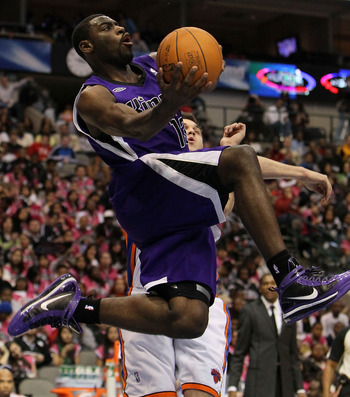 Is Evans a point guard, he did dish out nearly 6 assists a game? Evans scored 20 points a game so he must be a shooting guard or wing?
However, Tyreke is not afraid to mix up in the low post grabbing slightly more than 5 rebounds a game so he must be a forward?
He is not afraid to be the defensive stopper as he averaged nearly 2 steals a game.
Of course, the real answer is that it doesn't really matter where you play him just as long as you play him as the NBA Rookie of the Year clearly has got game.
The only downside to Tyreke's first season was his decision to drive his purple Mercedes more than 120 mph.
This will be the last year that the Kings will be able to pay Evans less than $4 million; Tyreke is schedule to make $3.88 million which should be enough to take care of any speeding tickets he picks up.
Keep Reading