Allen Iverson: Five Landing Spots For The All Star
After watching long time veterans Tracy McGrady and Shaquille O'Neal sign with the Detroit Pistons and Boston Celtics respectively, fans of Allen Iverson are beginning to wonder if he will play this season.
After suffering through some family problems, because of his gambling and drinking addictions, Iverson says he has put those issues behind him and he is ready to prove to everyone that he is still capable of putting up strong numbers.
Many people argue that Iverson is a damage to the locker room and will not take a lower role in an offensive scheme. But, in this stage of his career, Iverson is hungry for a championship.
He does not take a single possession off, and puts everything he has on the court night in and night out.
Iverson is a veteran who can still score. He can still play the point, even though his natural position is at the two.
He can produce for a team trying to contend for a championship. Here is a list of five teams that I think he could be a good fit for.
Begin Slideshow

»
The New Orleans Hornets took a step in the right direction by trading for Trevor Ariza last week to give them a solid three-point threat to complement Peja as well as a great defender.
Paul wants to get out and run and Iverson can compliment him. Iverson is a prolific scorer and is still capable of putting up 20 to 25 points in any given night.
Iverson does not need to play 40 minutes a game, he just needs to be willing to contribute. This is Chris Paul's team, but Iverson will be a great fit at the two.
Paul missed much of the season with an injury, and trading Collision to the Pacers last week, gives a definite need for Iverson to be a factor in their guard rotation.
The Los Angeles Clippers are another team that Iverson can help this upcoming season.
The Clippers can use another scorer to complement their guard play, with former all-star Baron Davis and rising talent Eric Gordon.
They also have really good big man in Chris Kaman who Iverson can mesh well with because he loves to through the lob and he can depend on him in the pick and roll game.
The Clippers number one pick Blake Griffin should be at full strength after coming off an injury that cost him the entire season. I look for the team to improve in all aspects of their team. Griffin is a complete player.
They are ready to give some Los Angeles fans something to cheer about and go to the Staples Center for a team besides the Lakers.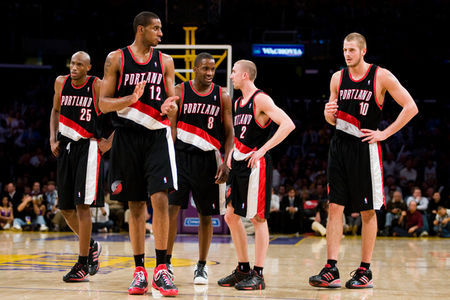 The Portland Trail Blazers are another solid playoff team that Iverson can help out in the West.
They are very talented, young team that could use another veteran to go alongside Andre Miller who we have seen that age is not factor as he poured in 50 points in a game last season. Who says Iverson can't do the same.
They have a proven all-star in Brandon Roy who makes it extremely difficult to guard him one on one, which will free up Iverson and other teammates.
They also have big men that are improving their games to contend with the NBA Champion Lakers in LaMarcus Aldridge and Greg Oden, who must stay healthy.
The Orlando Magic are one of the top contenders in the Eastern Conference, adding Iverson will improve their point guard position as well as give them some veteran experience.
They are set at guard with Jameer Nelson, as he proved his worth in last years playoffs. But injuries are always a possiblity in the NBA and Iverson can be that step in replacement.
The Magic can definitely use another scorer at the perimeter. Vince Carter was picked up to compliment Dwight Howard, but he just didn't seem to put up numbers every night.
Iverson will enjoy playing with "Superman," Dwight Howard. He makes everyone around him better. He will create more scoring opportunities and clears the paint for Iverson who loves to drive the lane.
The Miami Heat are the best possible scenario for Allen Iverson. They possess one of the greatest NBA nucleus of all-time with Bosh, Wade, and King James.
James is out to prove any doubters wrong. The Heat will win many NBA titles, which Iverson has been working for his entire career.
He has many individual accolades, but no team accomplishments. He led the Sixers to the NBA Finals in his prime, but the Lakers Dynasty stood in his way.
Iverson will take a more complimentary role in order to win a championship. Who wouldn't want to play with a distrbutor like Lebron James.
He can also help at the point position and teach Mario Chamlers the ropes. They have to be the favorite to come out the east and contend with the Lakers for the title. Allen Iverson could easily help that situation.