Indiana Pacers Victim of Roster Overcrowding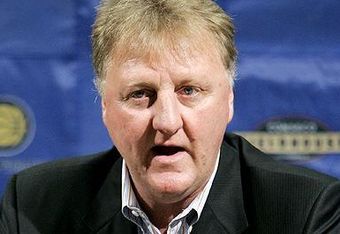 It's no secret that the Indiana Pacers have been in a rut, missing the playoffs four consecutive seasons. But according to Pacers President of Basketball Operations Larry Bird, there is some hope.
After acquiring point guard Darren Collison from the New Orleans Hornets in a four-team deal that also involved the New Jersey Nets and Houston Rockets, Bird said, "We've got a lot of young talent here. Obviously some of the guys are very new and raw. The vision I have for this franchise is to get the core group up and ready to go as quick as we can. This piece here will accelerate everything."
Larry Legend speaks the truth. Indiana undoubtedly has stacked with potential, but as of right now, the roster is too stacked.
Don't misinterpret that last statement. The Pacers aren't stacked in the same instance the Los Angeles Lakers are, but they are far from being short on personnel.
If highly-regarded draft pick Magnum Rolle is signed and veteran point guard Earl Watson departs, which is widely expected to do, Jim O' Brien's roster will contain 16 players, one over the NBA's maximum limit.
The easy solution would be to forfeit their rights to Rolle and allow him to become a free agent. That, however, may not be the wisest solution.
Rolle, who was drafted in the second round of the 2010 NBA Draft, is now being labeled as a steal after a spectacular performance in the Las Vegas Summer League.
Appearing in five games for the Pacers squad, the 6'11" Bahamian averaged 14.4 points, seven rebounds, and two blocks in 28 minutes per game, earning himself an invite to the team's training camp this fall.
With Rolle's signing expected, a trade seems imminent for the organization.
Before completing the deal that brought Collison and veteran forward James Posey to Indianapolis, the team was reportedly shopping play maker T.J. Ford on Wednesday afternoon.
After his inclusion in the four-team deal failed to occur, the Pacers front office offered Ford a $5 million buy-out of the final year of his contract, worth $8.5 million. Ford and his management quickly declined the offer.
Another failed transaction would have involved the Pacers, the Toronto Raptors, and the Charlotte Bobcats. A proposed deal that would send Jose Calderon to the guard-deprived Charlotte, Ford to Canada, and Erick Dampier back to Indiana, the team that drafted him, fell through.
Bird's reaction to the failed buy-out: "T.J. is on the team and we expect him to come in here and be professional and try to get a job and get some playing time."
If Ford can't be moved from the roster, the Indiana Pacers may attempt to trade Mike Dunleavy, who the Pacers tried to move earlier this offseason.
Dunleavey, an eighth-year forward, is also in the final year of his contract, but he is guaranteed over $10 million, so a buy-out is largely out of the question.
After losing Troy Murphy in the exchange that netted them Collison and Posey, it is not expected that the team would decide to attempt to move a big man. That rules Jeff Foster, Roy Hibbert, and Tyler Hansbrough out of any possible movement.
If Dunleavy or Ford's contracts can't be dumped, the Pacers have two remaining sensible options. They can still waive low-salary player or trade one in exchange for a future draft pick.
Regardless of how the Pacers shave their roster down to the allowed maximum, they have still far to go before their journey towards reestablishing a successful franchise is completed.
In the backcourt, Jim O' Brien and his coaching staff will have the opportunity of shaping youngsters Darren Collison, A.J. Price, Brandon Rush, and Lance Stephenson into respectable players in the league. He will have the same opportunity with the frontcourt as Paul George, Tyler Hansbrough, Roy Hibbert, and Magnum Rolle have all been in the league two years or more.
The roster also has a core of respectable veteran players such as Mike Dunleavy, T.J. Ford, Jeff Foster, Danny Granger, and James Posey.
After all, when the season begins, the Indiana Pacers will certainly have more to look forward than they had before last season, a 32-win campaign.
If, as Larry Bird says, their young players develop fully to their potential and succeed in their given roles, the franchise could be on the path towards redemption. For the future of professional basketball in Indianapolis, the organization can only hope.
This article is
What is the duplicate article?
Why is this article offensive?
Where is this article plagiarized from?
Why is this article poorly edited?

Indiana Pacers: Like this team?