Tracy McGrady: Why Does No One Think This is a Good Deal?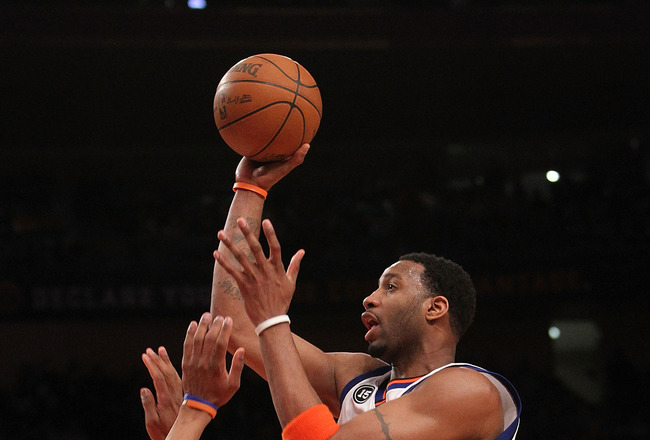 Why are fans so down on the idea of adding McGrady to the Pistons.
I for one, consider that a good move.
It is low risk, and no, there very well may not be a high reward involved. Maybe T-Mac is finished like all of bleacher reporters seems to think.
That very well could be.
On the other hand, here is a veteran who can use this one-year deal in Motown to audition for a contender, which is where he wants to play.
He knows, just like we know, this is probably his last shot at an NBA career.
If he comes in here and is disinterested, or becomes a distraction to the team in any way, then he is indeed finished. It wont cost the Pistons much at all.
Detroit is rebuilding as a team, and McGrady is trying to rebuild his career.
Perhaps I am just a homer, but there is no reason that this can't be a decent match.
Relationships only go sour when there is dishonesty involved.
This is not the case with T Mac and the Pistons.
We know he is not the wife, he is the girlfriend who is only here to make the other teams jealous and want to get back with him. And that is fine by us.
We can use each other.
The Logjam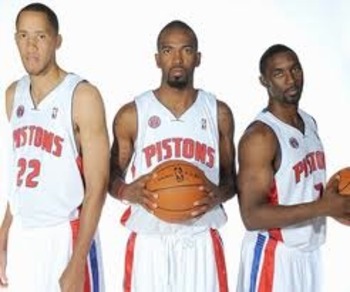 Obviously (hopefully) this is not the last roster move that the team will make before the season opens. The door is now wide open to trade Rip and/or Tayshaun and still have lots of options available.
People see McGrady as adding another aging veteran to the mix, taking minutes away from the development of the young players. But that is looking at it backwards.
The players who are truly keeping the young players from developing are long time Pistons Hamilton and Prince. Both of those guys love to log big minutes, every game.
They are both cut from the "going to work" cloth. They are not interested in sitting and watching the younger players develop.
McGrady is just getting his body back together; he will need to be spelled quite often. He won't be looking to play big minutes every night like that.
Hopefully he can get it going some nights and really light up the scoreboard.
By The Numbers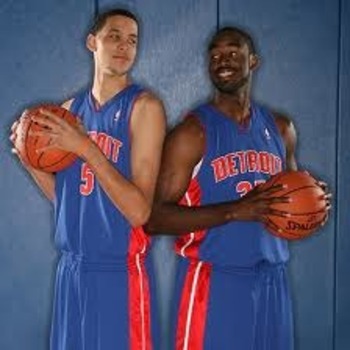 Tayshaun Prince is no doubt looking to return to his iron man status, playing his minutes in all 82 ball games. Last year Prince averaged 13 points, 5 boards, and 3 dimes in 34 minutes per game ~ which are all right around his career averages.
He will be looking to play at least that 34 minutes a night again for sure, if not more. Especially bouncing back from an injury riddled year.
That leaves very few quality minutes for Austin Daye or Summers.
Last year, while still recovering from knee surgery, McGrady played a ginger 25 minutes a night. He averaged nearly 10 points, 4 dimes, and 4 boards in 26 appearances for the Knicks.
With a more stable knee, and the help of corner man Arnie K, McGrady is going to get you almost the same numbers as Prince, in a lot fewer minutes. (…and for a lot fewer dollars!)
More importantly for the future of the team, there will be plenty of opportunities to get Daye and Summers out quality time on the court to develop.
I consider that a win-win.
Bad Boys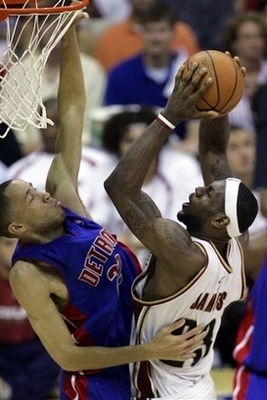 Immediately you probably read that last slide and thought that McGrady is not interested in playing defense like Prince.
You certainly lose something on D when comparing Prince and T-Mac.
But are we still grasping the idea of Prince being an elite defender in the league?
I would not describe him as that.
Danny Granger, Paul Peirce, D Wade, and Decision James all seem to put up big numbers versus the Pistons, regardless of Prince. While he is willing and solid on D, I don't think Tay is viewed as a big time defensive stopper anymore.
In fact last year in New York, our new addition T-Mac put up 21 point, 8 assists, and 7 boards at the expense of TP and the Pistons. Enjoying his best game as a New York Knick. (Tay played 33 minutes that night!)
Remember McGrady is absolutely auditioning to land a spot on a Boston, Miami, or LA bench next season. He will have to show that he is willing to dig in and play hard while he is on the court to have a shot at that goal.
Meanwhile, Summers has a very solid frame and could possibly develop into a strong defender, something you always need in this league.
Tayshaun's presence could actually be blocking that from happening.
Dumars said he wanted to return to the toughness and defensive foundation of the Pistons, but maybe quietly he has decided to go in a different direction for now.
With Gordon, Charlie V, and T-Mac on the roster, you can't expect 80-point, grind-it-out games anymore.
Shoot-outs are much more likely
Ship Rip?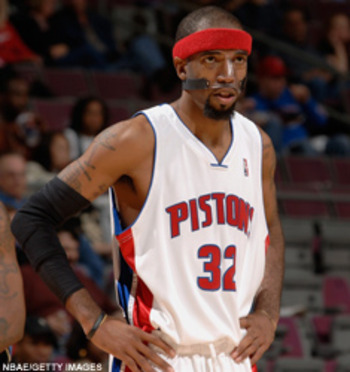 If the Pistons were to move Rip now, the backcourt would be good without him.
If we are going to lose someone as steady as Rip, it is good to add a (once) proven veteran scorer. Why not? Especially for that price.
Rip, as mentioned earlier, is one of those guys that can play big minutes leaving little time to develop younger players. He is over 33 per game for his career.
While he is very consistent, the Detroit motion offense becomes somewhat predictable with Rip.
It is actually difficult for the team to have a 'new look' running that same offense still.
Rebuilding might mean adapting to a totally different style of game.
Stuckey, Bynum, and possibly rookie White might thrive more in a free flowing, penetrating offense.
If they are able to dump Rip's contract, that would certainly be good for swimming in the future free agent pools.
More Moves To Come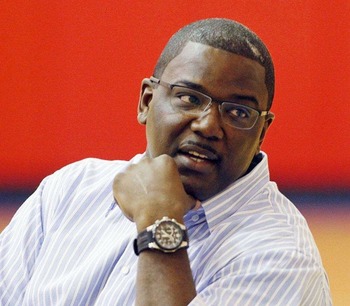 Surely Joe is planning to make at least one more roster move before the season begins.
There was a logjam on the team, now there is a f&(*#@ logjam!
McGrady is not a mistake like Allen Iverson was ~ people should not be quick to make that assumption.
This is a totally different situation.
At best McGrady is will be a quick fix while we continue to put pieces in place for the future. He will give us a bit of star power for the right now.
Even though he has slowed down a lot, at 6"8, T-Mac is still going to be able to get his shot off and be effective, unlike Iverson who still relied more on the declining quickness of his youth.
His ability to play and score out of the post (potentially) can help the offense, which has sorely lacked a post scorer. Greg Monroe should help there too.
Though he has not enjoyed much team success in his career, McGrady can score with the best of them.
You just know he agreed to come here and be a canvas for Arnie K or else Joe would not have signed him.
But even in the very worse case, if he proves to be just a bigger version of Iverson and we have to part ways with him. Big deal. We only would have lost a few dollars.
That is exactly what makes this a safe gamble for Dumars and the Pistons.
This has the slight potential to become a huge bargain. And hell...everybody loves a good sale.
With this deal, the value will be determined once the season gets underway. Why not hope for the best Piston fans?
Keep Reading

Detroit Pistons: Like this team?