2011 NBA Draft: Harrison Barnes Best, but First?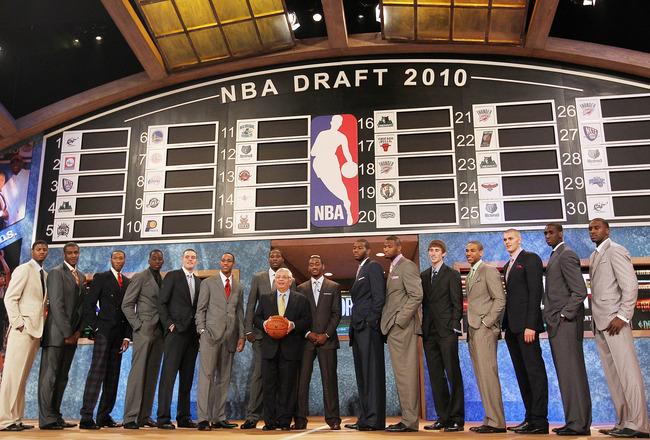 With college basketball season (and the NBA season, for that matter) just a couple of months away, it's the perfect time for another installment of the mock draft! Harrison Barnes is widely regarded as the best prospect in next year's crop, but he's no sure thing, by any means; and when there's no sure thing, that's when you know drama can happen. Who will go number 1 overall? Will it be Barnes' overall talent? Or will a GM be wooed by the potential ceiling of Perry Jones or Jan Vesely? Perhaps it will be the Turkish center, Enes Kanter, who dominated the summer tournaments so handily? Only time will tell. And now, without further ado, let's get started at the bottom...
30. Los Angeles Lakers- Kalin Lucas, PG, Michigan State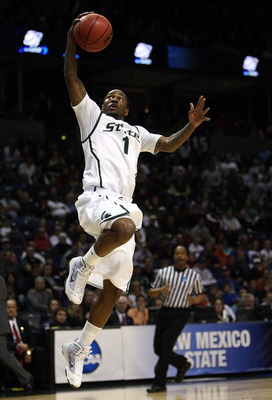 What we have here is an heir to Derek Fisher. Lucas might be diminuitive at just 6'1", he might not have the elite level athletic ability of some of the point guards higher on this list, and he might not be a pure, instinctive scorer, but he is one thing that the others aren't: a pure point guard. Lucas is a floor general, using his smarts and speed to lead his team. He learns the offense inside and out, and runs it with machine-like efficiency. On the fast break, he's greased lightning, blink and you'll miss him. He knows how to drive and draw contact, how to get to the line, where he's lights out. And, his basketball IQ is off the charts, according to collegiate head coach Tom Izzo. In other words, he's the perfect candidate to take over as the Lakers' point guard in a year or two, once he's learned the ropes.
29. Chicago Bulls- Kenneth Faried, PF, Morehead State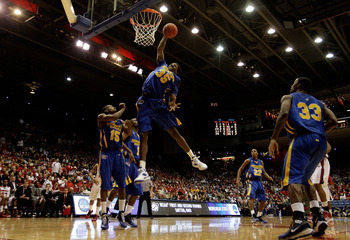 For the Bulls, the team who made the most major moves outside of South Beach this offseason, there aren't many holes that need to be filled. They've got talent, and depth at most positions, which poses the question, what's a team like that to do? The answer? Take a flier on a player like Kenneth Faried, a 6'8", 229 pound power forward at tiny Morehead State in Kentucky. Faried is an unreal athlete, who runs incredibly well and scores almost all of his points on dunks or layups around the vicinity of the basket. He can jump out of the gym, and he has a nose for rebounds, which makes him an incredibly effective player in college. However, for all there is good to say about Kenneth, there comes some negatives. He struggles to create his own offense, lacking a serious repertoire of post moves and struggling to maintain his ballhandling. His jump shot is raw at best, hopeless at worst, and his free throw shooting is disappointing for a smaller power forward like him. He can also be moved off the block by larger forwards. That being said, if a team is patient and willing to work with him, Faried has the athletic ability to be the biggest surprise of the draft.
28. Miami Heat- Tristan Thompson, PF, Texas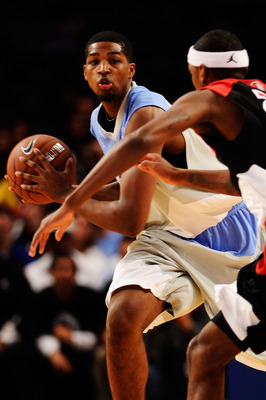 This pick heads north of the border to Toronto in the Chris Bosh deal, so look for the Raptors to try and replace Bosh with the dynamic Thompson, a 6'9" power forward who has the kind of speed and athleticism that the Raptors will be sorely missing without Bosh. He has all the potential to be a star, but, as of now, still has lots of growing up to do. Both his shot and ball handling are a bit shaky as of now, but he has continued to improve throughout high school, and, if Rick Barnes can shape him further, he may not fall nearly this far in the first round.
27. Oklahoma City Thunder- Jimmer Fredette, PG/SG, Brigham Young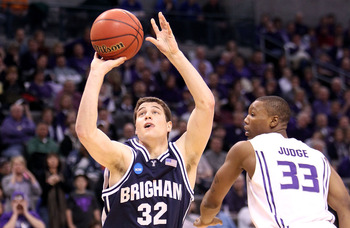 Fredette is one of a few players for whom draft day will be a mystery. Standing 6'2", Jimmer came into college as a shooting guard, but has developed his point guard skills quite well. As such, his shooting touch is perfect, and he can knock down shots from anywhere across half court. He's a patient passer who will wait till openings appear in the defense, then strike, and he rarely forces things. He's a smart player, who knows how to get the job done on the offensive end of the floor. Defenses must play him honest or risk getting burned by his quick draw jumper. Upon reaching the NBA, though, Jimmer may find things moving a bit too quickly even for him, as he lacks some of the athleticism necessary to defend the NBA's best. His lateral foot speed is lacking, but, for a team like the Thunder, who need outside shooters and energy guys, Fredette would be a perfect fit.
26. Orlando Magic- Elias Harris, SF, Gonzaga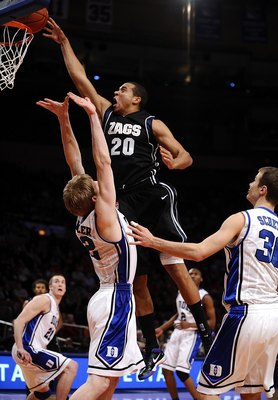 A pick based both on need and talent available; the Magic need a small forward, and at this juncture, Harris might be the best on the table. A natural athlete standing a lanky 6'9", Elias has good speed and agility, and has shown himself to be extremely aggressive getting to the basket. For someone with his slender build, he loves to mix it up and bang around the rim, and has fantastic leaping ability to put back anything that comes his way. He's an excellent defender who can guard three different positions, and excels on the fast break. But his jump shot is scattered at best; his motion almost looks as though he's slinging the ball at the basket. His dribbling skills are fairly raw as well, as he keeps the ball high, giving defenders steal opportunities. For the Magic, who need a small forward of the future, Harris presents an interesting prospect.
25. Portland Trailblazers- Damian Lillard, PG, Weber State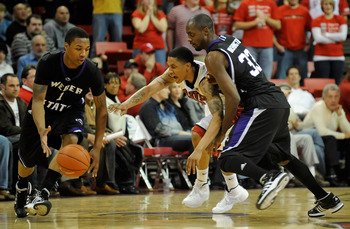 A late first-round steal, Lillard is a 6'2" point guard from little-known Weber State. He's got the size and speed to play the point in the NBA, and unlike many of the prospects on the board today, Damian can knock down shots from almost anywhere beyond the mid-court line. Off the dribble, catching and shooting, driving to the basket, it doesn't matter. He gets his points in the flow of the offense, and can find teammates to score as well. He seems to be everything that an NBA coach could want in a point guard, even if he suffers from occasional lapses in judgment. The big question going forward is, can he continue to develop into the prospect people want him to become while playing at Weber State? If not, it may be time to make the leap.
24. Boston Celtics- Greg Smith, PF/C, Fresno State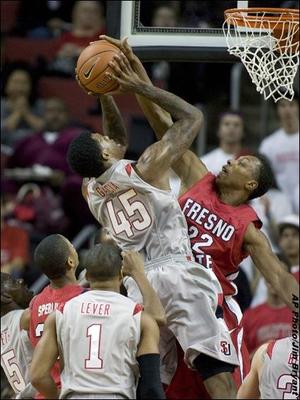 A definite sleeper pick, Smith has the size and skill to be a definite talent in the NBA. Standing 6'10" and weighing in at 249 pounds, Smith displays a deft touch around the rim and strong footwork with excellent quickness for a player of his size. He's got excellent hands, and is a strong rebounder. However, his range is a bit lacking, and for someone who plays his bruising style of play, his free throw percentage is low. He doesn't run well right now, and plays much better in the half court game than in transition, but that should improve with a bit better conditioning, while his defense isn't as good as it could be. He's the perfect type of player to take a late first round flier on, and stash behind a Kevin Garnett for a couple of years, until he gets his sea legs under him.
23. Phoenix Suns- Jeffery Taylor, SF, Vanderbilt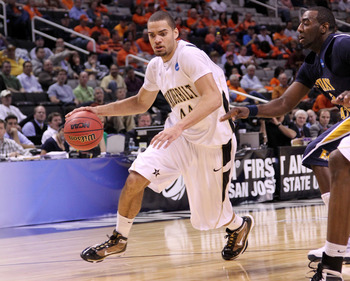 Taylor is one of the best athletes in the draft pool, much less in the early 20's of the picks. Standing 6'7" and weighing in at a solid 227 pounds, he uses his athleticism to bull through defenders or zip around them, using his strength to draw contact and still knock down the buckets. But it is the defensive end of the floor where Jeff really shines. His size and speed make him difficult to move around, and he seems to have a good knowledge of when to be in what position. But, for all of his potential, Taylor is still fairly raw; his skills handling the ball and his general game IQ are in need of some refinement. His jump shot is still somewhat inconsistent. He didn't play against elite competition until his late teens, so he's still catching up, and tends to disappear without the ball. But a couple of years learning from Grant Hill in Phoenix ought to sort those issues right out.
22. Milwaukee Bucks- Kemba Walker, PG, UConn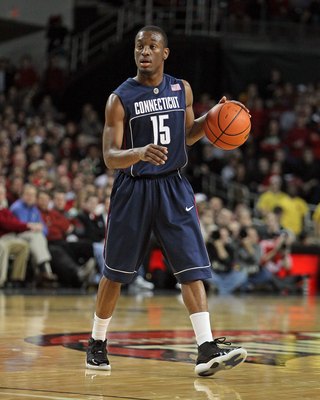 Kemba Walker is fast. The 6'0" junior guard from UConn is blazing quick, and uses that speed to it's fullest, blowing by defenders, keeping his man in front of him, driving to the basket. But Walker's no one-trick pony; he can hit on any pass, makes quick stops and turns, and is one of the best ball handlers in the entire draft. So why, you ask, isn't he higher on the list? Well, for one, he's probably actually under 6'0", which makes it easy for taller point guards to pass or shoot over him. And his decision making skills are still a bit of a work in progress, although they improved noticeably. Finally, Kemba's jump shot, while pretty, could still use some work in the consistency department. But for a change of pace guard who could step in and run the offense for multiple games should the starter get injured? Kemba Walker's your man. And down the road, say 3 or 4 years from now, he could well be running his own offense.
21. Utah Jazz- Josh Selby, PG/SG, Kansas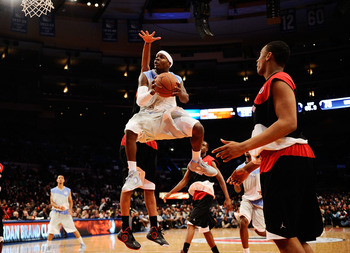 Josh Selby, a 6'3" hybrid guard headed to play for the Jayhawks of KU, presents a unique situation common amongst Jayhawk guards. While he is certainly an excellent athlete with the raw skills to run the point, like ball handling, explosive speed and toughness, he has yet to show the decision making skills that are a must at the point guard spot. His talents appear to be geared towards the shooting guard, with his strong jump shot, and knack for finding the bucket. But Selby, at just 6'3", 183 pounds, is extremely small to play the 2 guard in most NBA systems today. Defensively, he's solid, using his quickness to stay in front of his man. With some polishing, and possibly more than one year in Lawrence, this spot may climb quite a bit, but for now, he's a low first-rounder.
20. San Antonio Spurs- Jordan Hamilton, SF, Texas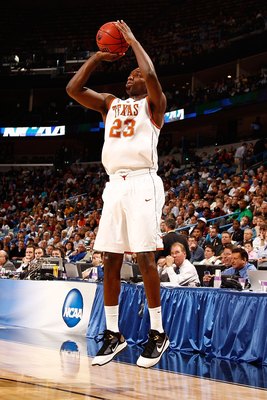 The San Antonio Spurs are getting older; players like Duncan, Ginobili and PArker are slowing down due to injuries and age, and the question becomes "Who will take their place?" A player like Jordan Hamilton, a 6'7" small forward, is a great place to start. A smooth player who lacks some of the explosiveness found in other players, Hamilton has a knack for scoring, and a pretty jump shot, which many feel he relies a bit too heavily on for a player of his skill level. When he does drive, he displays a talent for getting to the hoop, although he does tend to pull up and shoot jumpers if the opportunity is afforded to him. Defensively, Hamilton is a solid contributor, but is unspectacular. However, with a jump shot like his, he could prove a valuable asset to the drive-and-kick offense that San Antonio like to run with Tony Parker.
19. Atlanta Hawks- Mason Plumlee, PF/C, Duke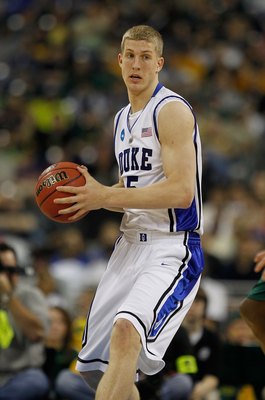 Mason Plumlee, one of a pair of twin power forwards for the Blue Devils, is an intriguing prospect for this stage of the draft. The 6'10" sophomore is a fantastic rebounder, with good athleticism and a strong mid-range game. He is most comfortable facing the basket and using his speed to get past defenders, but can post up if he needs to. His defense is excellent, paced by his strong shot blocking ability. His post up game, while present, still needs work, but shows signs of being great. He will need to bulk up a bit to hang with the bigger forwards and centers in the NBA, but for a team as in need of a big man as Atlanta appears to be, Plumlee is certainly a tempting prospect.
18. Denver Nuggets- Aaric Murray, PF, LaSalle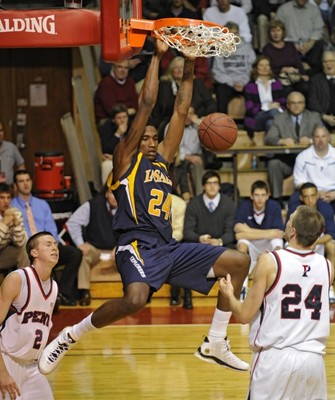 Murray might be under the radar to the casual fan, but the 6'10" power forward has certainly put himself on the map to NBA scouts, who are trekking to LaSalle to get a look at him. With the ability to post up smaller defenders and draw larger ones to the perimeter with his mid-range jump shots, Aaric is one of the more polished offensive prospects in the draft. Defensively, his length and size make him an excellent shot blocker. However, Murray isn't a great athlete, and lacks elite rebounding skills for a player his size. He could also do with a bit more strength to play in the post in the NBA, but as a perimeter power forward, he's quite good, and would fit well with Denver's system.
17. Houston Rockets- Kyle Singler, SF, Duke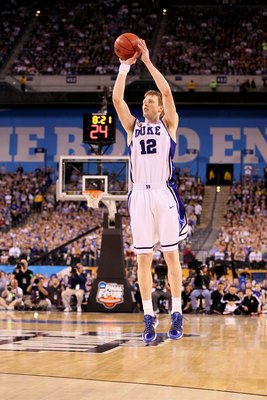 One of the biggest questions heading into the 2011 draft seems to be "Where will Kyle Singler land?" The 6'9" small forward won a national championship last season, and his Blue Devils are expected to contend for another title this year, and Singler is a big part of that. One of his biggest strengths is his jump shot, which is rock solid and has range well beyond the three point line. His rebounding skills are excellent for a small forward, and his basketball IQ is off the charts. However, his athleticism is somewhat lacking, putting him in trouble against quicker forwards, and he doesn't have the size to play at the 4 against most NBA power forwards. But on the right team, he can stretch the floor with his shooting and prove a valuable asset.
16. Charlotte Bobcats- John Henson, PF, North Carolina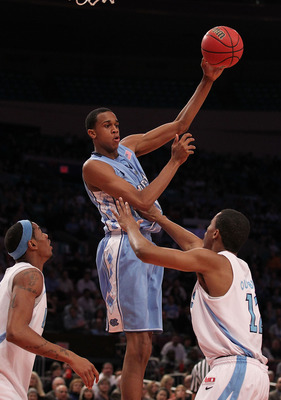 The Bobcats need a big man in a bad way, and Henson has one of the highest ceilings of anyone on the board. The 6'10" Tar Heel power forward is a wiry 200 pounds, but that doesn't stop him from being one of the better athletes in the class. His leaping ability allows him to make plays well above the rim, and his court vision is already quite good. He has soft hands around the basket, and is working on a mid-range jumper to add to his repertoire. Defensively, he is quick enough to stay in front of smaller players, while his exceptional length makes him an exceptional shot blocker. But, like so many prospects on this board, Henson is still a little raw. He needs to develop a more consistent outside shot, and must put on weight if he hopes to make it at the next level. But his skills are there, and would be a good fit for a Bobcats club that could use a strong big man.
15. Indiana Pacers- Derrick Williams, PF, Arizona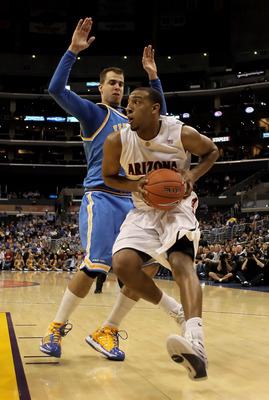 Derrick Williams was a mid-level recruit upon his arrival to Arizona, but quickly made a name for himself as one of the bright spots during a massive rebuilding effort under new head coach Sean Miller. In fact, his play was strong enough to put him on the radar of numerous NBA teams. The 6'9" forward is turning heads with his balanced game, matching a strong post game and rebounding savy with good ball handling skills. He's a decent athlete, but nothing to write home about and his jump shot could certainly use more polish, but Miller has experience with undersized power forwards, since he was an assistant coach for David West at Xavier. Look for Williams' meteoric rise up draft boards everywhere to continue with another strong effort this season.
14. Dallas Mavericks- C.J. Leslie, SF/PF, North Carolina State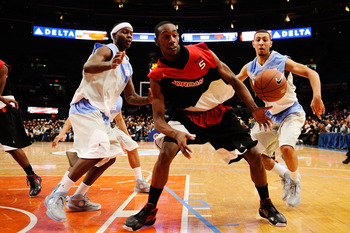 With the departure of Josh Howard and a roster of players who aren't getting any younger, the Dallas Mavericks could use an electric young do-it-all type talent, and the 6'9" Leslie is exactly that kind of player. With enough athletic ability to make plays on the ball above the rim and the speed to run on the break, C.J. is a pure athlete. His ball handling skills are strong as well, making him a candidate to pull down a rebound and immediately start a fast break, then finish it with a thunderous dunk. His jump shot needs work, but has potential. His defense is decent, but could be great with a bit of work put in. There are some rumblings that Leslie does have some effort issues, and he does have a tendency to over dribble, with a bit of polish, and some time learning the ropes in the NBA and at N.C. State, C.J. could be flying for years to come.
13. Sacramento Kings- Travis Leslie, SG, Georgia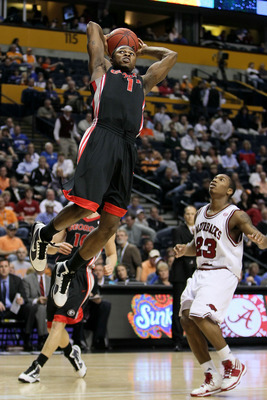 With the 13th pick, the Kings will look to fill a fairly significant hole in their roster. While Sacramento has youth and talent at every forward position and at point guard, their shooting guards are lackluster at best. Fortunately, Leslie, a 6'4" shooting guard out of the University of Georgia, is a perfect fit for their roster. Travis is without a doubt one of the best athletes in college basketball, and his slightly shorter stature is offset by an incredible leaping ability and an explosiveness that give him the ability to pull off highlight reel dunks every time he comes down the floor. That hang time also makes Leslie an excellent rebounder and shot blocker at the guard spot, while his quickness ensures he can fill passing lanes. His shooting shows promise, but is still somewhat erratic, and his ball handling skills could use some work, but for a team like the Kings, who are currently building, Travis Leslie could be a steal this low in the draft.
12. New Orleans Hornets- Fabricio Melo, C, Syracuse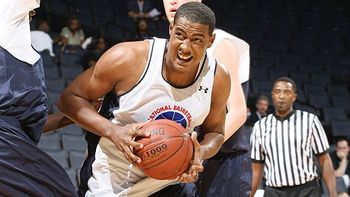 The New Orleans Hornets are in need of a center, and it just so happens that the next great center is waiting for them in the 12th spot. Fabricio "Fab" Melo, a 7'0" pure center out of Syracuse, has all the physical tools to be a fantastic center. He has the size, the length and the hands to be a strong offensive player, and his defense is already excellent, as his length and athleticism make him an excellent shot blocker and alterer. He also has a jump shot that can be honed into a valuable tool. However, on the offensive end, Fab is still very much a work in progress. His skills are there, but they're raw, and he'll need some work in that area. Fortunately, Coach Boeheim should be a big help to him, making him a late lottery pick if he decides to come out next season. (photo courtesy of rushthecourt.net)
11. Memphis Grizzlies- Brandon Knight, PG, Kentucky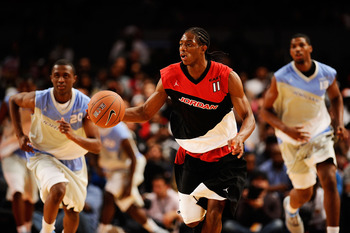 Another year, another lottery-caliber point guard for Wildcats head coach John Calipari. This year's installment, the 6'3" Knight, is one of the fastest players in the draft, and loves to push the ball up court. His speed makes him excel taking the ball to the basket, and his decision making is as quick as you'll find in the draft. His jumper is smooth and he can range out to the three-point line, but he can be streaky. His speed makes him a strong defender who can stay in front of his man. His biggest issue is that he tries to force things on occasion offensively, but it's nothing that a year in college can't fix. He should be the perfect compliment to the Grizzlies system.
10. New York Knicks- Donatas Motiejunas- PF, Lithuania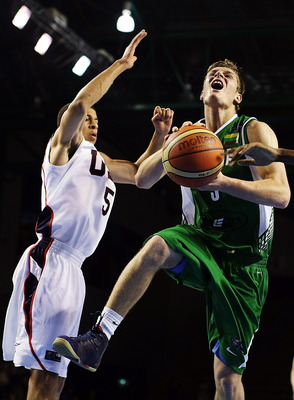 Motiejunas is one of several European youngsters who have a ton of upside coming into this year's draft. He's as athletic as any big man in this year's draft, with the ability to run the floor on the fast break and excellent ball handling skills in transition. He has a strong inside-outside game, with the ability to back defenders down in the post or turn and knock down shots from anywhere on court with regularity. His 7'0" frame will cause matchup nightmares, and, when teamed with Amare Stoudemire, he could become a force to be reckoned with in the frontcourt. The biggest issues with Donatas heading into the draft are mental. He has shown occasional lapses in concentration, and doesn't always work as hard as he should. If he gets his head sorted out, the Knicks could have the perfect compliment to their franchise center.
9. Toronto Raptors- William Buford, SG, Ohio State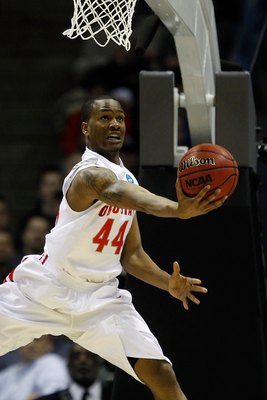 Thad Matta's Ohio State squad is once again one of the most talented teams in the country, and Buford is a big reason why. The 6'5" shooting guard has a ton of athleticism, helping him to explode around picks and screens to spot up and shoot the ball. His jumper has excellent range and consistency, and his length makes him an excellent defender. He's not the best passer on the floor, but he doesn't make many mistakes with the ball in his hands. The biggest holes in Buford's game at this point are his ball handling and his control near the basket, both of which will come in time. For now though, playing with a point guard like Jose Calderon, who can get him the ball with space to shoot, is just what he needs.
8. Philadelphia 76ers- Trey Thompkins, PF, Georgia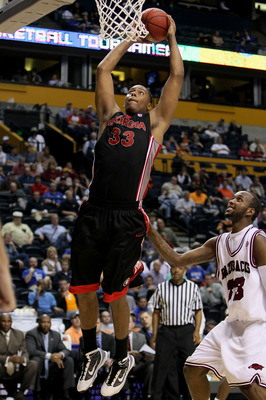 The average college basketball fan may not know much about Thompkins, a 6'10" junior at the University of Georgia, due to his team's lack of postseason success during his tenure. But Trey's skills are legit; he's a graceful, skilled forward who has the length and size to be a successful player in the NBA. His basketball IQ is excellent, and he utilizes his knowledge to punish opponents in the post when scoring and on the glass. His jump shot can range out to the three-point line, and he has the ability to play facing the basket and beat defenders off the dribble with his ball handling skills. But Thompkins has soft hands to go with his range, and does most of his damage in the post using those hands. That being said, for all his skills, this Bulldog isn't the best athlete available, and it limits his potential just a bit. He doesn't have quite the explosive ability many forwards in the draft possess, although he makes up for it with brains and finesse.
7. Golden State Warriors- Alec Burks, SG, Colorado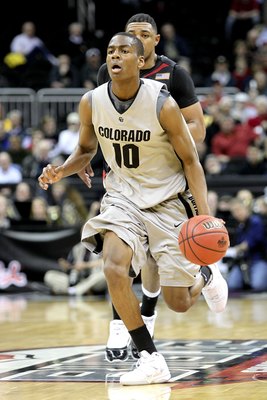 Burks was a fairly lightly regarded prospect coming out of high school despite winning Gatorade Player of the Year in the state of Missouri his senior year of high school, but has become a quintessential late bloomer at the University of Colorado. Standing 6'6", Burks possesses incredible length and athleticism. He's a classic slasher,using his great first step to beat defenders off the dribble, while he uses superb body control to finish in traffic. But where Alec really shines is on the fast break, where his speed and leaping ability result in some downright stunning dunks and alley oops. His jumper shows promise, and he's a solid free throw shooter. But because he's a late bloomer, Burks struggles to spot up and shoot, preferring to shoot off the dribble, and his decision making is somewhat lacking. His 191-pound frame is also of concern, although scouts believe he's capable of putting on close to 30 pounds of muscle. He would be a perfect fit in the Warriors' run-and-gun system.
6. Los Angeles Clippers- Jared Sullinger, PF, Ohio State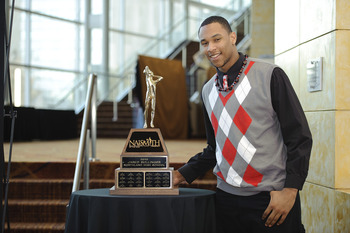 Sullinger is a 6'8" power forward who is the latest in a recent string of talented big men to choose Thad Matta's Ohio State program. While he isn't the tallest forward on the board, he's an old school banger who likes to mix it up in the post. Sullinger's low post game is already extremely developed, and he combines a soft touch with his ability to score with either hand to dominate his opponents. He does have the ability to pull the ball out and score from the mid-range area if necessary, although his jumper isn't as reliable as his post game.His rebounding skills are excellent for a power forward of his size. The biggest knock on Sullinger is his lack of athletic ability and explosiveness. He's certainly athletic, but he lacks quickness, particularly against perimeter-oriented forwards. His size could also be a significant disadvantage against the larger power forwards in the league, but his talent is undeniable.
5. Detroit Pistons- Kyrie Irving, PG, Duke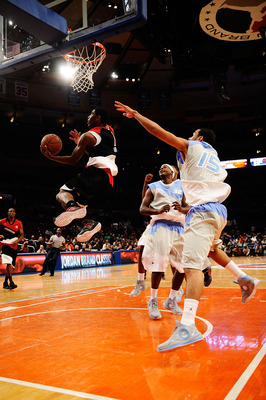 Yes, I know the Pistons have a point guard already, but this is a case of taking the best available player, rather than drafting for need. Besides, with Rodney Stuckey's height, he might be better suited to shooting guard anyway. Irving, a 6'2" pure point guard attending Duke, is one of the most dynamic guard prospects in the draft. Sure-handed on the dribble and accurate with his passes, Irving seems to have been born to run the point. With an explosive first step that makes him almost impossible to stay in front of, and the ability to change directions immediately, Irving might be the best playmaker in the draft. His shooting touch is smooth, and he has range to the NBA 3-point line. But the biggest surprise is his composure and control in pressure situations and when taking the ball into traffic. He does have a slight tendency to overdribble and get into trouble, but none of the issues with him are anything that a year of Coach K won't fix.
4. Cleveland Cavaliers- Jan Vesely, PF, Partizan Belgrade (Euroleague)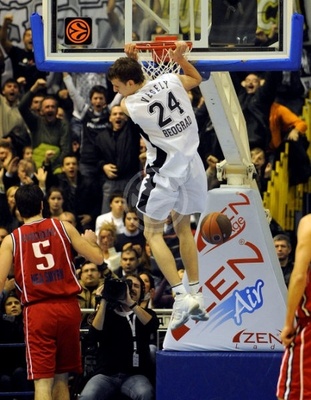 What a difference a year makes. From best record in basketball to lottery team for the Cavs, who get one of the more intriguing players in the draft. Vesley, a 6'11" power forward, has a downright Nowitzki-esque game, as a power forward who plays on the perimeter and has the athletic ability and explosiveness needed to drive past defenders to get to the basket. He moves well without the ball, and his slashing skills are excellent, allowing him to deliver thunderous dunks. His passing and ball handling skills are also strong, while he has a natural knack for rebounding. Defensively, he's capable of filling passing lanes and altering shots. But the 20-year old Serb isn't quite as polished as Nowitzki was when he entered the league, as he struggles with his consistency shooting the ball outside and from the free throw line. On top of that, bigger, bulkier forwards can bully him out of the post, and his game is much more athleticism than strength. He's also fairly raw, but with more time in the pros, that wouldn't be an issue. For a team like the Cavs, Vesely would be a perfect fit. (Photo courtesy of euroleague.net)
3. New Jersey Nets- Perry Jones, SF/PF, Baylor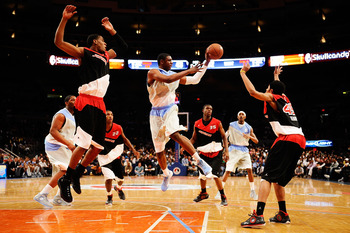 Perry Jones (shown here passing the ball) is without a doubt the player with the highest ceiling in the 2011 Draft. Despite standing 6'11", Jones' skill set suggests that he is best suited to play on the wing both in college and in the NBA. His ball handling skills, athleticism and lateral movement are designed for the small forward position, and his size will create matchup nightmares for all but a select few teams. His explosiveness and speed allow him to get to the basket well, and his jumping and height allow him to make highlight reel dunks. His jump shot has gotten progressively better, and has steadily increased in range, to the point where he should be a moderate threat from long range. With these skills, why wasn't he the first pick? It boils down to intangibles; Jones seemed to coast on occasion in high school, and when he doesn't have the ball in his hands, he tends to fade into the background. On top of that, while he has the potential to be a lockdown defender, he seldom seems to give 100 percent on that end of the floor. If he gets his head right during his stay at Baylor, we could be looking at a superstar.
2. Minnesota Timberwolves- Enes Kanter, PF/C, Kentucky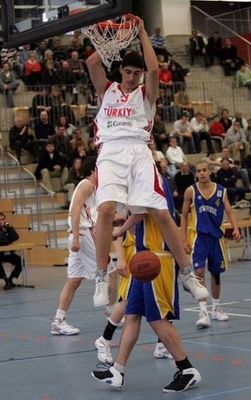 The wild card in the top 5 picks, Kanter is a Turkish transplant slated to suit up for Coach Cal and the Wildcats come fall. Given his showings during this summer's basketball tournaments, Kanter looks to be an extremely skilled big man, capable of knocking down shots from just about anywhere. He certainly isn't the most athletic power forward/center on the board, but he uses his 6'10", 260 lb. frame to position himself well on the block, in both scoring and rebounding situations. The biggest knocks on Enes are the lack of athleticism, which is made up for in apparent polish, and the relative lack of information about how his game stacks up to elite competition. Frankly, Minnesota could go guard here, but General Manager David Kahn has picked numerous guards, and with Al Jefferson in Utah, the T-Wolves could use a banger. (Photo courtesy of DraftExpress)
1. Washington Wizards- Harrison Barnes, SF, North Carolina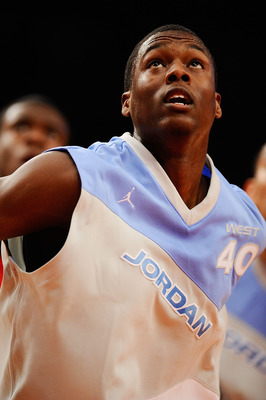 Harrison Barnes, a 6'8" small forward recruited to play for Roy Williams' Tar Heels this coming fall, is easily the most balanced prospect of the bunch, making him a logical first pick. Despite moving to the wing only in the last couple of years, he shows good touch with the basketball and an ability to get to the basket and create shots for himself. His athletic ability is unquestioned; while he isn't the best athlete in the draft, he makes up for it with his understanding of the game. He's exactly the kind of player Williams can turn into an NBA star, with a work ethic that assures that the jumps from high school to college and college to the NBA won't be too much for him.
However, while he's the best player on this board right now, he doesn't have quite as much upside as some of the other players out there (but he still has quite a bit), and he still needs some time to get used to playing the wing, although he's picked it up quite quickly. Wizards fans should be drooling over the possibility of Barnes and Wall running their team for the forseeable future.
Keep Reading