Miami Heat Inception: Is LeBron James Living a Dream or Is He in One?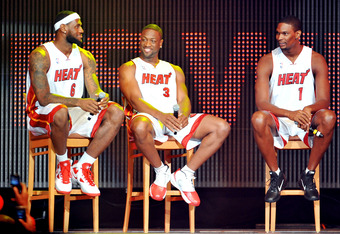 Doug Benc/Getty Images
*If you haven't seen the movie Inception and plan on seeing it then don't read this!!
**If you have seen the movie and enjoyed it then you probably won't like what I have to say about it, but maybe you'll at least enjoy the parallels to LeBron James
It's not very often that a movie comes on the scene and the concept behind it blows peoples' minds the way Inception has.
Colleagues, friends, family; it seems like everyone who sees this movie has been sucked in to the dream and wants to tell everyone else they know to go see it.
Don't go see it.
I know if you're reading this you've probably already have, but when you step back and look at the whole story you'll realize that it was just a bunch of bullshit the entire movie.
The same way I feel about Inception I feel about the Miami Heat.
Inception and the Heat look great initially. They both have a concept that we've never thought of before, both have star power, both can pull off some special effects, but at the end of the day, it's really just an ill-conceived plot.
Just like the Inception bandwagon that millions of people have boarded, the Heat will have millions of people watching in awe and people will be talking about it constantly.
The people with insight who can really delve into either's true downsides will realize that neither is anything special.
Of course I don't know exactly how the Miami Heat will perform throughout the season, but I have seen Inception and have my reasons for my dislike.
I get it. Cool, unique concept, special effects that twist and turn. What's not to love?
How about the ridiculous plot that we were subjected to for two and a half hours?
Before I even get into the main plot of the death/murder of Leo's wife and the purpose of this expedition I'll focus on the team of dreamers first.
Do people actually believe that it's conceivable that random dream machines and dream jumpers are just situated around the world?
Oh really Leo? You need some help with a mission so you jump around the rest of the world as a fugitive to grab your team of dream staff while not a single government official has any clue that these dream devices exist?
I forgot also that the potion man just has a baker's dozen of old Indians strapped to dream machines to test his concoctions on. That seems believable as well.
Go a step further and once they go into the first dream after hooking up the rich bitch to the dream machine they cruise around the city in a cargo van.
I guess if I was able to dream my own world I would definitely go with the cargo van instead of a bulletproof beast of an automobile with every imaginable weapon available.
So go ahead and call the creators of these mind-bending movie geniuses, I think they're dumb for screwing up the simple things.
The whole purpose of the storyline is for Leo to be freed from persecution over the wrongful claim of murder of his wife. The rest of the team joins him in the inception attempt I guess for monetary reasons, they really didn't lay out the whole reasoning for them joining that well.
It almost seems like the Miami Heat are the same way with LeBron playing the Leo role. He gets his team together to help free him from the persecution of failure to capture an NBA Championship. The others are in it for the championship, glory, and money as well, but LeBron is in it for himself ultimately.
He gathers the help of his friends to try and get him to his ultimate goal so the nightmarish memories that run through his mind everyday can finally be alleviated.
Leo's wife is the city of Cleveland. Leo's kids are an NBA championship.
As the movie went on we realized that Leo and his wife were caught in a dream, they thought they would live together happily and finally they would return to reality to see their kids again.
LeBron and Cleveland are the exact same way.
Both the city and LeBron were living in this dream that everything would go perfect and they would be together forever and live the perfect life, but things started to go awry.
LeBron supplanted the thought into the city that a championship would come to them, but after he realized the dream was over, the city still believed they were still in it, and when reality hit, Cleveland jumped off the building and the blame fell on LeBron.
Now just like Leo, LeBron is on the run, with guilt in the back of his mind, and the only way to free him self from the guilt is to do whatever he can do obtain his ultimate goal, an NBA Championship.
Leo wants to see his kids. LeBron wants the ring.
The real problem with this whole storyline in Inception is that it's ridiculous to think that Leo's wife would jump off the building and he immediately thinks that he would be convicted of murder so his only way out is to flee the country.
I don't know, but if the love of my life killed herself and I knew it wasn't my fault, even if she wrote a note saying it was me, then I'd still be down on the street, holding her body, and mourning uncontrollably.
Plus, the suicide happened at night and he just randomly is able to show up at his house the next day to meet his lawyer so he can get a plane ticket from him so he can leave the country?
You don't think cops would be there?
The movie is a unique idea, but it just fails on so many levels. I think the Miami Heat may end up the same way.
LeBron is just being Leo; getting all his friends together and doing anything possible for him to reach his ultimate goal.
The whole purpose of each of their expeditions is solely for their own good.
We saw how Leo ended up; back home and with his kids, getting exactly what he pursued.
I guess both of them have to shoot someone in the back at the end of the movie to get what they really want.
The question still remained at the end if Leo was finally actually reached his goal or if he was still dreaming. I think the same question remains for the LeBron.
Inception seemed great from the outside looking in, but when you see the whole story then there are a lot of unanswered questions that seem so glaringly apparent.
The Miami Heat seem to have the same approach.
LeBron will be like Leo and eventually obtain his goal of a championship, but will he have to go through the same process to get there?
Will the guilt be worth it though after realizing he was the one who supplanted the thoughts into the Cleveland Cavs fans that a championship would come their way?
How will he be able to perform with the progressions in his mind of the Cleveland fans who loved him every time he steps on the court?
Will he try to just remember the great memories and never go down to his basement of thoughts when the Cleveland fans jumped off the building?
Leo may have finally been freed and got back to his kids, but I bet he wishes his wife was still around to cherish the kids the rest of his life as well.
Will LeBron have the same thought once he gets an NBA Championship?
We'll have to wait to see how the LeBron movie ends up.
I hope for his sake that his totem keeps spinning so we don't find out he was just living a dream and wasn't in one.
This article is
What is the duplicate article?
Why is this article offensive?
Where is this article plagiarized from?
Why is this article poorly edited?

Miami Heat: Like this team?