NBA Free Agency: Derek Fisher To Miami? Don't Count On It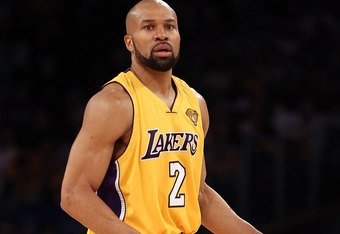 Christian Petersen/Getty Images
Rumors recently surfaced that Los Angeles Lakers' point guard Derek Fisher had reached an impasse with management over a new contract, and he was reported to have scheduled a meeting with Miami's Pat Riley.
If Miami managed to sign Fisher away from the Lakers, it would give the Heat championship experience at the point guard position, and a proven clutch shooter on the game's biggest stage.
It would also make Fisher one of the most hated figures in Lakers' history, and all he has done over his Lakers' career could be compromised by even entertaining the thought of riding the Miami bandwagon.
Fisher without question has been an integral piece of the Lakers' last five NBA championships, and Lakers' fans are passionate in their devotion to him, but that could quickly turn to anger due to his indiscretions.
The formation of the Miami super team is perceived to be a direct challenge to the dominance of the Lakers over the last two seasons, and battle lines have been drawn in the sand.
It's bad enought that three of the game's biggest stars in Dwyane Wade, LeBron James, and Chris Bosh felt the only way to unseat the Lakers would be to team up, but attempting to raid the Lakers' roster is crossing the line.
The brash and cocky nature of James was on full display last night as he promised to bring the next four NBA championships "home" to Miami, and Fisher would be foolish to exit under these circumstances.
One of the most enticing aspects about Fisher's character is the professional manner in which he carries himself, and that's why the Heat's overtures are more likely a negotiating ploy than anything else.
Fisher understands the importance of the Lakers' legacy and he understands his place in it, so why would he trade a chance at immortality for the uncertainty which awaits in Miami?
Fisher has come full circle since his two seasons away from Los Angeles following the break-up of the Lakers' mini-dynasty in 2004, and money would seem to be less of an issue near the twilight of his career.
So, if Fisher is truly contemplating leaving the Lakers there may be underlying issues which have yet to surface, and they very well could involve shooting guard Kobe Bryant.
Fisher and Bryant are said to share a mutual respect for each other which has been garnered over the course of so many seasons together, but respect doesn't always mean friendship.
Bryant is known to be callous towards teammates at times, and Fisher is no exception, but Fisher's tenure with the team makes him less willing to accept Bryant's criticisms, and that could be the reason he is exploring other options.
That scenario is opinion-based but the harsh manner in which some Lakers' fans have treated Fisher over the last two seasons is fact, and he may just be tired of absorbing the abuse.
Fisher's skills have deteriorated over the course of his 14 seasons, and his inability to defend on the perimeter has been perceived as a major achilles' heel in the Lakers' attack.
Some Lakers' fans have been merciless in their calls to replace Fisher in the starting line-up, but most have stopped short of eliminating him from the team, and with good cause.
It would be hard to replace the leadership Fisher brings to the team, but it would be impossible to replace Fisher's tendency to knock down shots at the most important moments.
Everyone remembers Fisher's daggers against San Antonio in 2004, and his big shots against Orlando in the 2009 NBA Finals, but what about the big games Fisher had in this year's Finals?
It was Fisher's strong fourth quarter against the Boston Celtics in Game Three that allowed the Lakers to escape with an important win, and there was Fisher again knocking down a big three pointer in the fourth quarter of Game Seven.
If Fisher were to leave the Lakers they could replace the player on the roster, but they could never replace the aforementioned moments Fisher has produced throughout his career.
The Lakers are aware of this and so is Fisher, so hopefully both sides can swallow their pride and remember how much they both mean to each other's legacies, because it would still mean more for Fisher to win his sixth ring with the Lakers, than his first with the Heat.
This article is
What is the duplicate article?
Why is this article offensive?
Where is this article plagiarized from?
Why is this article poorly edited?

Los Angeles Lakers: Like this team?