LeBron James Father: Lawsuit Alleges The King Is Blocking His Bloodline
Never before have we talked about one guy so much but yet heard so little from him.
That has been the case for the past two months with LeBron James. The weeks leading up to The Decision have brought forth the most discussion about one sports figure in the history of media.
There's been some strange stories far away from the free agency talk. Add this to the mix.
A man has stepped forward saying he may be the father of The King. If it was that simple a story, it would be controversial.
But wait, it gets much more salacious.
Begin Slideshow

»
TMZ reported late Wednesday that Washington, D.C. lawyer Leicester Stovell filed a lawsuit in federal court alleging that he may be LeBron James' father.
Stovell said James and his family have perpetrated an elaborate cover-up to keep Stovell from proving he's the father.
"I recently have concluded that a comprehensive, sophisticated and well-funded effort might well have been underway for quite some time, perhaps beginning in its present form as early as when defendant LeBron James was in high school, to frustrate identification of his real father, and that there is a likelihood that the father in question is me," Stovell said in his complaint filed June 23.
Stovell isn't saying he's the dad. He's just saying he wants to get to the truth and is being blocked from doing that.
"I don't want to make such a definitive statement in the absence of corroborative evidence" such as DNA," he said.
He also said the timing of the lawsuit isn't to capitalize on the hype around LBJ, just a matter of necessary legal timing.
The statute of limitations for making a claim was set to expire at the end of June, he said.
Stovell said he met Gloria James in a Washington bar in 1984 when she was visiting the city from Ohio.
James was 16 at the time and Stovell said the two had sex once.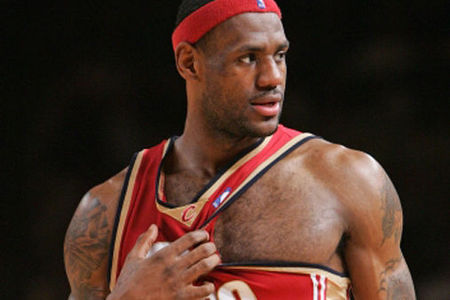 Stovell said James returned to D.C. months later to tell him she was pregnant but did not say who the father was.
He claims that James said the boy would be named LeBron, why takes parts of Leicester and Bryce, Stovell's first and middle names.
Stovell said he has been trying to establish paternity for the past three years, but has been blocked by the James family in all requests.
He said he talked to James in 2007, who said that "LeBron's money is for his children."
He said LBJ agreed to take a DNA test days later, but that the results Stovell received — showing he was not the father — were a fraud that the James family made up.
The standard line on James' dad has been that his biological father, Anthony McClelland, was an ex-con who abandoned Gloria to be a single mom at age 16.
Stovell is a Princeton and Chicago Law School grad and a former senior legal adviser to the U.S. Securities and Exchange Commission.
Now 55, Stovell said the physical similarities in height and build are striking. He also said it's no coincidence that James named his second son Bryce — again, Stovell's middle name.
I don't exactly feel bad for Stovell, who is suing for $4 million in damages.
He had sex when James when she was 15 and he was 29.
And remember, it took him 21 years after the conception to find his son.
Most of the strange stories this summer have been centered on Gloria James and an alleged affair with Cleveland guard Delonte West.
That story took a new turn today as ESPN radio host Colin Cowherd became the first one at the network to mention the story, saying he had sources that one of James' teammates did something horrible to James but that the network did not want to report it.
He also said he has sources that said James people killed a New York Post story that would have broken the story open.