2010 NBA Free Agency: LeBron James Is Decisively Overrated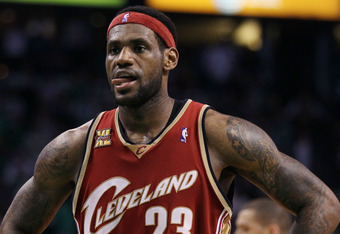 Elsa/Getty Images
Even before LeBron James started storming through the NBA one powder toss, rim-rattling dunk and poster-perfect pose at a time, the so-called king might as well have been handed a heap of championship rings, inked with permanent marker for every imaginable accolade and enshrined into the Basketball Hall of Fame.
Seven years later, Bron Bron has accomplished about as much much as Barack Obama's administration thus far: a few feats, but nothing of the venerational variety, and certainly nothing that foments the "We are watching the unfathomable" feeling.
The only thing we are watching is a whole bunch of hype and hysterics surrounding an athlete who has never achieved the ultimate prize in the one sport that allows any player to provide the ultimate impact.
Don't get me wrong: James is skilled and savvy and suitable to conclude his career as the greatest of NBA greats. He has the repertoire of Oscar Robertson, the brains of Larry Bird, the physical makeup of Karl Malone, the imagination of Magic Johnson and the winning mentality of Michael Jordan.
But what he doesn't have—or rather, what he has yet to face—is the adversity that almost always accompanies the eventual accomplishments.
After all, LBJ was virtually crowned king of the NBA empire prior to his pro ball debut in 2003.
Over a year-and-a-half earlier, Sports Illustrated plastered him on the publication's front page, with the words: "The Chosen One." In 2005, the same magazine asked the question "Best Ever?" on its cover with LeBron in the background—this coming just a year after his first postseason appearance.
When James jolted the Cleveland Cavaliers into the 2007 Finals—only to be swept by the San Antonio Spurs—the media all but put a title in his trophy case anyway, as if to say, "Second place is the new first."
And then there is the "We are all witnesses" hogwash. Come to think of it, we are all witnesses—witnesses of his playoff collapse in which the Boston Celtics bullied the Cavs out of the Eastern Conference semifinals in six games just months ago.
Regardless, the ensuing questions posed to James didn't concern this latest postseason prostration. Instead, they were wrapped around the forthcoming free-agency frenzy that has now taken full effect.
Starting last week, franchises started forming a line for LeBron's services like he was Disneyland's most popular attraction on a Saturday in July. Now, ESPN is teaming up with Camp James to deliver the most anticipated free agency signing in sports history.
Thursday night's hour-long television program (called "The Decision") will likely draw a larger audience than President Obama's congressional address this past February—which is a joke because James hasn't earned nearly as much as he has been given.
Heck, doctors might want to change the term "spoiled child syndrome" to "The LeBron James."
All kidding aside, LeBron has won nothing but two regular-season MVPs. Big deal.
On second thought, that's not entirely true—LeBron James does have one title.
It reads: "Overrated."
You can contact Josh Hoffman at JHoffMedia@gmail.com.
This article is
What is the duplicate article?
Why is this article offensive?
Where is this article plagiarized from?
Why is this article poorly edited?