Kobe Bryant vs. LeBron James: Why the King Is Really Just Heir To the Throne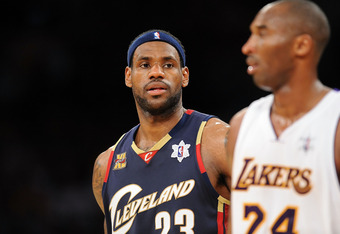 Lisa Blumenfeld/Getty Images
It's hard to imagine that people are still sleeping on Kobe Bryant. But it seems every time the alarm goes off, the snooze button gets overused.
For years, the comparison between Kobe Bryant and LeBron James has been a major topic of discussion, with LeBron falling short simply because of the championship ring amount.
However, that aspect should be a last resort to prove Bryant's superiority.
If this postseason has taught us anything, it's that Kobe Bryant has completely established himself as the only player in the league with a clearance card for the level he is on.
On his way to the NBA Finals, Bryant closed out teams and put on scoring clinics in every city he visited.
In the Conference finals against Phoenix, Kobe averaged nearly 34 points per game, and hit shots that go beyond jaw dropping.
"Those aren't shooters shots, they're scorers shots," Phoenix's Steve Nash told ESPN.
"Those are best-player-in-the-game type shots."
But the numbers aren't relevant in the Kobe v. LeBron discussion, because the "King" has them too.
The two-time league MVP has a Magic Johnson type feel for the game, and can match Kobe in almost every category outside of shooting and free throw percentage.
So where does Kobe establish himself as the rightful King, and is LeBron only the heir to his throne?
Well, we're all watching it right now.
It's called winning time.
And it's what Kobe knows best.
Although the Lakers are on the verge of defeat, Bryant has shown winning isn't just everything, but the only thing.
His third-quarter performance Sunday night proved just that. And although the Lakers still lost, there is no denying that his will to succeed far surpasses LeBron's, even in the face of defeat.
We all witnessed the King completely pack it in against the Boston Celtics. His utter lack of will power and enthusiasm shined in the final few games.
However, when faced with a similar scenario, Bryant went about things differently Sunday night.
After a poor shooting performance in the first half of last night's defeat, as Boston threatened to stomp the Lakers necks, Kobe went off.
He scored 19 points in the first eight minutes of the third-quarter, including an impressive 7-for-8 from the field.
"He's the best shot-maker in the game," Celtics Head Coach Doc Rivers told ESPN.
"There's probably better athletes and all that, but there's no better shot-maker than Kobe Bryant."
But skip what's going on now and look at the big picture of Kobe v. LeBron.
Many will say Kobe wins because his team is better than the Cavs. But how much better can the Cavs get?
They finished as the best team in the league, with a record of 61-21. They obtained home-court advantage throughout the playoffs, and added a proven scorer and All Star to the team mid-season. And they didn't give away any relevant pieces in return.
That better team stuff doesn't fly anymore, not when you dominate the regular season, own the best home record in the league, and have the league MVP at full strength.
Nope, no one is buying that excuse. At least not me.
Something drives these teams past their potential and into the promise land, and that something is on display every night the Lakers take the floor.
It's who can lead their team when the time calls on them to shine, and Kobe has proven that.
Now, with two must-win games at home, we will all see Kobe seek his fifth ring. And if he does in fact get the gold, it will not be because the Lakers were the better team, but because Bryant's will to win exceeds the box score and translates into the stuff legends are made of.
Numbers never tell the whole story. And in the case of Kobe v. LeBron, this belief holds true.
People criticize Kobe for being too selfish, but perhaps his play is what gets a stroke in the left hand column, and not an early exit in the postseason.
While Kobe involves his teammates to some extent, he knows when to pick his spots. And with three consecutive trips to the NBA Finals, the decision has obviously paid off over the past few years.
Perhaps LeBron needs to be a little more selfish, a little bit meaner, and a lot hungrier if he ever hopes to get this championship monkey off his back.
This article is
What is the duplicate article?
Why is this article offensive?
Where is this article plagiarized from?
Why is this article poorly edited?

Los Angeles Lakers: Like this team?