Toronto Raptors' Chris Bosh: Three Best Boshible Destinations for the Free-Agent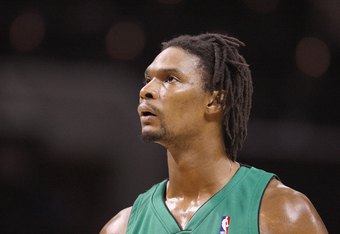 Streeter Lecka/Getty Images
Aside from LeBron James, Chris Bosh is in fact the only other top tier free-agent that has had numerous rumors speculated around his next departure.
Unlike Dwyane Wade, Bosh has hinted various times throughout the years that a re-signing with the Toronto Raptors is unlikely.
Last year, Stephen A. Smith reported that Bosh told him he wants nothing to do with the Raptors after the 09'-10' season. Allegedly, the forward had already told GM Bryan Colangelo that he will not re-sign with the team.
Bosh quickly turned down those rumors, and if you've watched ESPN during the last year, Stephan A. Smith has not made an appearance since.
Regarding Bosh's future, the eyes of Raptors fans and regular NBA fans are on opposite ends of the spectrum. We can only be certain of one thing, CB4 will become a free-agent on July 1st and he has narrowed down his list to compete for either Chicago, New York, Miami, LA, or Toronto.
Chris Bosh's Three Best "Bosh"ible Destinations
Miami Heat
Joining the Heat would pair Bosh up with one of the most sensational athletes in the NBA in Dwyane Wade.
Bosh and Wade have the same agent, Henry Thomas, and have built a strong relationship since playing together on the USA team.
Pat Riley has noted that Bosh is the teams first option, since he is much bigger than Boozer and Stoudemire and can also play better defense than the two.
The Heat have the most money in the NBA to spend during the offseason and if they deal away young gun Michael Beasley (as they plan to do), the organization will add on an a couple extra million to use in the free-agency extravaganza.
Bosh, Wade, and a possible signing of another All-Star would put Miami right back on the map and close to the top of the Eastern Conference standings for seasons to come.
Chicago Bulls
Much like the Miami Heat, the Bulls have a ton of dough to throw around this offseason.
Rumors have circulated that William Wesley has been stating that LeBron James is edging towards signing with Chicago and if so, sources believe Bosh will follow him shortly after.
With a young core, consisting of the likes of point-guard Derrick Rose, small-forward Luol Deng, and power-forward/center Joakim Noah, it's hard for the superstars to resist from bolting from their respective teams to go and compete in Chi-town.
Bosh would fit in very well in Chicago, pairing up with one of the best rebounders in the league—Joakim Noah—in the front-court.
And if James decides that Chicago is the right place for him, Bosh's next destination dilemma will quickly be a thing of the past.
Although the majority of NBA fans would be shocked to see Bosh team up with the best player in the league in Kobe Bryant, it's definitely one of the best possible destinations for the Dallas native.
If this scenario were to go down, the Raptors would have to agree to a sign-and-deal in which they would get young center Andrew Bynum in return.
Bosh would play in the front-court with arguably the most skilled big man in the NBA in Pau Gasol and alongside of forwards Ron Artest and Lamar Odom.
Regardless of whether or not the Lakers win this years Finals, adding Bosh to LA's roster would give the organization their best shot at winning the title for many more years to come.
Toronto Raptors?
Is it possible that Chris Bosh could remain faithful to the Toronto Raptors and re-sign with the team?
The Raptors are going to have to give Bosh a reason to stay in Toronto (other than making a song about it ), and while it's a possibility, the chances of Bosh leaving are much higher than staying...only time will tell.
If you'd like to read more of Brandon's content be sure to check him out at www.nbaprimetime.com
This article is
What is the duplicate article?
Why is this article offensive?
Where is this article plagiarized from?
Why is this article poorly edited?

Toronto Raptors: Like this team?