2010 NBA Finals: Be Careful What You Wish For Paul Pierce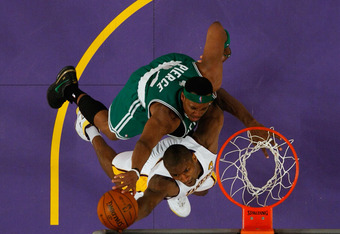 Ronald Martinez/Getty Images
"We ain't coming back to LA!"
Those are mighty big words coming from somebody who only shot 2-for-11 last night, and hasn't made a three-pointer yet in these NBA Finals against the Los Angeles Lakers.
Sure, Paul Pierce has the game to back those words up. After a relatively pedestrian (for him, anyway) semifinal round for the Boston Celtics against the Cleveland Cavaliers, he turned his game up to the max against the Orlando Magic, averaging 24.3 points, 8.3 rebounds and four assists per game.
It just sounds funny coming from somebody who only scored 10 points.
Paul Pierce is no stranger to big talk. After Game Two of the Eastern Conference Finals, he allegedly posted on his Twitter account, "Anybody got a BROOM?" He later claimed his account was hacked and deleted it. The Magic lost Game Three in Boston, but caught the Celtics napping and extended the series to six games, taking valuable rest time from the old team.
Even assuming Paul is speaking the truth about being hacked, he was quoted in the postgame interview after Game Two saying, "We're coming home to close it out." Even if the tweet wasn't his doing, it did accurately reflect his sentiment.
His mouth has gotten him in trouble in the past. Just google "Paul Pierce trash talk".
Last year, he had a Twitter comment about the 2009 NBA Finals:
"Lakers vs orlando. Looked like a german sherperd vs a poodle that's ok the rotwieler celtics will b back in 2o10 "
Obviously, "the Truth" doesn't have to be spelled correctly.
And it's not just the Magic he's mouthed off about. Just this past March, some well-chosen but as-yet-unknown words to Stephen Jackson of the Charlotte Bobcats nearly turned into a violent altercation.
But in all seriousness, it's going to take a lot more than some big words from Pierce for the Celtics to beat the Lakers in four straight games and keep the series from returning to Los Angeles.
Some history is on their side, while some is not. The Celtics beat the Lakers in all three of the games in Boston in the 2008 NBA Finals. Also, the Lakers haven't done too well on the road this playoffs.
But the Celtics haven't beaten the Lakers in Boston since 2007-08. And Phil Jackson-coached teams are 43-0 in series where they won Game One—like this one.
What needs to be done is obvious. The Celtics cannot get the job done on Rajon Rondo and Ray Allen alone. If Paul Pierce wants the title to come back to Boston for the 18th time, shooting 2-for-11 with no three-pointers just isn't going to cut it.
Then again, if he doesn't back up his words this time, the Celtics still might not go back to LA. The problem is, Kobe will be going back with one for the thumb.
This article is
What is the duplicate article?
Why is this article offensive?
Where is this article plagiarized from?
Why is this article poorly edited?

Boston Celtics: Like this team?