2010 NBA Finals: Ray Allen Early, Rajon Rondo Late Lead Celtics To Game Two Win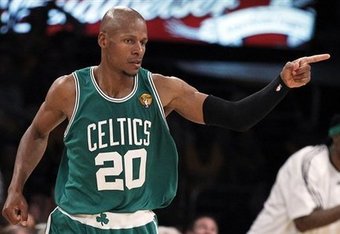 Entering the 2010 NBA Finals, the Los Angeles Lakers were 8-0 at home in the playoffs and had won 11 straight postseason games at The Staples Center. The Celtics had to know it would take an amazing effort to get a win in L.A.
After a disappointing Game One, the Celtics got just that in Game Two, beating the Lakers 103-94 to even the series. The Finals now shifts to Boston for the next three games, starting with Game Three on Tuesday night.
Reason number one for the Celtics win was Ray Allen. He set an NBA Finals record with seven made three pointers in the first half and eight for the game, finishing 8-11 from beyond the arc for 32 points.
In the first half, Allen carried the Celtics offense, with 27 of Boston's 54 points. He got started with 10 points in the first quarter. Then in the second, Allen knocked down five three pointers, and had 17 of Boston's 25 points.
For the first half, Allen shot 9-14 (64.2 FG%) while the rest of the Celtics were just 8-25 (32.0 FG%).
Boston would lead by as many as 14 points in the first half, 47-33, with five minutes left. When Kendrick Perkins made two free throws, Boston led 54-41 with two minutes to play.
The Lakers, though, quickly got back in the game, finishing the half on a 7-0 run, highlighted by Kobe Bryant's steal and three pointer right before halftime.
In the third, the Lakers picked up where they left off, with a 9-2 run. Pau Gasol (25 points, eight rebounds) made a jumper at 10:02 to reclaim the lead for the Lakers, 57-56.
There would be five more lead changes in the third quarter, and the game went into the fourth tied 72-72.
L.A. appeared to be taking control of the game in the quarter too. Bryant hit a jump shot with a little over five minutes left to put the Lakers on top 90-87.
Now it was time for Boston's number two star, Rajon Rondo, to step forward. Boston outscored L.A. from that point on 16-4, with Rondo scoring eight of those points.
He had a drive to bring Boston within one, 90-89. Then his basket with 3:18 left, the game's 18th and final lead change, put Boston on top for good 91-90.
Kevin Garnett scored from inside the paint and then Rondo knocked down a jump shot for a five-point lead, 95-90, with less than two minutes to play.
Rondo finished the game with his second triple-double of the playoffs, with 19 points, 12 rebounds, and 10 assists, scoring 13 of his points in the second half.
In addition to Rondo and Allen, I imagine the next most popular topic from this game will be the officiating.
From Boston's perspective, its big men were sending the Lakers big men to the foul line virtually every time they touched the ball in the first three quarters. After three quarters, Gasol and Andrew Bynum (21 points, six rebounds) had shot 23 free throws to just 14 for Boston, and all of Boston's interior players had at least four fouls.
For the game, the Lakers went to the line 41 times to just 26 for Boston. The numbers are even more lopsided when you discount the 10 free throws Boston took at the end of the game when L.A. had to foul.
But, from a Laker's perspective, they are probably upset today that the officials had the audacity to actually call five fouls on Bryant.
Also, LA fans are probably still talkin about one call specifically that did not go their way. Bryant hit a three to cut Boston's lead to 98-93 with 52 seconds remaining. Boston then threw a deep pass to Ray Allen, that forced Allen to chase it down in the corner of the court.
Allen was off balance, and instead of holding on to the ball, he tried to throw it across court. Rondo had to chase the ball down. It looked at first as if Rondo could not get to it, as the ball deflected off Rondo's fingers to Derek Fisher.
But the officials called a foul on Ron Artest. I did not see a very good replay of the call. ABC's Mike Breen said it looked to him in full-speed that Artest grabbed Rondo.
I don't know if he did, but even if he did, the call bailed out the Celtics when Allen never in the first place should have made such a risky pass in that situation (especially to a poor free throw shooter in Rondo).
Was it a game-changing call? Probably not, as the Lakers still trailed by five with time running out. But, with the foul called, and Rondo making one of two at the line, the call definitely altered how the final 40 seconds played out.
Officials aside, Boston in many ways looked like a completely different team in Game Two.
The defense was back, limiting the Lakers to 40-percent shooting.
Bryant basically was able to do whatever he wanted in Game One, but the Celtics made him earn everything in Game Two. He was never able to get on track, finishing with 21 points on 8-20 shooting.
After being abused on the boards in Game One by L.A., in particular Gasol, the Celtics out-rebounded L.A. in Game Two 44-39, and 13-10 in offensive rebounds.
Also, Boston had 10 turnovers at halftime, eight in the second quarter alone. But the Celtics took care of the ball much better in the second half, with only two turnovers.
The unsung hero for the Celtics was the play of Nate Robinson specifically, and the bench play in general. As the third quarter wound down, Rondo was clearly out of gas, as he had played the entire game to that point.
Robinson started the fourth quarter, and scored seven straight points in a three-minute stretch. Had Robinson not played well, Doc Rivers would have had to put a tired Rondo back out there quickly. But due to Robinson's play, Rondo got enough rest, and was able to carry the Celtics down the stretch.
As for the other bench players, Rasheed Wallace had seven points and seven rebounds, and Glen Davis had eight points and seven boards, including a pair of important hoops early in the fourth.
Tony Allen only had two points, but gave Boston some good minutes, including a big steal that led to a fast-break layup for Robinson in the fourth quarter.
While Boston did look better in many ways, Kevin Garnett and Paul Pierce continued to not play well. Garnett was terrible most of the night, and in foul trouble essentially throughout, and Pierce was actually worse.
They shot a combined 4-16 with only eight rebounds. Garnett noticeably had trouble grabbing any rebound in traffic, and Pierce struggled the entire night on offense.
In the third quarter, even with Allen setting shooting records, Pierce forced the offense, shooting 2-8, while Allen managed only two shots in the quarter.
Garnett did chip in six assists and had an important basket to put Boston ahead 93-90, and Pierce had a few good moments on defense. But, they were both rescued by their teammates, and the Celtics will need a better effort from both when the series resumes on Tuesday night.
You can also read this article here at 4SportBoston.com
Follow Stew Winkel on Twitter - http://twitter.com/stew_winkel
This article is
What is the duplicate article?
Why is this article offensive?
Where is this article plagiarized from?
Why is this article poorly edited?

Boston Celtics: Like this team?