Lakers-Suns: The Real Victory in Game 5 Was Jackson's Gamble Paying Off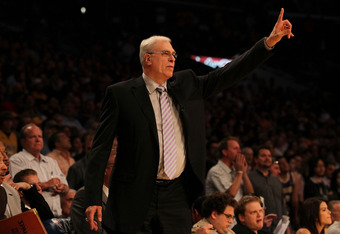 Jeff Gross/Getty Images
Lost amidst Ron Artest's thrilling last second put back of Kobe Bryant's three point miss to win Game Five of the Western Conference Finals was the coaching decision made by the Lakers' Phil Jackson.
When Kobe Bryant picked up two quick fouls in the early minutes of the first quarter, Jackson did what every coach must do: sit the player.
But most coaches would wait until late into the second quarter, or even possibly not bring the player back until after halftime at the risk of the such a key component picking up a third foul so early in the first half.
But not the Zen Master. Jackson went all in, risking everything, by sending Kobe back into the game with under ten minutes still left in the first quarter. It was a calculated gamble but a necessary one.
Phoenix started Game Five on fire, breaking out to a near 10 point led in the early going. Nothing the Lakers seemed to do could stem the tide. With the best player on the planet sitting on his bench, and the Suns racking up more and more points, Jackson knew he had to do something and do it fast.
Game Fives aren't called the pivotal game for nothing. With a series tied two to two, it really is a best of three battle at this point. And, the winner of Game Five holds all the cards.
In this series, whoever won this pivotal game would hold a major dominant hand. A Lakers win would send them to Phoenix with the knowledge that a game seven, if necessary, would be back in LA.
If the Suns took this vital game, they would have a closeout game on their homecourt in Phoenix for Game Six.
No, last night's game was do or die for both teams. And, Jackson knew this. That is why he re-inserted Kobe back into the game so early with two fouls. He had no choice.
I'm not sure what other coach would have made such a bold move. Jackson has a knack for trusting his intuition and being in touch with the vibe of the game as well as his players. And, he has an uncanny gift of good timing.
But, the NBA's greatest coach hasn't become that by accident. He has done it because he is also a masterful strategizer and coach. And, he painted another masterpiece on his legendary canvas in Game Five.
From the opening tip, Kobe Bryant showed up to play but the referees wouldn't let him. His two early fouls put the entire Lakers season in jeopardy. Jackson weighed the odds and gambled. Boy, did it pay off.
Notching a near triple double for the third game in a row, Kobe led the Lakers to a last minute victory. He was head and shoulders the best player last night. That is why Jackson had to have him on the court.
So, the Lakers victory in the pivotal Game Five might look like it had something to do with Ron Artest but it didn't really. That was just the end result to the brilliance of a player and his head coach.
The real factors of the Lakers win were Kobe Bryant's dominant play and his coach making that bold decision to keep his star on the court, trusting Kobe not to pick up another early foul. Bryant didn't and that is the reason why the Lakers are one more focused win away from a return trip to the NBA Finals.
They have their Zen Master coach to thank now besides Ron Ron.
This article is
What is the duplicate article?
Why is this article offensive?
Where is this article plagiarized from?
Why is this article poorly edited?

Los Angeles Lakers: Like this team?