Ron Artest: The Artest of Redemption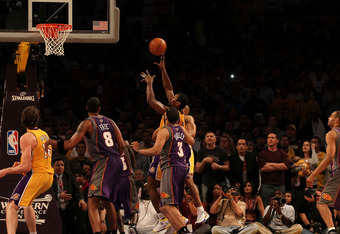 Jeff Gross/Getty Images
We all question Ron Artest's thought process.
Why did he take that shot?
Where are you going?
What are you doing?
These are the common questions that we ask Artest basically every game. We all understand that the Triangle Offense is confusing at times and though Artest is a veteran, his struggle is obvious.
Just a year before Artest's arrival to Los Angeles, he was trying to defend this very Triangle Offense. One moment Artest was harassing Kobe on his every move and he was disrupting the flow of the Lakers offense. Another, Artest would make one bad shot after another and he it seemed never ending. Isn't it interesting how one can change "sides" so fast?
The Lakers knew that Artest wasn't here to shoot, he was here to be a defensive presence of the floor, and he was brought here to be a "garbage man" if you will. So far he has done his job exceptionally well if you exclude the poor shot selection that Artest never seems to learn from.
This year, Artest's field percentage was 0.414% and shot 0.355% from beyond the arc. This may not look too bad considering he isn't a knock down shooter, but the numbers are deceiving. What frustrates Phil and most Lakers fans is not his lack of knowledge about the very confusing Triangle Offense, but his poor shot selection.
Today's Game 5 against the Suns proved to expose Artest's shot selection once again.
The game today had buzzer beater written all over it. The Lakers once again let the foot off the throat too early, blowing 11-18 point leads all throughout the game like it was cheap bubble gum.
How frustrating it was to watch this jaw-dropping performance by the Phoenix Suns and to watch the Lakers play soft once again.
As most Lakers' games do, it came down to the wire once again.
It's Kobe time once again right?
With 25 seconds to go, Kobe dishes the ball to Pau and somehow he managed to blow the "clincher."
I'm guessing you are all aware of the term "the third time is the charm" right?
The Suns created another version to that term tonight—"the fourth time is the charm."
Nash managed to miss on pull up three, Channing Frye managed to miss, Jason Richardson managed to miss, and yes the Lakers still have not boxed anybody out, and on the fourth the bank was open for Richardson. There were still 3.5 seconds on the clock and everybody knew who was going to "hit" the last shot, and yes Kobe is going to make it.
The Lakers in-bounded the ball to Kobe and he was instantly in the air on a fade away jumper. The ball seemed to hover in the air like a UFO and it did not look good.
Well I guess it's time for overtime.
Ron Artest out of nowhere, flew in and made the put back to seal the game. Can you say redemption?
Artest managed to make up for his previous "shots" in the best way possible.
The Lakers are now up 3-2 heading to Phoenix and it was possibly the worst way to head home for the Suns. Because Richardson and the Suns paid too much attention to Kobe as every team does. Artest flew past Richardson like a ghost and in a split second, it was over for the Suns.
Luck?
"One good shot deserves another" says Phil Jackson.
This may have been the fastest point of redemption in the history of the game and it was done by Artest.
It was a beautiful sequence that I will remember for a very long time.
I think Artest has earned a new title, "The Artest of Redemption."
This article is
What is the duplicate article?
Why is this article offensive?
Where is this article plagiarized from?
Why is this article poorly edited?

Los Angeles Lakers: Like this team?