You Just Can't Count the Suns Out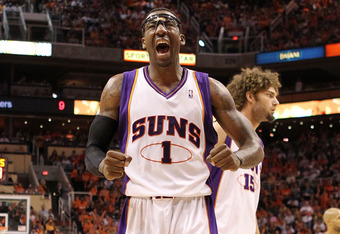 Ronald Martinez/Getty Images
Just a week ago, The Phoenix Suns had been read their last rites. They were in the ground and dirt was being tossed on. The ubiquitously quoted statistic of Phil Jackson's teams being 46-0 in series in which they win game one was part of the last rites. Down 2-0 to the defending champions, LA fans had their brooms out.
Even before the series started, I was openly mocked by many with my prediction of a long, competitive series (especially since I picked Phoenix to win game seven in Los Angeles to move on to the NBA Finals ). I understand in part, because at a glance it seems absurd.
Admittedly, my pick was based largely on the belief that Andrew Bynum would be ineffective because of his knee injury and that Kobe Bryant's lingering injuries would take their toll on him. The former has certainly been evident, while the latter has been anything but.
However, there is just something special about this year's Suns team. It is almost magical. Being a lifelong Arizona sports fan, I can recall the 1993 Suns team that had its failed title run.
That team was different. All year it played as a frontrunner. All of us felt that they were the team that could actually do it.
This year's team is different. Nobody thought they would be title contenders. I was one of an optimistic few. I predicted 50 wins and a sixth send, but felt that they would go down in the first round of the playoffs.
This Suns team strangely resembles the 2007 Diamondbacks and the 2008 Cardinals. They were seemingly overachieving teams that found great success. These teams shocked the world with their play.
Unlike the '93 Suns team, there is no expectation of greatness, but what is very distinct is how the current Suns team carries itself. The Suns quietly and confidently believe that they can beat anyone. They have no fear.
In recent years, we have seen great success on the court, but there have been issues in team chemistry. First it was the friction between Shawn Marion and Amare Stoudemire. Then it was the "fitness club" bench.
Later was Terry Porter against seemingly the whole team. Then there was Shaq, whom teammates adored as a guy on the team, but who also created some discord on the court.
The current squad has been compared to a college team. The players are all friends. They hang out together as a team. They genuinely root for each other.
Even when it seemed that Stoudemire was likely embarrassed when he did not play in the fourth quarter of a game against Dallas when he had collected a whopping single rebound, there was no immediate resentment.
He and the rest of the team cheered on the reserves as they brought the team back to win the game.
When the reserves play, the starters gladly take their place on the bench and become cheerleaders. The bench players do more than just keep the game within reach until the starters come back, they can be counted on in many instances to build leads or cut deficits.
Continuing with the college team look, the Suns have played a zone defense successfully for the past two games.
Another characteristic of this year's Suns is how it can be anyone who makes the big contribution, making the difference in the game (excluding, of course, Jaron Collins).
In the playoffs alone, Steve Nash, Jason Richardson, Amare Stoudemire, Robin Lopez, Jared Dudley, and Goran Dragic have all had major individual performances in games to lead Phoenix to victory.
The success that Phoenix has had should not be surprising, even though it has surprised many. They started the year out on fire, but then had a horrible month and a half (getting tripped).
The Suns changed their rotation and got on a roll. Robin Lopez goes out (a punch to the gut) and the roll doesn't stop.
In the playoffs, Portland takes game one and steals away home-court advantage (a punch to the mouth). The Suns get up and punch back, winning four out of the next five games to eliminate the Blazers.
They play San Antonio and knock them down and out before they can get a single punch in (but don't forget the memory of many previous knockouts by the Spurs).
They lose the first two games in the Western Conference Finals in almost embarrassing fashion (a standing eight-count), but then get up and deliver a couple of solid haymakers.
Whether it was just hitting shots they were missing in Los Angeles, the 'girly' zone defense, Bynum's ineffectiveness, or just taking control of the pace of the games, Phoenix is now back even, in what is now a best-of-three series.
Will they take the show out to LA and keep it going? Will they take another knockdown punch? I am not certain either way. What I am certain of is that if they are knocked down again, they will get up and punch back.
Even when the head says that the Lakers are obviously better, I just can't pick against Phoenix. I just cannot doubt this team. The Suns can, and I believe will, win this series.
Don't count these guys out. They will just prove you wrong. They have been doing it all year.
You can follow me, the (Happily) Trapped Fan , for my posts and other random thoughts that come up in my trapped life on Twitter.
Be a fan of The (Happily) Trapped Fan on Facebook! I love the interaction.
This article is
What is the duplicate article?
Why is this article offensive?
Where is this article plagiarized from?
Why is this article poorly edited?

Phoenix Suns: Like this team?