Is Ekpe Udoh a Legitimate Option for the Golden State Warriors at No. 6?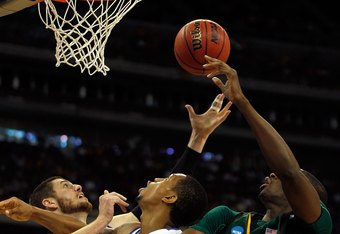 Jonathan Daniel/Getty Images
Golden State will probably not luck into a top-three talent at next month's NBA draft (unless a trade occurs). On most mock drafts, the Warriors are locked in on a few players. However, Matt Steinmetz of CSN Bay Area suggests that if the Warriors can't trade down, they should take Ekpe Udoh with the sixth overall pick.

While Udoh's stock has risen since he transferred form Michigan to Baylor, he is by no means a consensus top-six or even top-10 pick. However, his game could be beneficial to the Warriors in more ways than one.

Udoh's greatest asset is his defense. Obviously Warrior fans and NBA fans in general know that defense is not the team's strength, but statistics tell the story as well: Not since 2006-2007 has Golden State given up fewer than 106 points per game in a season.

In fact, this figure has increased to over 112 PPG allow in the last two seasons. Udoh averaged 3.7 blocks per game last season and had thirteen game with five or more blocks.

Ekpe's 18 point, 17 rebound, 10 block effort against Morgan State brought him significant attention in the national media. However, he was fairly consistent throughout conference play, and although he blocked fewer shots in the Big 12 tournament and the early rounds of the NCAA, he rebounded well in the huge matchup with Duke, blocking five shots against a large and deep team.

Hassan Whiteside, playing against mostly inferior competition for Marshall, led the nation with 5.44 BPG, while Cole Aldrich (3.47) came close to Udoh's figure (3.88) playing in the same league as Ekpe. The closest first-round prospect after Aldrich was Ed Davis (2.67).

Despite his aggressive play, Udoh rarely fouled out, and managed to play 30-35 minutes in almost every game, including against Duke. By comparison, DeMarcus Cousins managed to play 30 minutes in only six games all season, and none in last month, when it mattered most.

Depending on what position he plays (Don Nelson might ask him to defend opposing centers) in the NBA, Udoh could be pushed around. However, he does weight around 240 pounds, which is decent and compares well even to prospects such as Cole Aldrich. Udoh weighs more than 20 pounds more than Anthony Randolph did when he entered the draft.

However, Cousins could end up out-weighing him by over 40 pounds. Udoh weighs about the same as Andris Beidrins, who has been pushed around in the past, but was slowing getting better defensively before his injury.

Despite his huge wingspan (7-4.5 according to nbadraft.net ), Udoh (9.8 RPG) ranks below fellow prospects Al-Farouq Aminu (10.7), Cousins (10.1 in far fewer minutes), and Aldrich (9.9) in rebounds per game. Greg Monros isn't far behind at 9.5, while the raw Whiteside pulled down 9.2 in the about the same minutes as Cousins. Still, Udoh is in the top 30.

Ekpe fairs better in the offensive rebounding category. Aminu's and Cousins' athleticism show, with 4.2 and 4.1, respectively. However, Udoh's 3.6 is still very good, and outclasses Whiteside (2.8) and Aldrich (3.0). Greg Monroe's 2.1 is barely better than Evan Turner's figure (1.9).

Udoh's offensive capabilities are more problematic. The Warriors don't need any more offense from the guard positions, but production from the 4/5 spots could be better. Although he averaged almost 14 points per game, Ekpe was sometimes prone to bad shooting (3-15 against Ok. State, 2-10 vs. Kansas St., 4-13 against St. Mary's, 3-15 against Texas). He also averaged 2.4 turnovers per game.

Some of Udoh's low scoring numbers were due to the offense in which he played. Baylor played a guard-heavy, up-tempo offense led by scorers LaceDarius Dunn, Tweety Carter, and Quincy Acy. Udoh benefited from this offense, dishing out 2.7 assists per game.

There were even occasions when Ekpe was the best ball-handler (better A/T ratio than Dunn) and shooter (better field goal percentage than Carter or Dunn, comparable points per shot) on the floor for the Bears.

Udoh is not going to bully NBA forwards or centers in the paint, but if he catches them out of position and without help, look out . Udoh has some range (out to 20 feet, according to some scouts), and can hit a decent percentage of his free-throws (around 68 percent). However, he didn't attempt many free throws per game, mostly due to relative lack of a post-up move and ability to hang down low with bulkier centers and forwards.

In other words, Udoh, while he has many weaknesses, would add tough defense. His age (23) makes him not that much younger than Monta Ellis, and he would need to get stronger to become an elite NBA defender. But with Ellis and Corey Maggette already experts at slashing to the rim, and Curry, Morrow, and Azubuike lighting it up from the outside, Udoh's faults would largely be neutralized.

If nothing else, Udoh would be more-athletic, defensive-minded version of Andris Biedrins. Whether or not the front office would think this was worth the No. 6 pick is debatable. The upsides of Aminu or Greg Monroe might be too much to pass up.

But if the team decided to trade Biedrins as part of a package deal for an All-Star big man, or wanted to trade down, Udoh could still be in a Warriors uniform next season. Given the right role, he probably wouldn't disappoint.


(Thanks to LarryLegendofOracle at Golden State of Mind for finding the Steinmetz article and starting a discussion on Udoh)
This article is
What is the duplicate article?
Why is this article offensive?
Where is this article plagiarized from?
Why is this article poorly edited?

Golden State Warriors: Like this team?