2010 NBA Mock Draft: Post NBA Draft Lottery, Full Draft Order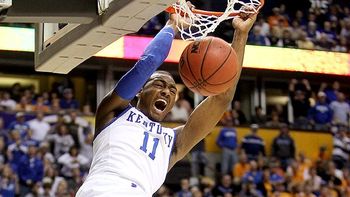 The lottery balls have decided: the Washington Wizards will pick first in the draft.
Now that we know the order, let's start the speculation. Will Washington shock the NBA world and pass on John Wall? How many Kentucky players will land in the lottery?
There's only one way to find out: just click below...
1. Washington: John Wall, PG, Kentucky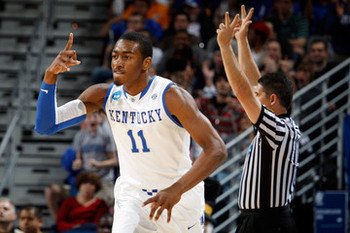 Wall is a superior athlete with great size for a point guard. He gets into the lane at will, and is basically a hybrid between Dwayne Wade and Derrick Rose.
Wall doesn't have great range on his jumper, but he does have great form. He knows when to take the shot and when to defer. His range will improve with time, as will better decision making skills. The sky is the ceiling for Wall, and he's going to go straight through it.
Wall is a perfect fit in Washington. Only one question remains: what will the Wizards do with Gilbert Arenas?
2. Philadelphia: Evan Turner, SG, Ohio State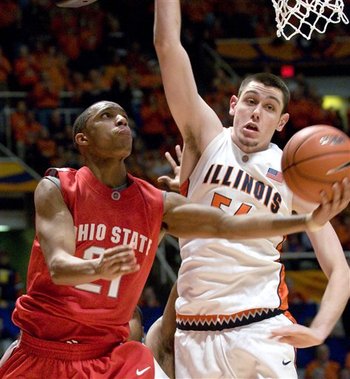 Turner was clearly the best all-around player in college basketball last season. He has great size and moves fluidly on both ends of the court, despite the fact that he is not supremely athletic.
Turner really has a complete game on both sides of the floor, and makes everything look easy, a la Brandon Roy or Paul Pierce.
Turner and Igoudala will be an effective one-two punch for the 76ers. Iggy may have issues with giving up control of the basketball, but Turner's game will change his mind in a hurry.
3. New Jersey: Derrick Favors, PF, Georgia Tech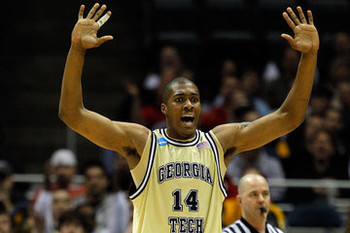 Derrick Favors, PF, Georgia Tech
Derrick Favors is the most explosive, athletic big man in the 2010 draft class. He has seemingly unlimited upside, and a motor that never seems to stop running.
Favors has the talent, length, and raw athleticism to be the next Josh Smith or Amare Stoudemire.
The Nets can't be happy losing the lottery, but Favors is a damn good consolation prize. He will play alongside Brook Lopez in New Jersey's front-court, which is now looking pretty good. Devin Harris is thanking his lucky stars.
4. Minnesota: DeMarcus Cousins, C, Kentucky
You simply can't teach size, and DeMarcus Cousins has it in spades. He has tremendous size and strength, and isn't afraid to mix it up under the hoop.
Cousins really is a true center: he can rebound, score at will around the basket, and clog the lane on defense.
Minnesota's front court, which was already talented with Al Jefferson and Kevin Love, get's a lot better in a hurry with this pick. With Jonny Flynn running things and Corey Brewer at the 2, Minnesota has to be excited about their young roster
5. Sacramento: Wesley Johnson, SF, Syracuse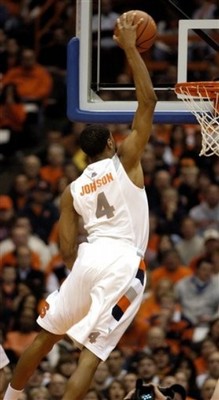 Wesley Johnson is a prototypical NBA small forward with amazing ball skills and a great jumper. He is quick and athletic for his size, and has a first step that helps him create space for his jump shot.
Johnson is also a solid defender and good rebounder for his position, and doesn't need to dominate the basketball to be effective.
The Kings have their point guard of the future in Tyreke Evans, and now they get their point forward. Sacramento was terrible last year, but Wesley Johnson and Evans will provide a solid one-two punch that should equal at least a few more wins next season.
6. Golden State: Al-Farouq Aminu, SF, Wake Forest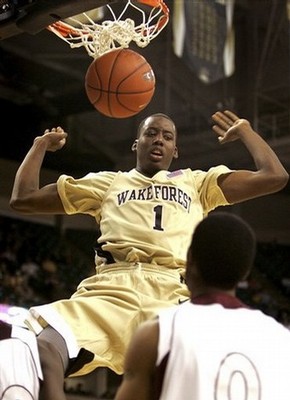 Aminu may be the most athletic player in the entire draft. He is a great leaper with a first step that helps him get into the lane at will.
Aminu is a great rebounder, and is particularly effective on the offensive glass. He is also a lock-down defender who prides himself on working on both ends of the floor.
The Warriors love to run and gun, and Aminu should fit right in. He runs the floor with the best of them, and should have immediate success in Golden State's run-and-gun system. Hey, he might actually bring some defense to the Bay Area, too.
7. Detroit: Ed Davis, PF, North Carolina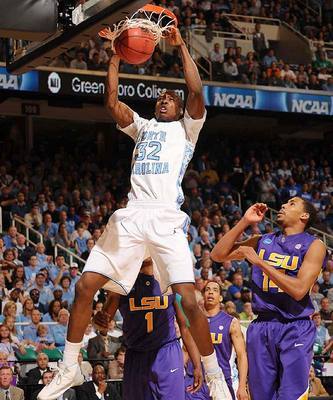 Ed Davis is a long, athletic power forward with great footwork and great ball skills. He is a crafty player around the basket with a good post game, and is a great offensive rebounder.
Davis loves to run the floor and is a great transition player. He is a hard worker on both ends of the floor, and has the length and quickness to be a great defender in the NBA.
After adding Charlie Villanueva last year, and with Ben Wallace getting older, the Pistons need some serious help on the glass. Davis will provide it, along with more energy and a solid low post presence.
8. Los Angeles Clippers: James Anderson, SG, Oklahoma State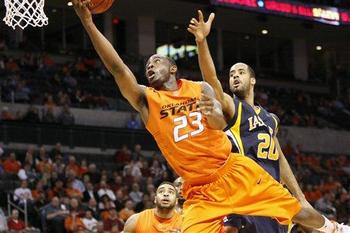 James Anderson is a gunner. He has a nearly perfect jumper, and isn't afraid to pull the trigger from anywhere on the court.
In addition to his great shooting, Anderson has become increasingly aggressive going to the hoop throughout college. He has an NBA ready body with great strength and durability.
The Clippers have their front-court in order, with Kaman holding down the middle and Blake Griffin ready to (hopefully) emerge as a low post scorer. Anderson will bring an aggressive, attacking mindset that should pay dividends for the entire team.
9. Utah: Greg Monroe, PF, Georgetown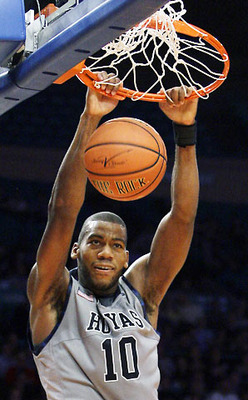 Greg Monroe is a long, talented big man who plays more like a guard than a forward. His ball skills are tremendous, and he is comfortable handling the ball on the break or in the half court.
Monroe is also a great defender with a high basketball IQ. He blocks shots, rebounds well, and clogs up the passing lanes.
Monroe seems to fit the bill for a Jazz player: smart, good ball skills, and solid in the half-court. If they lose Boozer this summer to free agency (highly likely), Monroe would be a good long-term fix.
10. Indiana: Cole Aldrich, C, Kansas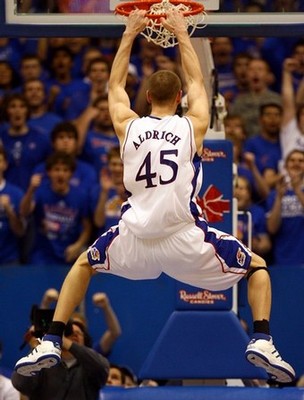 Cole Aldrich is undoubtedly the most skilled big man in the draft. He has great ball skills and hands for a center, and is more athletic and agile than he looks.
Aldrich was a great rebounder and a natural shot-blocker in college. He may be the most fundamentally sound player in the draft and that type of player always seems to find a niche in the NBA.
The Pacers have to face facts: Jeff Foster isn't getting any younger, and Roy Hibbert may never be the center they thought he would. Aldrich has great fundamentals and a solid offensive game, something Hibbert didn't have as a rookie.
Aldrich should fit in well in Indiana and provide them with the offense they so desperately need.
11. New Orleans: Ekpe Udoh, PF, Baylor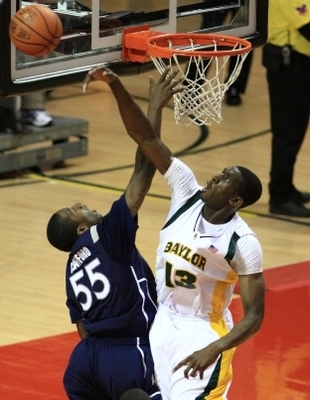 Ekpe Udoh is a long, lean forward with tremendous athletic ability. He is a first-rate shot blocker and rebounder, and is nearly impossible to keep off the offensive glass.
Udoh has improved his mid-range game, and has become a formidable jump shooter. He has an explosive first step and is aggressive going to the hoop.
The Hornets definitely took a step in the wrong direction last season when they traded Tyson Chandler for Emeka Okafor. New Orleans and Chris Paul like to get out and run, and I think Udoh is the perfect fit for their system. Chris Paul, meet the other end of your alley-oop.
12. Memphis: Patrick Patterson, PF, Kentucky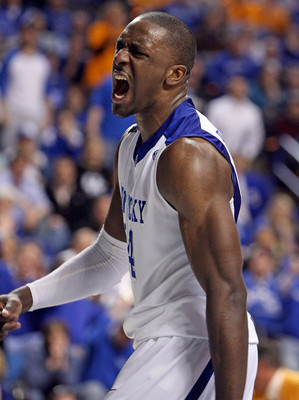 Patrick Patterson has a tough, old-school game that translates into good decision making and a high shooting percentage. He has a good post game with great footwork, and never seems to be out of place on offense.
He is more athletic than he looks, and uses it to his advantage on the defensive end, where he has the ability to be a force in the NBA.
Memphis' front line is looking solid with Marc Gasol and Zach Randolph. With Rudy Gay hitting free agency, Patterson would be able to provide some great energy for the Grizzlies. Patterson can score without a lot of touches, which should please O.J. Mayo and Randolph.
13. Toronto: Xavier Henry, SG, Kansas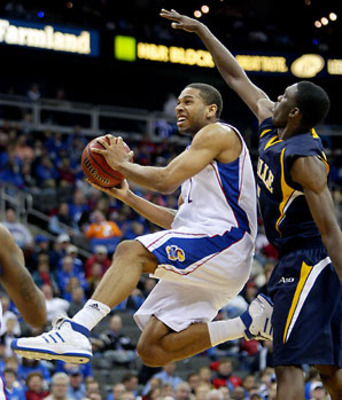 Xavier Henry has great strength and length for a shooting guard. He has a beautiful jumper with NBA range, and has a quick release that allows him to pull up for a shot at any time.
Henry is also left-handed, making him a handful to guard for even the best of defenders in the NBA. He makes the game look easy, and has the body and toughness to be an immediate contributor in the league.
When I look at Toronto's roster, I can't help but wonder: where do the points come from?
With Chris Bosh almost certainly on his way out, Henry would provide some instant scoring ability that the Raptors so desperately need.
14. Houston: Daniel Orton, C, Kentucky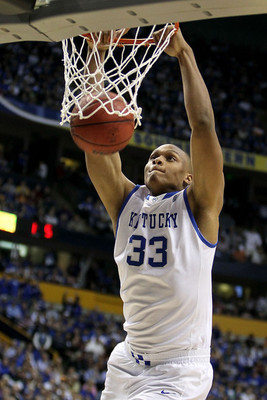 Daniel Orton has all the physical tools to be an NBA center: size, athleticism, and a wide frame that is capable of dishing out and absorbing contact.
Orton is athletic, runs the floor well, and is a monster on the offensive glass.
The Rockets could really use some size down low. Yao Ming can't seem to stay healthy and Luis Scola is not a natural center. Chuck Hayes is a great defender, but is often overpowered by bigger players in the post.
Orton is more than capable of defending the post, and is a solid finisher who is athletic enough to run with Aaron Brooks and Kevin Martin. This seems like a perfect fit for the Rockets, who always seem to get great value in the draft.
15. Milwaukee: Gordon Hayward, SF, Butler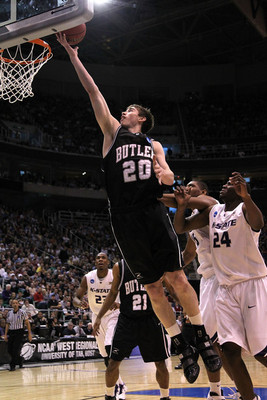 Gordon Hayward has a complete offensive game, period. He can shoot, pass, handle the ball, and get to the hoop.
Hayward isn't shy about playing defense or crashing the boards, either. He has a real knack for getting into the passing lanes and forcing turnovers.
The Bucks have some great pieces in place: Brandon Jennings is a great scorer and distributor, Andrew Bogut holds down the middle, and John Salmons is an intense player on both ends of the court.
Michael Redd can't seem to stay healthy, and Hayward can shoot the lights out. For about $17 million dollars less, I think Milwaukee would love to take a chance on another shooter.
16. Minnesota: Paul George, SF, Fresno State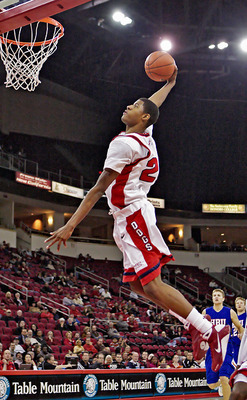 Paul George is an athletic scorer with a great looking jump shot. Although he played for a small program (Fresno State), his natural abilities as a scored should not be overlooked. He was born to put the ball in the basket.
George has great range on his jumper, and has a scorer's mentality. His athleticism translates to the defensive end as well, where he is able to force turnovers (over 2 steals a game in college).
The Timberwolves already got a big man in this draft (Cousins), and with their stacked front-court, George looks like a perfect fit. He'll bring solid shooting and athleticism to Minnesota, something they're certainly in desperate need of.
17. Chicago: Donatas Motiejunas, PF, Lithuania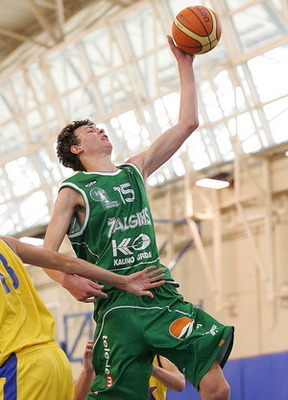 Donatas Motiejunas is a crafty seven footer that is as athletic as any big man in the NBA. He is aggressive with the ball, and despite his slight frame, isn't afraid to get into the lane.
Motiejunas has a nice tough from mid-range, and will pull the trigger at any time. He really is a shooting guard stuck in a seven-foot frame.
Chicago has a hard-working, talented roster that has a lot of great pieces. But they don't have a lot of true scorers on their roster. Motiejunas is aggressive, and would benefit greatly from Derrick Rose's playmaking and slashing ability.
18. Miami: Hassan Whiteside, C, Marshall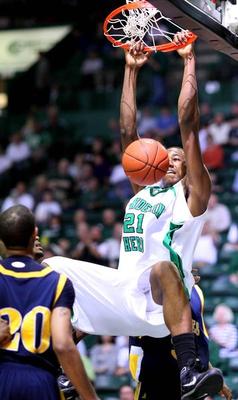 Hassan Whiteside is the best shot-blocker in the 2010 draft class. He is also a monster on the glass, both offensively and defensively.
Whiteside's post game has improved by leaps and bounds. He's developed a nice touch around the hoop and a short jumper that he now shoots with confidence.
Miami has a void at center: Jermaine O'Neal isn't getting any younger, and Jamaal Magloire is a shell of what he used to be. If nothing else, Whiteside will provide great energy, rebounding, and defense for Miami.
19. Boston: Luke Babbitt, SF, Nevada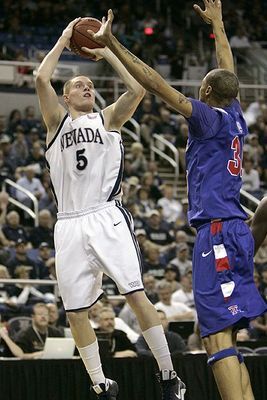 If I could use one word to describe Luke Babbitt's game, it would be smooth. He has a great-looking jumper with NBA range, and can shoot it off the dribble, off the catch, or standing still.
Babbitt has a crafty post game, and is very solid with his back to the basket, something that can't be said for many of the best small forwards in the NBA. He loves contact, and is great at getting to the line, where he shot 91% last season.
With Ray Allen entering free agency, and Boston very unlikely to re-sign him, Luke Babbitt would be a great plug here. He fits the Ray Allen mold, and would definitely benefit from Rajon Rondo's slashing ability.
20. San Antonio: Eric Bledsoe, PG, Kentucky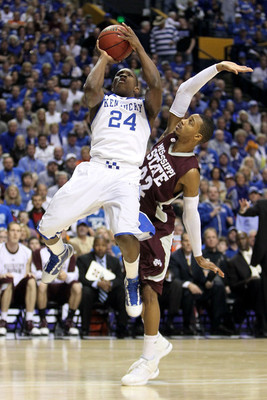 Eric Bledsoe is a quick, tough guard who thrives in open space. His high motor and great leadership make him a great point guard prospect in the NBA.
Bledsoe is definitely a pass-first guard, but can get into the lane and create problems for slower defenders. He is also a terror on the defensive end, and really has a nose for the basketball.
Tony Parker is a free agent, and although he may stay in San Antonio, he isn't exactly a young man. Bledsoe may not have the all-around game that Parker has, but is definitely a pass-first guard who would thrive in Greg Popovich's system.
21. Oklahoma City: Larry Sanders, PF, VCU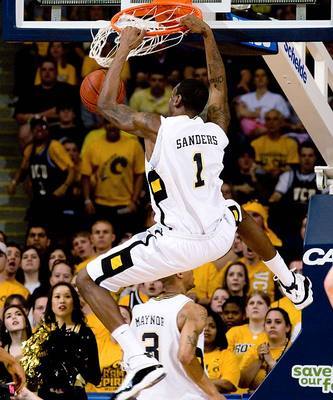 Larry Sanders is shot-blocking machine. He blocked more shots per minute than anyone in the NCAA last season, and loves to play defensive basketball. Sanders always seems to be moving, and is far from a stand-still big man.
Sanders is also a beat on the glass, always working harder than the guy next to him. His jumper has improved over his college career, and now is a little more confident on the offensive end.
The Thunder have a great young roster, and don't have any glaring needs. A hard working shot blocker would do nothing but good for Oklahoma City. Sanders, known for his energy and work ethic, would fit right in with the young Thunder.
22. Portland: Damion James, SF, Texas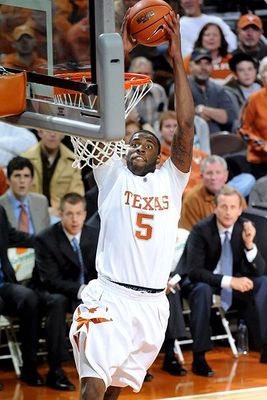 Damion James is a smart, crafty forward who benefited greatly from four years of college basketball. He is a truly explosive athlete with great leaping ability, and he loves to get out on the fast break.
James has a good mid-range game that has improved steadily during his college career. He is a terror on the offensive and defensive glass, and I don't think anyone works harder than James.
Portland doesn't need much to get them over the hump. Hard work and defense would be a great addition, and James has those in spades. This seems like a match made in heaven to me.
23. Minnesota: Dominique Jones, SG, USF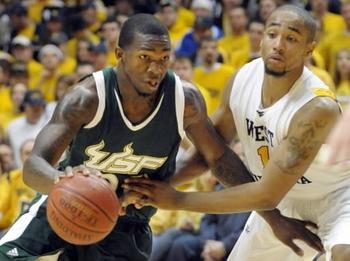 Dominique Jones is a tough, powerful guard with a scorer's mentality. He has a great first step, and is a great finisher around the rim.
Jones loves contact, and is able to finish in traffic well, a la Dwayne Wade. He is great at creating offense for himself and others, and is as intense as they come.
With their third pick in the first round, Minnesota goes with the best player available. Jones' upside is tremendous, and at this point, the Timberwolves really have nothing to lose.
24. Atlanta: Willie Warren, PG, Oklahoma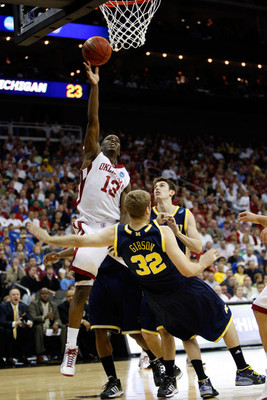 Willie Warren has great size, strength, and athleticism, and is in many ways the prototypical point guard of the future. Warren has tremendous speed, and excels in the open court.
He has good vision and passing ability, and is a pass-first point guard through and through, although he does have good range on his jumper.
Mike Bibby really showed his age in the playoffs this year, and without another true point guard on the roster, the Hawks would be fools to pass up on Warren. He is athletic and explosive, something they've been missing at the point guard position for a while.
25. Memphis: Avery Bradley, SG, Texas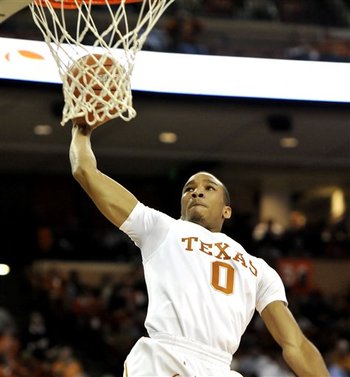 Avery Bradley is a pure scorer. He is amazingly quick, with a first step that would even make Derrick Rose jealous.
Bradley has a beautiful jump shot, and an underrated mid-range game. Although he isn't bulky, Bradley is strong for his size, and isn't afraid of contact on either end of the floor.
With their second pick of the first round, the Grizzlies are looking for some points to make up for Rudy Gay's likely departure. Bradley will provide this for Memphis.
26. Oklahomoa City: Quincy Pondexter, SF, Washington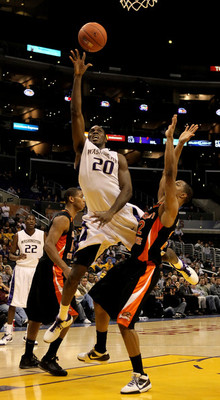 Four years of college basketball did wonders for Quincy Pondexter. He is a terrific athlete who plays with great intensity and toughness, and never seems to back down on either end of the floor.
Pondexter is always looking to get to the basket, and is a good finisher around the rim. His jump shot has steadily improved over the course of his time in college as well.
The Thunder's second pick is like their first pick-tough, and solid on defense. Pondexter epitomizes what Thunder coach Scott Brooks wants in a player. Seems like a perfect fit to me.
27. New Jersey: Terrico White, SG/PG, Mississippi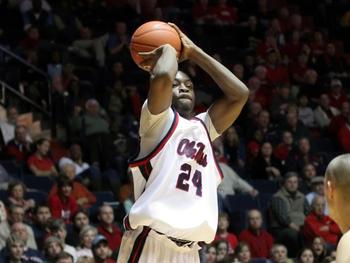 Although he has great size (6'5") for a guard, Terrico White plays small. I mean this in a good way: he is able to get into small spaces and finish around the hoop.
White is a good decision maker, and never seems to force his own offense. He has great footwork and fundamentals, and I think his game will translate easily to the NBA.
New Jersey may have missed out on John Wall, but getting White this late in the draft might make up for some of the hurt. I really think he could do a lot offensively for the Nets.
28. Memphis: Devin Ebanks, SF, West Virginia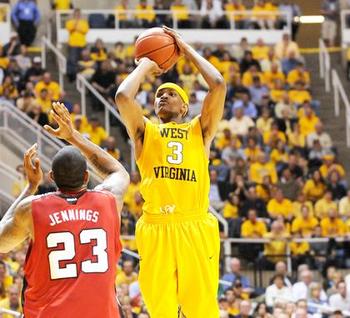 The word effortless comes to mind when I think of Devin Ebanks' game. He is a long, athletic small forward who loves to crash the boards on both ends of the floor.
Ebanks is great in transition, and is definitely more athletic than he looks. His jump shot has improved greatly over his college career, and now boasts a solid mid-range game.
Memphis is the only team with three first round picks. If they do hold onto all of them, Ebanks would be a tremendous value at 28. He and O.J. Mayo would be a joy to watch on the fast break.
29. Orlando: Elliot Williams, SG, Memphis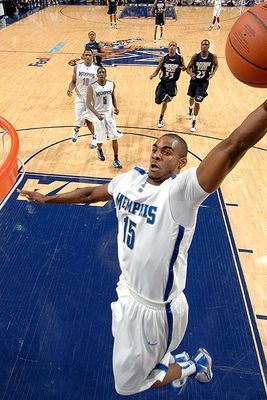 Elliot Williams is a long, athletic guard with a scorer's mentality. He has a great first step and loves to get into the lane. Williams has solid ball skills and never seems to rush things on the offensive end.
He is a solid defender, and brings a lot of energy and effort to the defensive end. He rebounds well for his size, and could never be accused of dogging it on either end of the floor.
Orlando could really use some offense out of the shooting guard position. Vince Carter won't be around forever, and Williams could step in nicely and provide some high energy on both ends of the floor.
30. Washington: Stanley Robinson, SF, UConn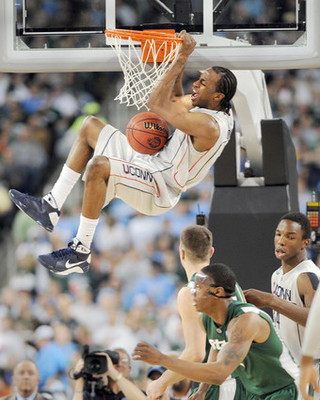 Stanley Robinson has amazing athleticism and great strength for his size. He uses these skills to his advantage on the glass, and he certainly never shies away from contact.
Robinson has developed a good offensive game, and his jump shot has improved dramatically over his college career. He really is a high character player who works hard on both ends of the court.
After snatching Wall with the first pick, getting Robinson this late would be amazing for the Wizards. He is a hard worker who will fill any role asked of him.
Keep Reading