Losing Out on John Wall and Evan Turner May Be Blessing in Disguise for Nets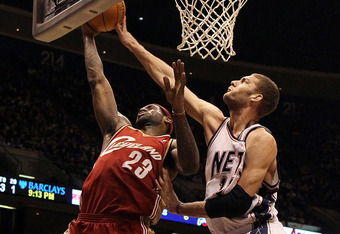 Jim McIsaac/Getty Images
The Nets went into the NBA Draft Lottery with the best chance of any team to get the No. 1 overall pick in the 2010 NBA Draft, and presumably the right to draft Kentucky guard John Wall.
But with a 25 percent chance of getting the first pick, clearly it was far from a guarantee.
The Nets instead wound up with the third overall selection, which means that the Washington Wizards and Philadelphia 76ers will likely draft Wall and Ohio State guard Evan Turner with the first two picks, respectively.
For a Nets team coming off of a 12-win season, most people believed that getting Wall or Turner was going to be a huge step in rebuilding a franchise that has a lot of cap space to work with, and a new billionaire Russian owner who's willing to make a splash.
But I like what I see from the Nets roster, although a lot of it is likely to change. Center Brook Lopez is an All-Star caliber player who will continue to develop in his third season next year. After Lopez though, most of the young talent worth keeping around seem to have something very important in common.
Most of the Nets' quality depth is in their backcourt.
With Devin Harris, Courtney Lee, Terrence Williams, and Chris Douglas-Roberts, the Nets have four young stars in the making who all play one of the guard positions. Out of those four, only Williams, a rookie last year, has experience playing small forward.
One of the things about this upcoming draft class is that the best two players are both guards. Had the Nets gotten one of the first two picks, they would've essentially been forced to select another guard with that pick, overloading the position.
If you're going for the best player available, which usually is the case with top-three selections, it's a bit of a nuisance if the best players play the only positions at which your team has adequate depth.
So, maybe the Nets caught a break by getting the third overall pick. Now they have the freedom to draft a forward, arguably their biggest position of need, with their top pick.
It's too early to say who the top target at third overall is going to be, and it'll be interesting to see who they end up getting. Georgia Tech power forward Derrick Favors, Kentucky power forward DeMarcus Cousins, and Syracuse small forward Wes Johnson are some possibilities.
Other guys available include Kansas center Cole Aldrich, Wake Forest forward Al-Farouq Aminu, and North Carolina forward Ed Davis. With the top two picks all but guaranteed, the key to the draft could depend on what the Nets do at three.
After the draft, however, is when the real fireworks begin.
July 1, 2010 is a day that has been marked on the calendar of NBA fans, players, teams, coaches, and owners for a few years now. That's the date when free agency begins and perhaps the greatest free agent class in NBA history arrives on the market.
Just looking at some of the names who will be available is enough to get any fan excited. LeBron James, Dwyane Wade, Amare Stoudemire, Ray Allen, Chris Bosh, Carlos Boozer, and Joe Johnson are some of the biggest names.
The Nets are one of the few teams with enough cap space to sign not just one but two of those superstar players. LeBron James is sure to be a top target for a lot of teams, but the Nets are one of the few teams that can afford to bring in a potential All-Star running mate.
So with the third overall pick, not to mention three of the first 31 picks, the Nets have an opportunity to make some serious noise in the draft. And with all of the cap space available, combined with the deep pockets of a new owner, they can also create a lot of havoc in the free agent market come July.
For a team that only won 12 games in 2009-10, it can only get better next season. The Nets certainly have the firepower to shake up their roster, and perhaps make an Oklahoma City Thunder-like run back to the NBA Playoffs.
(For more Mets, Jets and Nets analysis, visit my personal blog, MetsJetsNetsBlog)
This article is
What is the duplicate article?
Why is this article offensive?
Where is this article plagiarized from?
Why is this article poorly edited?

Brooklyn Nets: Like this team?